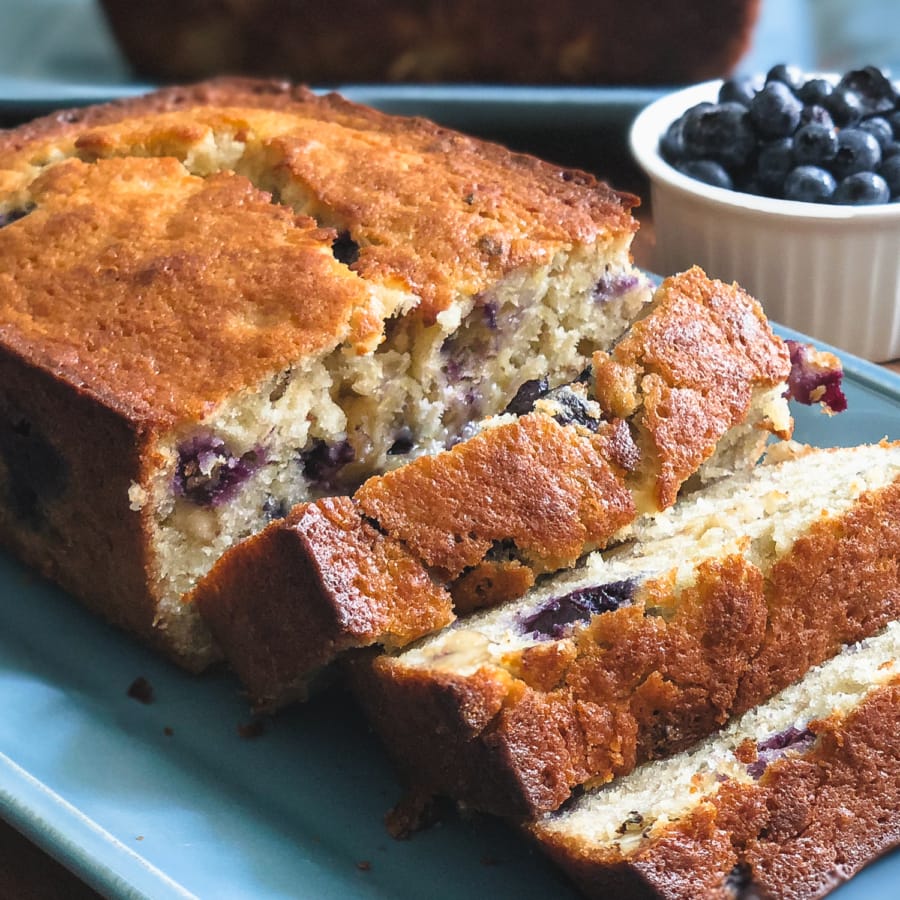 SAVE THIS RECIPE
We are big fans of banana bread in my house. I've been making my mom's banana bread recipe for years and it's always a hit! I wanted to make it a little different for the family, so I came up with this delicious Banana Blueberry Bread for them.
This post contains affiliate links. For more information, see my disclosure.
From-Scratch Blueberry Banana Bread
I don't make everything from scratch, but banana bread has always been one of the things I do make from scratch since my mom's recipe was so easy. You only need a few basic ingredients that you most likely already have at home.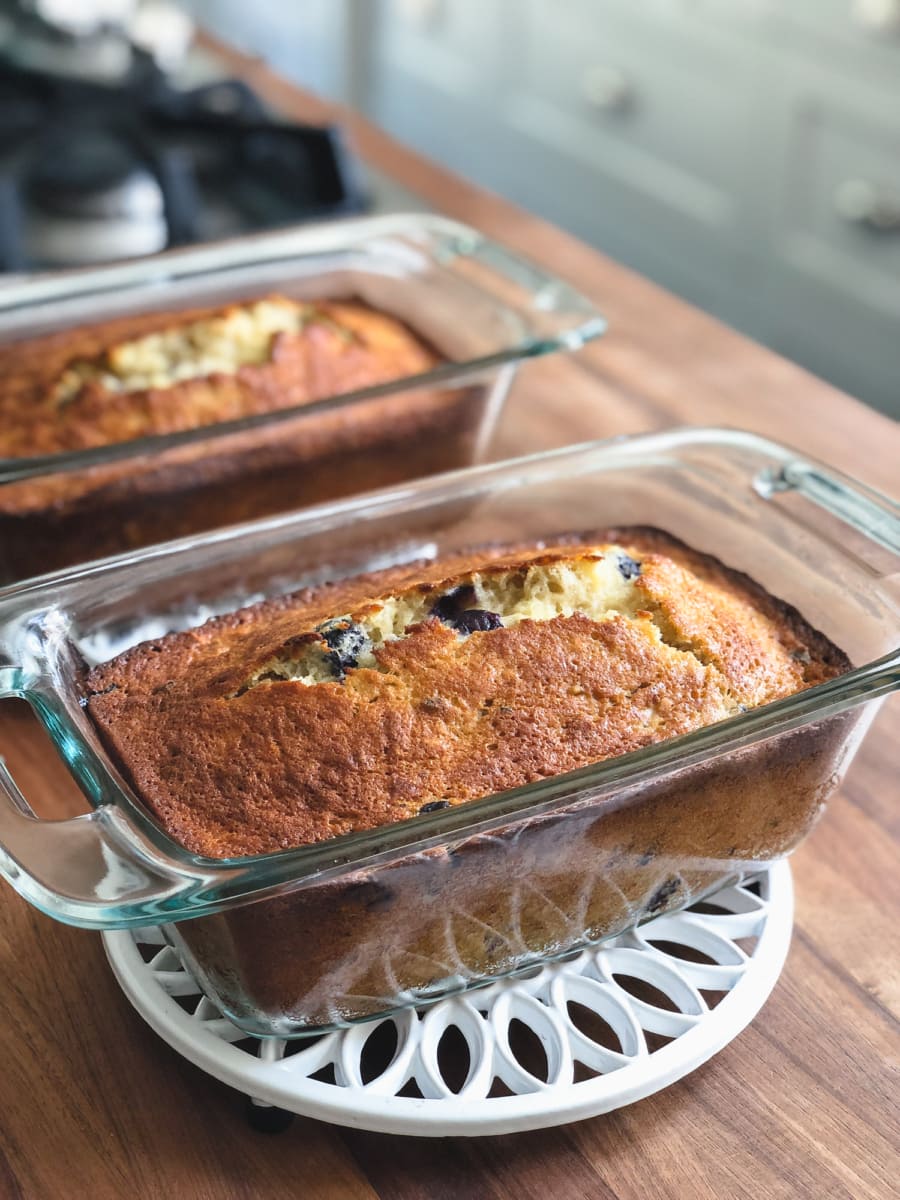 Of course, you'll need some overripe bananas for the perfect banana bread. If you use bananas that are perfectly yellow your bread will not taste like bananas. So don't throw away those bruised and spotted bananas just yet. Make Blueberry Banana Bread instead! Other than bananas, you'll need blueberries, flour, sugar, butter, eggs, and baking powder.
What Can I Add to My Banana Bread?
My husband likes a classic banana walnut bread. My kids like it with chocolate chips as well. My little one likes it with no nuts. We all love it with blueberries. The possibilities are endless!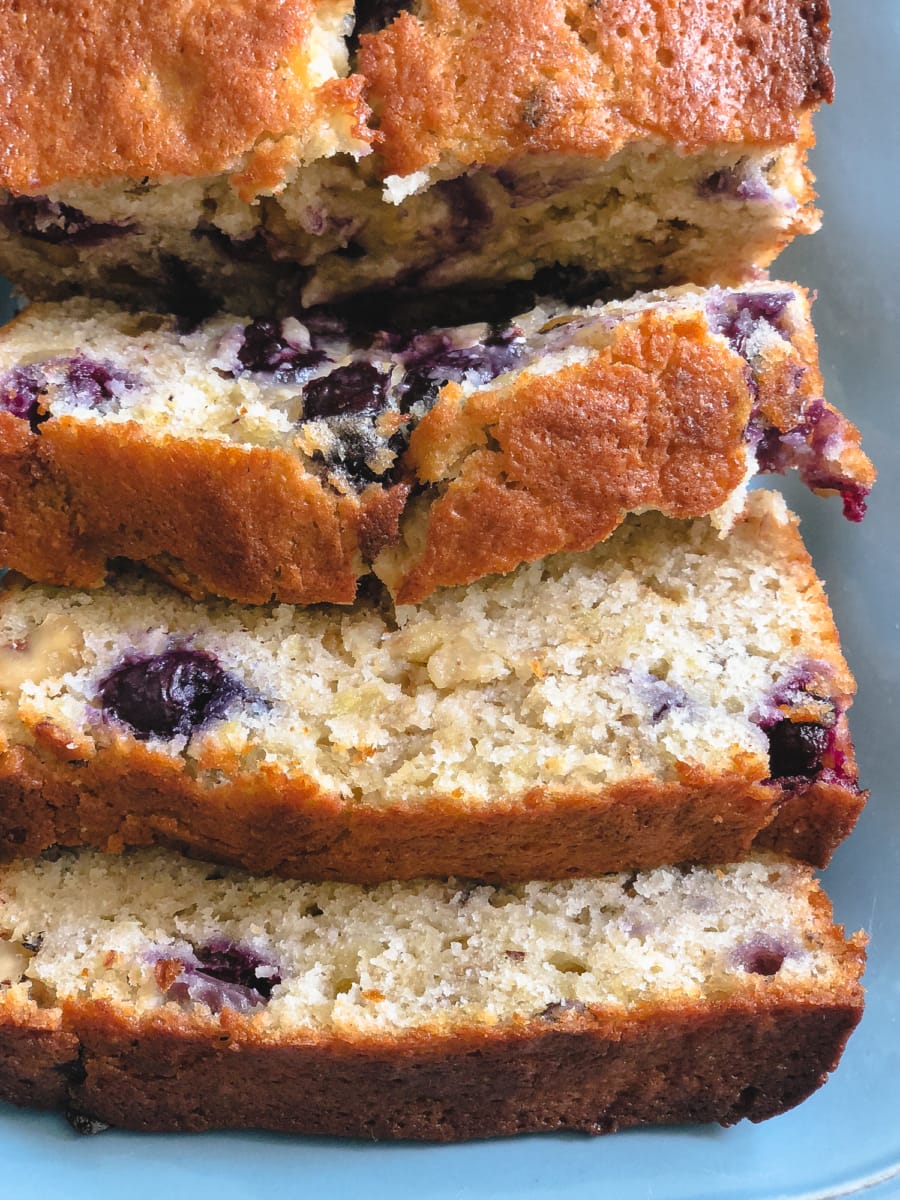 I suggest adding 1/2 cup to 1 cup of whatever item you want to add to the banana bread. This Blueberry Banana Bread is perfect as it is, but you could add half a cup of walnuts if you like nuts. We usually add walnuts to ours and it adds a perfect little crunch to every bite.
Tips for Making Banana Bread
This recipe makes two loaves of Blueberry Banana Bread. You can definitely half the recipe without a problem if you don't have that many bananas available. In my house, with 5 kids, I can't make less than 2 loaves!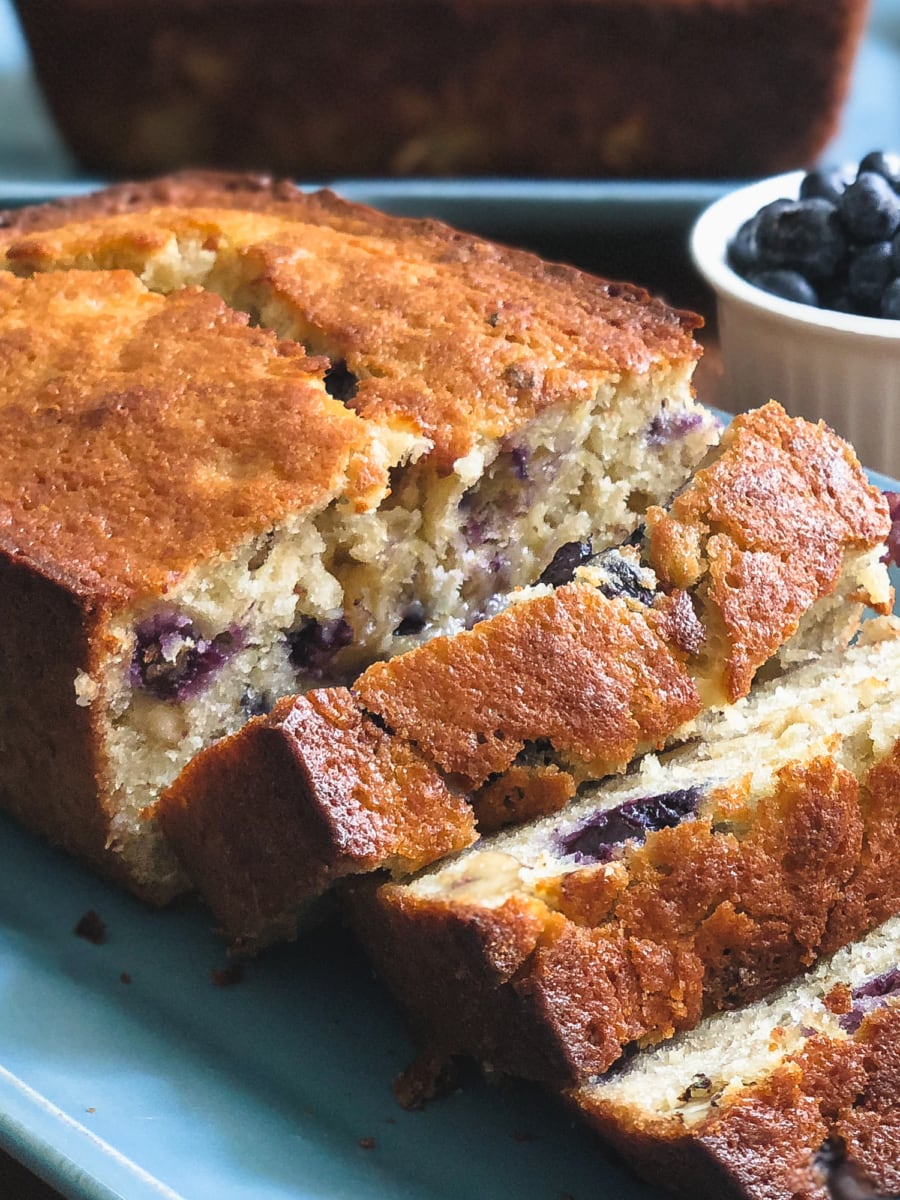 You can also make it in a rectangular pan, but I suggest you keep an eye on it while it's in the oven, to make sure you get the time just right. Once it's done baking, you can check the center of the bread by inserting a knife or a toothpick. If it comes out clean, it's done. If not, you can add more time.
Essential Items
Here are some essential prep tools, utensils, and appliances I used to make this recipe.
Featured Items
Here is a list of the products featured in this post or products similar to those featured in this post:
I also recommend you taste the blueberries you're going to use. I've made it before and my blueberries were a bit too sour! I like using sweet blueberries for the best-tasting blueberry banana bread.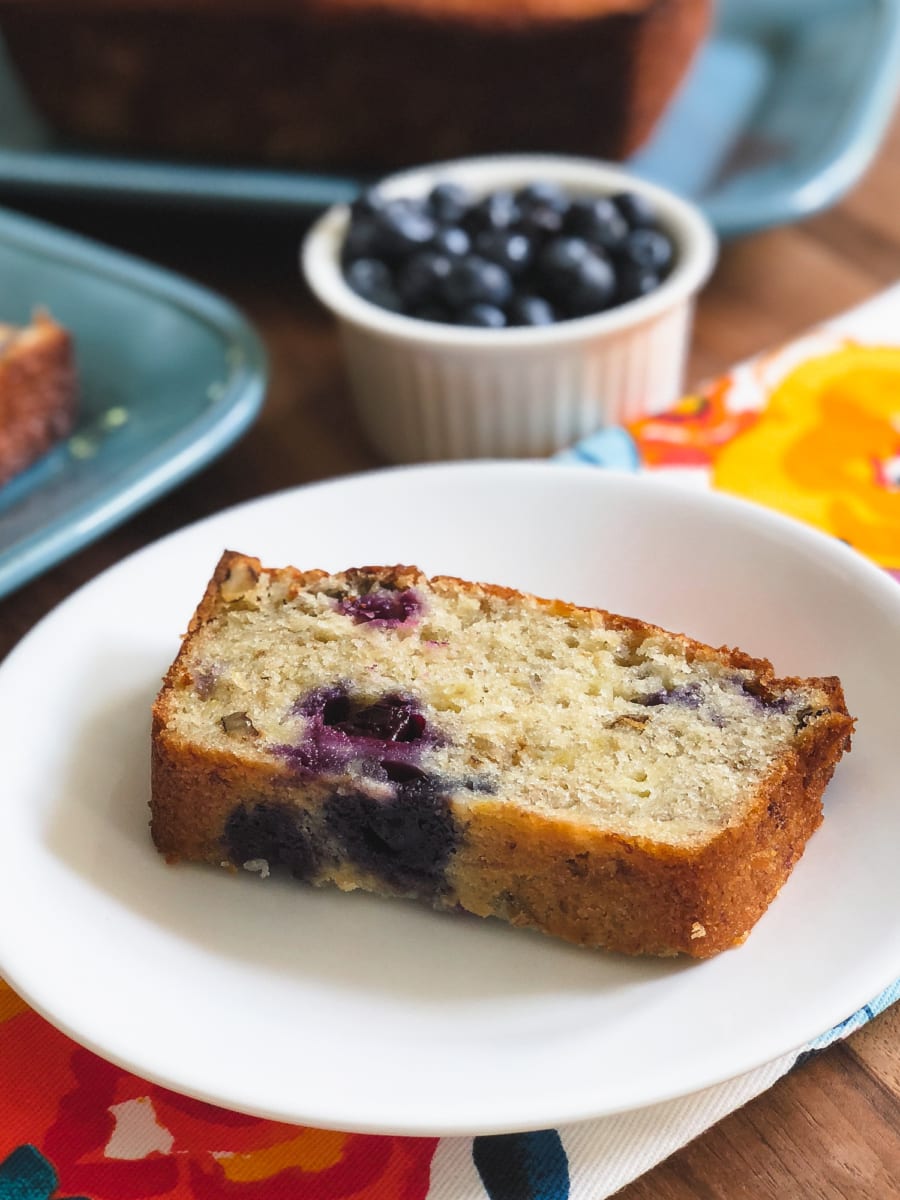 I know you'll love this Blueberry Banana Bread as much as we do! I'd love to hear about it in the comments when you try it.
Blueberry Banana Bread Recipe
RIPENED BANANAS, FRESH BLUEBERRIES, AND WALNUTS
This fabulous fruity twist on my classic banana bread recipe is perfect to enjoy for breakfast, as a snack, or as dessert. Unbelievably easy, super moist, and absolutely fool proof.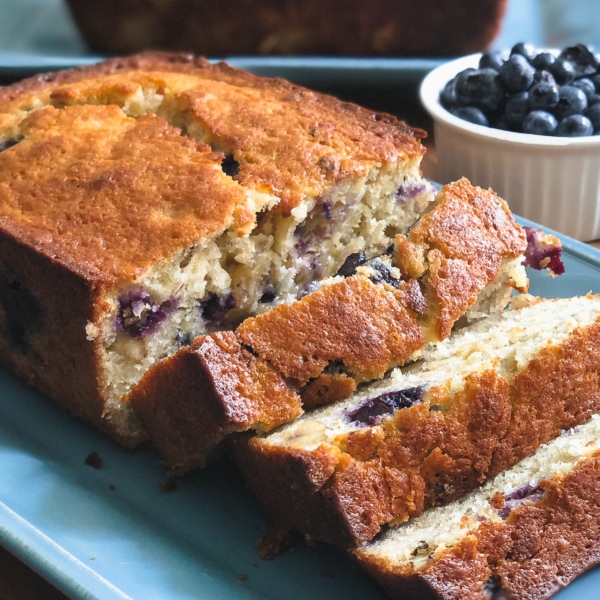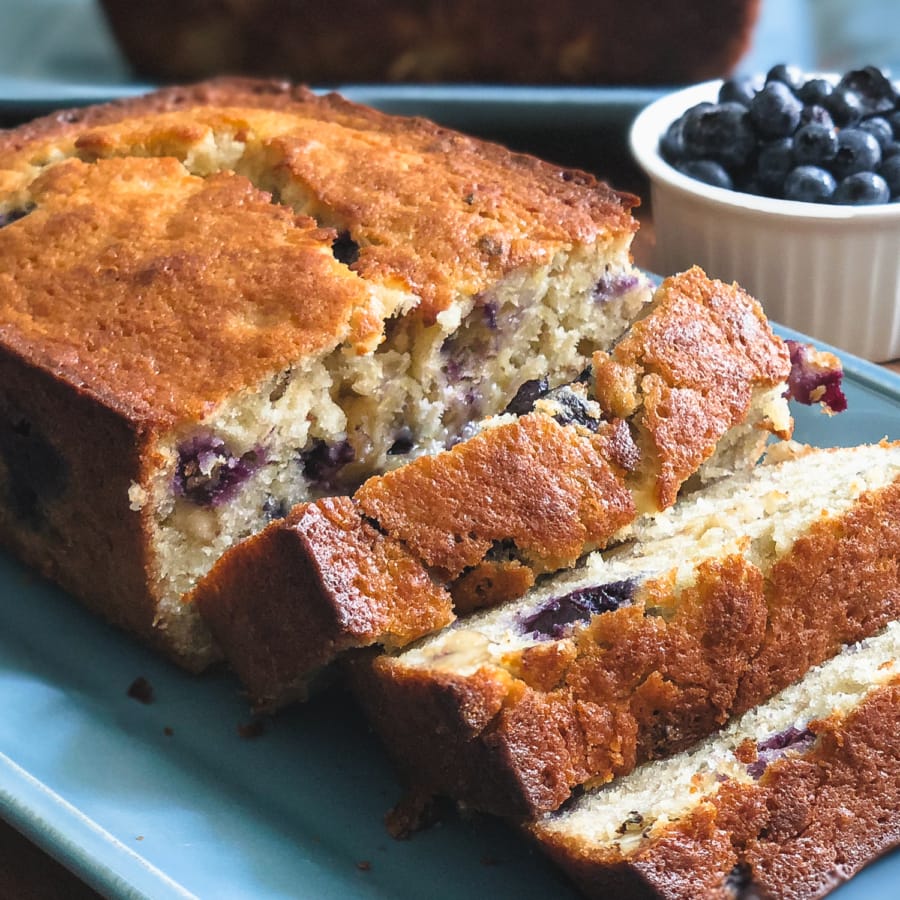 Instructions
Preheat oven to 375°F.

Mash the bananas in a bowl and whisk the eggs in a separate bowl.

Mix in the butter, sugar, and eggs with the mashed bananas. Then add in the flour and baking powder and mix. Fold the blueberries into the batter.

Spoon the batter into two greased loaf pans or one 9 x 13 pan and bake at 375°F for approximately 45-55 min. Ovens vary, so check for doneness.
Nutrition Facts
Serving: 1slice | Calories: 257kcal | Carbohydrates: 39g | Protein: 3g | Fat: 10g | Saturated Fat: 6g | Cholesterol: 57mg | Sodium: 94mg | Potassium: 180mg | Fiber: 1g | Sugar: 24g | Vitamin A: 350IU | Vitamin C: 2.9mg | Calcium: 29mg | Iron: 1mg