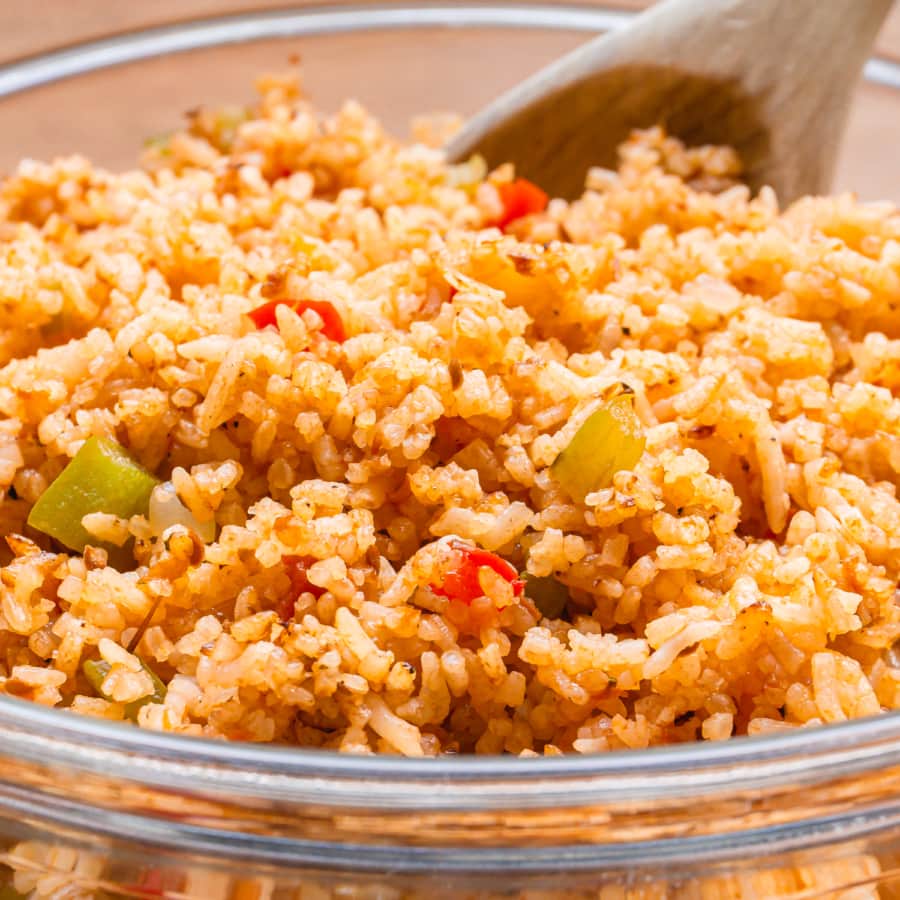 SAVE THIS RECIPE
I've been making rice in the Instant Pot for a while now, but I must admit, I still preferred the way it comes out on the stove. In Honduras, we eat very loose rice, not sticky at all. I hadn't been able to achieve this in my pressure cooker. Until now!
This post contains affiliate links. For more information, see my disclosure.
Making Rice in The Instant Pot
Making rice in the Instant Pot is super easy, and the results are very consistent. My family loves both white rice and brown rice from the Instant Pot. I started making them Instant Pot Salsa Rice recently and they really enjoy that one.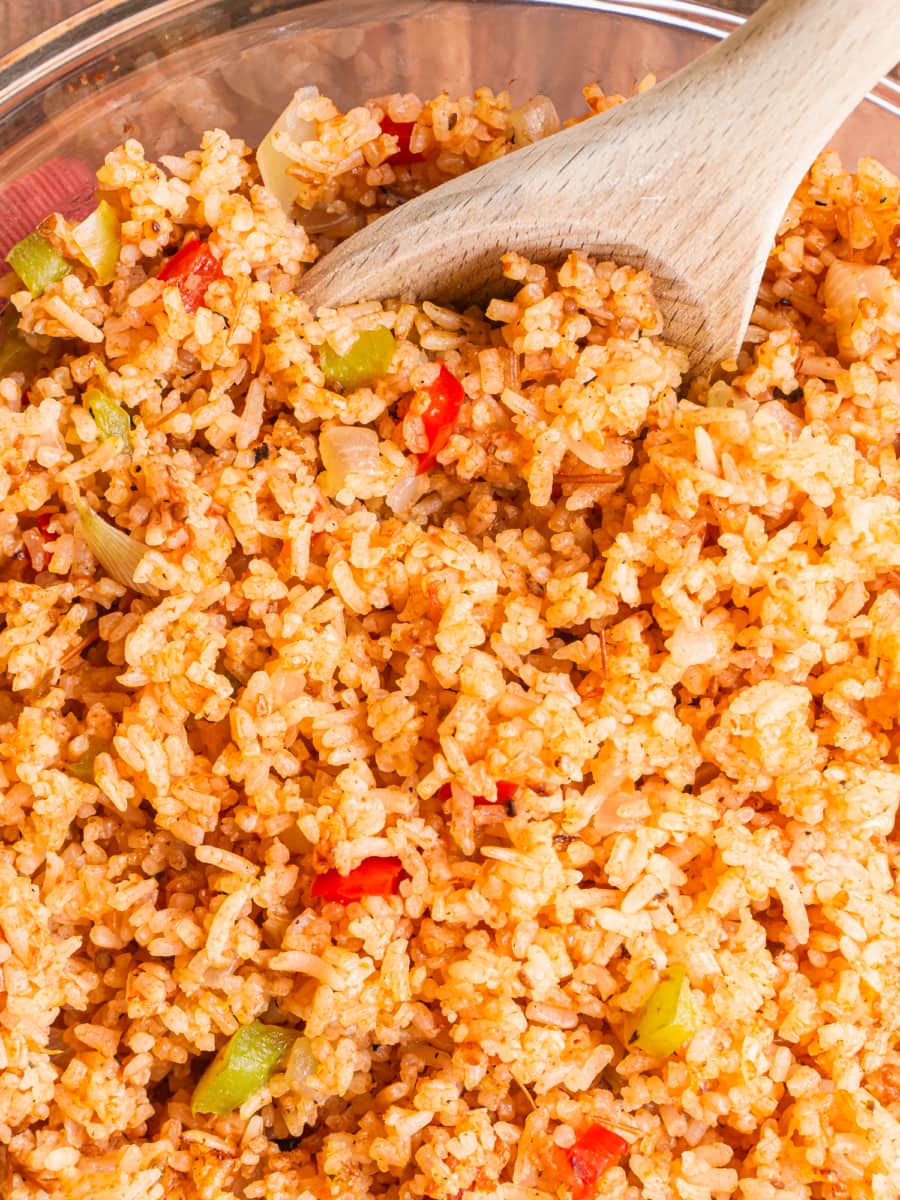 Different rice takes different times to cook right in the Instant Pot. Brown rice takes longer than white rice. It's usually as easy as dump and start when you're making rice in the Instant Pot. All you need is water (or broth), rinsed rice, and possibly salt if you want to add some. The rice always comes out perfect by all accounts, but the "Honduran" in me always wants the rice to be looser and less sticky.
How Do I Make Perfect Rice in the Instant Pot?
Well, I believe my husband and I have finally gotten the rice exactly as I wanted it. We played around with making rice for a week until we got it just right. This recipe for Instant Pot Spanish Rice takes a little more effort than just "dump and start", but I'm telling you it's so worth it.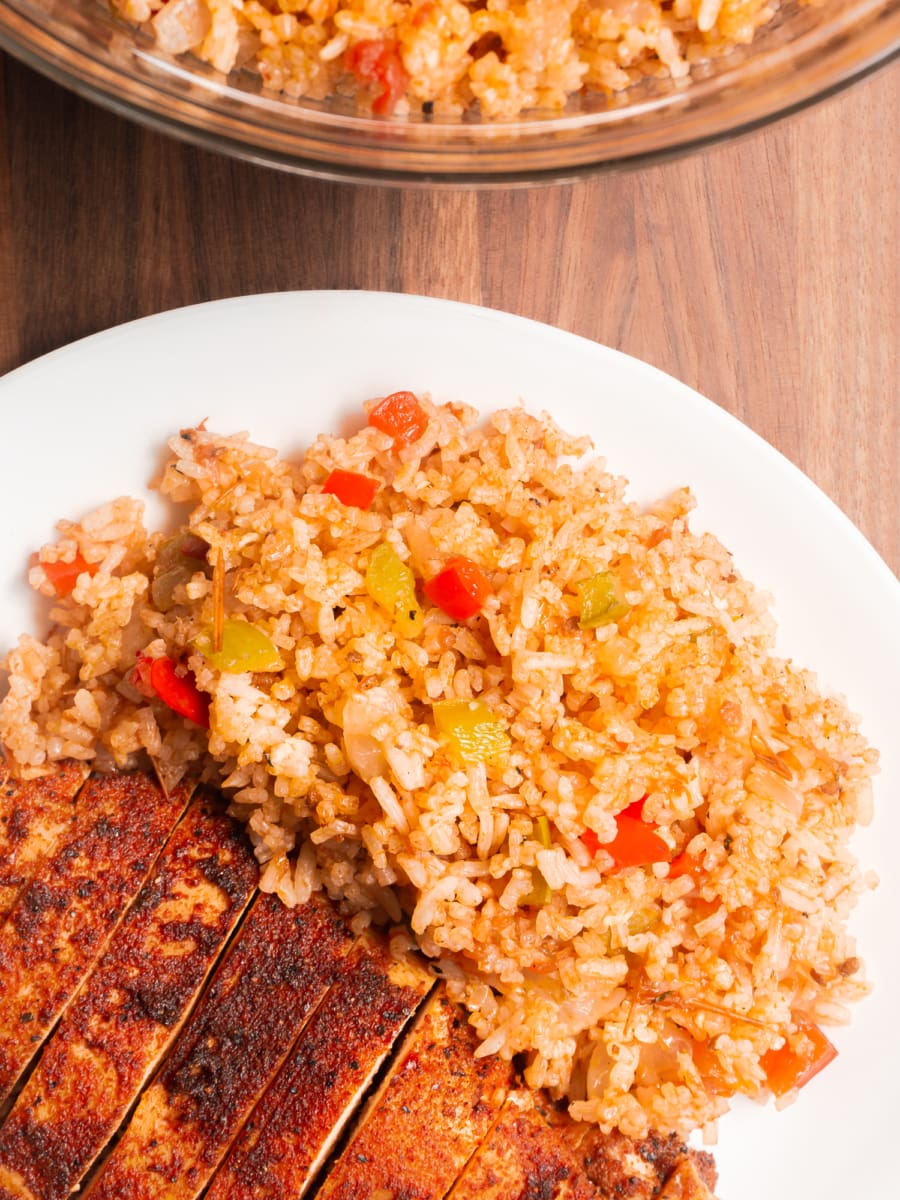 Instead of plain rice, you will end up with perfectly flavored Spanish rice. Some people may refer to it as Mexican rice as well. Either way, it's much looser rice that is incredibly flavorful. You will have to prep some ingredients like peppers and onions, and you will also need to saute the rice before pressure cooking it. That's the secret!
What Can I Serve With Spanish Rice?
Spanish or Mexican Rice is what you are typically served when you go to Mexican restaurants. It's the delicious orange/reddish rice that's so flavorful and perfectly loose. It's usually made on the stove but now you can easily make it in your pressure cooker!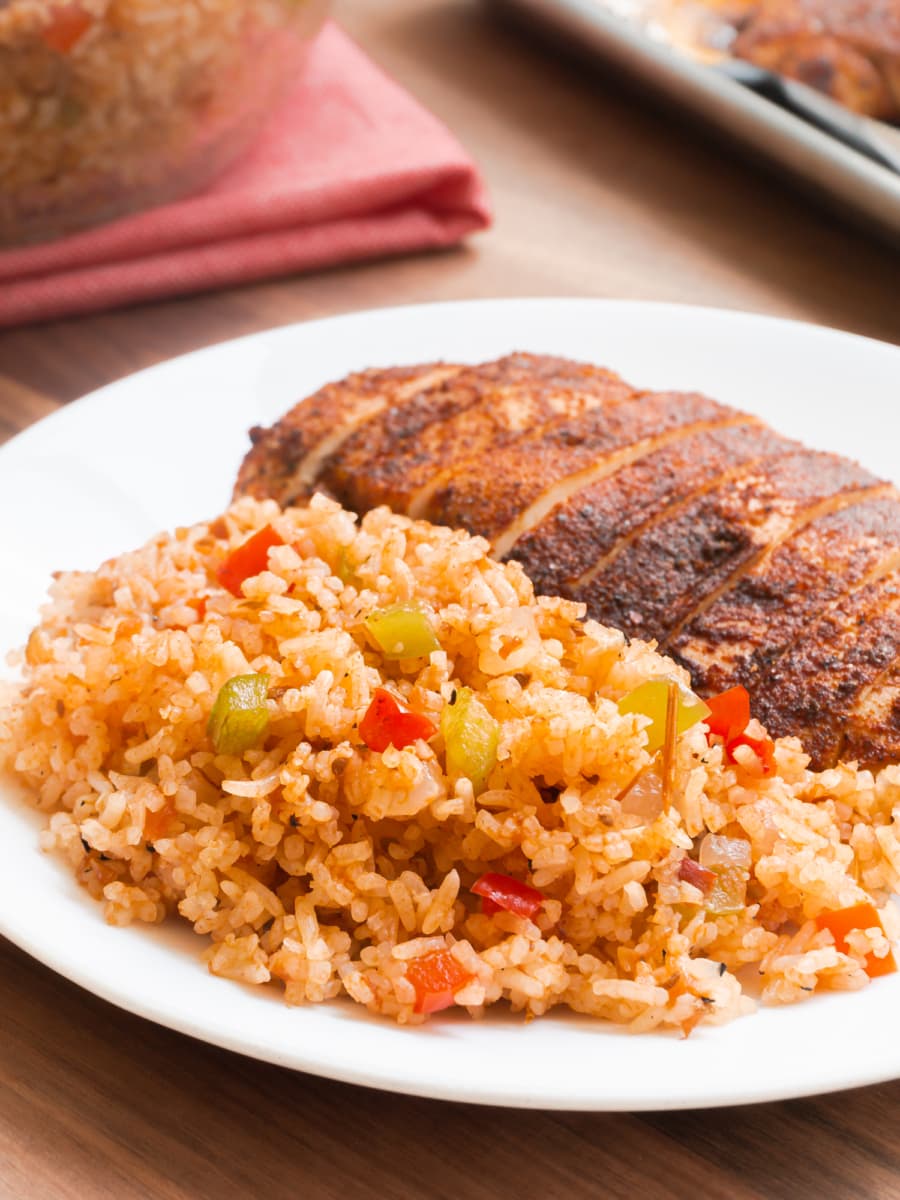 Instant Pot Spanish Rice goes well with just about any meal, not just Mexican food. It's wonderful with meat, chicken, pork, and fish. It adds color to any plate!
Essential Items
Here are some essential prep tools, utensils, and appliances I used to make this recipe.
Featured Items
Here is a list of the products featured in this post or products similar to those featured in this post:
28 Must-Have Instant Pot Accessories
Make sure to check out my Ultimate List of Instant Pot Accessories! I've included everything you could ever need to help make your pressure cooking quicker, easier, and even more convenient.
We also use it inside burritos and tacos, and even inside a bowl of my homemade Instant Pot Chicken Soup!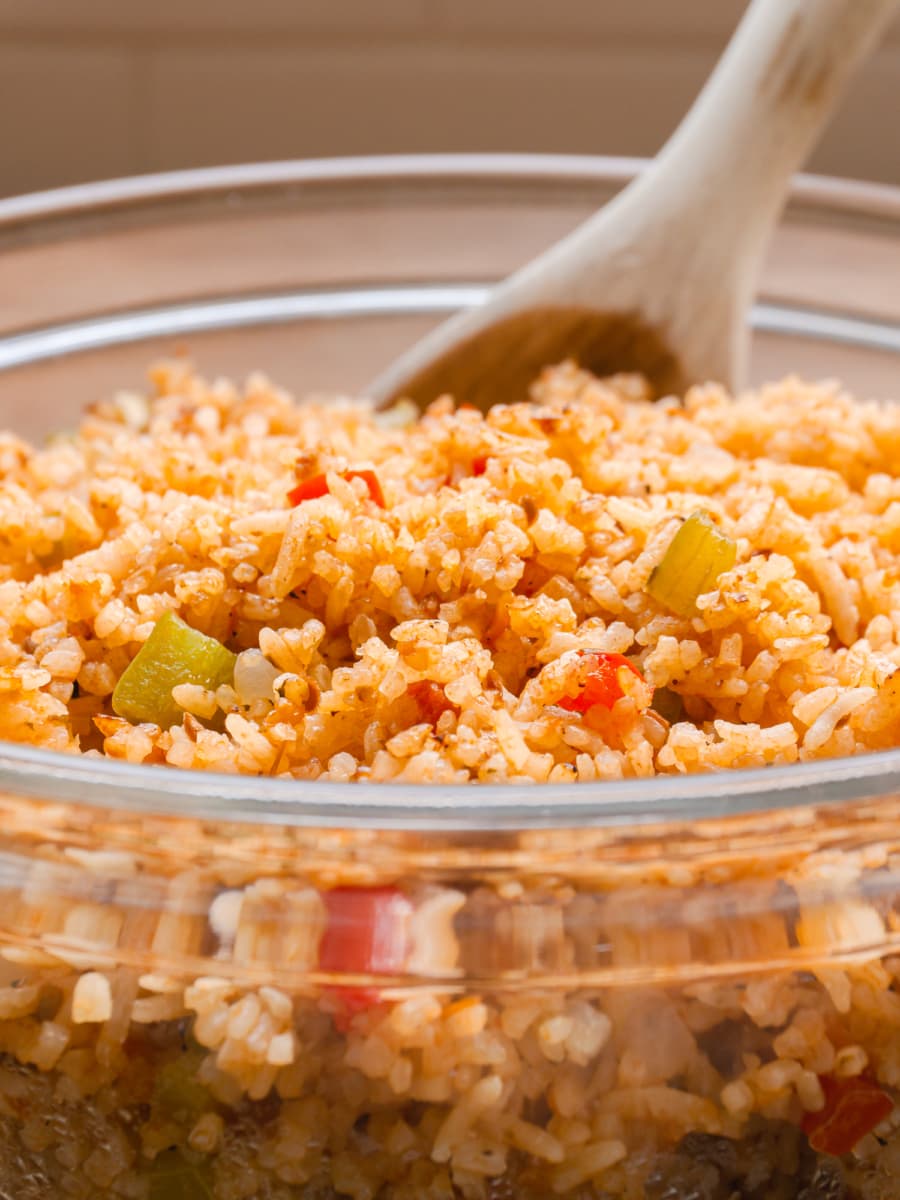 One thing I noticed with this rice, that I love, is that even when you put it in the fridge and reheat it later, it still stays loose and doesn't get sticky!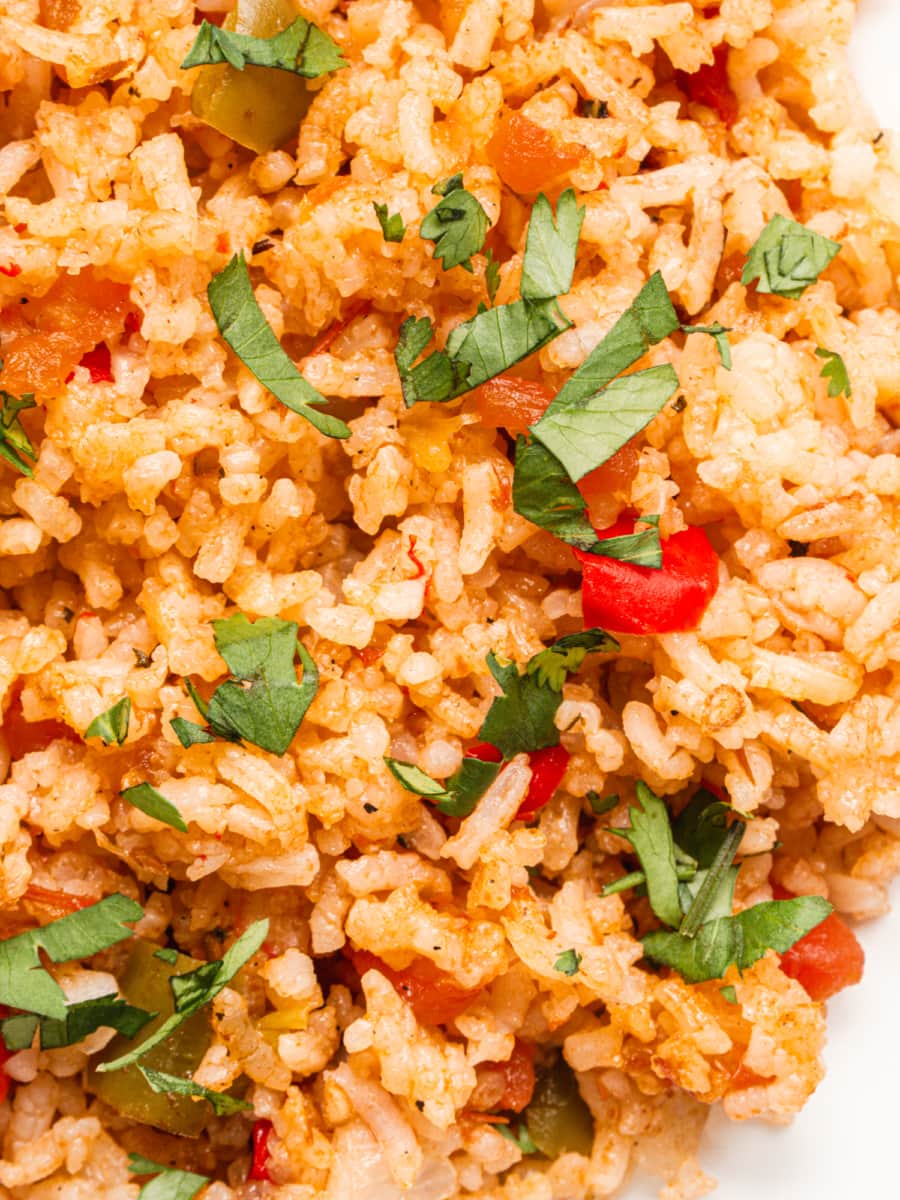 I know you will love how this Instant Pot Spanish Rice comes out! I bet it will become a favorite side in your home. Let me know in the comments when you make it.
Instant Pot Spanish Rice
LONG-GRAIN RICE, ONIONS, PEPPERS, AND SALSA COOKED IN CHICKEN STOCK
This restaurant-style Spanish Rice is easily made right at home using the Instant Pot. Loaded with the authentic flavor of your favorite Spanish Rice, this will quickly become a family favorite side dish for just about any meal.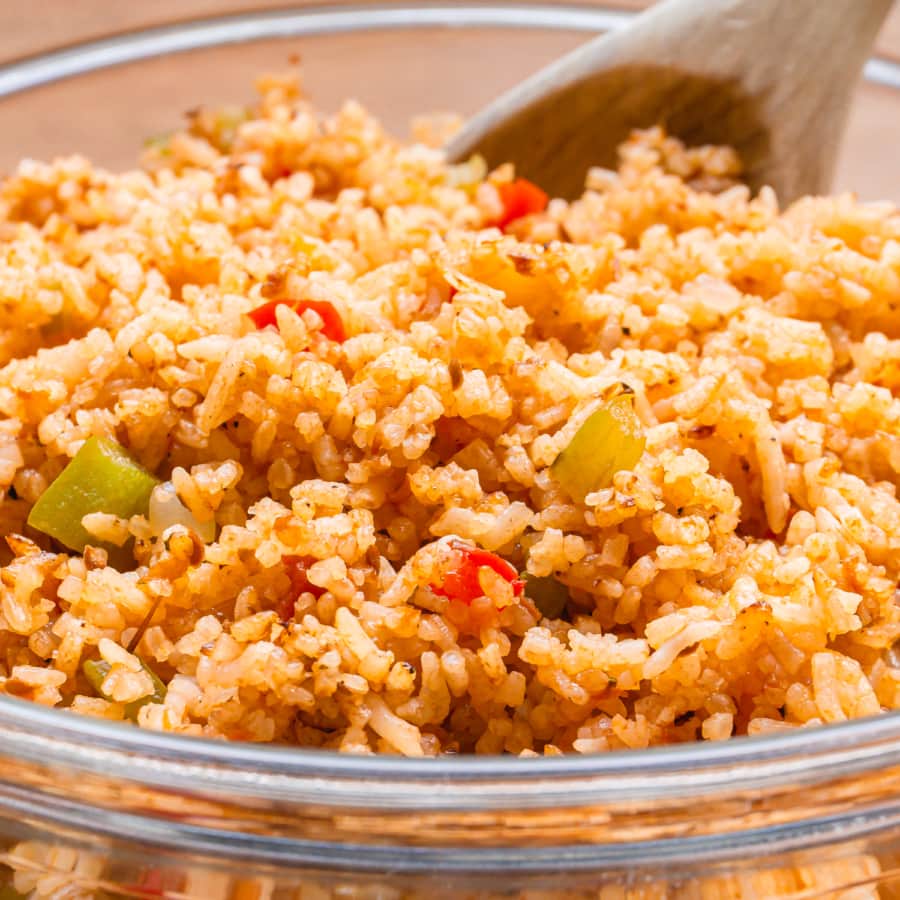 Instructions
Rinse the rice under cool water until the water runs clear. Set aside to dry while preparing the other ingredients.

Toast Rice: Set the Instant Pot to 'Sauté' and, using the 'Adjust' button, set the heat level to 'More'. Add the oil to the pot and allow it to heat up for a couple of minutes. Add the rice to the pot and toss until it is fully coated in oil. Cook, tossing occasionally, until some of the grains begin to brown, about 8 to 10 minutes.

Add Onions, Bell Peppers, and Garlic: Add the diced onions and bell peppers, sautéing with the rice until slightly tender, 2 to 3 minutes. Then add the garlic and sauté for another 30 seconds.

Add Chicken Stock, Salsa, and Salt: Turn off the 'Sauté' function and then add the chicken stock, salsa, and salt to the pot and give everything a gentle stir to combine.

3-Minute Cook Time: Close the Instant Pot, set the pressure release valve to 'Sealing', and set the pot to cook on 'Manual' or 'Pressure Cook', 'High Pressure' for 3 minutes.

10-Minute NPR: Once the 3-minute cooking time has completed, allow for a 10-minute natural pressure release. Release any remaining pressure once the 10-minute NPR has completed.

Fluff the Rice: Once the remaining pressure has been released and the pin has dropped, open the Instant Pot and, using a fork, fluff the rice.
Nutrition Facts
Calories: 223kcal | Carbohydrates: 41g | Protein: 5g | Fat: 4g | Saturated Fat: 1g | Sodium: 456mg | Potassium: 166mg | Fiber: 1g | Sugar: 2g | Vitamin A: 585IU | Vitamin C: 25.5mg | Calcium: 23mg | Iron: 0.6mg
Notes
Mixing in the salsa. I mix in the salsa with all the other ingredients and have never had an issue with getting a burn message. Some of the tomato from the salsa does brown to the bottom of the liner, but I prefer it that way because it adds some great flavor when I mix everything together. If you have any issues with your pressure cooker then, before closing the pot and cooking, just pour the jar of salsa on top of the other ingredients without mixing it in. Then mix everything after cooking.
Toasting the rice. Toasting the rice gives this dish an extra little burst of flavor. Plus, it results in a looser, more fluffy rice after cooking.
Serving Suggestions
Add to burritos and tacos. This rice is ideal for stuffing a massive burrito or loading up a taco. It's also great for making burrito and taco bowls. The flavor is absolute perfection, making it a wonderful addition for your next taco or burrito!
Serve with any Mexican inspired meal. This rice is perfect served with all your favorite Tex-Mex and Mexican dishes including fajitas, enchiladas, soups, and so much more.
Perfect with lots of other meals too! This rice is not only great served with Tex-Mex and Mexican dishes but also so many other dishes. It's a wonderful accompaniment for beef, chicken, fish, or pork. You can also add it to soups and casseroles.