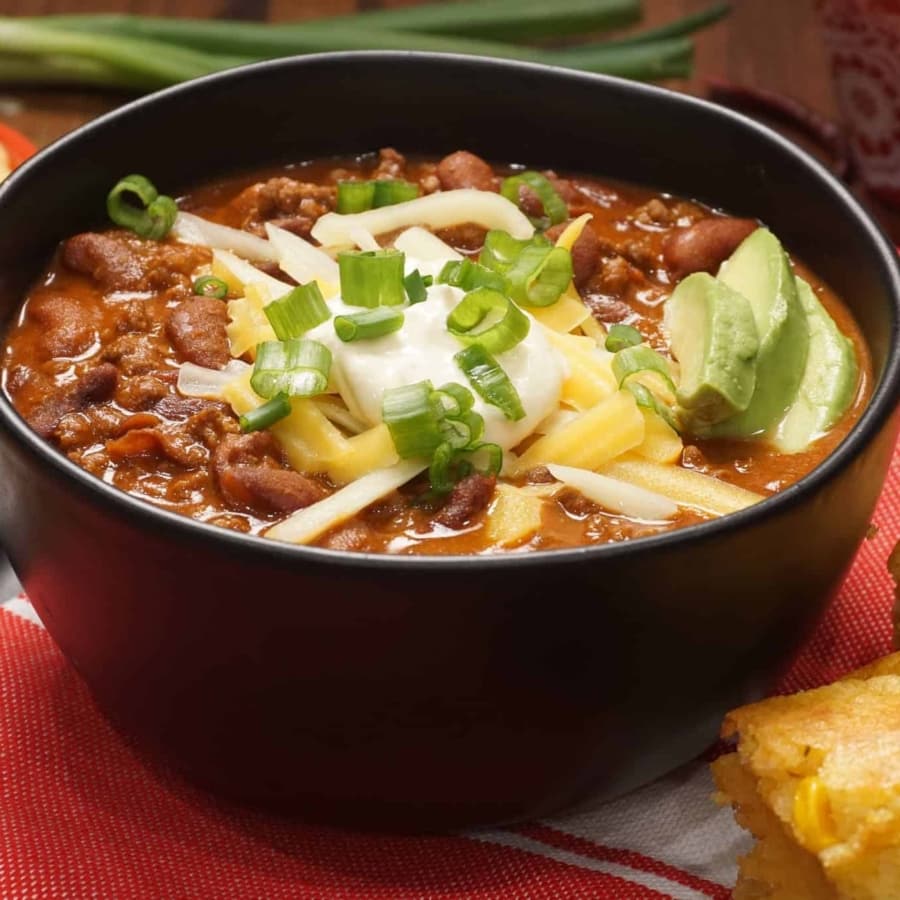 There is nothing better than sitting down to enjoy a warm bowl of delicious homemade chili. My family is big on chili and my husband sure knows how to make a good one. This Instant Pot Chili with Dry Beans is easy and will save you so much time versus making it on the stove.
This post contains affiliate links. For more information, see my disclosure.
Homemade Chili in Less Time
For years my hubby made his chili on the stove and it took several hours to achieve perfection. I have to admit though, it was worth it for the amazing chili it produced.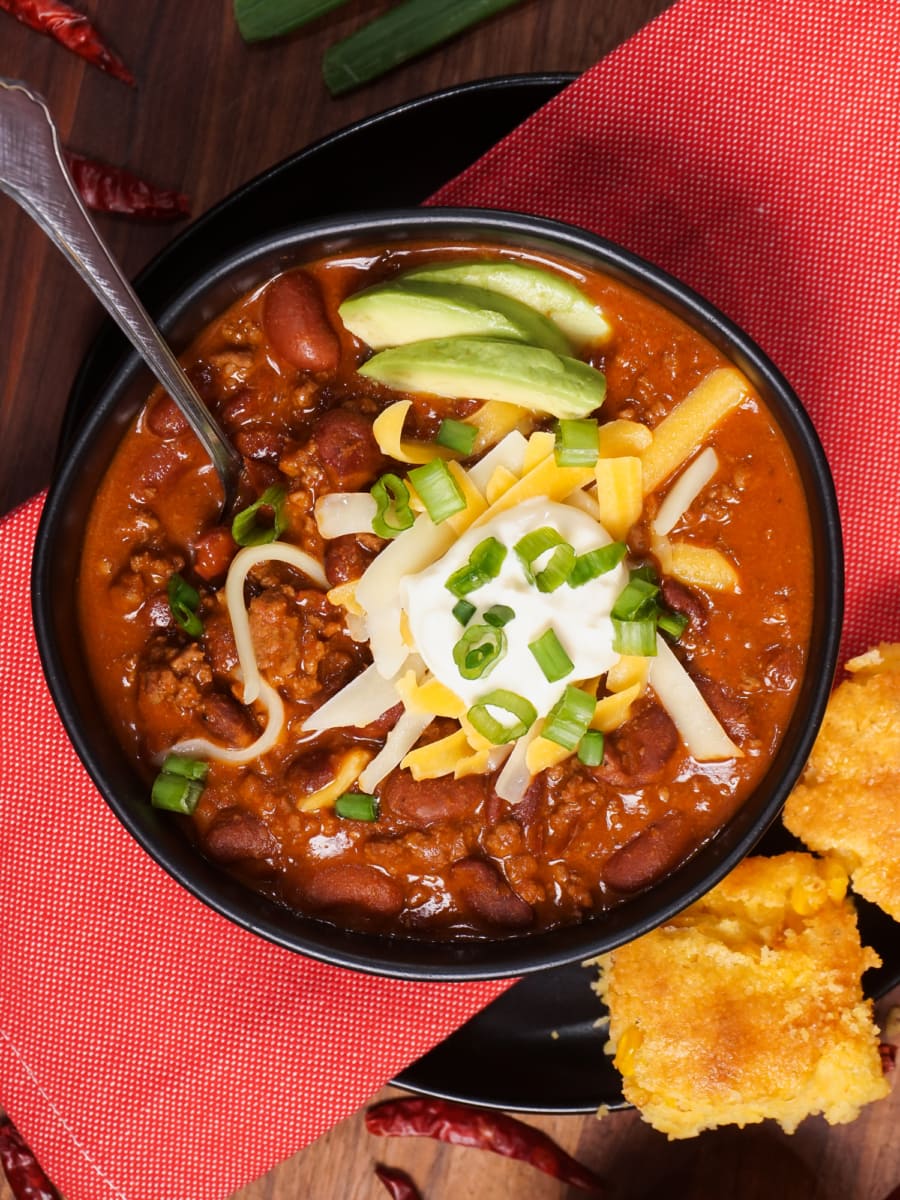 Recently, I challenged him to make a faster version of his stovetop chili so I could share it on the blog. He did not disappoint!
Amazing flavor, in a lot less time. But we really felt we could adapt his original recipe to the Instant Pot to make it even easier and faster. So we got to work and came up with this recipe with dry beans.
Essential Items
Here are some essential prep tools, utensils, and appliances I used to make this recipe.
Featured Items
Here is a list of the products featured in this post or products similar to those featured in this post:
28 Must-Have Instant Pot Accessories
Make sure to check out my Ultimate List of Instant Pot Accessories! I've included everything you could ever need to help make your pressure cooking quicker, easier, and even more convenient.
The Best Instant Pot Chili With Dry Beans
So, I know, that's a pretty bold statement, but this Instant Pot Chili is amazing! The flavor is so good, and the fact that you can make it in such a short amount of time is fantastic.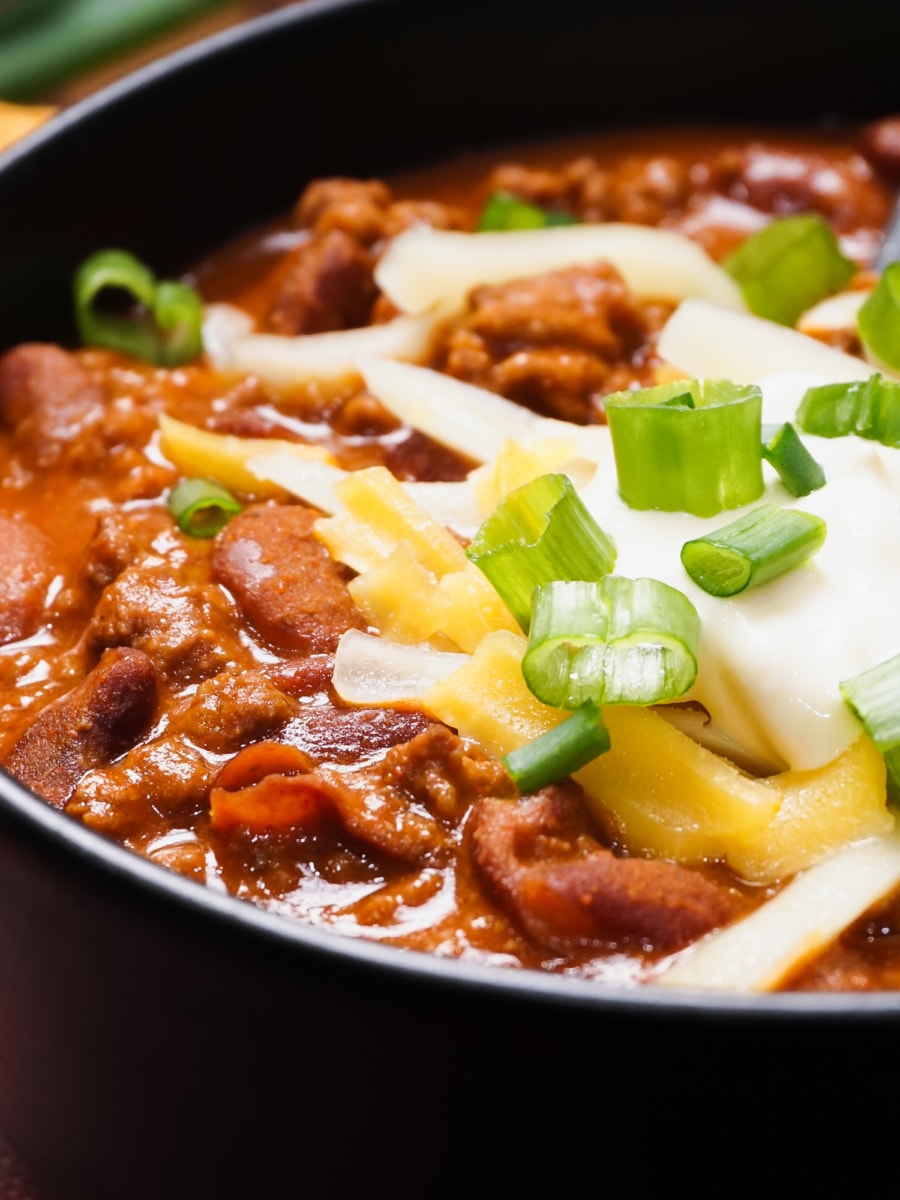 My hubby and I tested this chili many times, and every time it got better and better. My kids did not complain about the fact that we had chili several days in a row. My friend and neighbor, who is usually a taste tester for us, said the chili was unbelievable. So I stand by my statement, that this Instant Pot Chili with Dry Beans is the best around!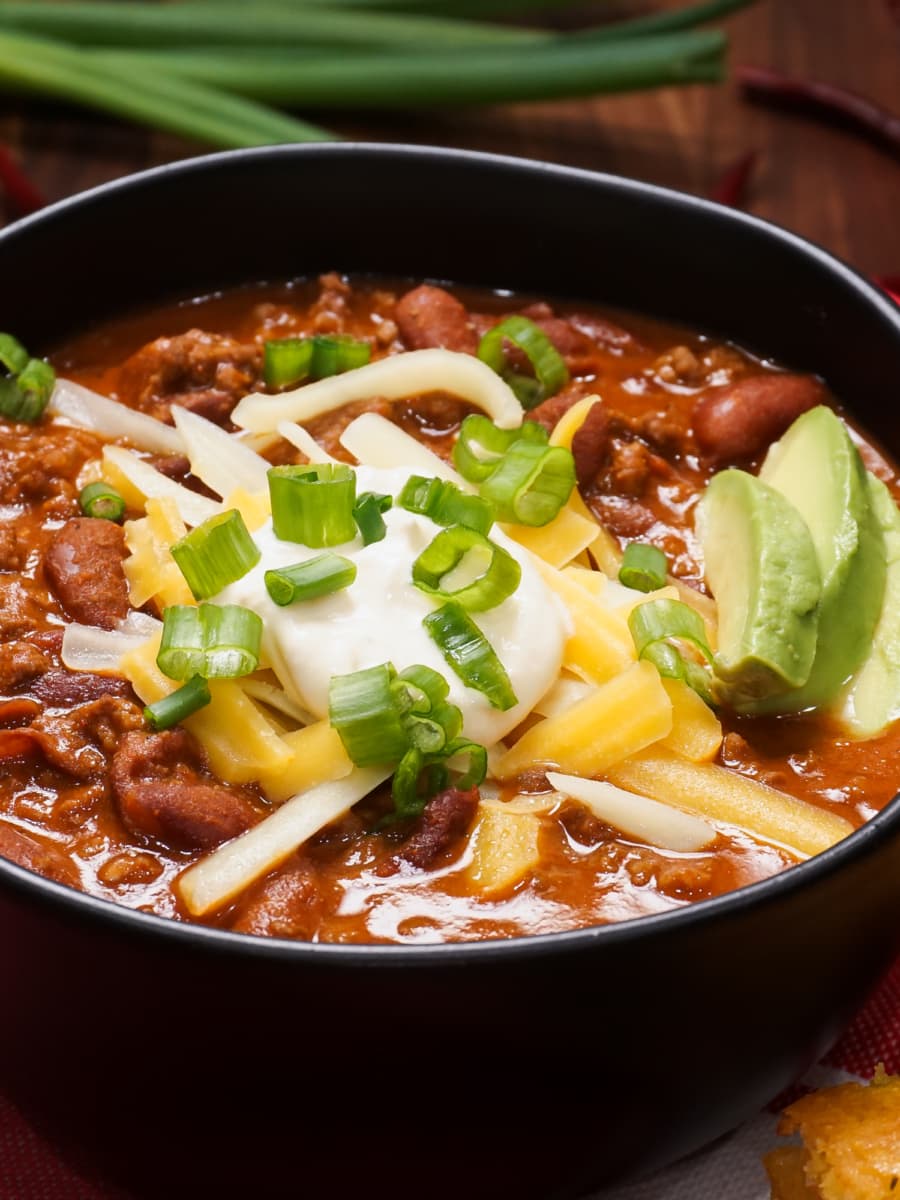 Texas Chili Beans With a Spicy Kick
This Instant Pot Chili recipe has an amazing kick to it. It's got the perfect spice, but even with its kick, my 7-year-old can handle an entire bowl. You can always adjust the spice level to suit your family's needs.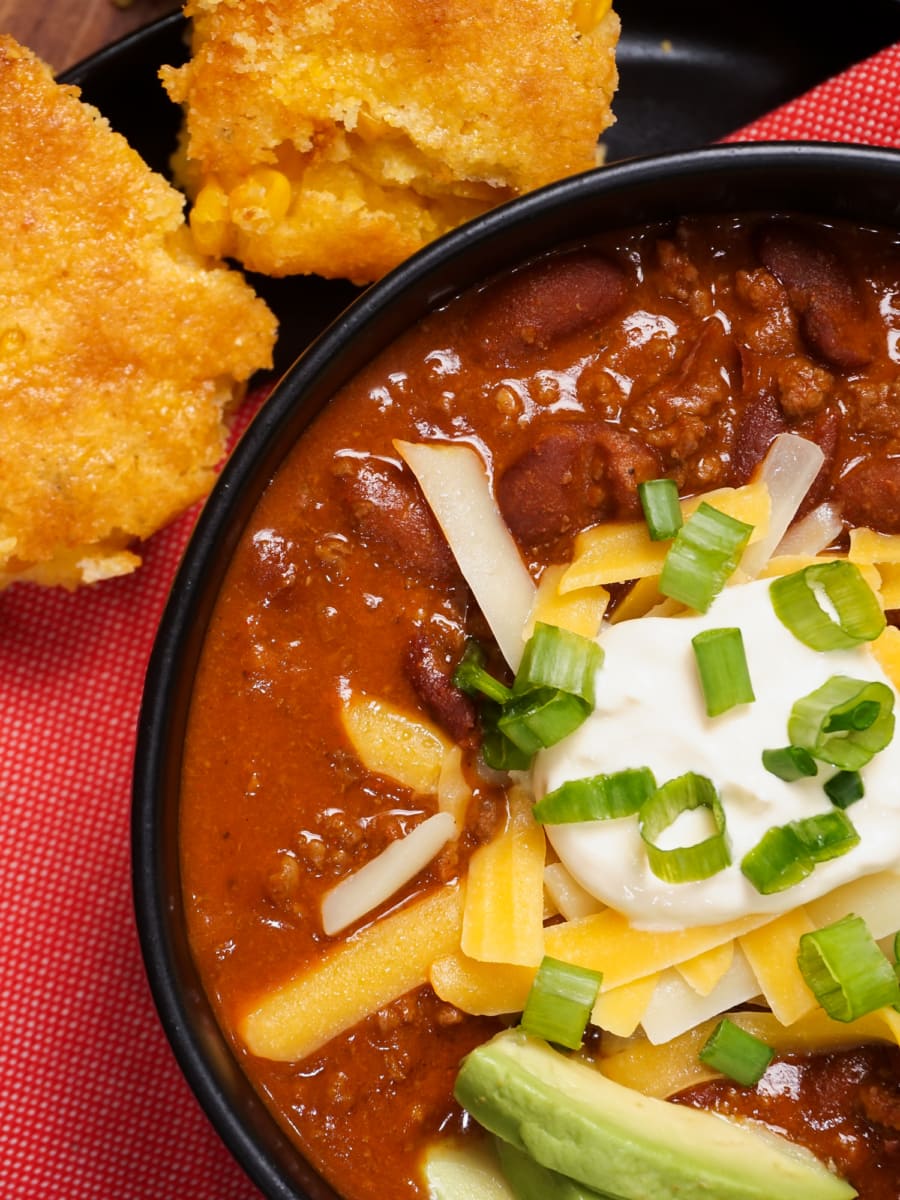 I am confident that you and your family will enjoy my husband's chili. It's easy to make and it is a crowd-pleaser.
I can't wait for you to try it! I have included lots of suggestions and tips below the recipe card, so take a minute to read through everything so you can make the perfect Instant Pot Chili with Dry Beans!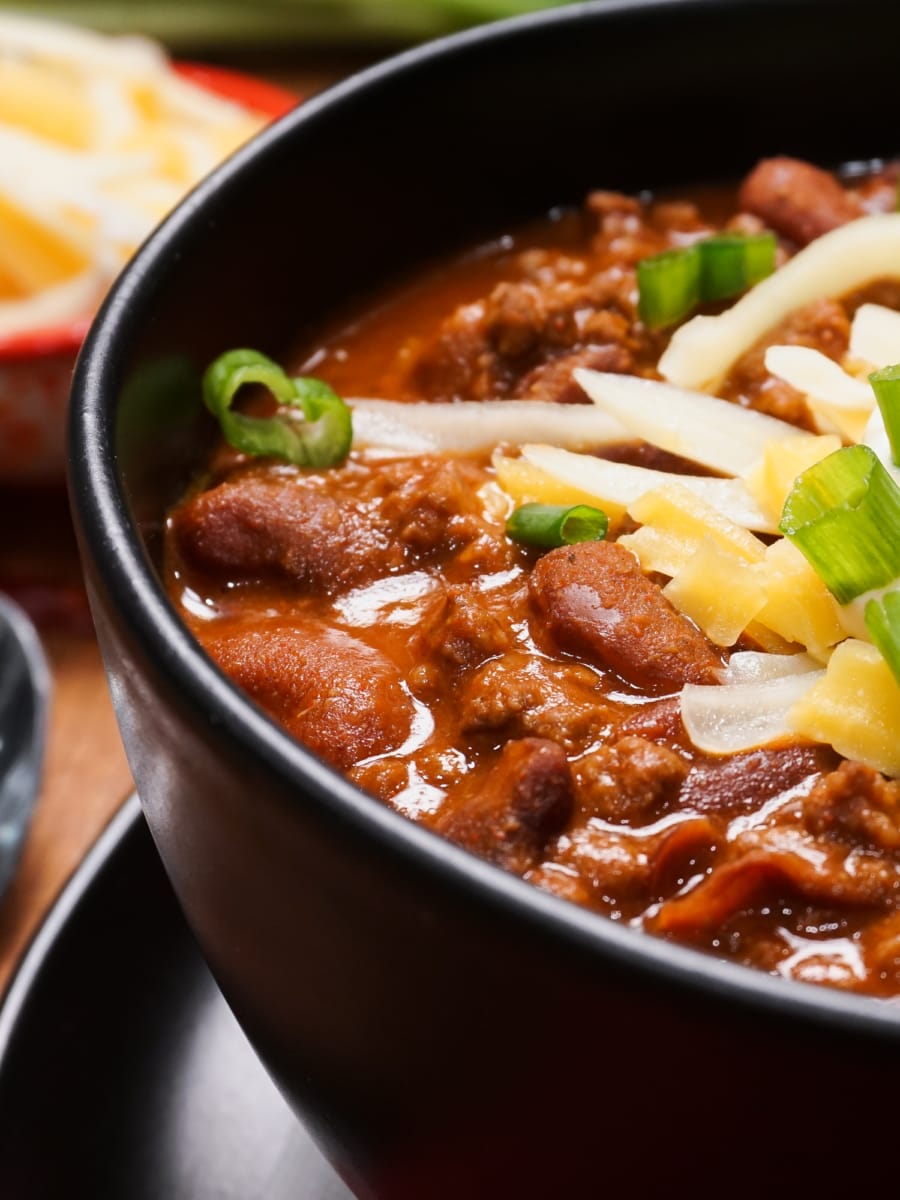 Now it's time for you to make this wonderful Instant Pot Chili recipe! I'd love to hear about it in the comments when you try it! Look below for other types of easy chili recipes you can make as well!
If you are an Instant Pot beginner I have also created this step-by-step to for making this chili recipe.
Check Out These Other Great Recipes
Want to use canned beans? Try my easy and delicious Instant Pot Chili Recipe.
Want more chili recipes? Check out these amazing Instant Pot Chili Recipes that I've collected.
Looking for a stovetop chili? Try my stovetop version of this chili recipe. It's so easy to make.
Instant Pot Dry Bean Chili
RED KIDNEY BEANS, GROUND BEEF, AND A SPECIAL BLEND OF CHILI SPICES
A warm bowl of this hearty chili is oh so comforting. Top it with shredded cheddar, sour cream and chives and serve with cornbread.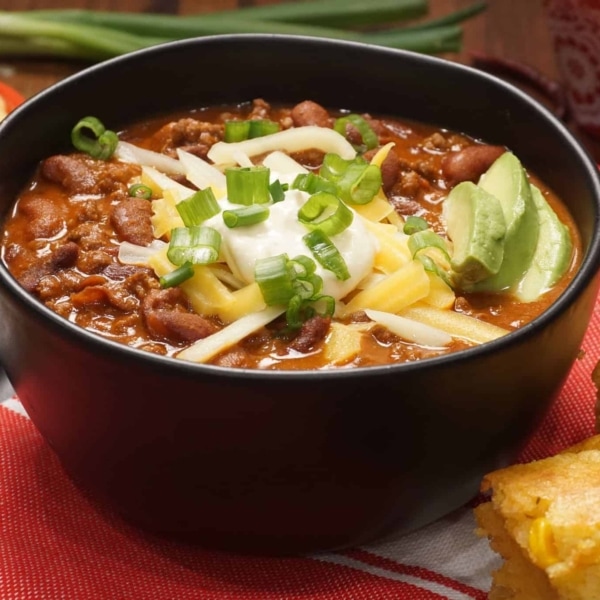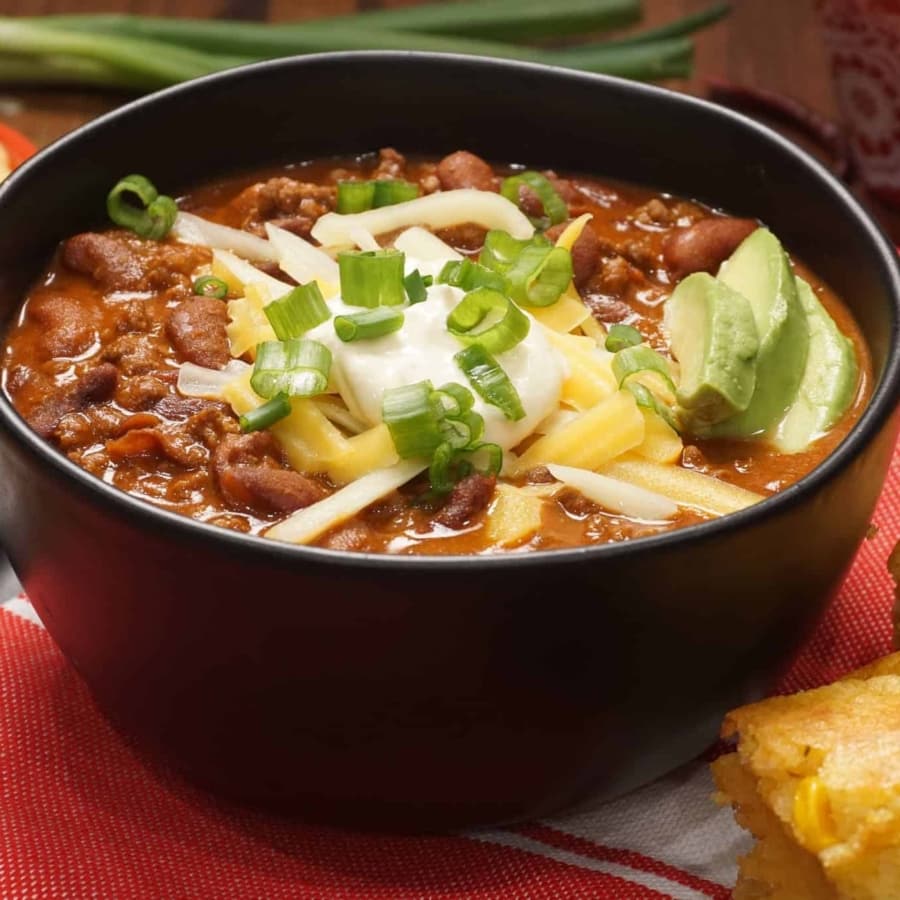 Instructions
Next, set the Instant Pot to 'Sauté'. Allow the pot to warm up for a couple of minutes and then place the ground beef in the pot and cook until brown.

Add the minced garlic and sauté for another 2 minutes.

Cut the 'Sauté' function off. Add 2 cups of water to the ground beef and then add all of the dry ingredients to the pot – chili powder, cumin, salt, pepper, and flour. Mix well.

Add the

power soaked beans

along with the bean broth. If the beans did not yield a full 3 cups of bean broth, then substitute what is missing with an equal amount of water.

Stir all the ingredients in the pot.

Add the can of tomato paste to the top of the chili. Do not mix it in.

Close the Instant Pot and set the pressure release valve to 'Sealing'.

Next, set the pot to 'Manual' or 'Pressure Cook' High Pressure for 15 minutes. Allow for a 15-minute natural pressure release.

Once the 15-minute NPR is complete, release any remaining pressure, open the pot and enjoy your chili.
Nutrition Facts
Serving: 1bowl | Calories: 280kcal | Carbohydrates: 27g | Protein: 24g | Fat: 8g | Saturated Fat: 3g | Cholesterol: 49mg | Sodium: 366mg | Potassium: 911mg | Fiber: 6g | Sugar: 2g | Vitamin A: 220IU | Vitamin C: 5mg | Calcium: 55mg | Iron: 5.1mg
Notes
Power soaking red kidney beans. This uses my recipe for power soaked red kidney beans which calls for one lbs of dry red kidney beans. That is exactly what you'll need for this chili recipe. I always use all of the beans plus the broth in my chili.
Replacing the bean broth with water? If, for whatever reason, you wish to substitute the bean broth with water, I'd suggest adding 1 to 2 more teaspoons of salt. Otherwise, the chili will end up being too bland.
Tips & Tricks
Boost the flavor. If you want to get the most possible flavor out of your chili, use ground chuck. Ground chuck is more flavorful than ground sirloin but is also fattier. I still prefer using the ground sirloin for everyday cooking but for special occasions, I will use ground chuck.
Turn up the heat. This recipe calls for a ½ cup of chili powder which is great if you have small kids or someone who doesn't enjoy overly spicy foods. It's just the right amount of spice for everyone to be able to enjoy. But, if you're looking to amp it up, then go ahead and double the chili in this recipe to 1 cup. We've tried it before, and it's amazing! It's great for clearing the sinuses too!
Omit the beans. If you'd rather have chili without beans, just omit them and add one more pound of ground beef. This is perfect for when you want to serve this chili over hot dogs, Frito pie, or fries.
Save time with two pots. To save time, I always power soak the beans in my 3-quart Instant Pot. When the power soaking is 10 to 15 minutes away from finishing, I will use my 8-quart to start preparing the ground beef.
Serving Suggestions
Load it up with goodies. To make this chili extra tasty, add a dollop of sour cream, a handful of shredded cheddar cheese, some chives or avocado.
Serve with cornbread. Nothing pairs better with a warm bowl of chili than cornbread. Try out my Texas Wildfire Cornbread.
Serve over rice. To make this chili extra hearty, we like serving our chili over rice.
Serve with crackers or tortilla chips. Crackers are a standard chili accompaniment. My kiddos love to crumble tortilla chips on the bottom of the bowl and serve the chili over the top of them.
Serve it American style. If you made the decision to omit the beans, then you'll have the perfect topping for some favorite all-American dishes. Turn those boring hot dogs into delicious chili cheese dogs and while you're at it pour it over fries for some chili cheese fries. Serve it over Fritos and top with shredded cheese for a Frito Pie. Or, add it to your favorite Mac & Cheese for some Chili Mac.