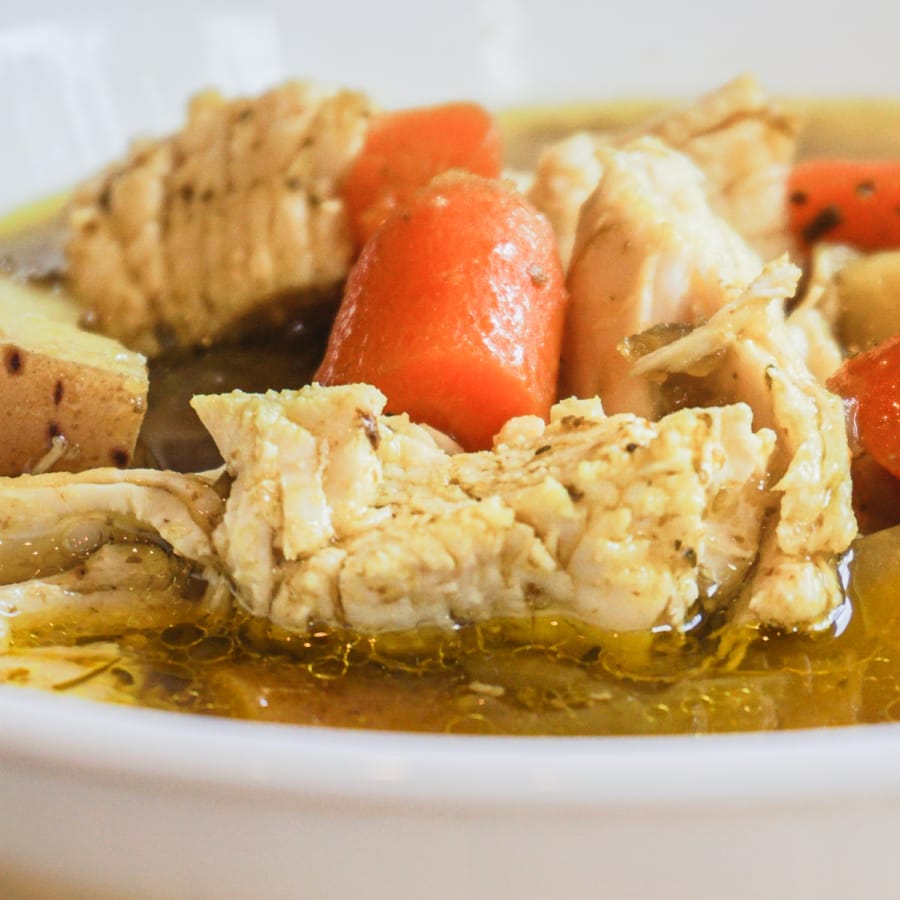 SAVE THIS RECIPE
What do you do when half the house is down with flu? You make Instant Pot Chicken Soup, of course! And you spray Lysol like a boss!! 😉 But back to the chicken soup!
This post contains affiliate links. For more information, see my disclosure.
Thank goodness for the Instant Pot! I was able to make an amazing, from scratch, loaded chicken soup in about an hour. Growing up, I wasn't a big fan of soups, but there were a few soups that I couldn't pass up. Tortilla Soup and Bean Soup were my favorites. But knowing we had a bunch of sick kids, plus dad, I knew chicken soup was the only way to go!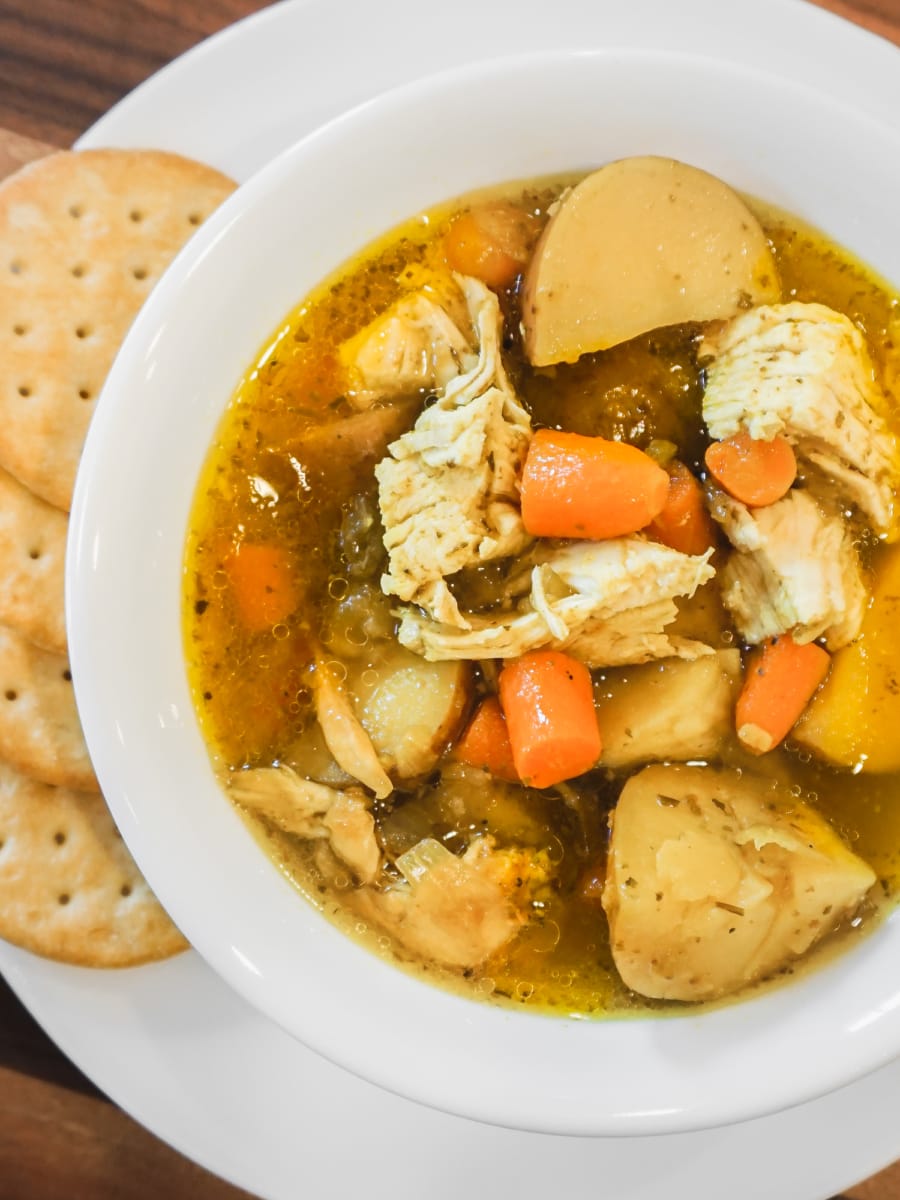 A little secret about me for those that don't know me yet, I hate chicken bones, and I hate raw chicken. It gives me the creeps! It's ironic though because my favorite food is chicken! I do not handle raw chicken with my hands, and I certainly don't eat any chicken with bones in it.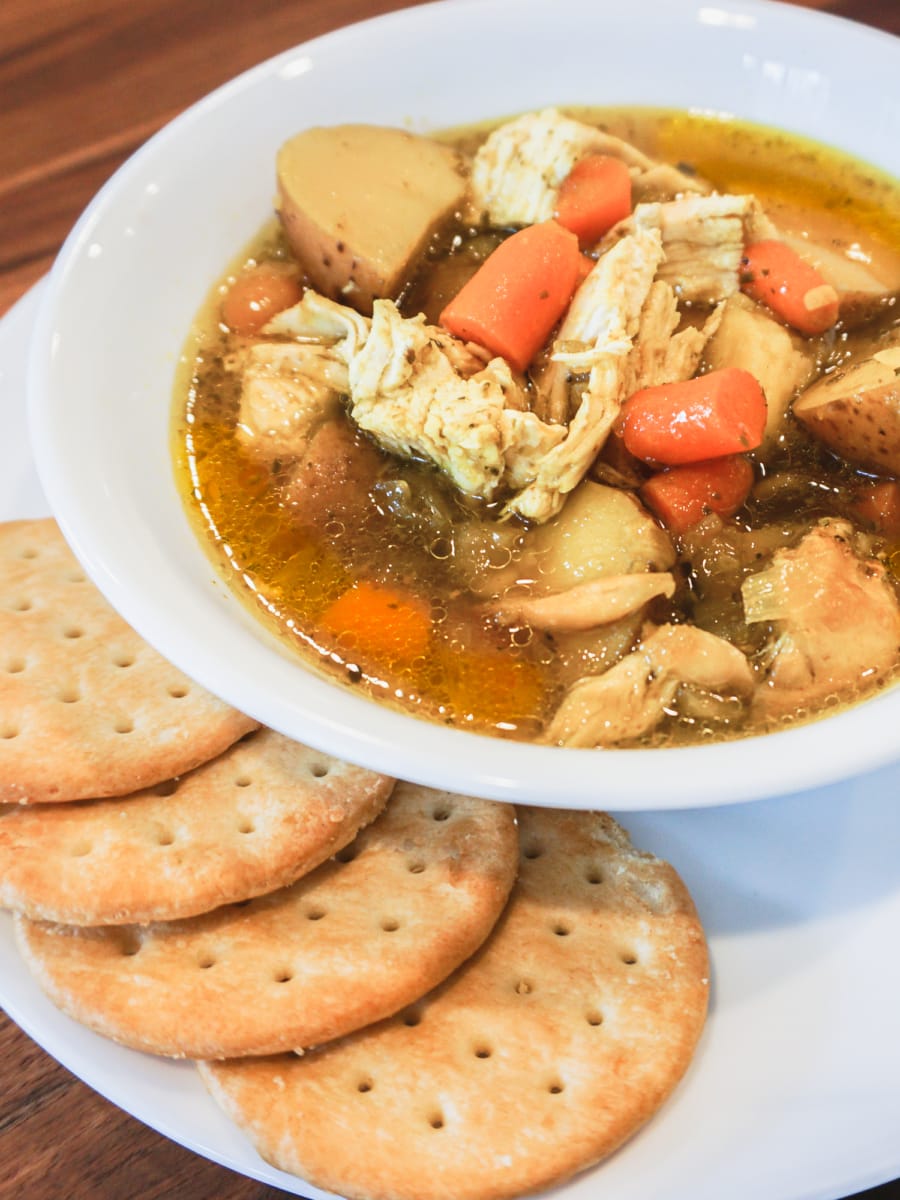 So it took everything I had in me to pick up that whole chicken and put it in the pot! When all was said and done, the head chef had to do the deboning and shredding of the chicken. He's an expert at it because he loves me so much, he knows there can't be any little bones or cartilage in the food, or I may have a heart attack if I come across one while eating. Not sure what it is, but I just can't handle chicken bones!!
Turmeric: A Super Spice
I did some research on spices that were good for colds. I came across turmeric, which is considered an immune system booster and contains lots of antioxidants and anti-inflammatory properties, perfect for when you have a cold or the flu! So I consulted with my head chef, that would be Ryan, and he helped me come up with this recipe, packed full of goodness.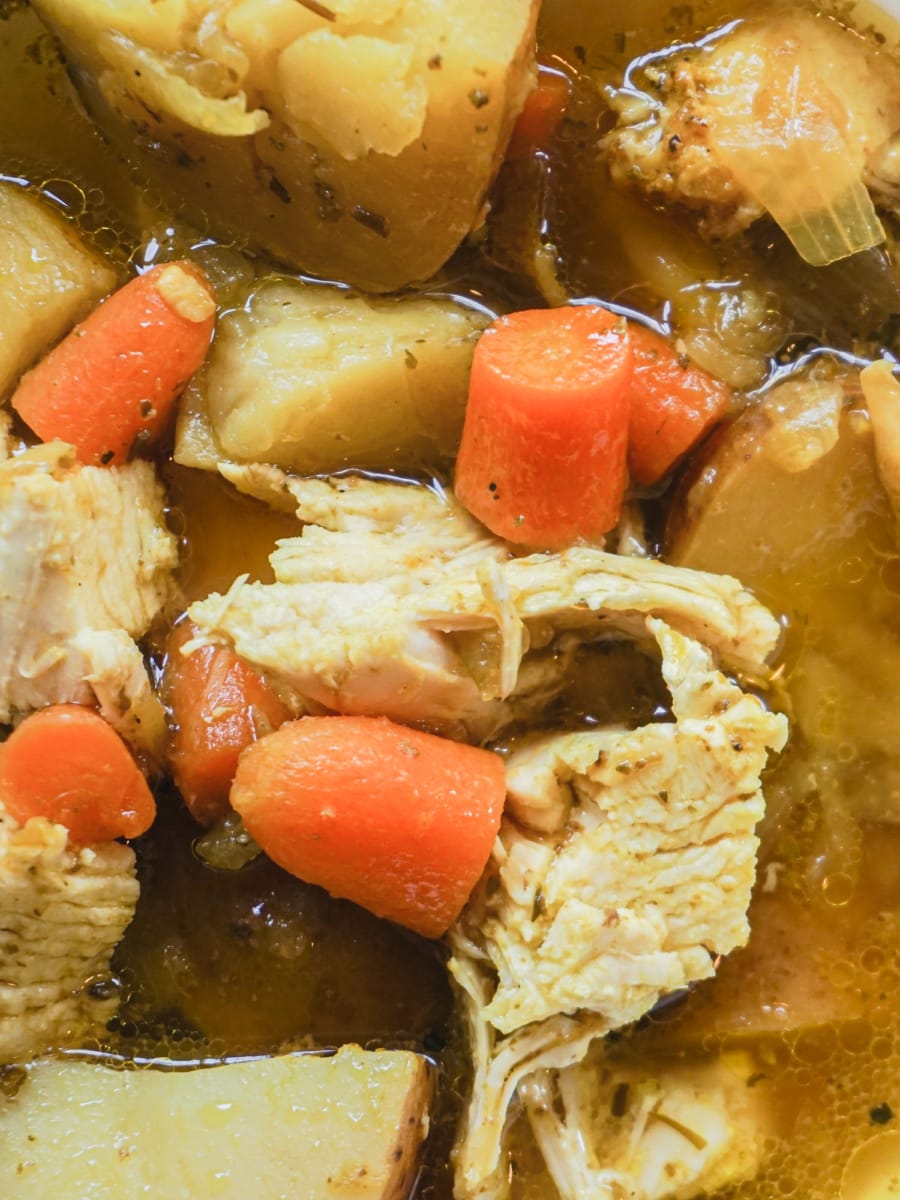 The turmeric gives the soup such a delicious flavor! It's not too strong, so don't be scared of it. Your house will smell amazing when you're cooking this soup. One word of caution, though, is that turmeric can stain everything! So just don't put your finished soup in a plastic container, and preferably use a paper towel instead of a dish towel to clean up.
Essential Items
Here are some essential prep tools, utensils, and appliances I used to make this recipe.
Featured Items
Here is a list of the products featured in this post or products similar to those featured in this post:
23 Must-Have Electric Pressure Cooker Accessories
Make sure to check out my Ultimate List of Electric Pressure Cooker Accessories! I've included everything you could ever need to help make your pressure cooking quicker, easier, and even more convenient.
What Ingredients Will I Need for Instant Pot Chicken Soup?
This Instant Pot Chicken Soup is packed full of goodness. You'll need some simple, fresh ingredients to make it. You will, of course, need a whole chicken. Using a whole chicken provides the most flavor. You can use chicken breasts, but it won't be as flavorful and you may have to adjust the cooking time and make it lower.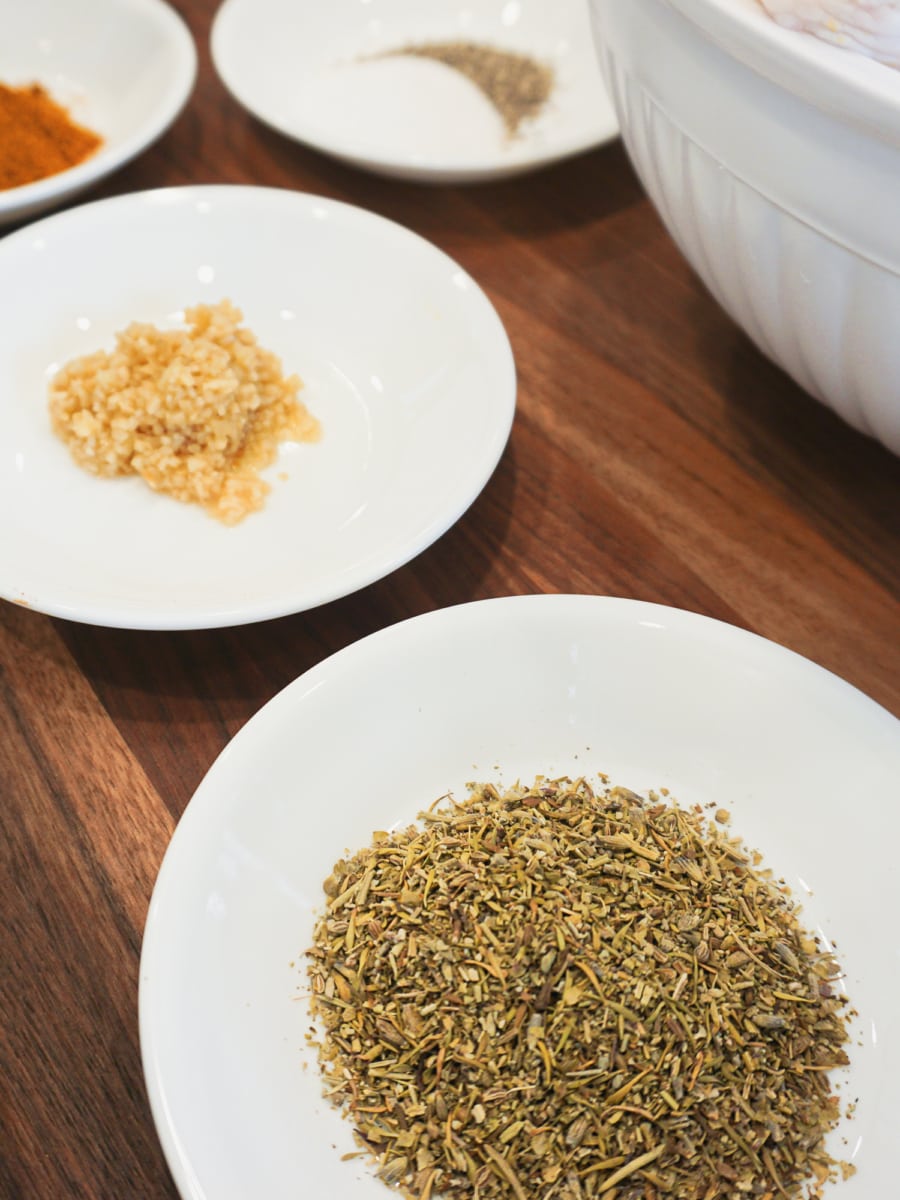 As far as veggies, you'll need baby red potatoes, carrots, celery, and onions. You will also need unsalted chicken stock, olive oil, minced garlic, turmeric, Italian seasoning, salt, and pepper.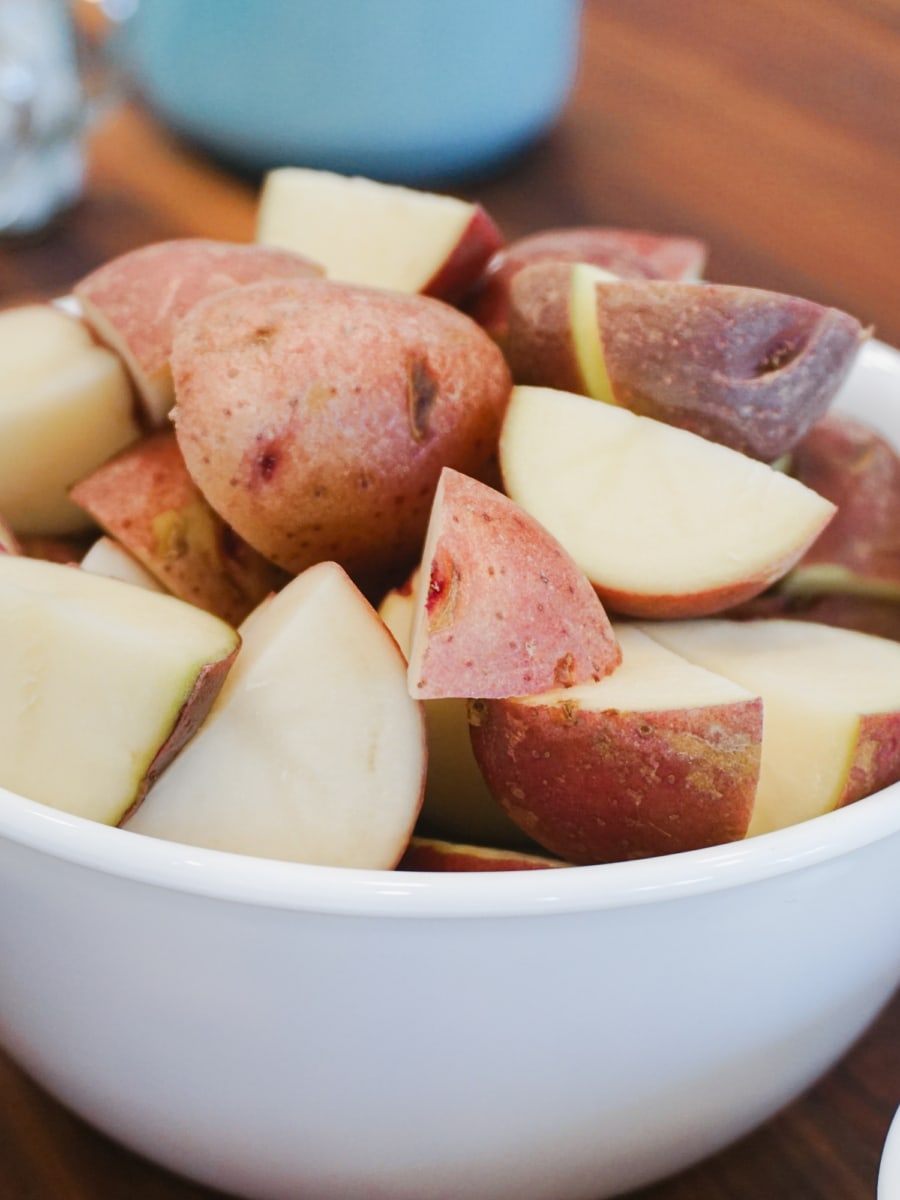 The result when I combined all these ingredients in the Instant Pot? A very tasty and nutritious chicken soup that every single person in the family loved! By the way, this was the first time I made a soup completely from scratch, with a whole chicken and everything, so it was pretty exciting to me that it was such a success!
How to Make Instant Pot Chicken Soup
It couldn't be easier to make Instant Pot Chicken Soup using a whole chicken. Turn on the Sauté mode on your pressure cooker and allow it to heat up until it reads "Hot". Add the olive oil and let it heat up.
Once the oil is hot, sauté the onions in the oil, tossing them occasionally. You'll want to cook them until they start to get soft. It'll only take a few minutes.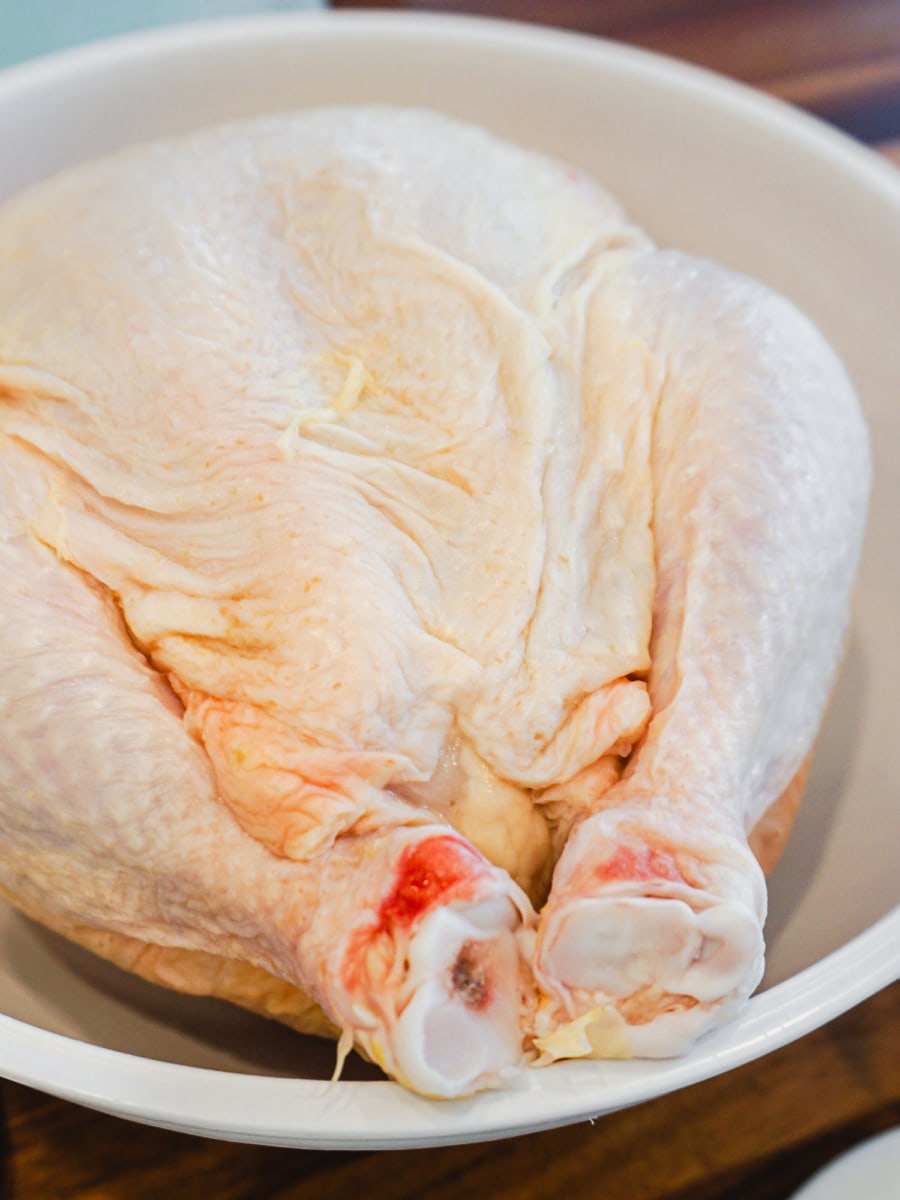 Add the minced garlic and cook for a minute more. Next, add the celery and the spices, mix everything together and continue to cook for another minute or two. Turn off the Sauté function and make sure there's nothing stuck to the bottom of the pot.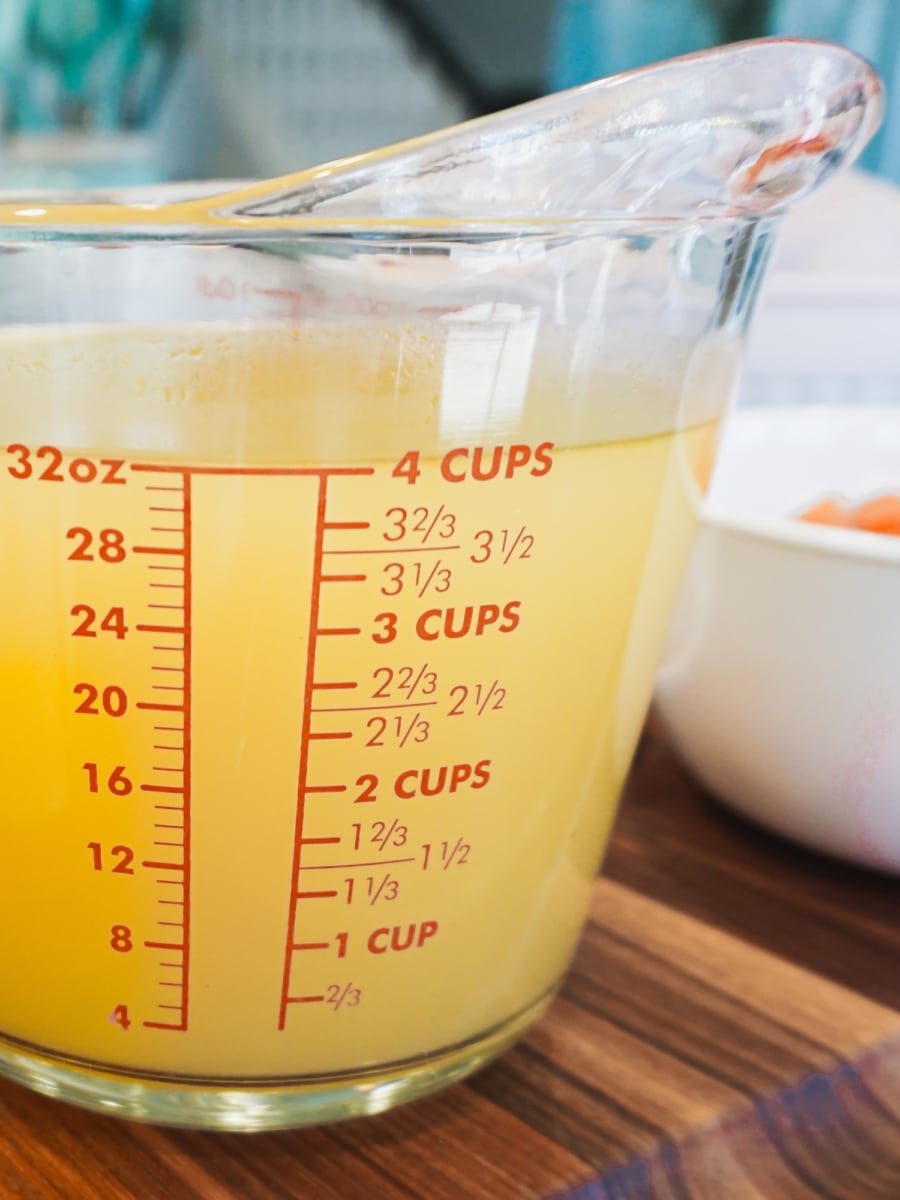 Now, place the whole chicken in the pot, breast side up and add the baby carrots and potatoes on top. Finally, pour the chicken stock into the pot. You're now ready to place the lid on your pressure cooker and set the pot to Sealing. Press the 'Soup' button and cook for 30 minutes. Super simple!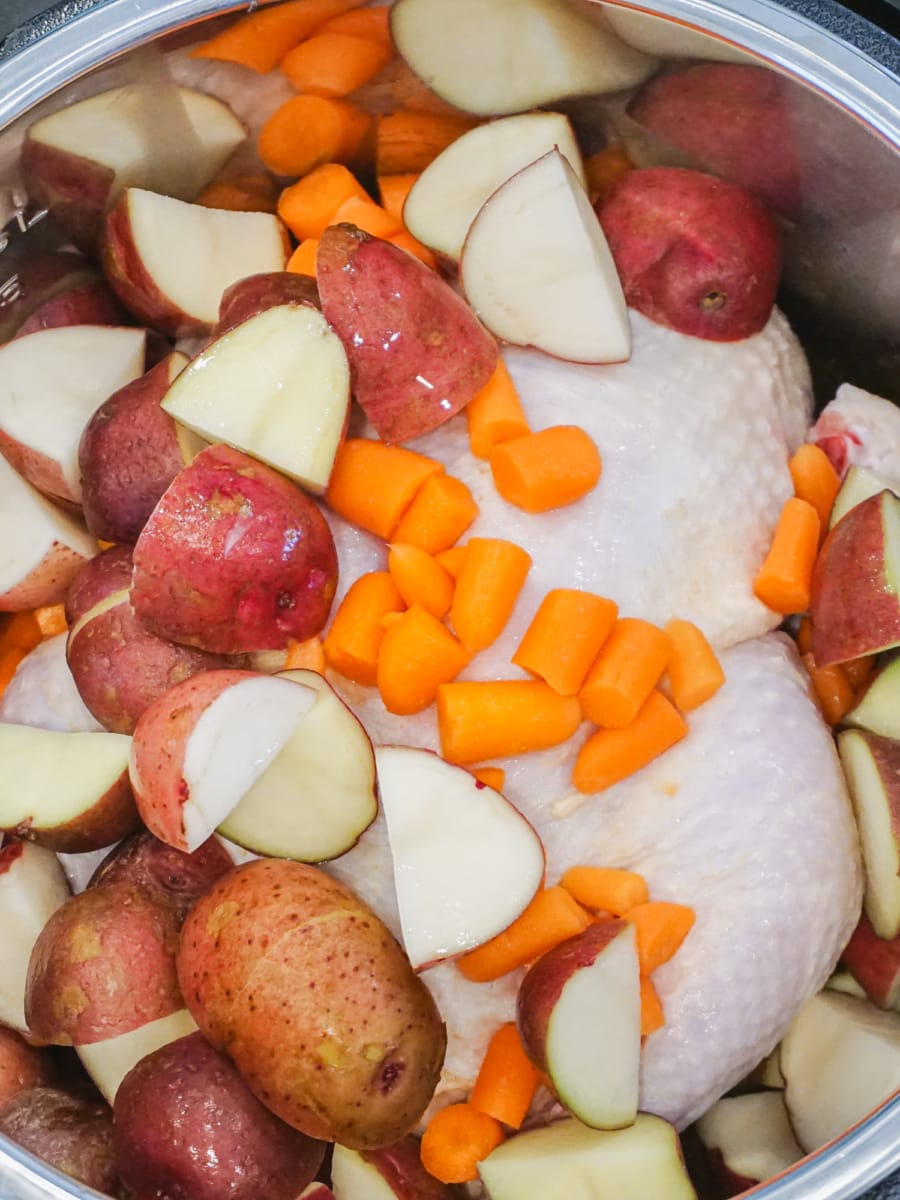 You will allow for a Full Natural Pressure Release. This can take quite a while. So, if you're in a hurry, you can manually release the pressure after it's done a 30 minute NPR. Most of the time, I just let it do the Full NPR so that I don't have to think about it.
Once the pin has dropped, you can open the pot. Carefully remove the chicken from the soup and place it in a bowl to shred. After it's been shredded, you'll then add the shredded chicken back into the soup and give everything a gentle stir.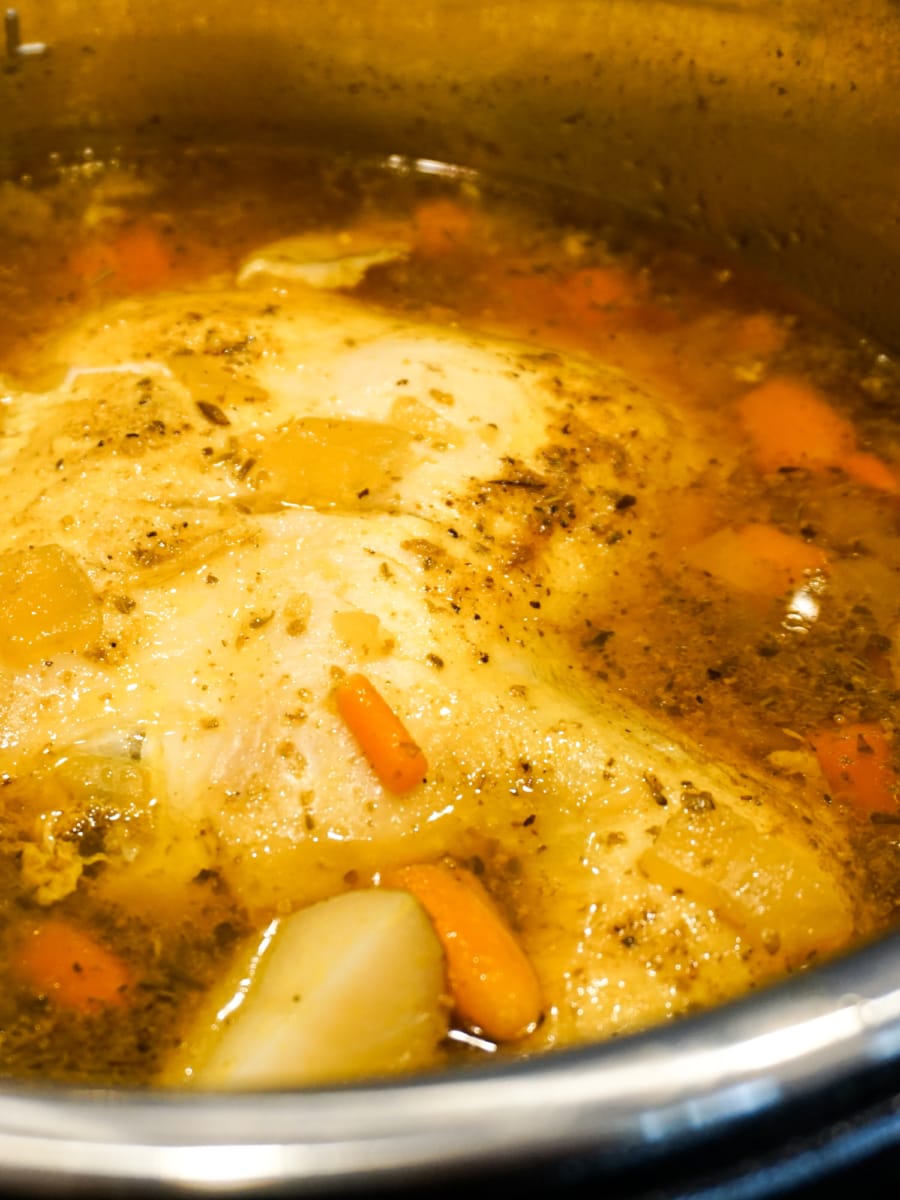 You can also check out this video I put together that shows you step-by-step, how I made this wonderful soup. If you want more soup ideas, check out my post with lots of Easy and Delicious Instant Pot Soups. Let me know in the comments when you try this Chicken Soup!
Instant Pot Chicken Soup
WHOLE CHICKEN, NOURISHING VEGETABLES, HERBS, AND SPICES
Total Time
1hour:15minutes
This flavorful homemade chicken soup is packed with nothing but good stuff to boost your immune system and nourish your soul. Perfect for those chilly fall and winter days.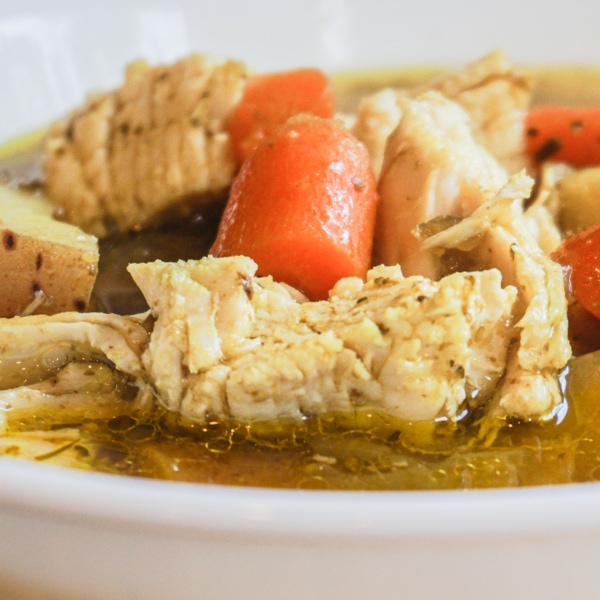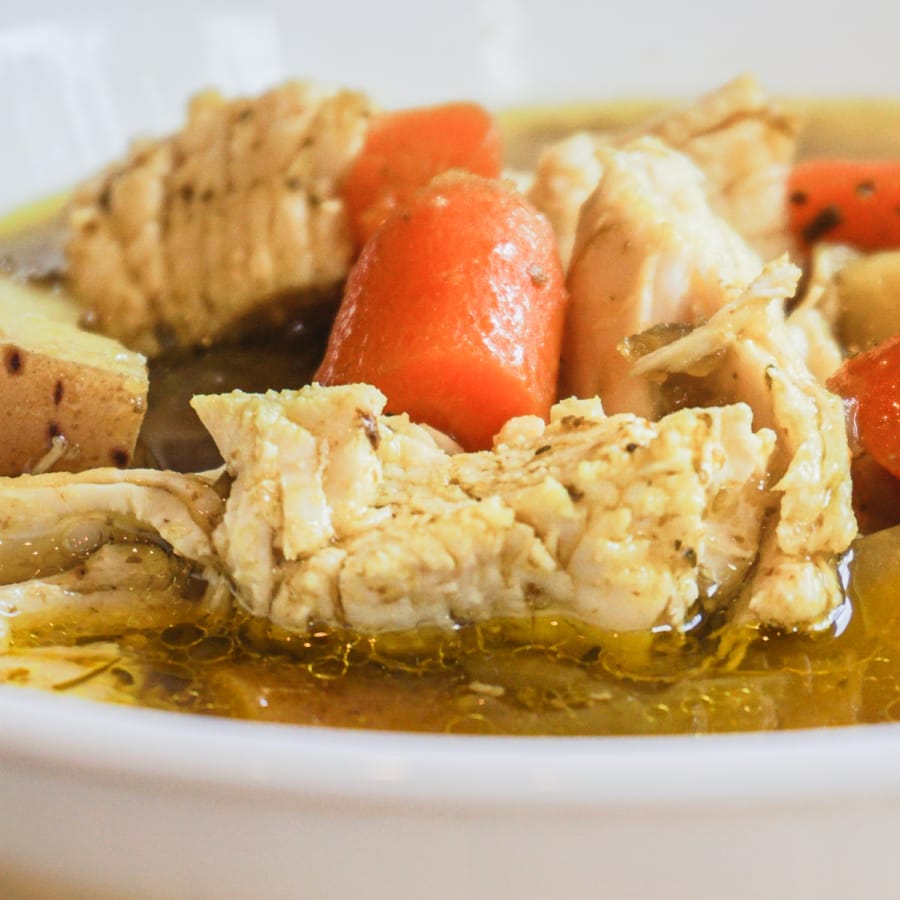 Instructions
Sauté Onion: Turn on 'Sauté' and adjust the heat level to 'Normal'. Allow the pot to heat up until the display reads 'Hot'. Add the olive oil and let it heat up. Add the chopped onions to the pot and toss until thoroughly coated in the oil. Sauté, tossing occasionally, until the onions become soft and translucent. About 2 to 3 minutes.

Add Garlic, Celery & Seasonings: Add the minced garlic and cook for another minute. Continue to stir. Add the chopped celery, turmeric, Italian seasoning, pepper, and salt. Mix all the ingredients well and let sauté for an additional 1 to 2 minutes. Turn off 'Sauté' and deglaze the bottom of the pot.

Add Chicken, Vegetables & Stock: Place the whole chicken, breast side up, into the Instant Pot. Then, add the carrots and baby red potatoes. Now pour the chicken stock into the pot.

Set Cook Time: Close the Instant Pot, adjust the pressure release valve to 'Sealing' and select the 'Soup' function. The Instant Pot will cook at high pressure for 30 minutes.

FULL NPR: Once the cooking time has completed, allow for a Full Natural Pressure Release which can range from 30 to 50 minutes. If you are in a hurry, you can release any remaining pressure at 30 minutes if you wish. After the NPR has finished and the pin has fallen, open the pot.

Shred Chicken: Carefully remove the whole chicken from the Instant Pot and place in a bowl and shred. Add the shredded chicken back to your soup.

Your chicken soup is ready to serve!
Nutrition Facts
Serving: 1bowl | Calories: 224kcal | Carbohydrates: 11g | Protein: 14g | Fat: 13g | Saturated Fat: 3g | Cholesterol: 50mg | Sodium: 572mg | Potassium: 442mg | Fiber: 1g | Sugar: 3g | Vitamin A: 3700IU | Vitamin C: 6.6mg | Calcium: 38mg | Iron: 1.4mg
Common Questions & Answers
Can this soup be made with chicken breast? Absolutely! However, the soup won't be nearly as flavorful. You'll also want to make adjustments to the cooking time because chicken breasts won't take as long to cook. While I've not made this soup with chicken breasts, I would suggest that the cooking time be adjusted to 10-15 minutes.
What herbs and spices go in chicken soup? This recipe keeps it simple. I only use garlic, turmeric, Italian seasoning, and ground black pepper and the flavor is so wonderful. Some other herbs and spices that you could experiment with are oregano, basil, thyme, and lemongrass. For a little extra boost of flavor, add a splash of vinegar or lemon. And, to spice things up, a couple of drops of tabasco or your favorite hot sauce would do the trick.
Serving Suggestions
What to serve with chicken soup: A warm bowl of chicken soup is great with bread, garlic bread, biscuits, crescent rolls, cornbread, crackers, grilled cheese, a small sandwich, salad, and roasted vegetables.
What to add to chicken soup: You can add egg noodles, white rice, brown rice, avocado, crumbled crackers, crumbled tortilla chips.