Who loves chopping onions and garlic?
Not me!!
I've avoided it for so long that I can't remember the last time I chopped an onion! I either buy the expensive tubs of pre-chopped onion, and half of it goes bad, or I have Ryan chop them for me!! So when I was given the opportunity to try Pop & Cook, I was instantly intrigued!!
Making Meal Prep Effortless!
I had not heard of Pop & Cook before, so I quickly did some research and decided it was definitely something I could use! With 5 kids, I'm always looking for ways to make things easier and save time. So, saving time by not having to clean and chop garlic, onions, and herbs, count me in!!
Perfectly Chopped and Measured Without the Mess!
Pop & Cook are frozen, pre-measured all natural herbs that come in little poppable cubes. 
They have garlic, cilantro, basil, and ginger. They also have sautéed glazed onions that smell delicious as soon as you open the package! They are so easy to pop out, no messy hands, and definitely no more tears when chopping onions! It doesn't get better than that folks! Click here to read all about Pop & Cook, and check out their delicious recipes while you're there!
Get Your Pop & Cook at Walmart
You can find Pop & Cook in the frozen section at your local Walmart.
You should keep the packages stored in your freezer and take them out when you're ready to use them. The containers make it easy to pop out only what you need and put the rest back in the freezer.
I have used the garlic in several meals this week. I used it in my spaghetti and meat sauce and it definitely was great to not have to peel and chop the garlic!
Using Pop & Cook to Make Frittata Poppers
I also used both the onions and the garlic to make some frittata poppers.
They turned out amazing so you know I have to share the recipe with you!
These frittata poppers flew off the pan when I made them! Ryan and the kids loved them! They have bacon in them, so yeah, enough said!!
But in case you're wondering, they also have potatoes and cheese so they are really delicious!
Watch Me Make The Frittata Poppers
These frittatas are perfect for breakfast, lunch or dinner and can even be served as pretty appetizers at your next get-together!
I'm convinced you will love Pop & Cook if you try it. It will definitely save you time when cooking! So go get some at your nearest Walmart and let me know what you think!
I came up with an easy recipe for the frittata poppers and it was definitely made easier by Pop & Cook!
Here's the recipe so you can give Pop & Cook a try!!
Frittata Poppers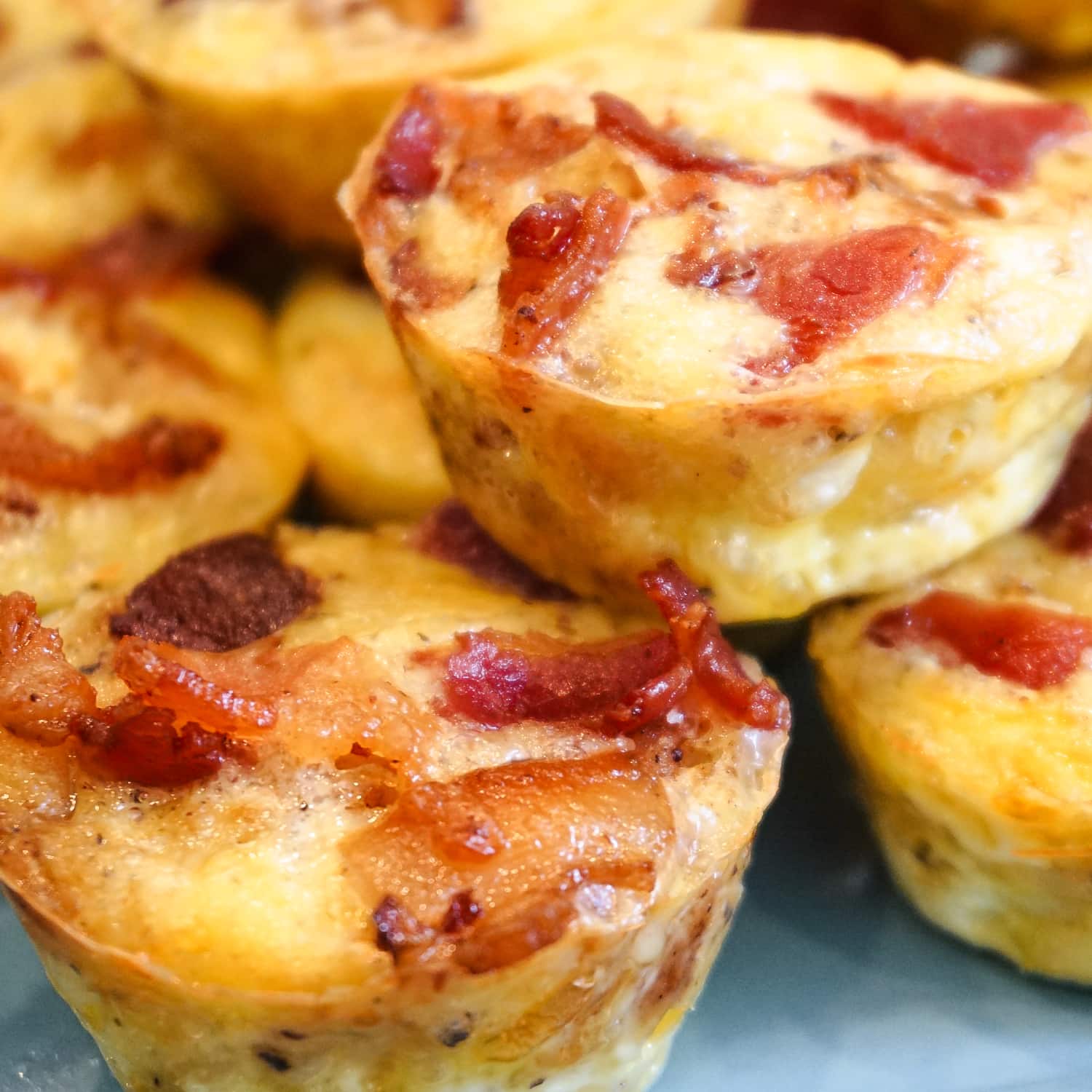 Ingredients
6 Eggs
1/2 cup Heavy Whipping Cream
2 cups Frozen Diced Potatoes
1 tsp Salt
1/2 tsp Pepper
7 slices Bacon
1/2 cup Cheese
3 Sautéed Glazed Onion Cubes (Pop & Cook)
2 Crushed Garlic Cubes (Pop & Cook)
Directions
Crack eggs into a mixing bowl. Add salt and pepper and then mix vigorously.
Add heavy cream to eggs and mix.
Add shredded cheese to egg mixture and mix.
Refrigerate egg mixture.
Cook bacon in a skillet until crispy.
Once bacon is cooked, remove the bacon, leaving about 1 to 2 tbsp of bacon grease in the skillet.
Add the two cubes of Pop & Cook garlic to the skillet and sautée until browned.
Add diced potatoes to the skillet. Mix thoroughly with garlic and sautée until golden brown.
Once potatoes are golden brown, add three cubes of the Sautéed Glazed Onions from Pop & Cook.
Allow onion cubes to melt and mix thoroughly into the potatoes until done.
Prep your mini-cupcake pan by spraying it with cooking oil. You can use a regular cupcake pan or a skillet if you wish instead.
Pour the egg mixture into cupcake pan.
Spoon some potatoes into each frittata.
Sprinkle bacon on top of the egg mixture in the cupcake pan.
Bake for 15 minutes at 350 degrees.
Notes
We love spicy things in my family, so most of us topped these with a couple drops of hot sauce! Delish!!