Hard-boiled eggs were one of the very first things I made in the Instant Pot. I know some people think it's silly to make your eggs in the pot, but trust me, once you make them in the Instant Pot you won't be using your stove for hard-boiled eggs again!
This post contains affiliate links. For more information, see my disclosure.
I love making deviled eggs. Every Thanksgiving I boil A LOT of eggs. They were always such a pain to peel, no matter what tricks I used. Plus, the egg yolks were always way off center when I cut them. Not to mention the fact that I had to babysit the boiling water to make sure it didn't boil over.
I finally put Ryan in charge of boiling them because I could never get them just right. But even when he boiled them, they were still a pain to peel.
The Perfect Egg Has Always Eluded Me Until Now
When I found out I could make PERFECT hard-boiled eggs in my Instant Pot, I was very excited to give it a try. I have to say, it didn't disappoint!
I am finally able to make perfect hard-boiled eggs! Centered yolk and everything!
With just a press of a button, you can also make perfect hard-boiled eggs in no time!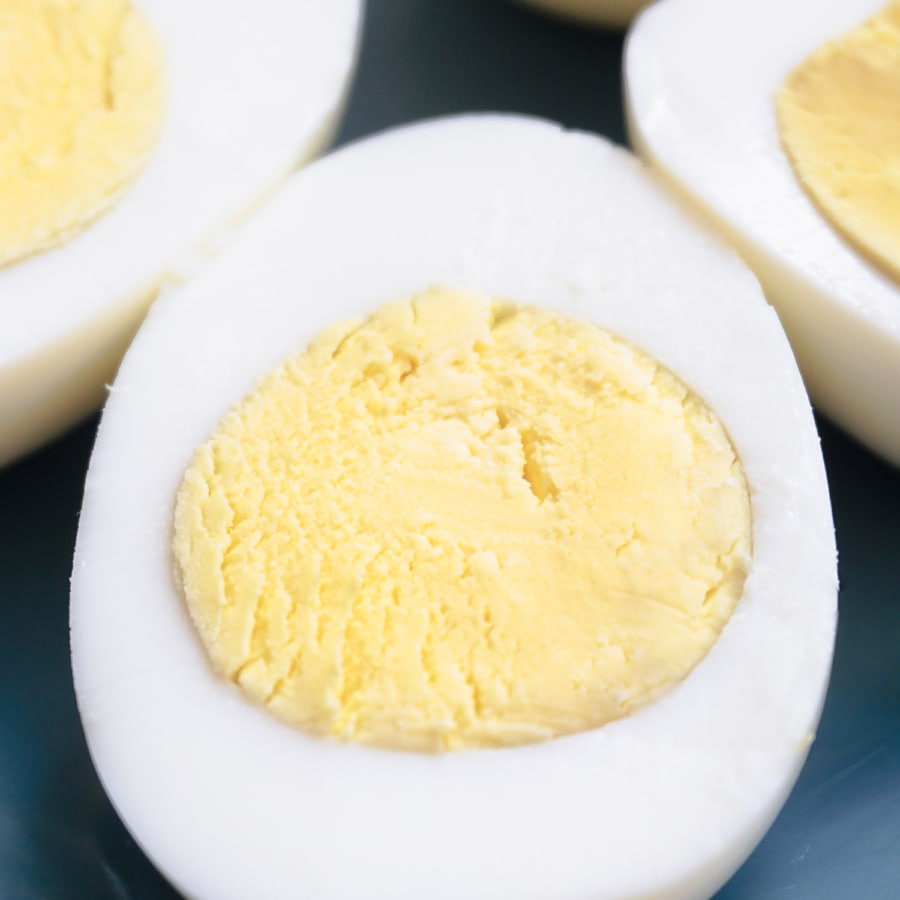 Essential Items
Here are some essential prep tools, utensils, and appliances I used to make this recipe.
Prep Tools & Utensils
Here are the prep tools and utensils that you'll need:
Featured Items
Here is a list of the products featured in this post or products similar to those featured in this post:
23 Must-Have Electric Pressure Cooker Accessories
Make sure to check out my Ultimate List of Electric Pressure Cooker Accessories! I've included everything you could ever need to help make your pressure cooking quicker, easier, and even more convenient.
Making Hard Boiled Eggs in the Instant Pot
If you're new to the Instant Pot or have never made eggs in it, then this part is for you. I will walk you through exactly how I make mine so you can try it yourself! I will show you the 5-5-5 method of making hard-boiled eggs.
The 5-5-5 method involves the following:
5-minute cook time
5-minute natural pressure release
5-minute ice bath
Gather Your Ingredients
All you need is eggs, water, and either the rack that came with your Instant Pot or an egg rack. I like to leave my eggs out until they reach room temperature. This can help you avoid them cracking while they're cooking.
If it's your first time making them, I'd start with 3-4 eggs just in case my times don't work perfectly for you.
Add Water to the Instant Pot
First, you add 1 cup of water to the Instant Pot. Make sure your stainless steel liner is in the pot!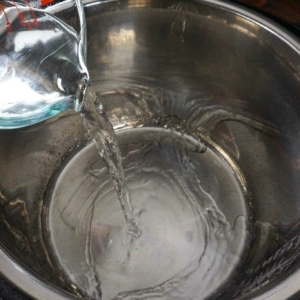 Add the Eggs to the Egg Racks
I have the set of stacked racks seen below. It allows me to make lots of eggs at once. First, set the lower rack in the pot and start loading in the eggs.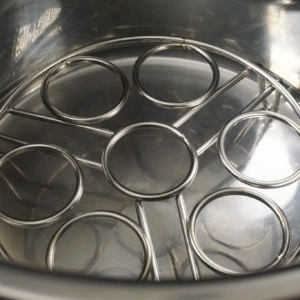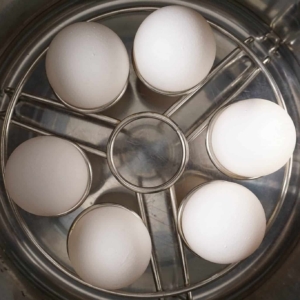 After the first rack is full, set your second rack on top and start loading the eggs into it.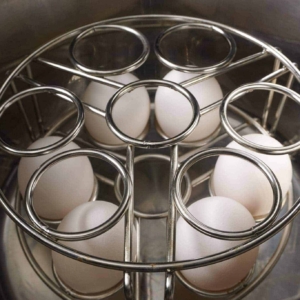 It is very important, especially if you're making deviled eggs and you want your eggs to look pretty with centered yolks, to place the eggs with the pointy tip facing down. This will ensure a centered yolk every time!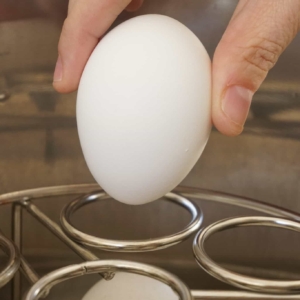 I want to point out that I only needed to make a dozen eggs here, but you can use the center ring on both racks and cook a total of 14 eggs.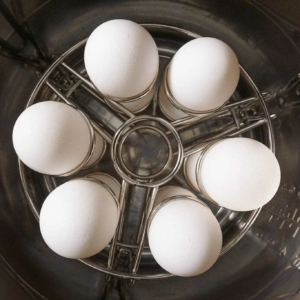 Cook the Eggs For 5-Minutes
Close and lock your lid. Press the manual (or pressure cook on newer models) button. Adjust your time to 5 minutes. You will cook the eggs on high pressure for 5 minutes.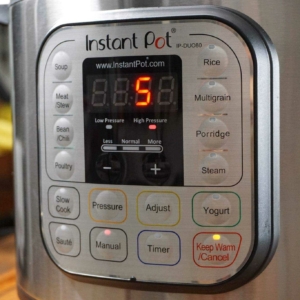 Perform a 5-Minute Natural Pressure Release
Once the pot is finished cooking, it will go into warming mode and will start counting up. This is where you will do a 5-minute Natural Pressure Release or NPR. This means you do nothing and you let the display count up to 5.
Once the display reaches 5, then you will release the rest of the pressure manually, or what's known as a QPR or Quick Pressure Release. You will turn the pressure release valve (knob) to venting. Once all the pressure is released (it shouldn't take too long for this) and the pin has dropped, you can open your pot.
Remove Eggs Carefully From the Instant Pot
Remove your eggs carefully from the pot and place them immediately in a bowl filled with ice and water. I use a set of stainless steel tongs but you can use whatever works for you!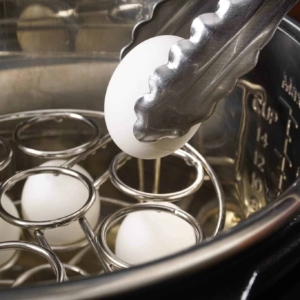 Place the Eggs in an Ice Bath
Placing the eggs in the ice bath stops the cooking and ensures your eggs aren't overcooked.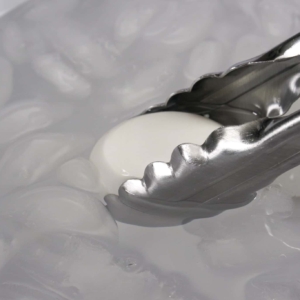 Allow the Eggs to Soak for 5 Minutes
The last 5 in the 5-5-5 method is allowing the eggs to sit for 5 minutes in the ice bath.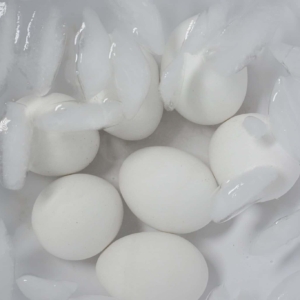 Peel with Ease
After years of struggling with peeling eggs, peeling these eggs is almost rewarding. It's amazing how they peel perfectly every time.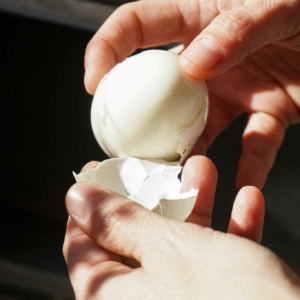 Enjoy Perfect Hard Boiled Eggs
So simple! Perfect hard-boiled eggs every time.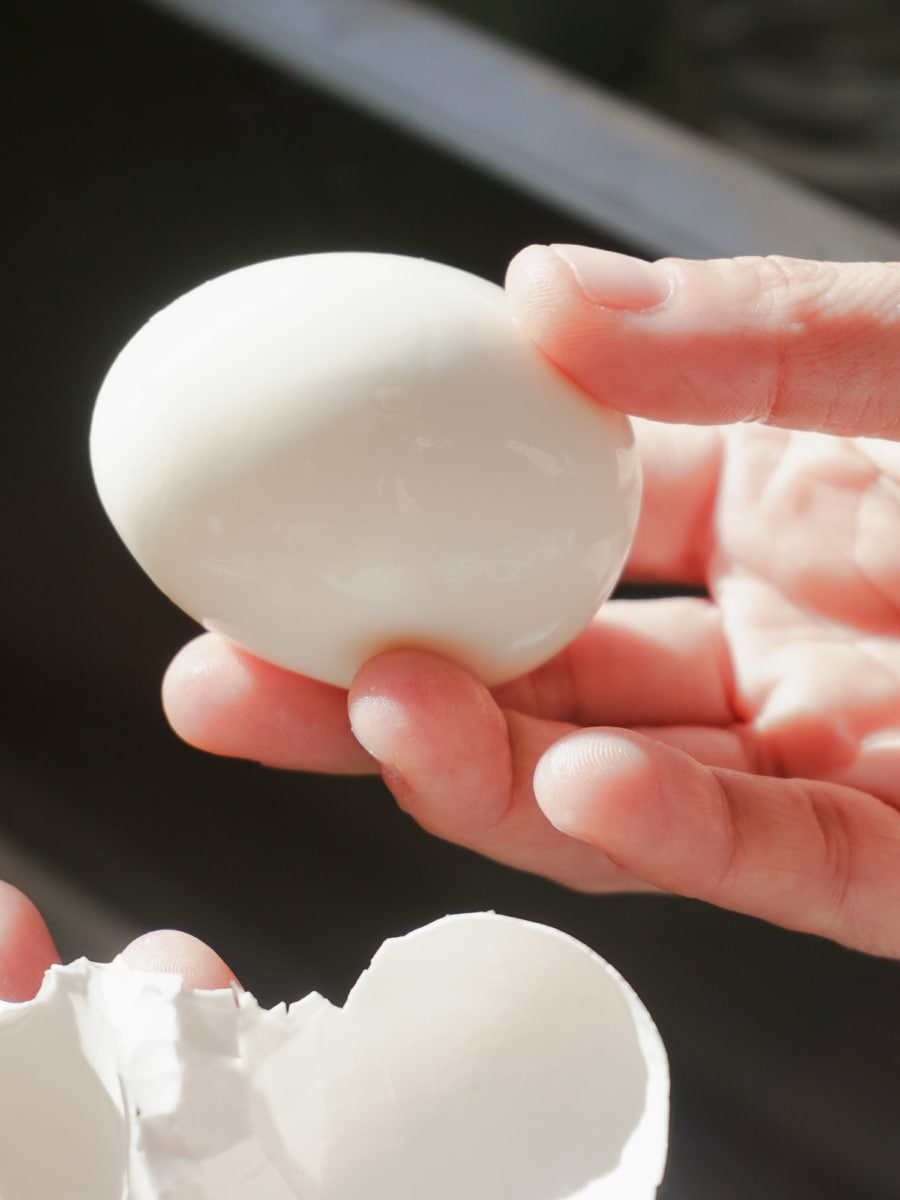 Now that you have all these wonderful hard-boiled eggs you can use them in so many ways! You can get started by trying my delicious Egg & Ham Dip.
Things To Consider
There are certain things to consider when making eggs.
If you have old eggs, it can affect how they come out.
Also, the temperature of the eggs can determine whether they will crack while cooking.
My perfect hard-boiled egg may not be yours.
Try out the 5-5-5 and if it doesn't give you a perfect egg, play with the numbers a bit. You don't want to move too far from the numbers, but just a minute during cooking or NPR can make a difference.
Let me know in the comments if the 5-5-5 works for you!
Instant Pot Hard Boiled Eggs
PERFECTLY COOKED, EASY-PEEL HARD BOILED EGGS
After making hard-boiled eggs in the Instant Pot, you'll never do them on the stovetop again. Perfect results every time and the shells peel off so easily.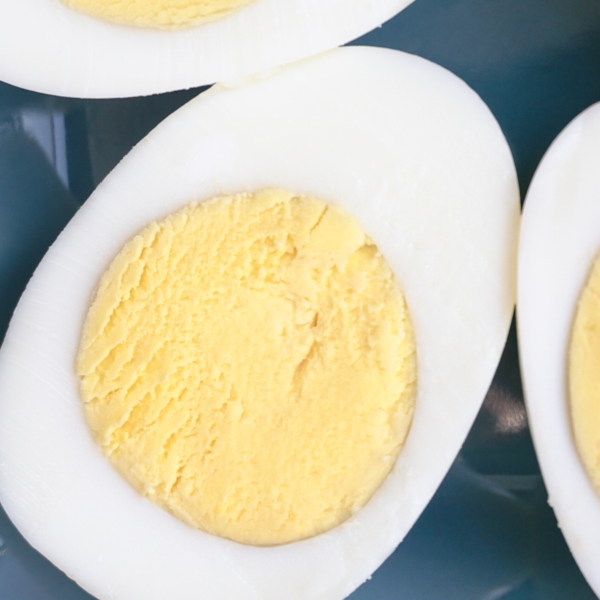 Instructions
Add water to the Instant Pot, and then place the bottom rack in the pot. (You can also use the trivet that came with your pot)

Stack six eggs on the rack making sure to place the eggs pointy tip down. This will center the yolk. Then place the second rack in the pot and add the remaining six eggs.

Close the pot, set it to sealing and then cook on 'Manual' or 'Pressure Cook', 'High Pressure' for 5 minutes.

Once the pot has completed the 5 minute cook time, allow it to do a 5 minute Natural Pressure Release (NPR).

Prepare an ice bath by filling a bowl with ice and water.

Release any remaining pressure after the 5 minute NPR, open the pot and carefully remove the eggs from the pot and place them in the ice bath.

Allow the eggs to soak in the ice bath for another 5 minutes.

Remove the eggs for the ice bath, peel and serve as you please.
Nutrition Facts
Serving: 1egg | Calories: 62kcal | Protein: 5g | Fat: 4g | Saturated Fat: 1g | Cholesterol: 163mg | Sodium: 63mg | Potassium: 60mg | Vitamin A: 240IU | Calcium: 25mg | Iron: 0.8mg