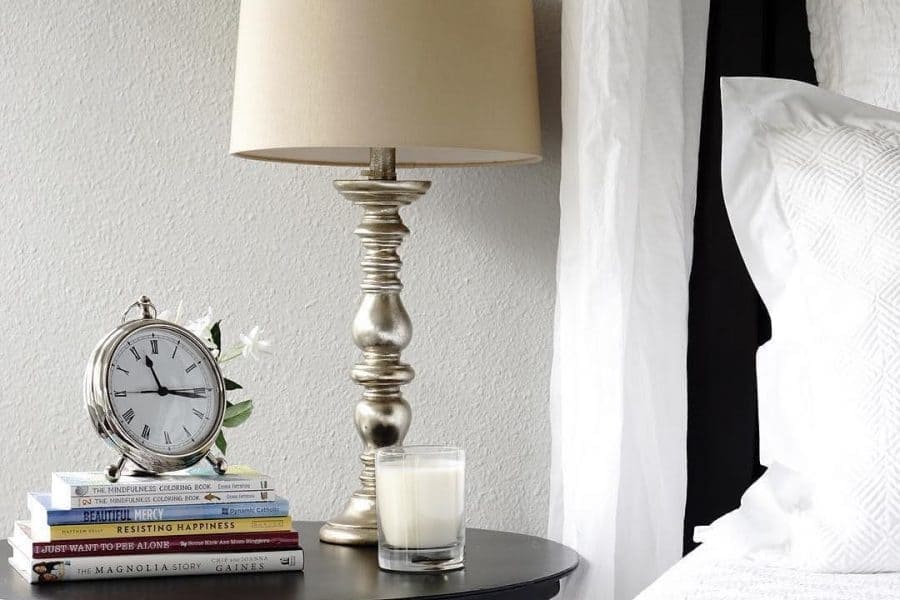 I love organization.
I love the inner peace that comes with walking into a fully organized and decluttered room.
I love opening a perfectly organized pantry or closet.
This post contains affiliate links. For more information, see my disclosure.
I find that my brain functions better and I can get so much more accomplished when the house is clean and organized. I'm sure I'm not the only one that feels this way, as a matter of fact, my husband who is a little more organizationally challenged says the same thing. He loves walking into an organized home.
It clears his mind!
Organization comes easy for me but I know a lot of you are looking for solutions to get your home organized and keep it that way. Well, I sat down and thought about the steps I take when I decide to organize a space in my home.
I realized no matter what space I'm tackling, it's always the same steps I follow. Whether it's a small drawer, a large closet or even an entire room, I always follow these steps to get the best results. So if you're looking for some guidance in organizing your home, this is a great place to start.
I encourage you to find something small in your home that needs organizing. A drawer perhaps, or even a small closet. Follow these steps and when you're done you will want to go on to a larger project. Before you know it, your entire home will be organized!
Let's get started!
1. Take everything out
I know this sounds tedious, but it makes such a difference. I take every single thing out of the space so I can start fresh. Don't try to avoid this step, it really makes it easier in the end when you're putting things back in order.
Completely empty the space.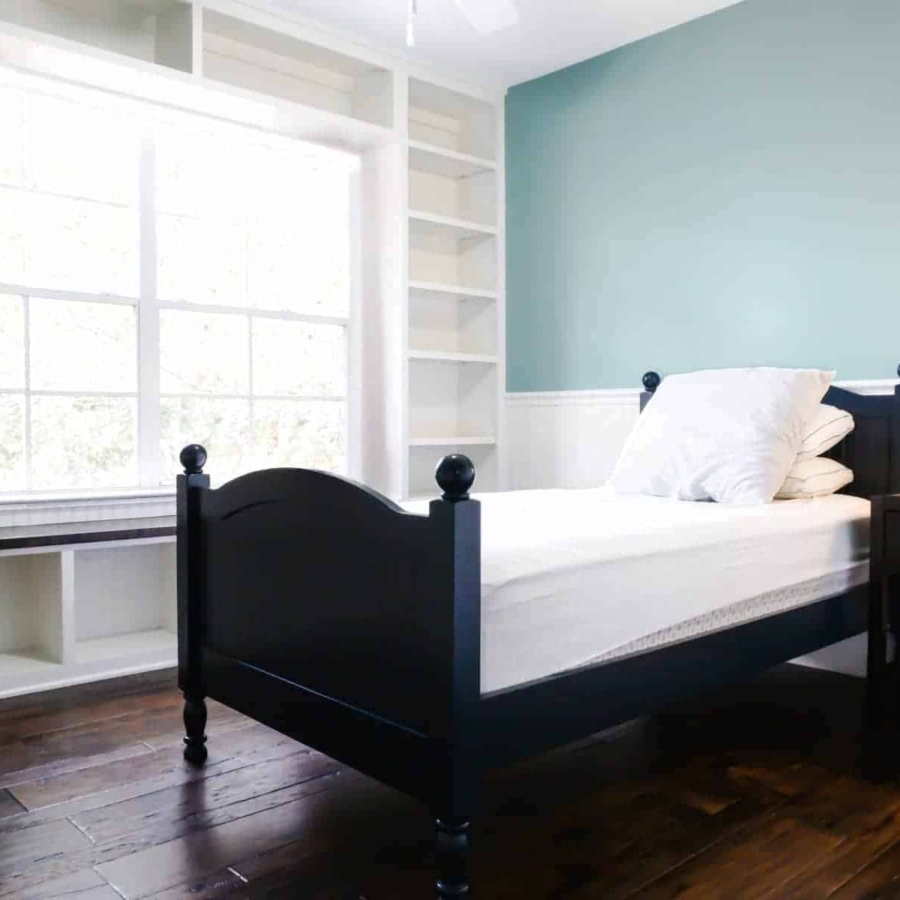 If you're organizing a drawer or a closet you really should take every single thing out. If you're doing a whole room this might not be an option for you due to space, but I try to get as much out as possible. Once everything is out and the space is clear you can move on to the next step.
2. Clean all surfaces and areas
Once everything has been taken out, it's time to clean all your surfaces. Give all shelves a good wipe down with a multi-surface cleaner.
For tough spots on shelves, I like to use a magic eraser. It works wonders. Just make sure to test on a patch first so you don't strip any paint off.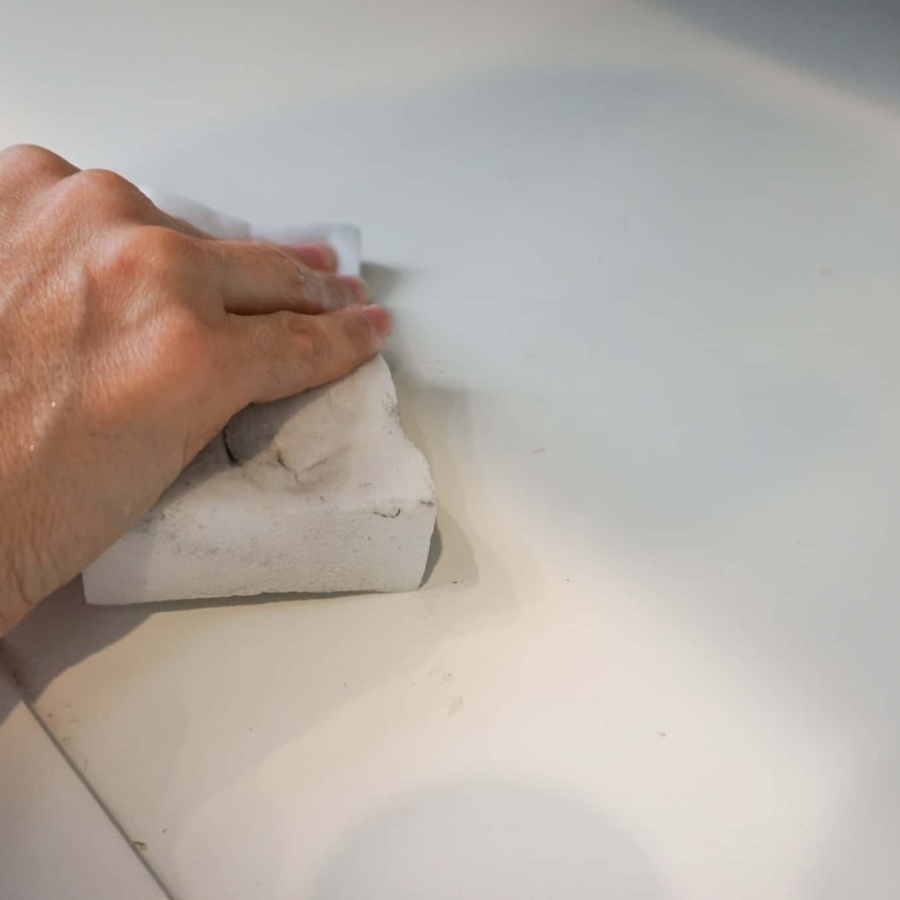 Make sure to clean the entire area well.
Once you're done, the fun begins! Ok, so it's fun for me!
3. Separate like items into groups
Now it's time to corral like items. Separate things into categories that make sense to you. Think about how you use things.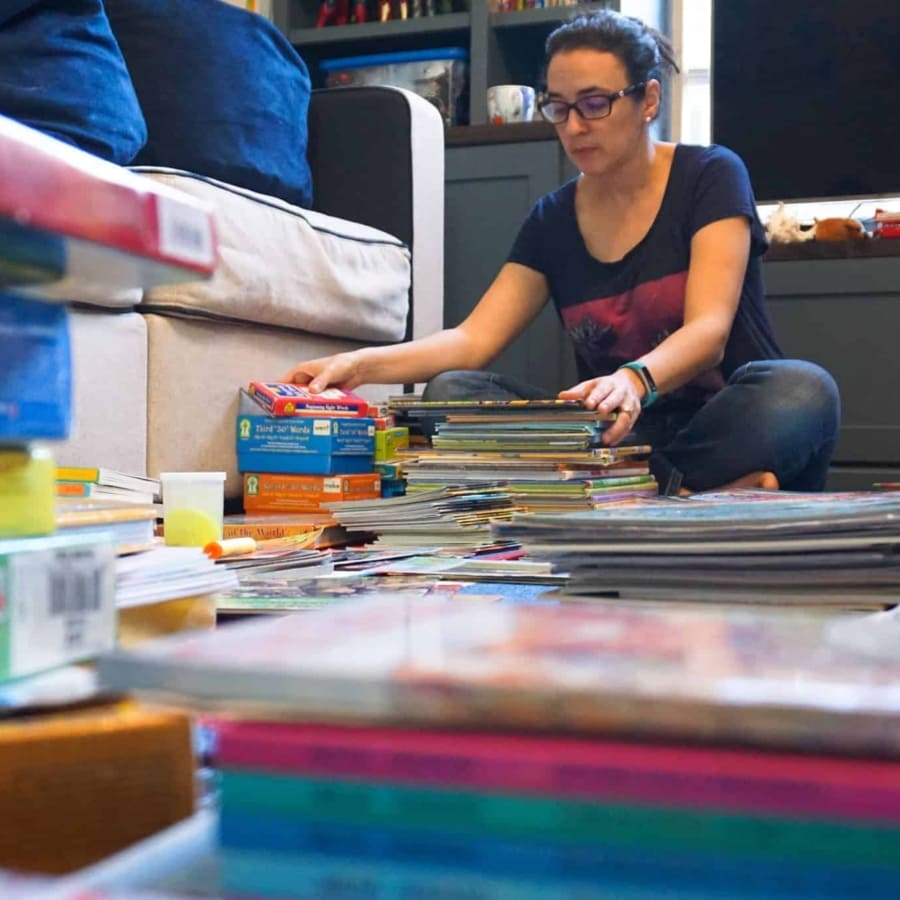 If you're organizing a playroom then put similar toys together. If you're working on a pantry separate things into categories like baking, cans, grains, etc. This is also a good time to start a couple of piles for broken and unusable items as well as items you no longer want or need.
Once done with the sorting it's time to do some purging!
4. Get rid of stuff!
This is a big one! The biggest one!
This is the one step that, if skipped, will undo all of your efforts.
My husband has trouble with this step! You really have to be ruthless. If you put everything back without purging, then the room or space you're organizing will be cluttered and messy again in no time.
If it's broken, toss it.
If it doesn't work, toss it.
If it's expired, please toss it!
Then donate all the good stuff that you no longer use.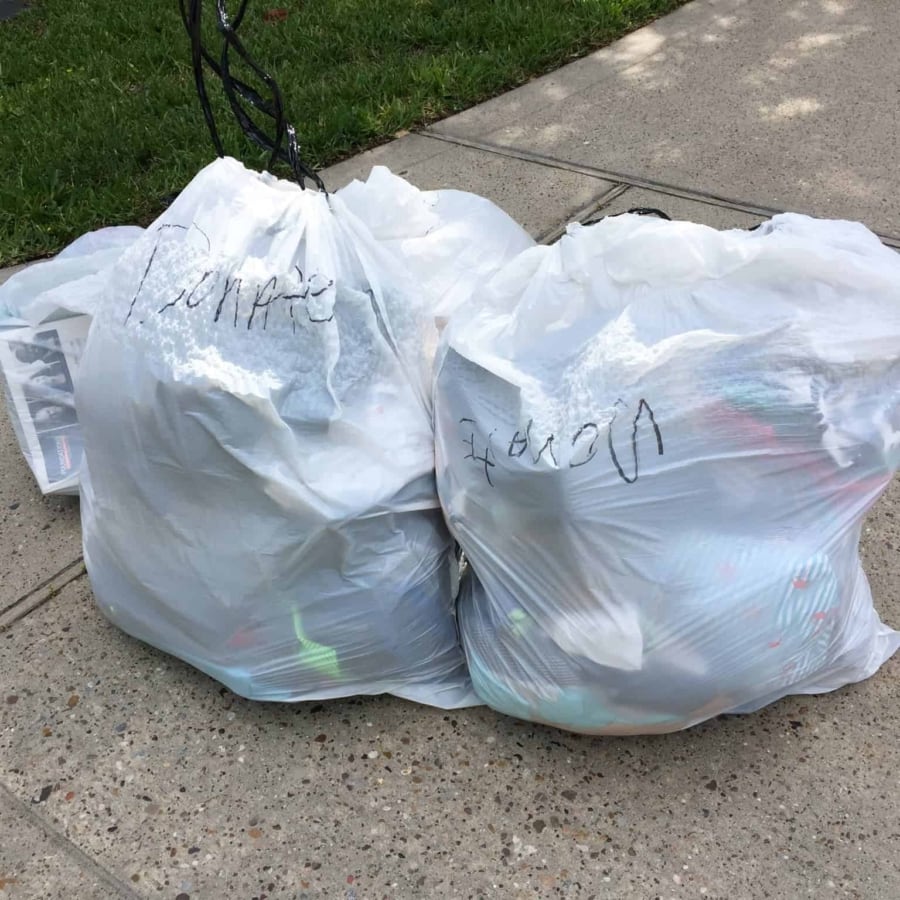 Donate things your children have outgrown. If cleaning your own closet, donate anything you haven't worn in a year. Unless it's a fancy dress you wear on special occasions, but you get what I'm saying.
Get rid of your trash pile and take your donation pile to goodwill or any other organization that can use it.
5. Place items together in containers
I'm a huge fan of baskets!
I use them for so many areas of my home. Wicker baskets, plastic baskets, I love them all! They make clean up so much easier and they are perfect for keeping things in place.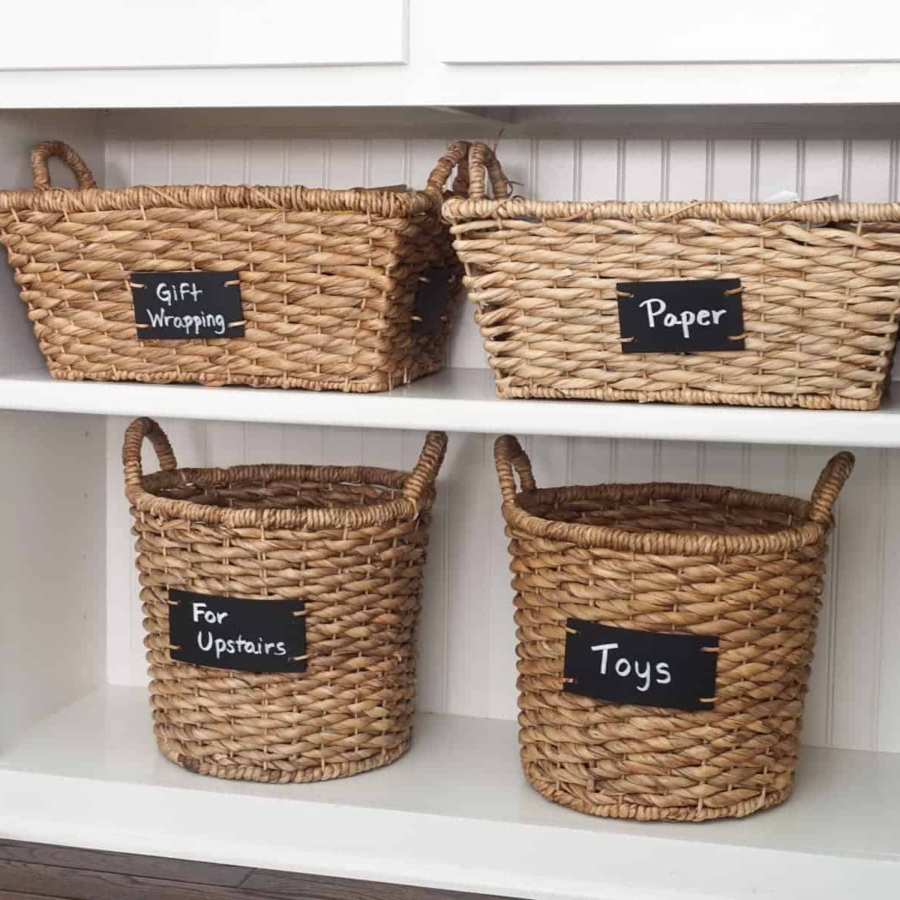 We have baskets for shoes, toys, remotes, toiletries, pantry items and so much more. The kids know exactly where everything is and which basket to look in when they need something.
Here's a thought: Let the basket or container determine how much stuff you put in it.
Don't go get a bigger basket because the one you were using is overflowing. Only keep the things that fit in the container.
So have fun with containers and baskets and fill them up with the things going back in the space. Don't be scared about combining different colors and textures. Make sure to label the baskets or containers so you can easily find what you need. I love using labels for labeling my bins.
Now that all your items have a home it's time to put it all back in.
6. Put everything back
The final step!
You're almost there. Soon you'll have a beautifully organized space. When you are putting things back in your space make sure to place things according to how often you use them.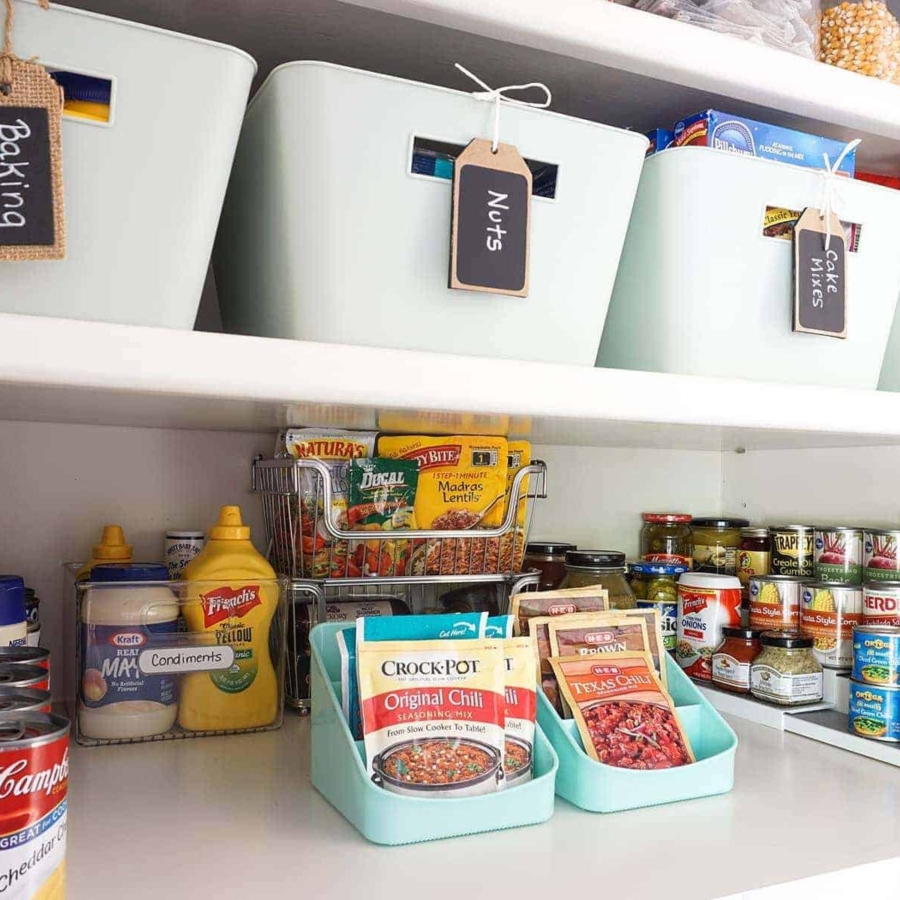 Things you don't use too often can be placed up high. Things you want your children to have access to should be within reach and vice versa. Play around with the layout until you find what works best for you. You may try different arrangements at first and tweak them after you've used them for a few days or weeks.
That's it!
You've completed the 6 easy steps to an organized space!
If you're starting with a small drawer, you can see how I organized my own junk drawer. If you're ready for something bigger then click here to see how I organized my pantry.
I hope these easy steps help you get your home organized! What will you organize today?
Quick & Easy Recipes
When you sign up to become a newsletter member, you'll get access to my latest quick & easy homemade recipes, homemaker tips and tricks, free printables, and more delivered directly to your inbox each week.