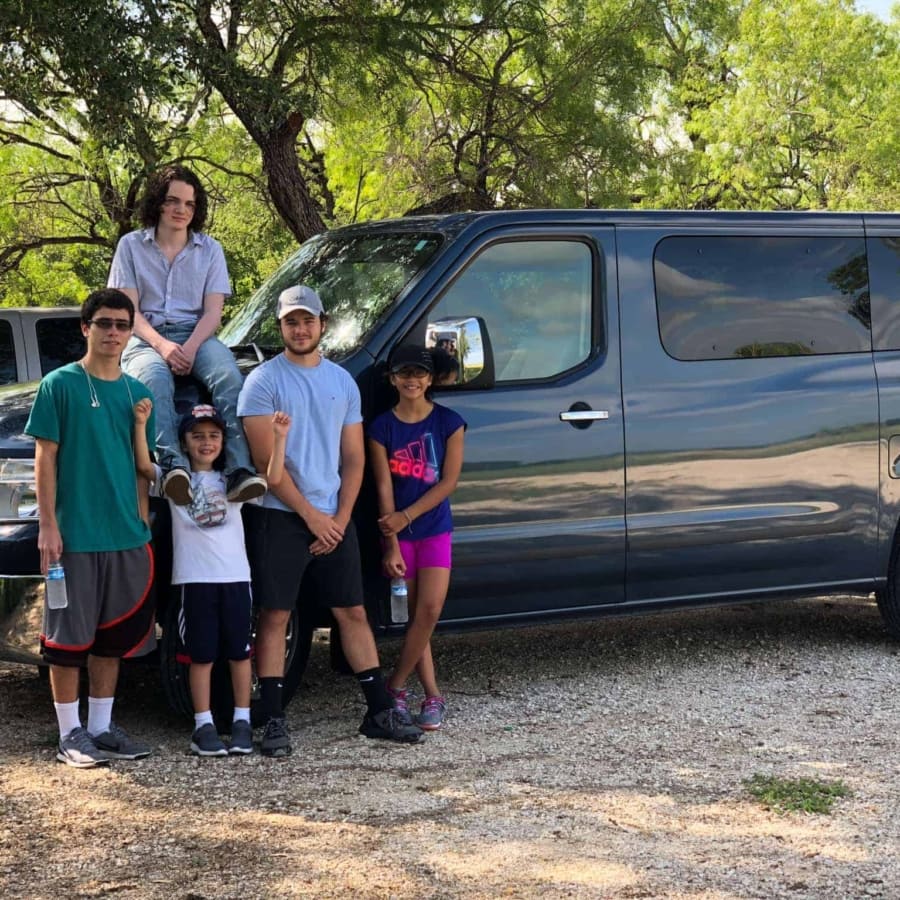 We recently had the awesome opportunity to take a family road trip to San Antonio. We packed our "new to us" Nissan NV and left on a Wednesday morning. I planned our trip carefully to make sure and stop at several places along the way.
Our stay in San Antonio was fantastic and we had a great time. We visited lots of attractions and ate at some pretty fantastic places. But a lot of the fun and deliciousness came on the road between Houston and San Antonio. So if you're planning a road trip between Houston and San Antonio, read on to see my tips for the best places to stop along the way.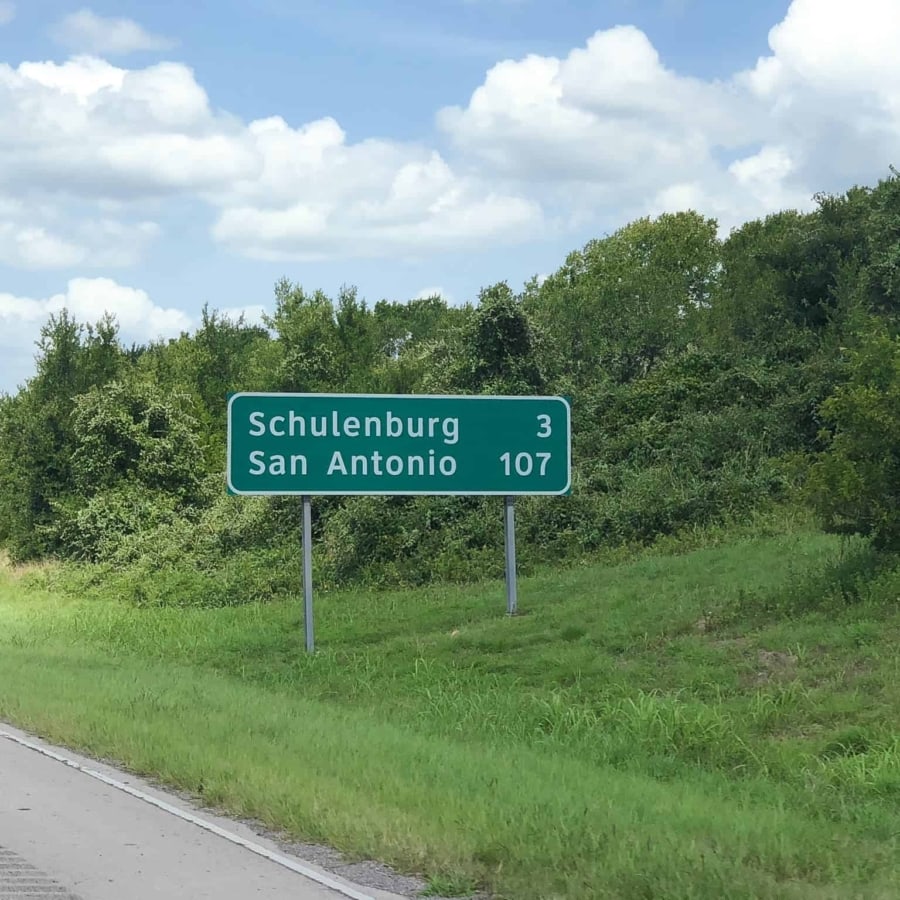 We left The Woodlands around 9:30 am and stopped for gas near home. Our first stop would be Schulenburg, a small, charming German and Czech town between Houston and San Antonio. If you're leaving from Houston, it's about an hour and a half away. For us, it was a 2-hour drive since we live in The Woodlands.
The Garden Company
217 Kessler Avenue, Schulenburg, TX 78956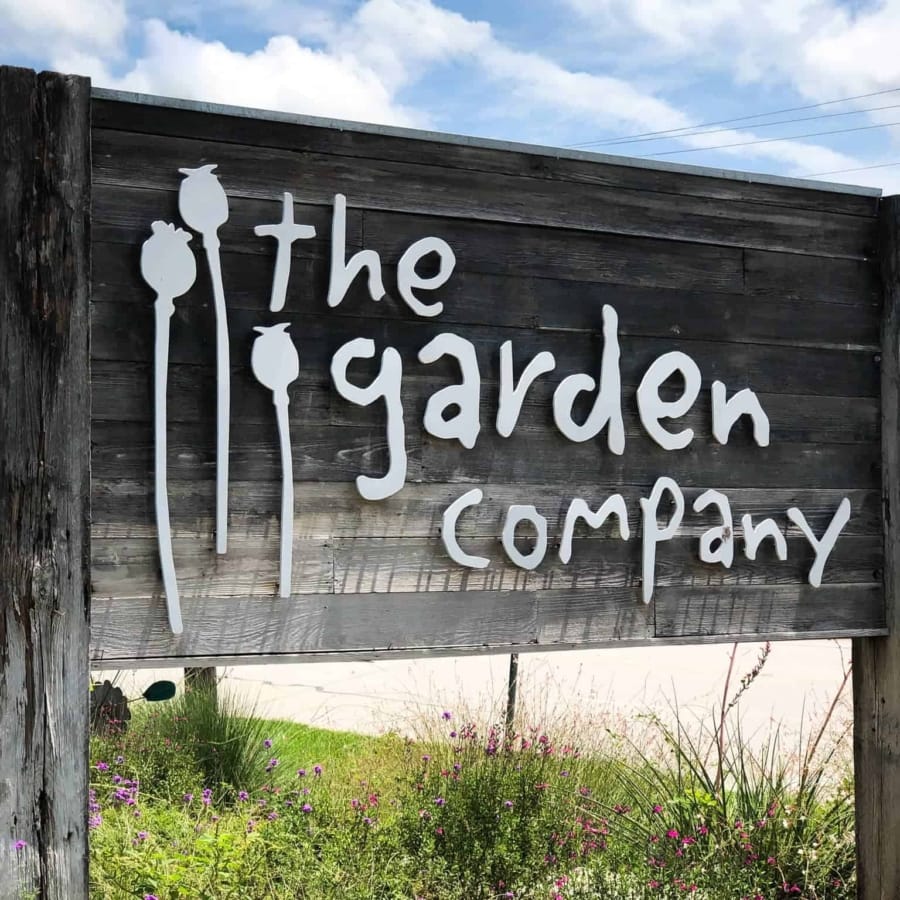 I had originally planned to stop at a place called Frank's for lunch because it got such great reviews. Well, it turns out Frank's shut down this last fall after being in business for 88 years! I was sad we missed the boat on Frank's but I had to improvise and find another place to eat in Schulenburg.
I decided to give a place called The Garden Company a try.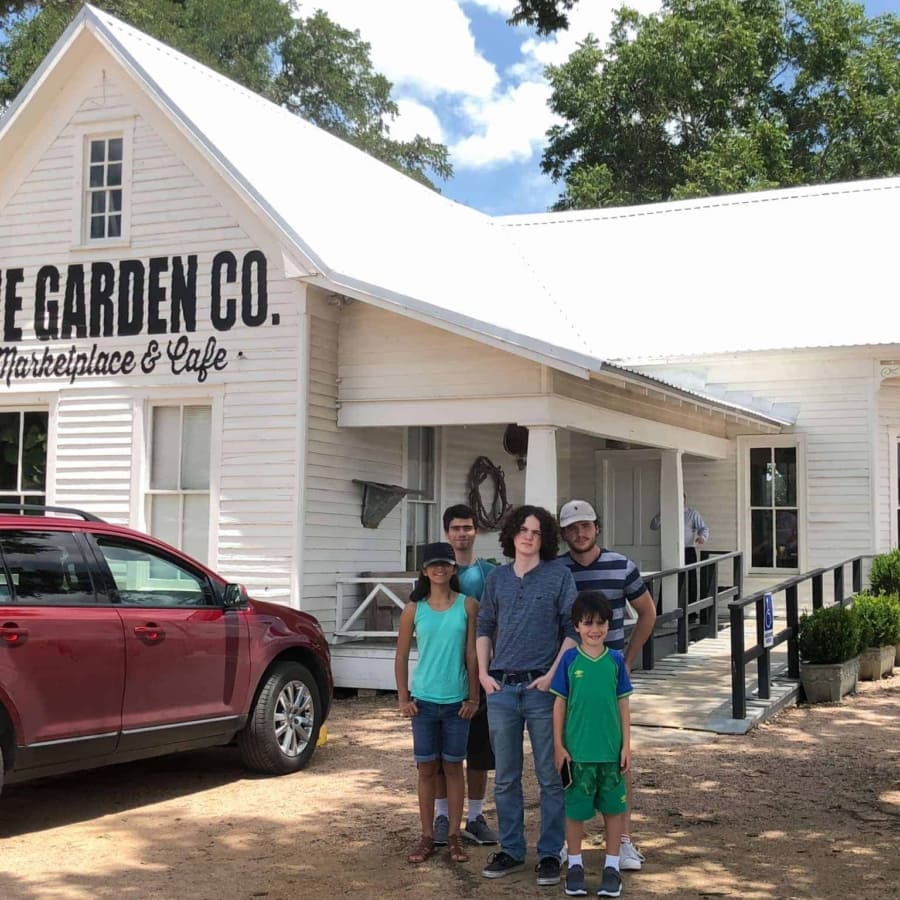 Boy am I happy we decided to stop there! The place is so charming and quaint! They also have a beautiful nursery outside where you can shop for plants and garden goodies.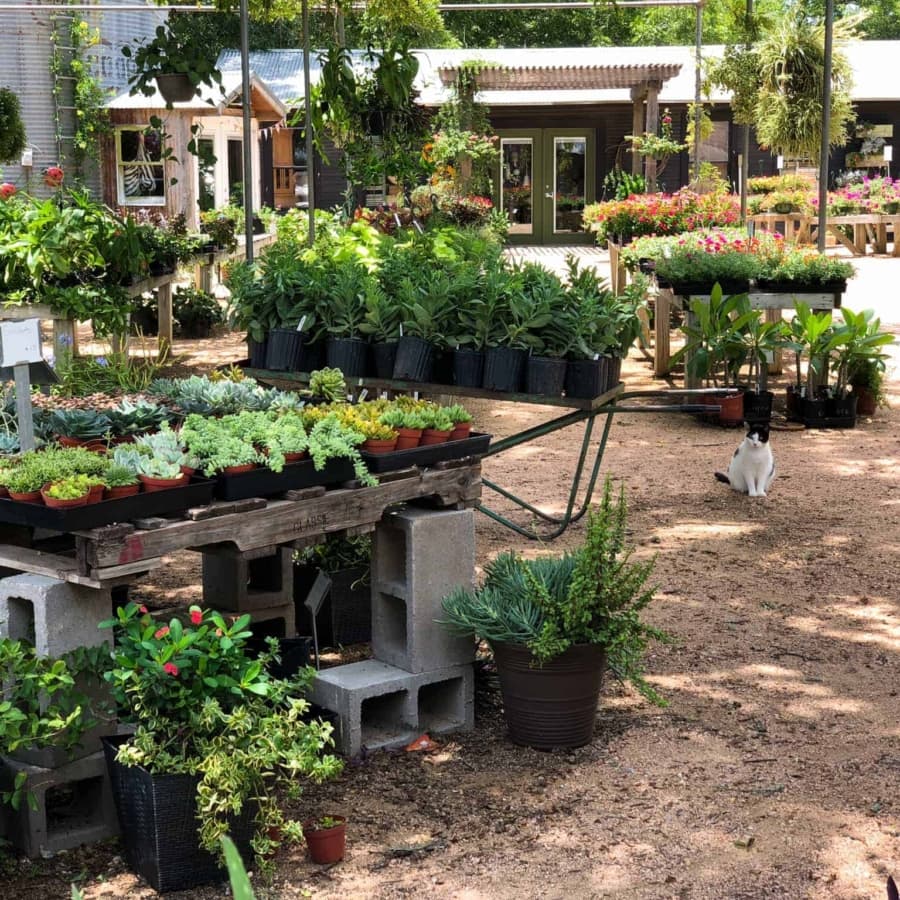 We went into the restaurant at around 12:40 pm. When we first walked into the restaurant area I was a little concerned because I didn't see any small children. The place was so cute and the decor was very country chic.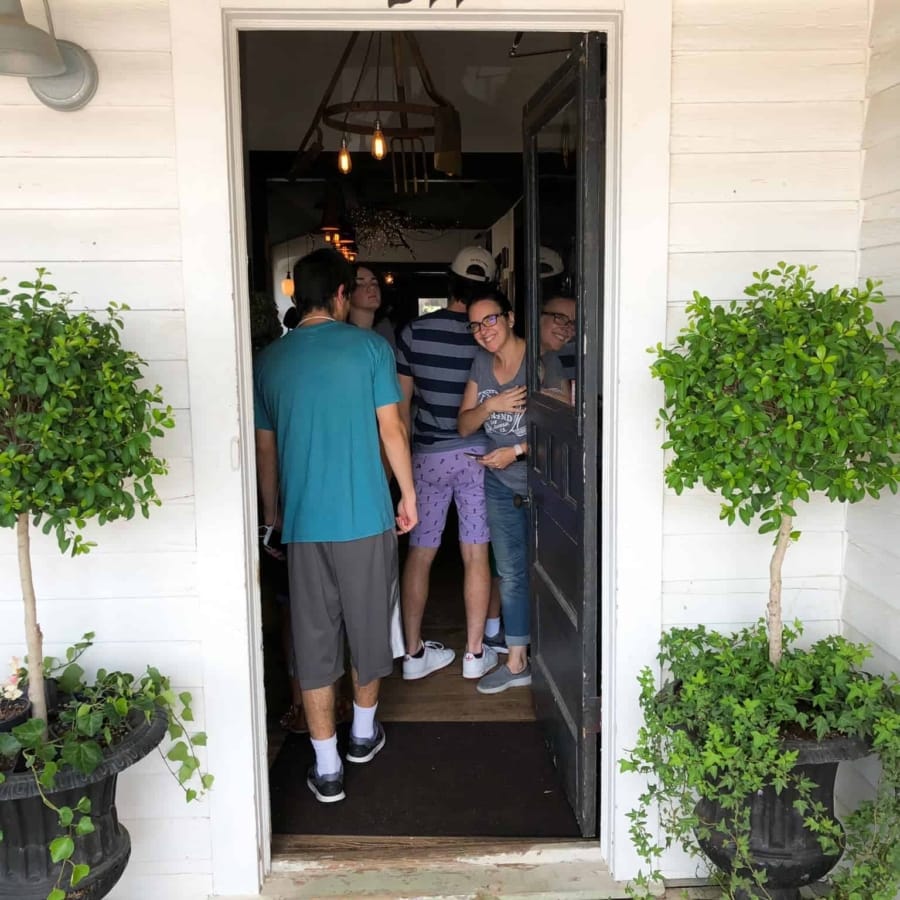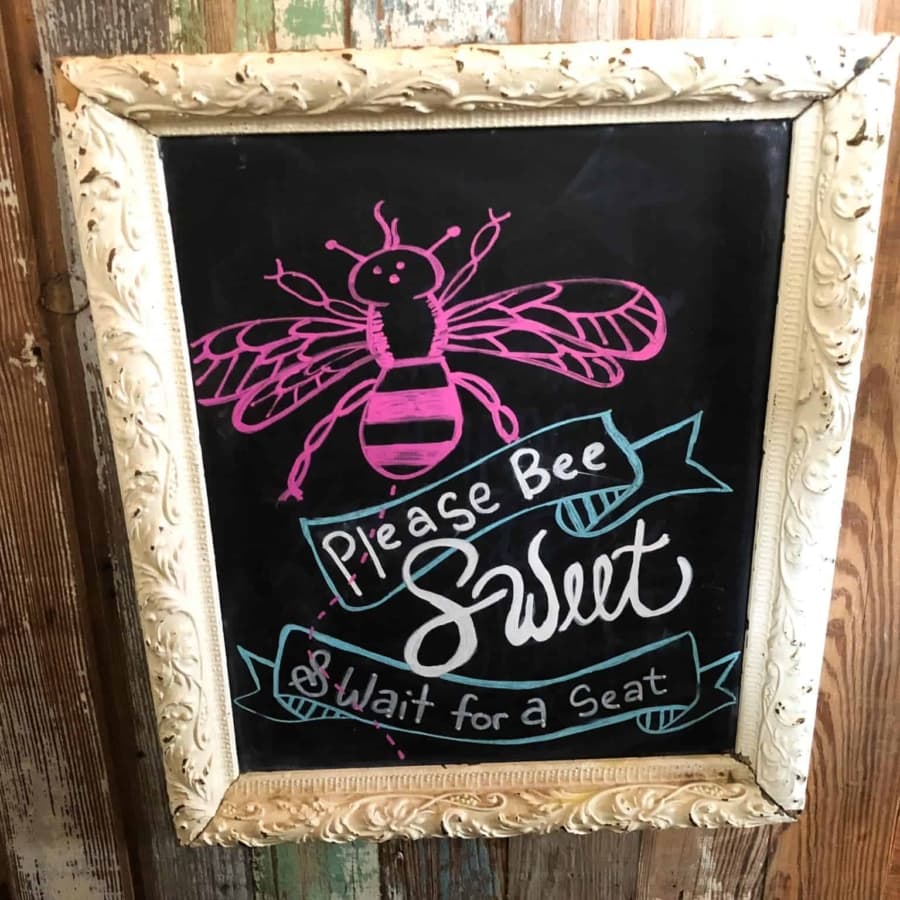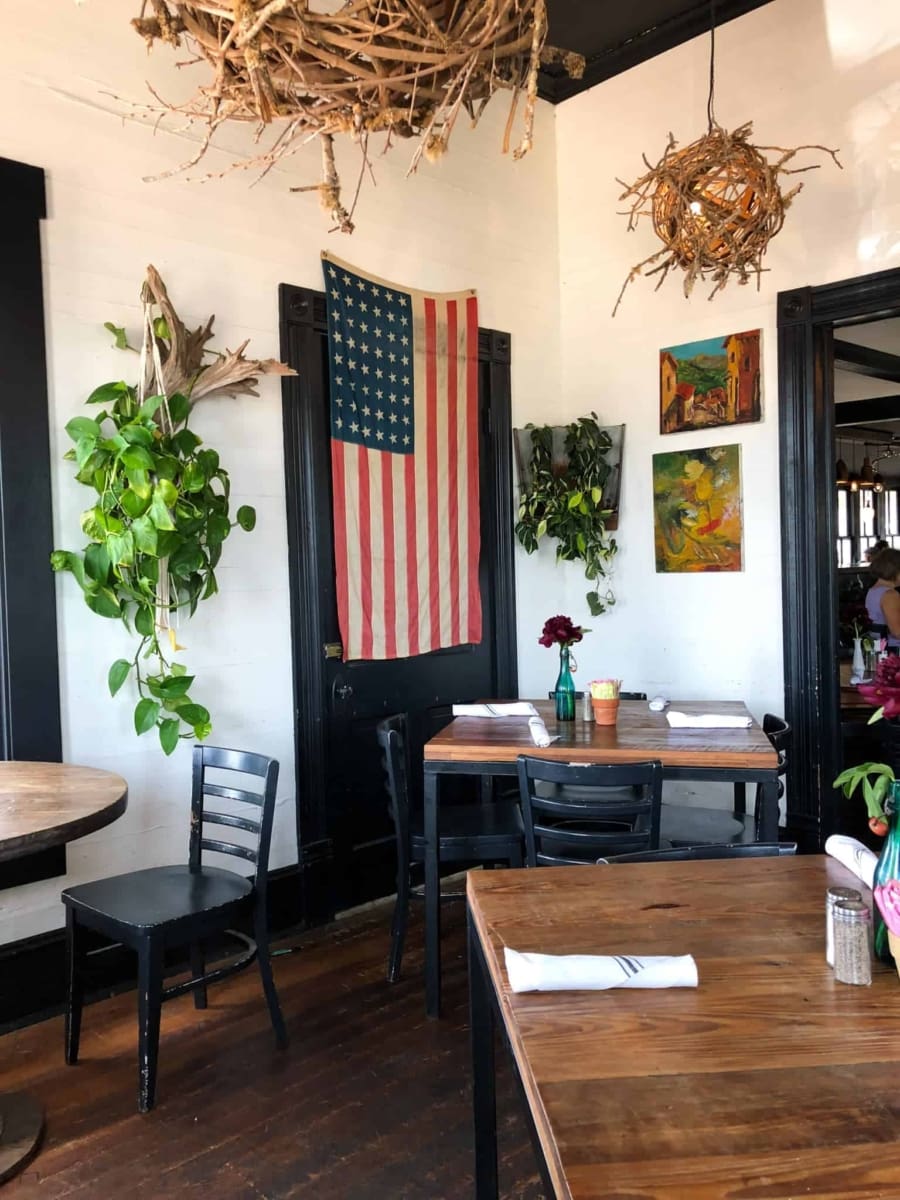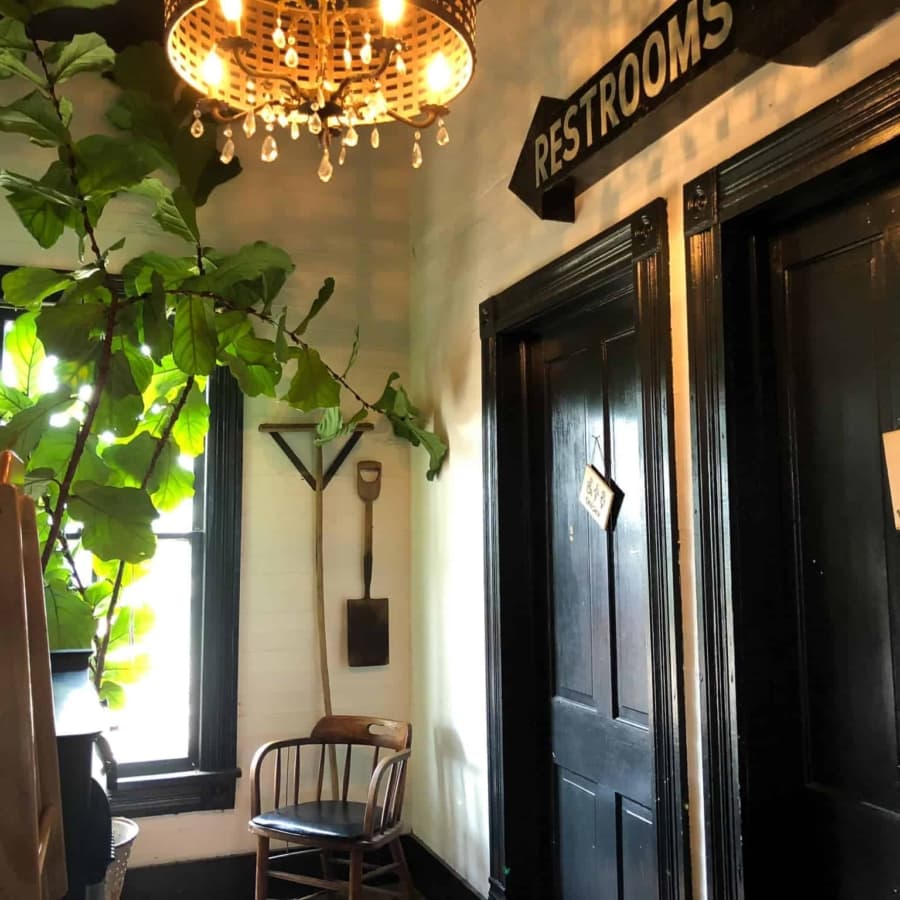 I finally spotted a child at a table so that made me feel better. Thankfully we were led to a table in the back, where I felt a little more comfortable if our kids were loud!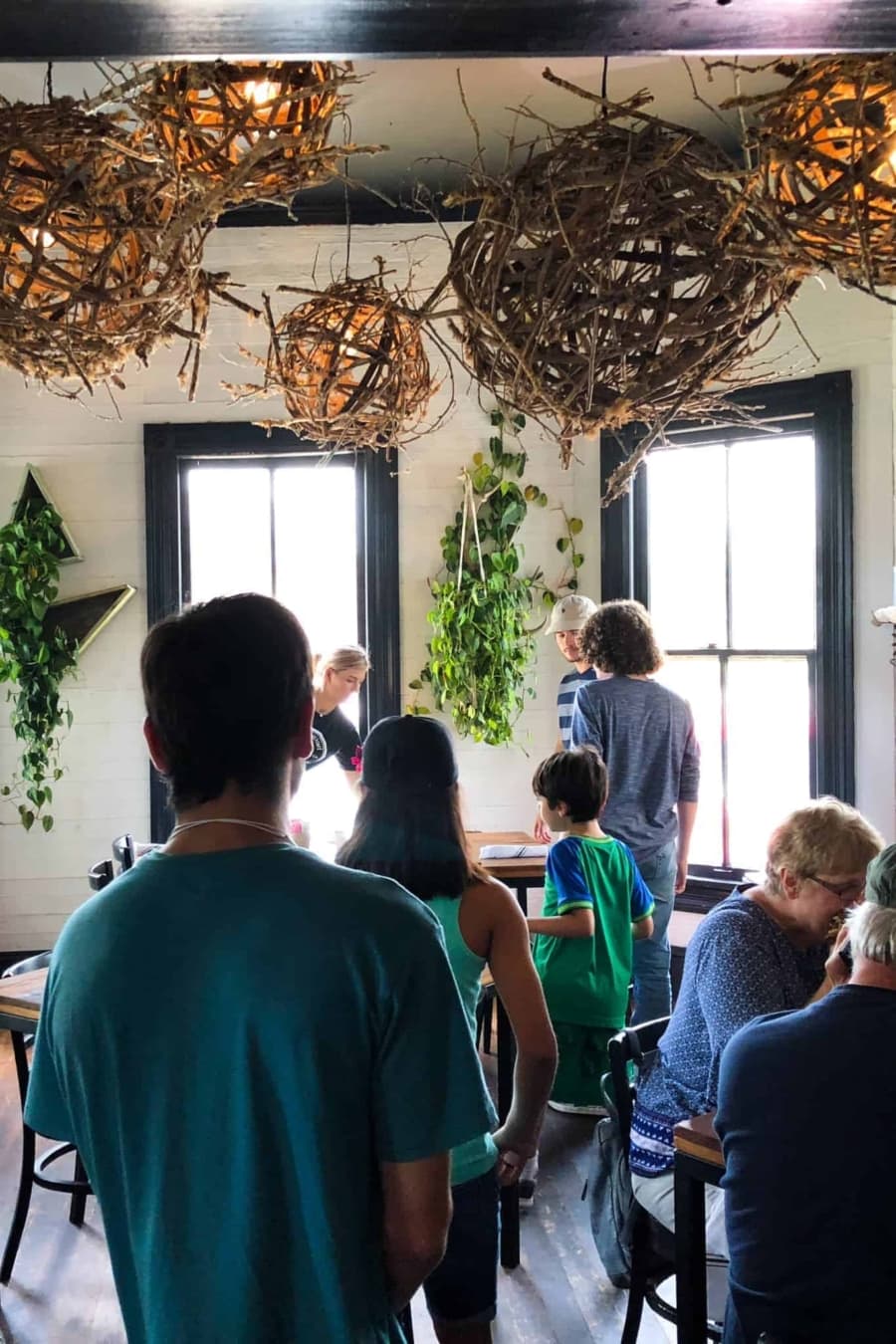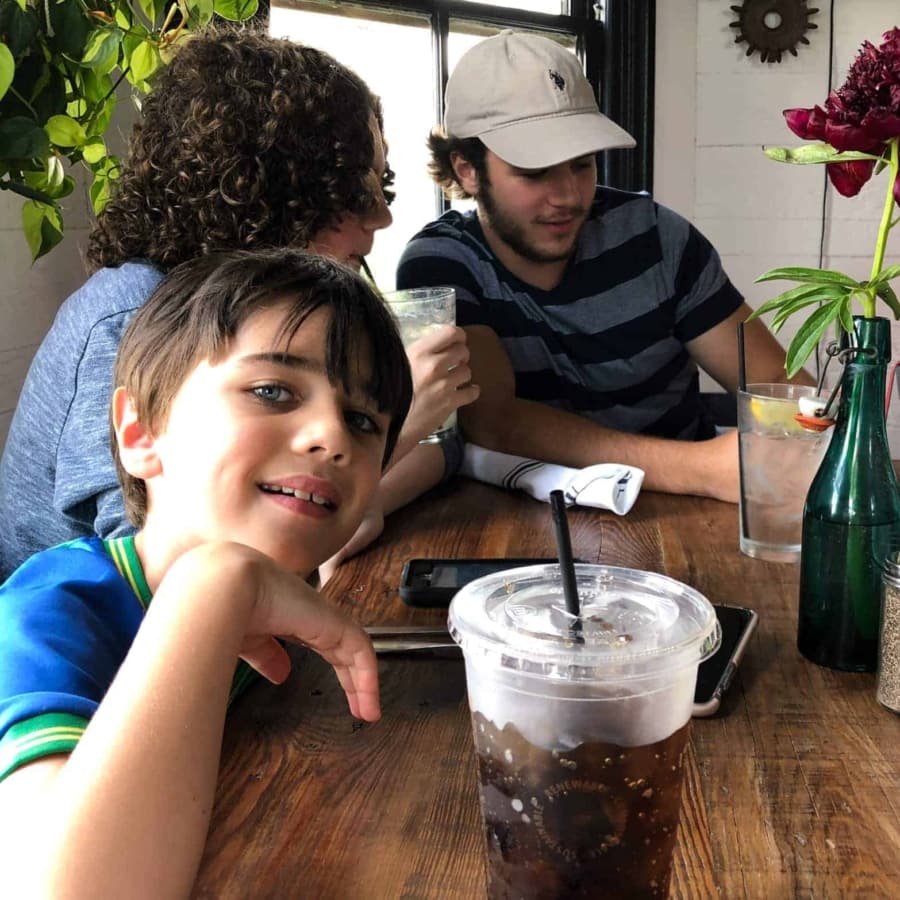 The staff was very friendly, as would be expected in a southern country restaurant. The menu looked amazing! The prices were a bit higher than I originally wanted to spend on the road trip part of our vacation, but in the end, the food was so worth it.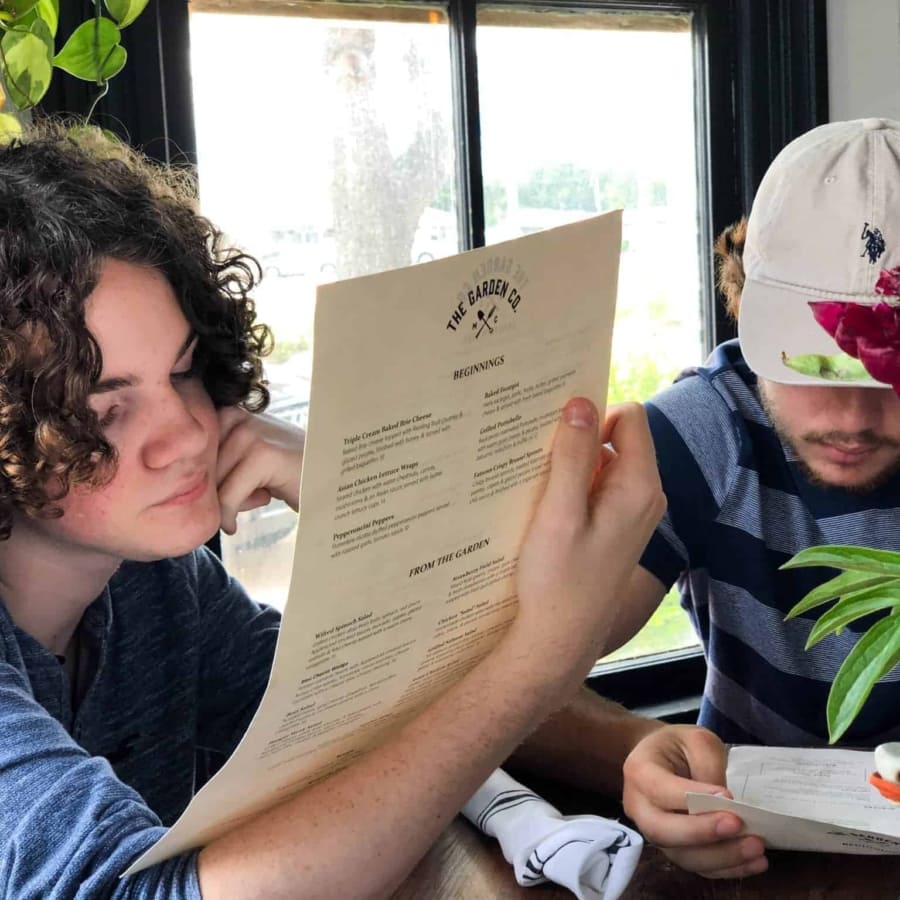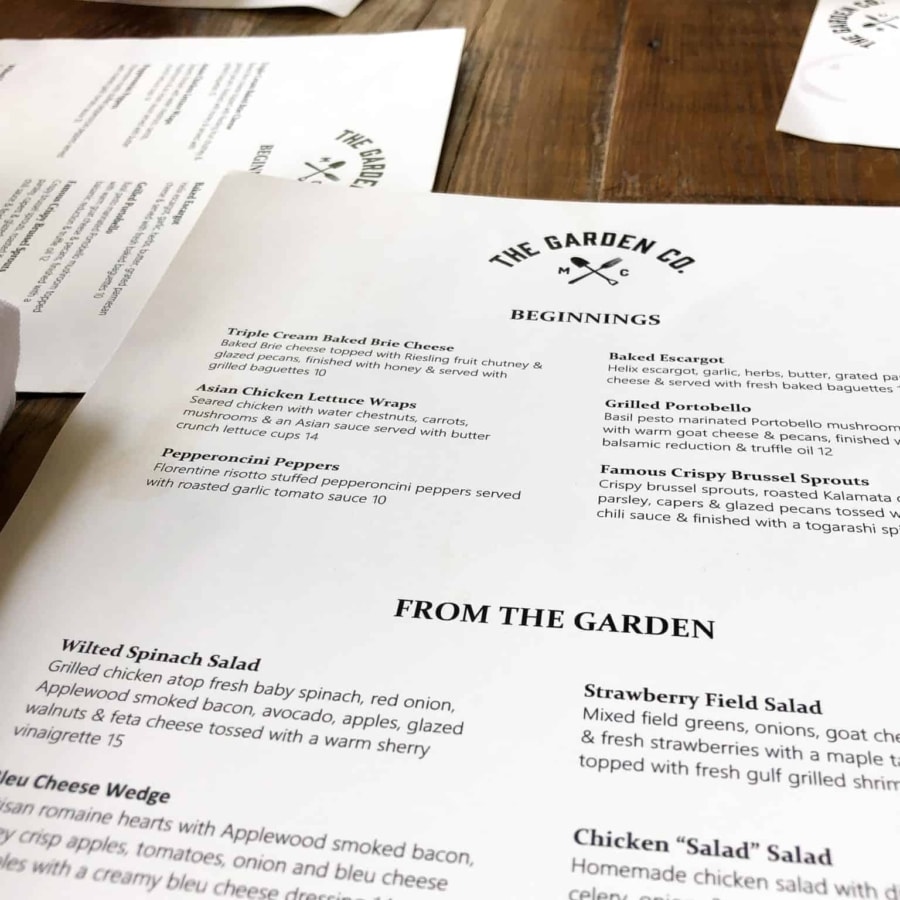 Despite the restaurant being full, our food and drinks came out quickly.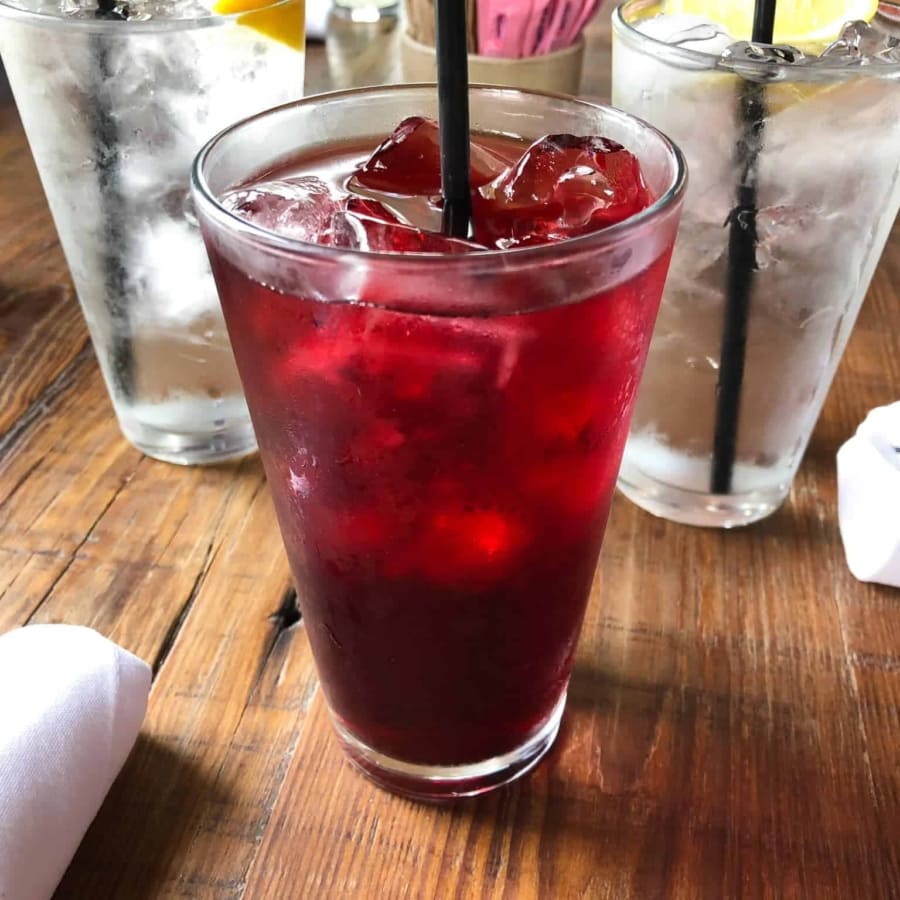 My son and I ordered the Lamb Burger and it was phenomenal! I'm still thinking about that burger days after our trip! It had a delicious red pepper tzatziki spread on it, as well as basil pesto, arugula, and goat cheese. It was perfection!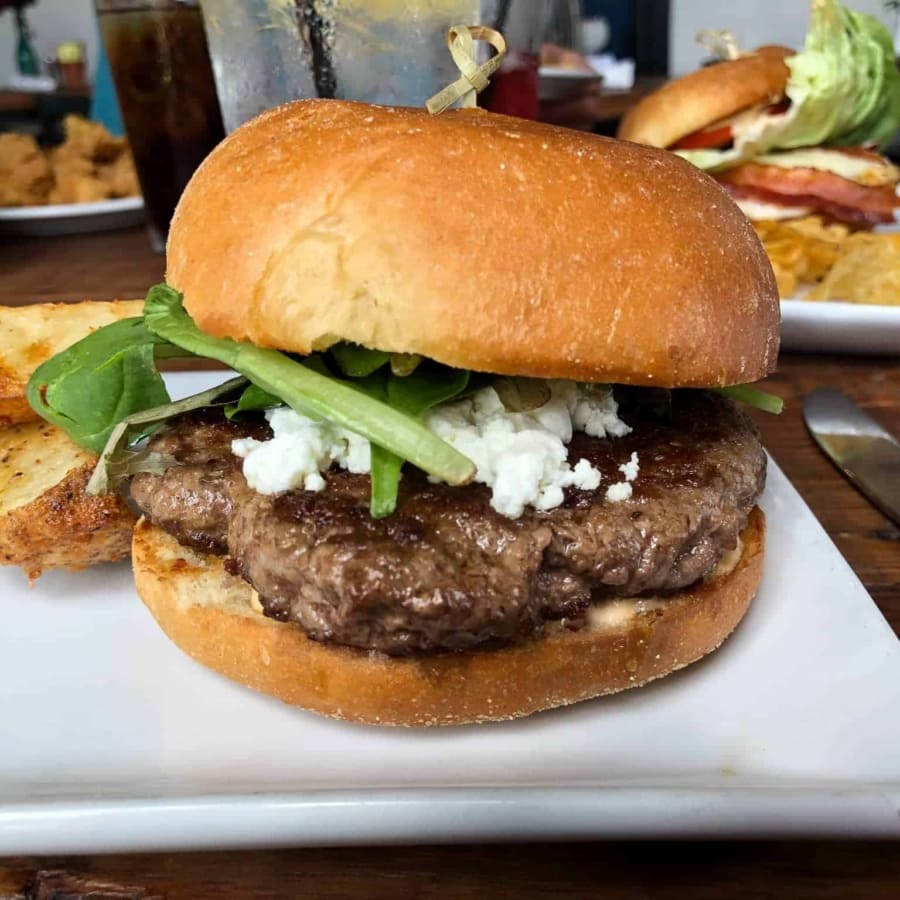 My hubby got the grilled chicken sandwich and loved it, yet he regretted not getting the lamb burger after taking a bite of mine.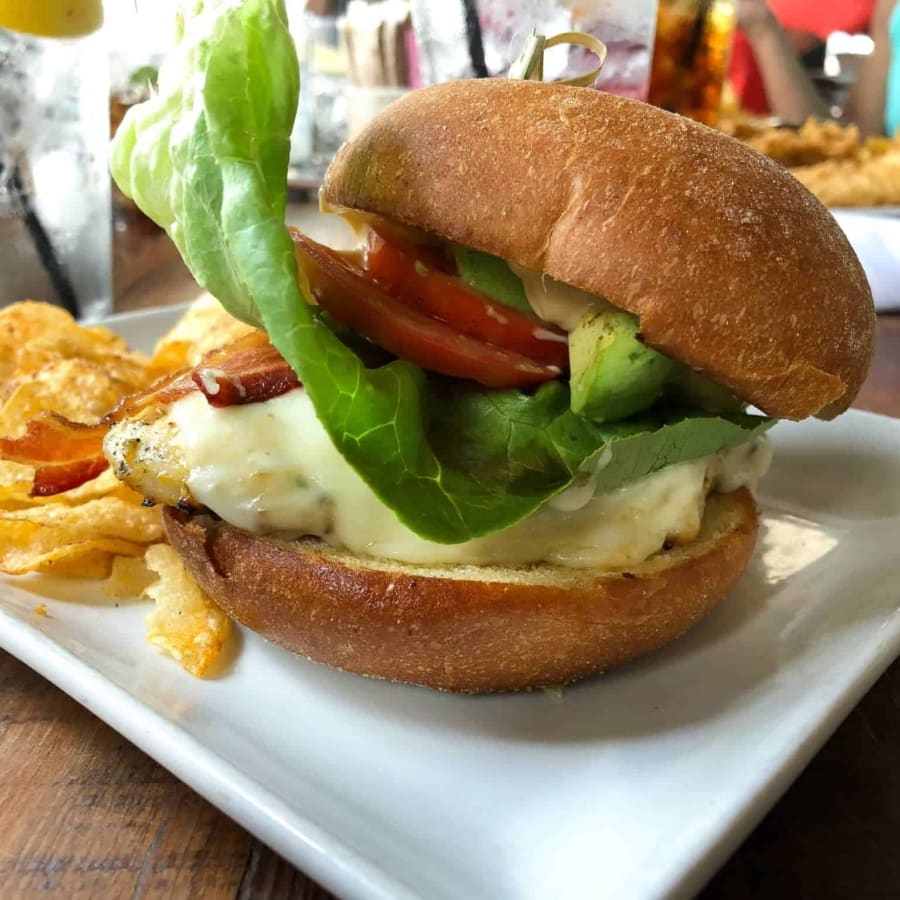 Some of the other items my kids ordered were the BLT, Grilled PBJ, and chicken tenders. The children's portions were ginormous, especially the tenders.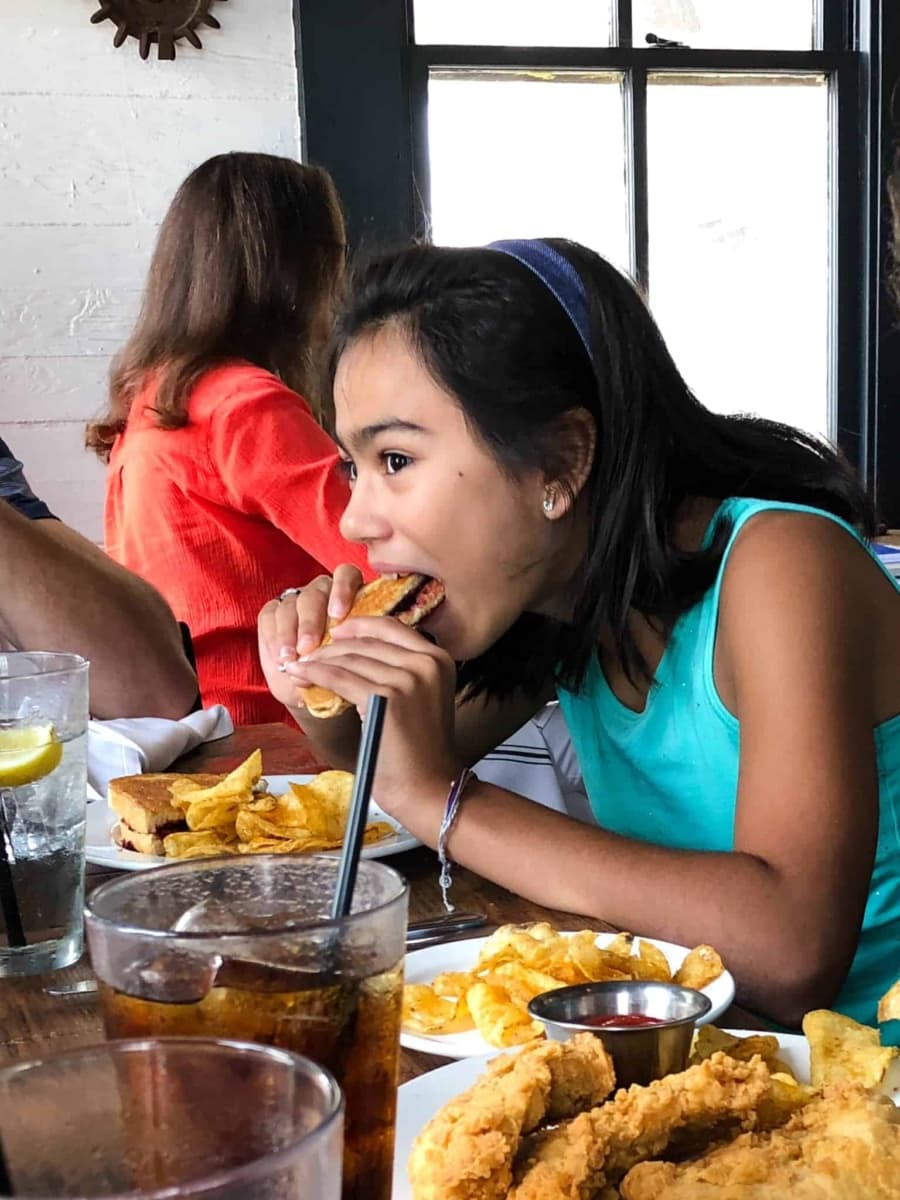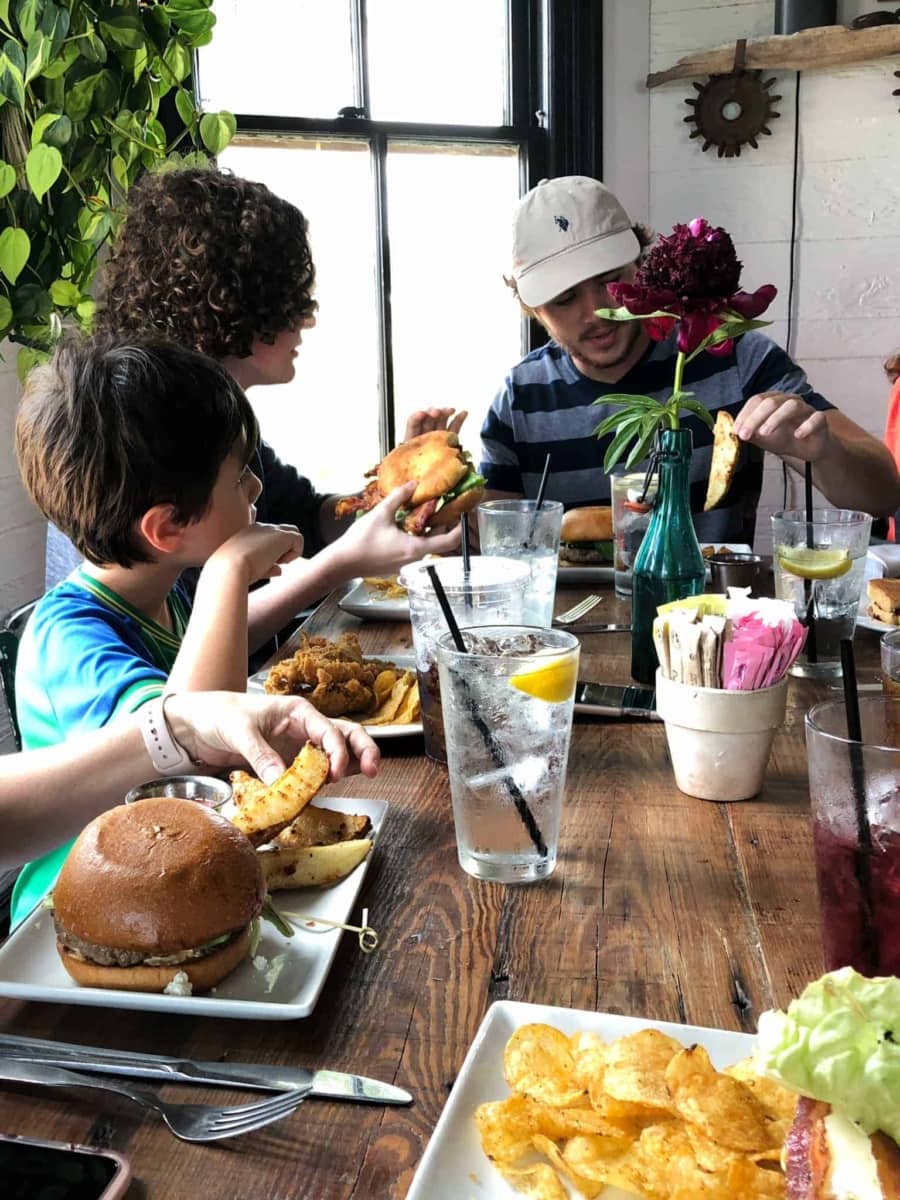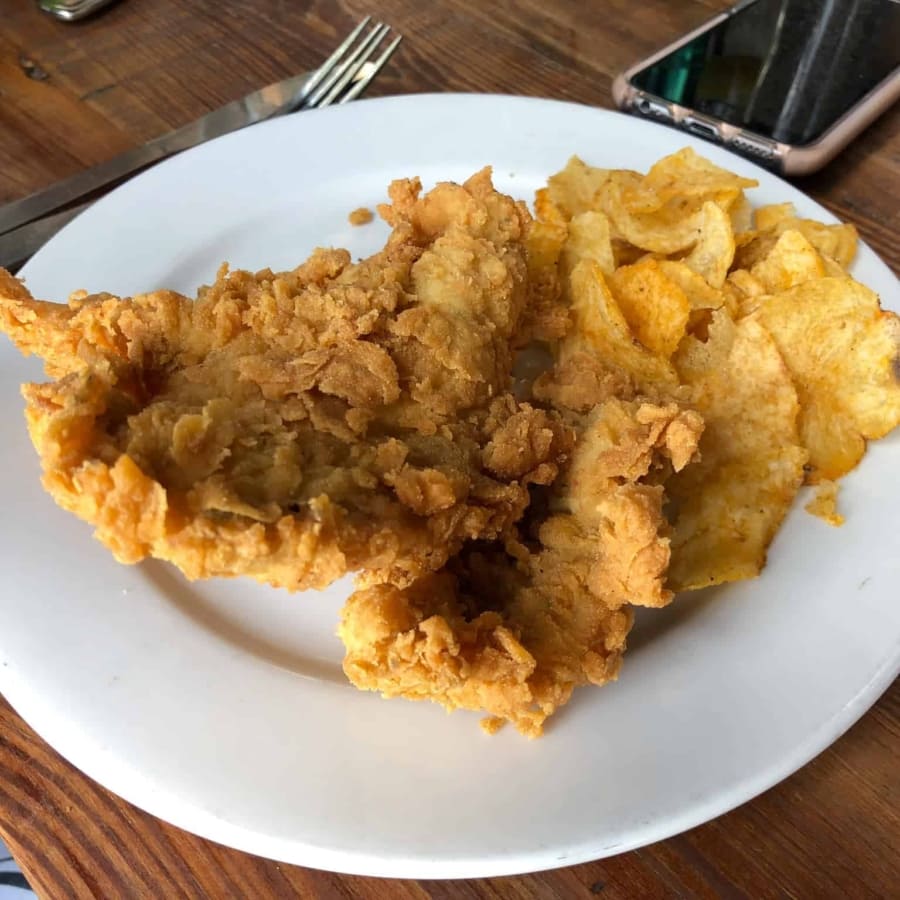 Everyone loved their meal. We paid $114 for our family of 7.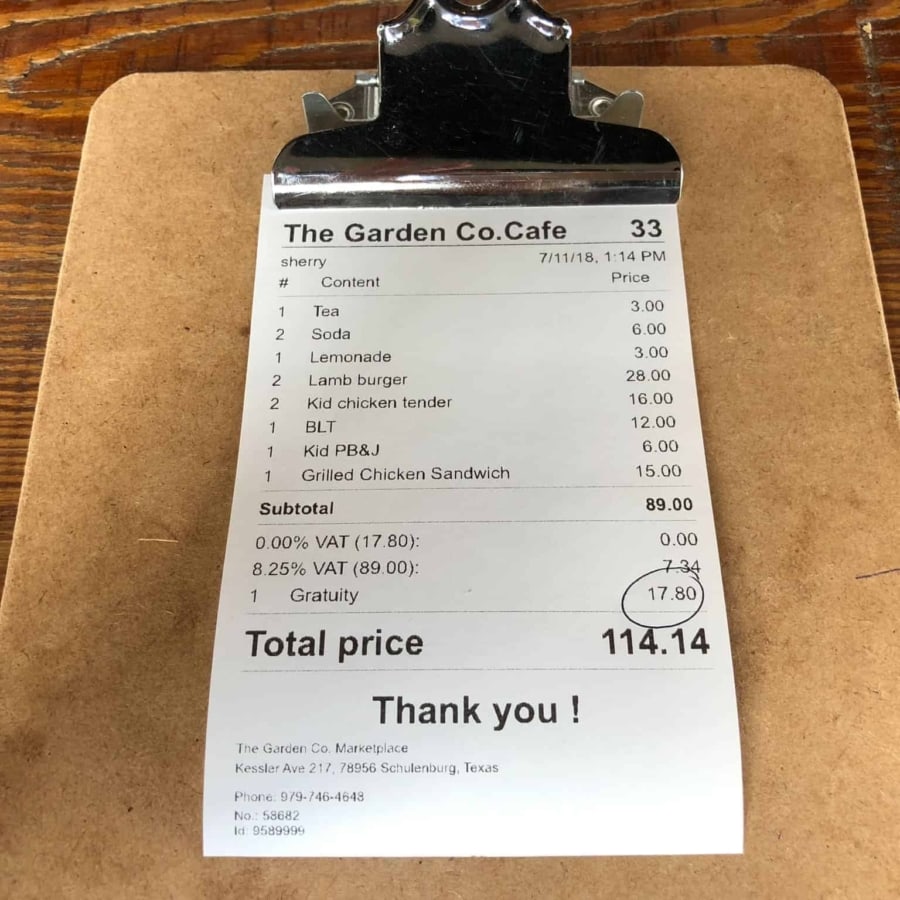 Well worth it. Please note, their website says they are closed on Sundays.
The Original Kountry Bakery
110 Kessler Ave, Schulenburg, TX 78956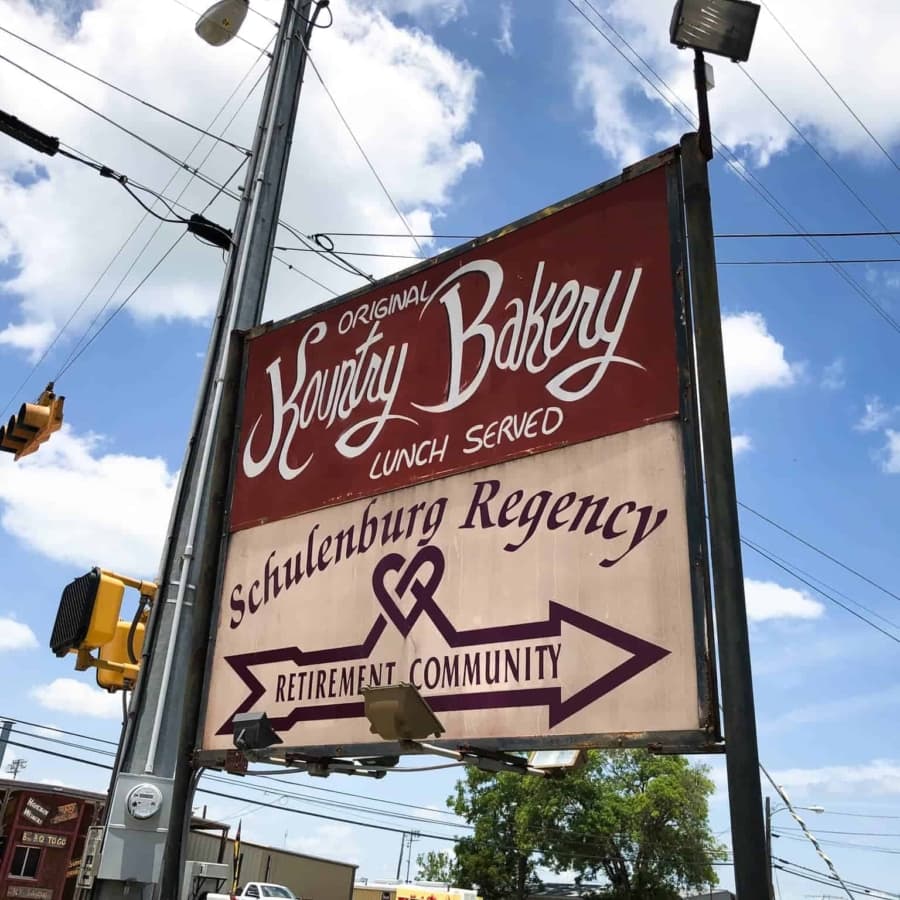 After lunch, we made a very quick stop across the street at The Original Kountry Bakery. I had read great things about it and we always enjoy a little sweetness after our meals.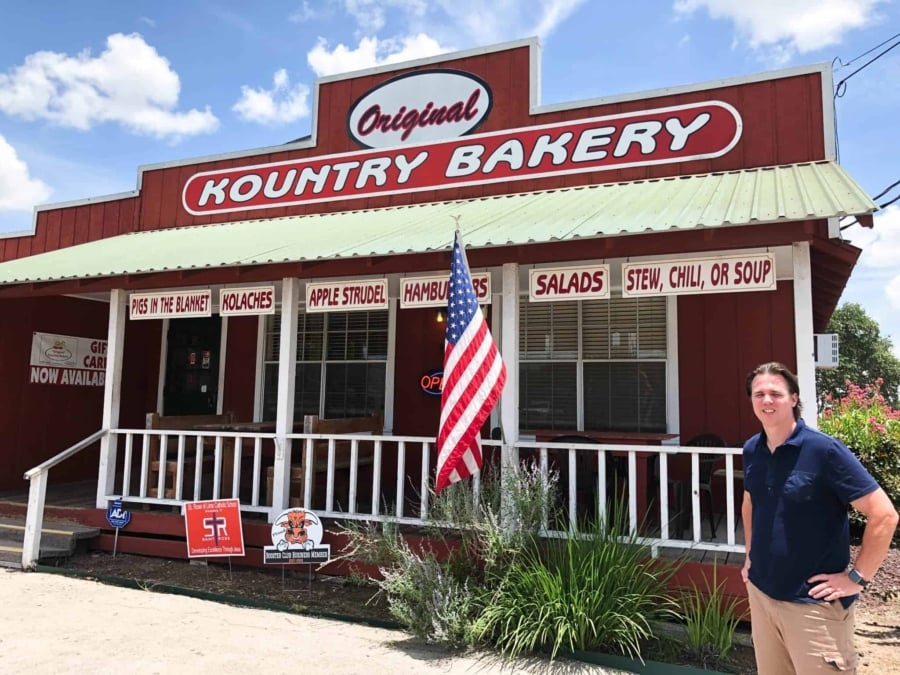 We ordered a couple pastries to go. They did not disappoint. The pies on display looked amazing, but we were full from our big meal.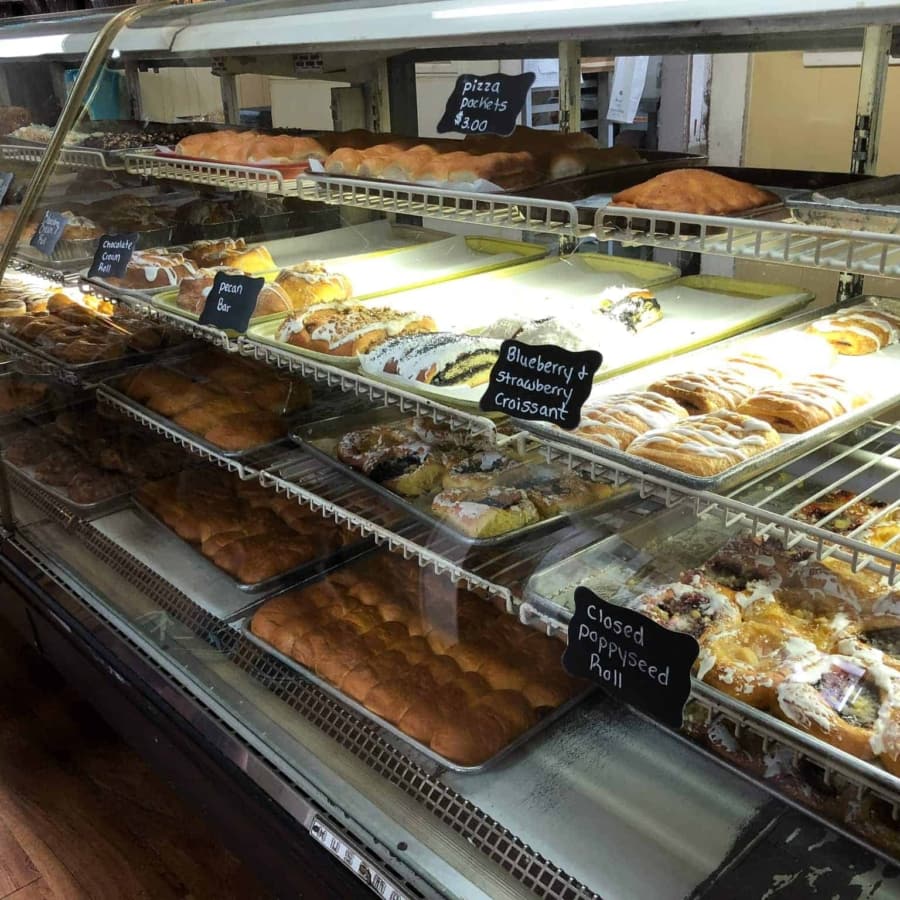 Definitely worth a stop in Schulenburg to get your sweet on!
If you have time to spare, I would highly recommend you stick around Schulenburg and go see the Painted Churches. You can do a self-guided tour or you can book a guided one. They are active churches, so make sure to read about the restrictions. You can read all about the churches and book a tour on their website.
Buc-ee's
10070 West IH 10, Luling, TX 78648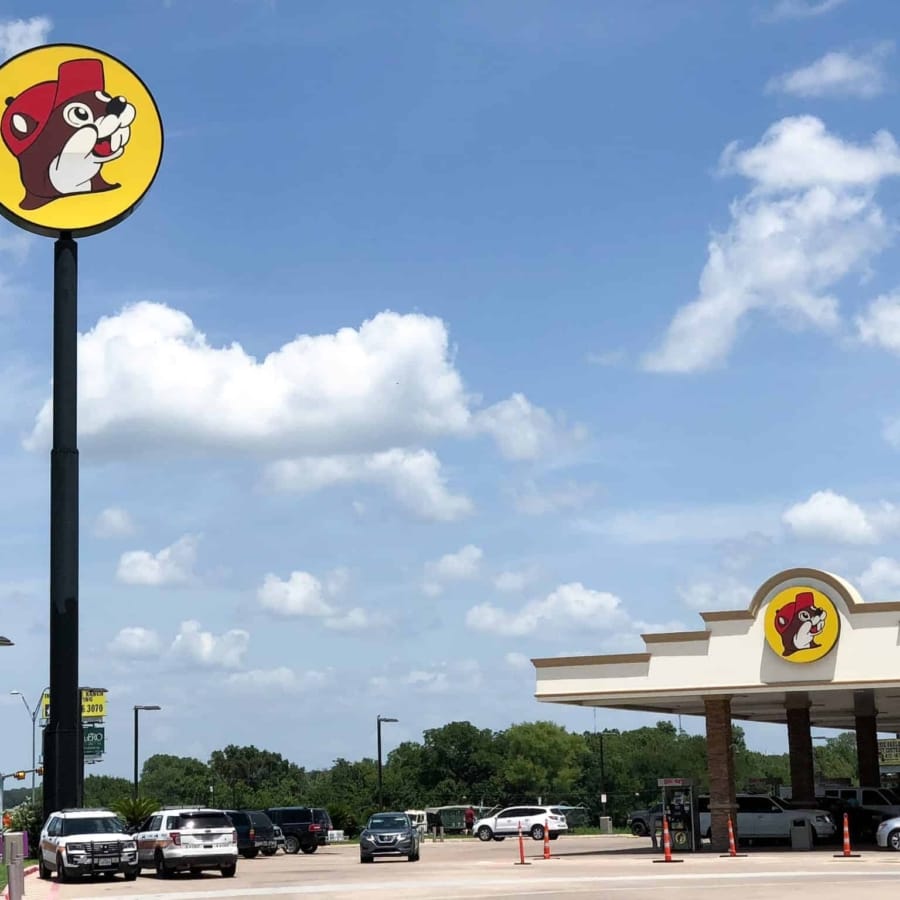 If you've never stopped at a Bucees gas station, then you are missing out. Bucees aren't just gas stations, they are huge, awesome stores where you can lose track of time if you're not careful! Leave it to Texas to make an attraction out of a gas station!!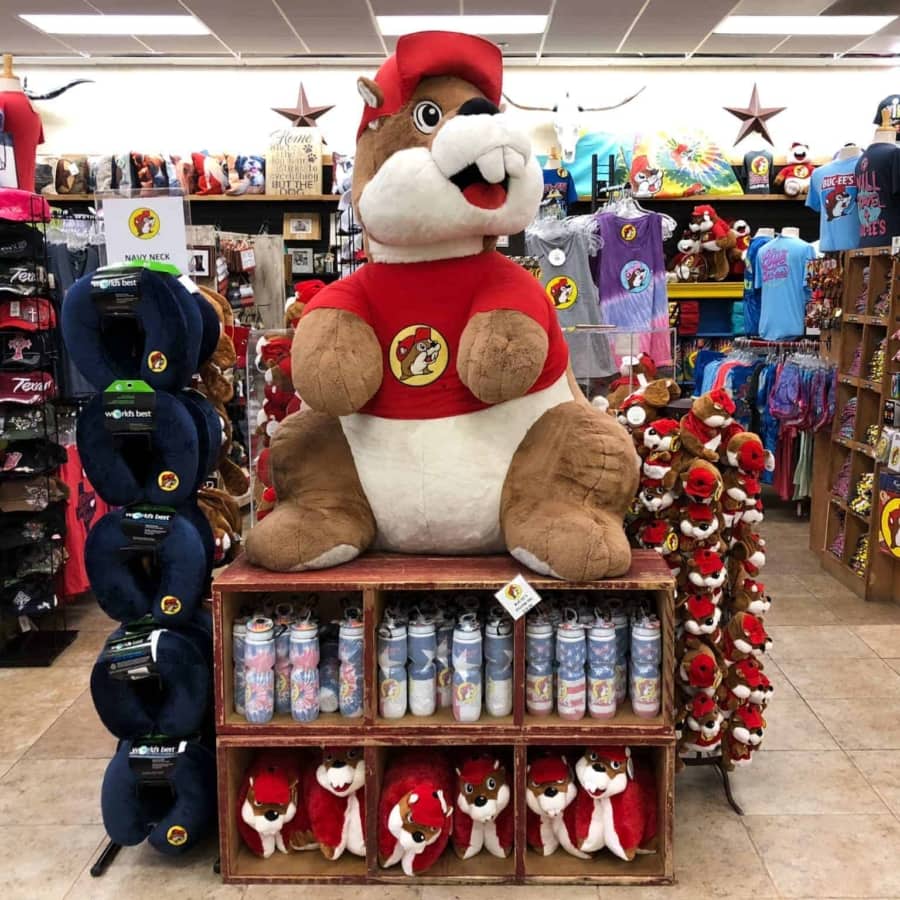 They have the cleanest restrooms on the road, delicious bbq, spectacular jerky, and the most amazing fudge! Since we've been to numerous Buc-ee's we tried to make this stop a quick one, so we all used the restrooms and only bought a couple items to take on the road.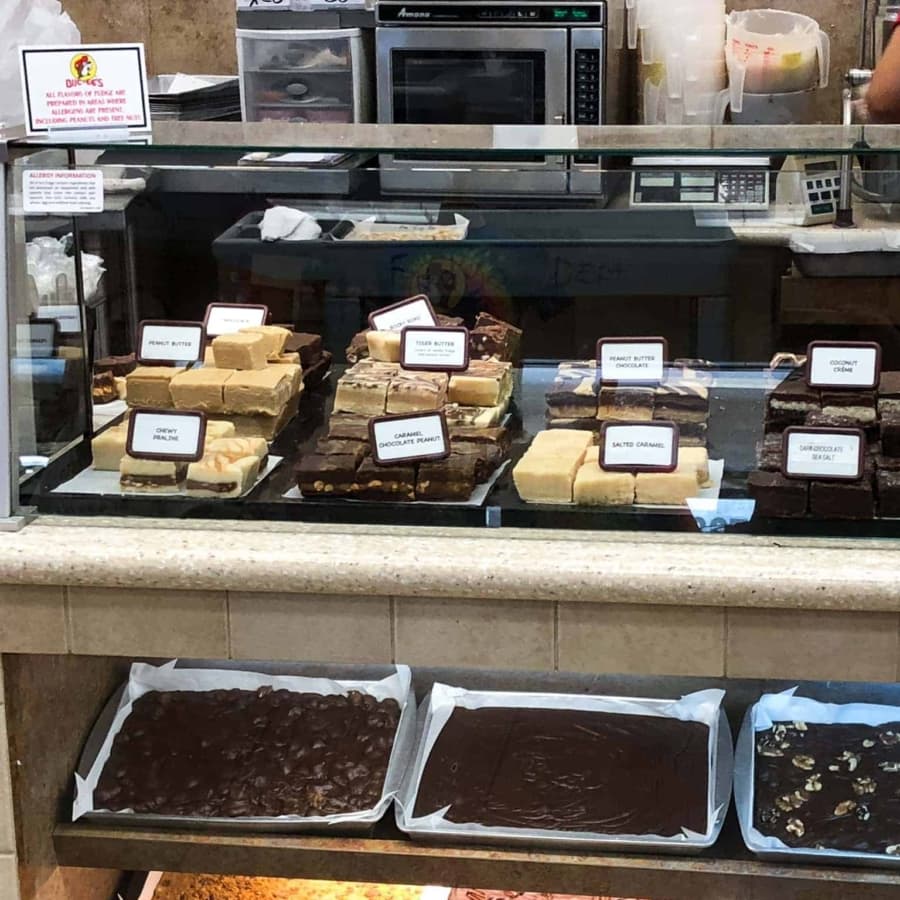 The Buc-ee's in Luling is only about 45 minutes away from Schulenburg, so it was a perfect place to stop to use the restrooms and stretch our legs. Make sure to read about our way back to Houston below so you don't miss our favorite stop, right back at Luling!
After our stop at Buc-ee's, it was a straight shot to San Antonio for us. On our way back, we also planned our stops to get the best out of our road trip.
Krispy Kreme
121 North IH 35, San Marcos, TX 78666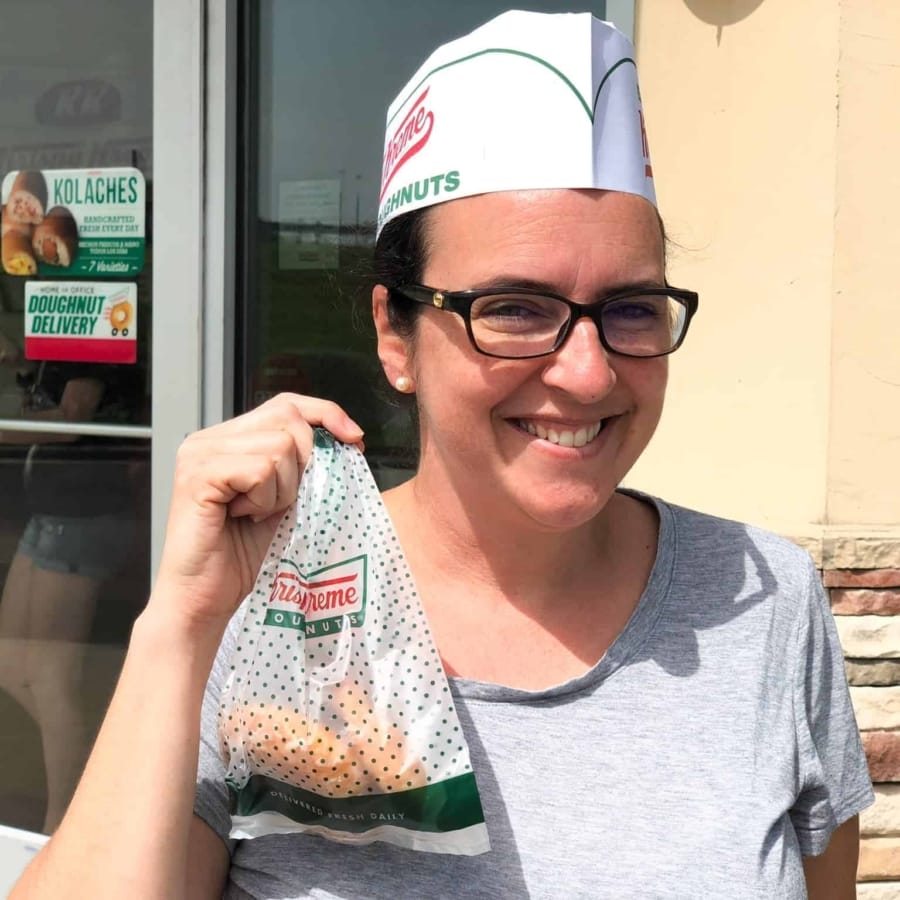 By far my favorite doughnut shop ever, Krispy Kreme is a must for us! We don't have a Krispy Kreme in The Woodlands, so when we take a trip somewhere that has one, you bet we make a stop at it!
The Krispy Kreme in San Marcos was a perfect breakfast stop on our way back home. We left our hotel in San Antonio early and our first stop was Krispy Kreme. We headed towards San Marcos on IH-35 from San Antonio.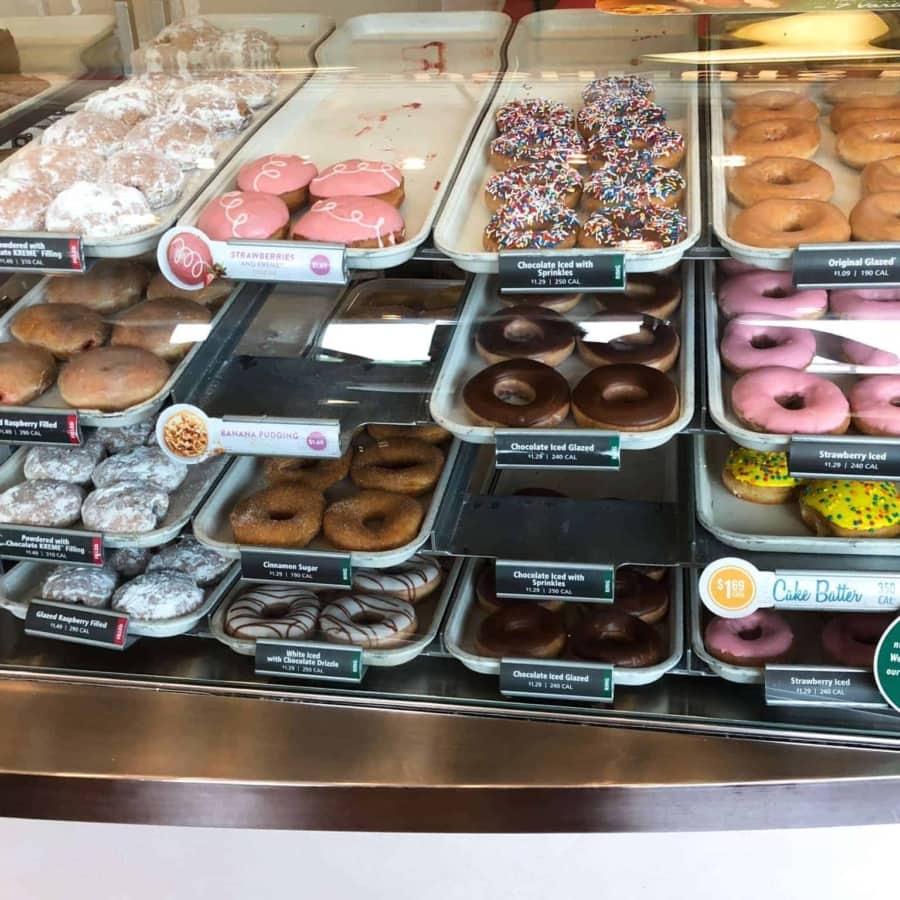 We were greeted warmly and to my surprise were offered a sample of their fresh, warm doughnuts before ordering. I thought surely they'd cut some doughnuts up and give us a piece each, but nope, we each got a whole fresh doughnut! All 7 of us!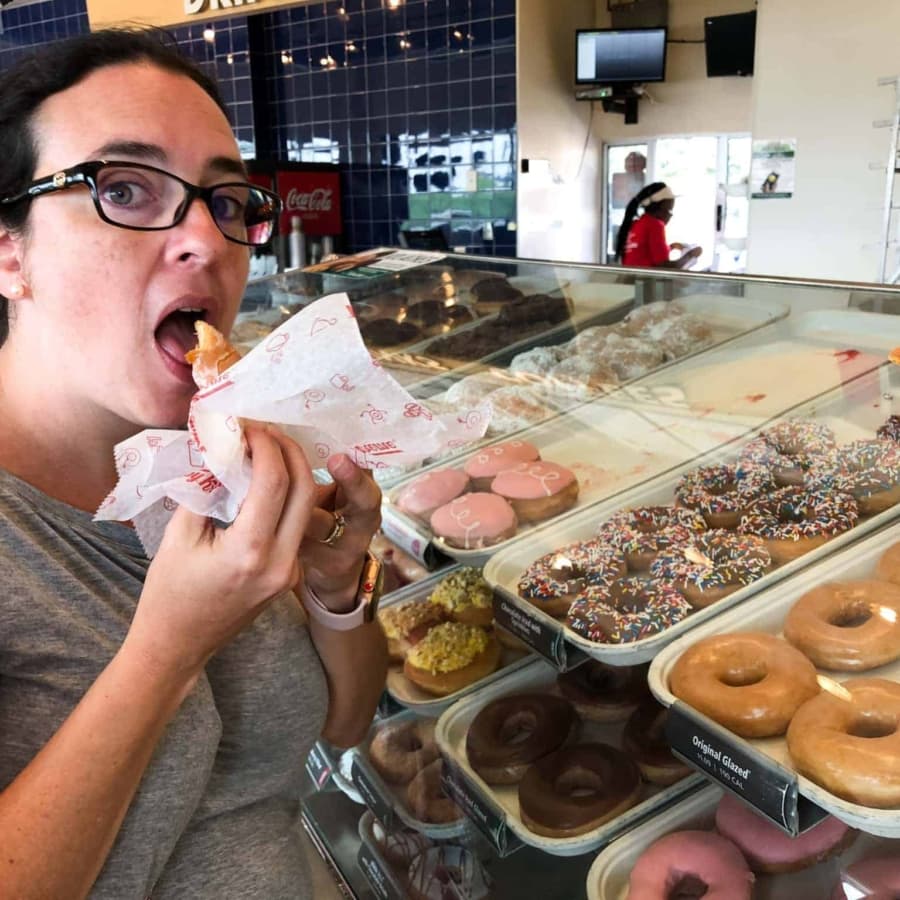 We then ordered our usual dozen glazed doughnuts, drinks, and a couple kolaches.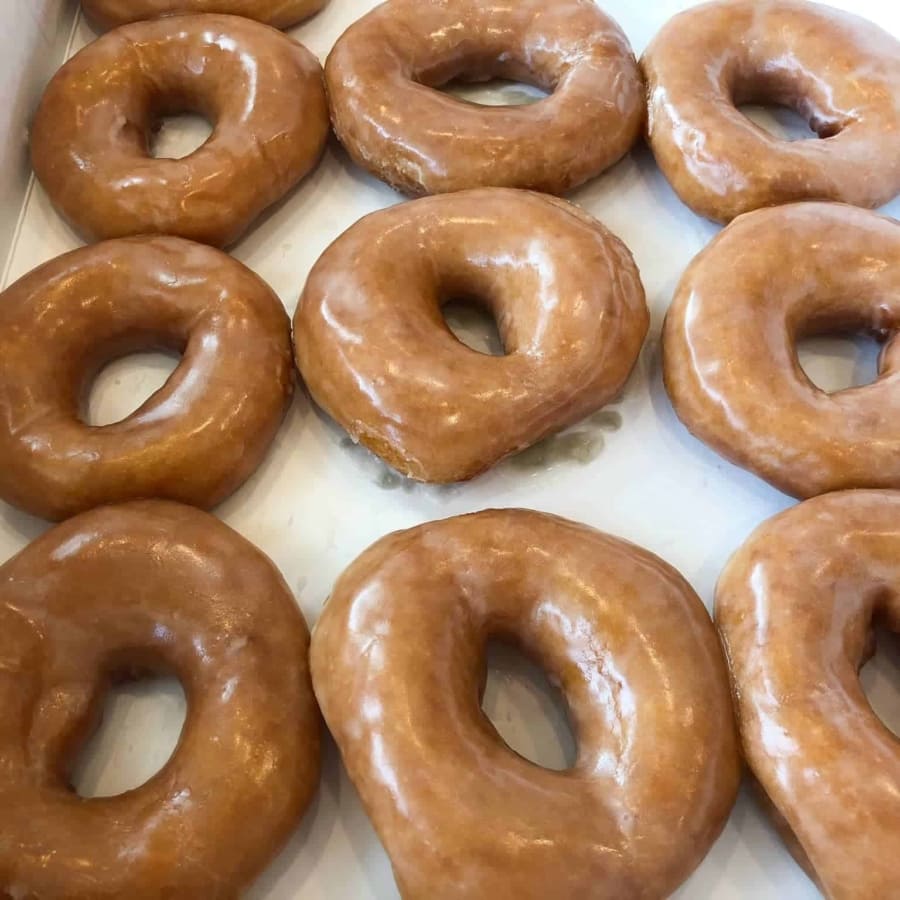 The doughnuts melt in your mouth and I may or may not have eaten 4.
Krispy Kreme is a little bit past the outlets we were headed to, but we backtracked just a couple minutes and we were at the outlets.
San Marcos Premium Outlets and Tanger Outlets
3939 South IH 35, San Marcos, TX 78666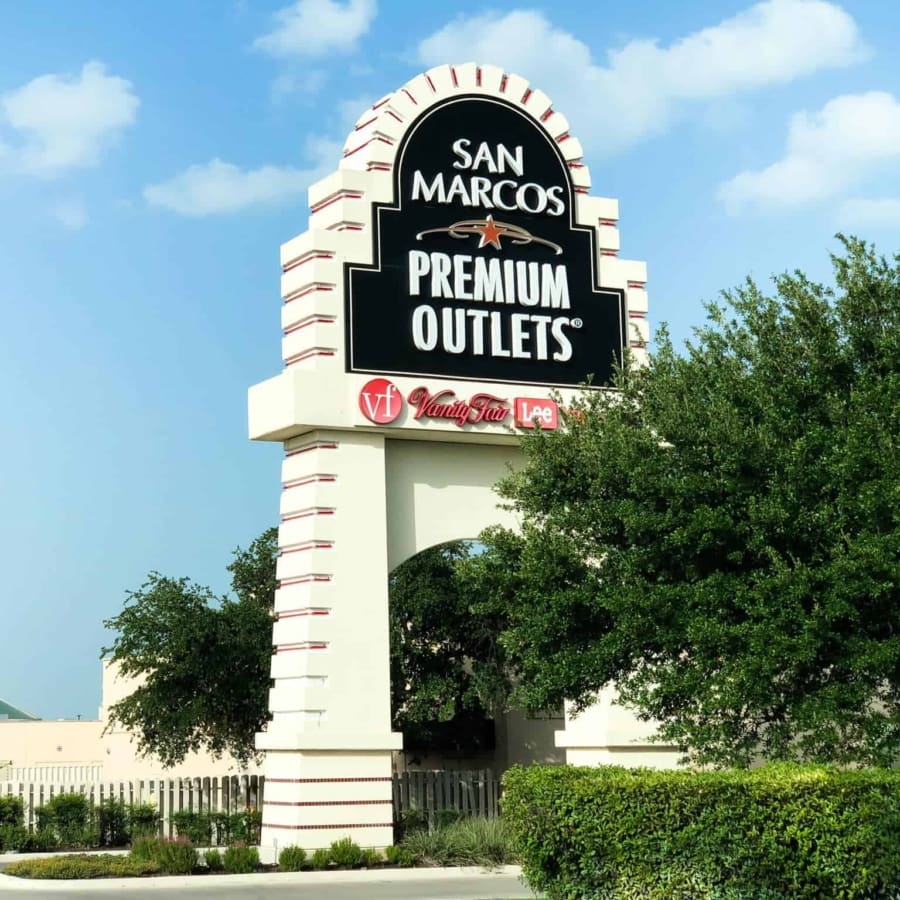 We stopped for the morning at both the Premium and the Tanger Outlets in San Marcos. My kids all needed some clothes and shoes, so it was the perfect stop. We got some great deals at lots of favorite stores.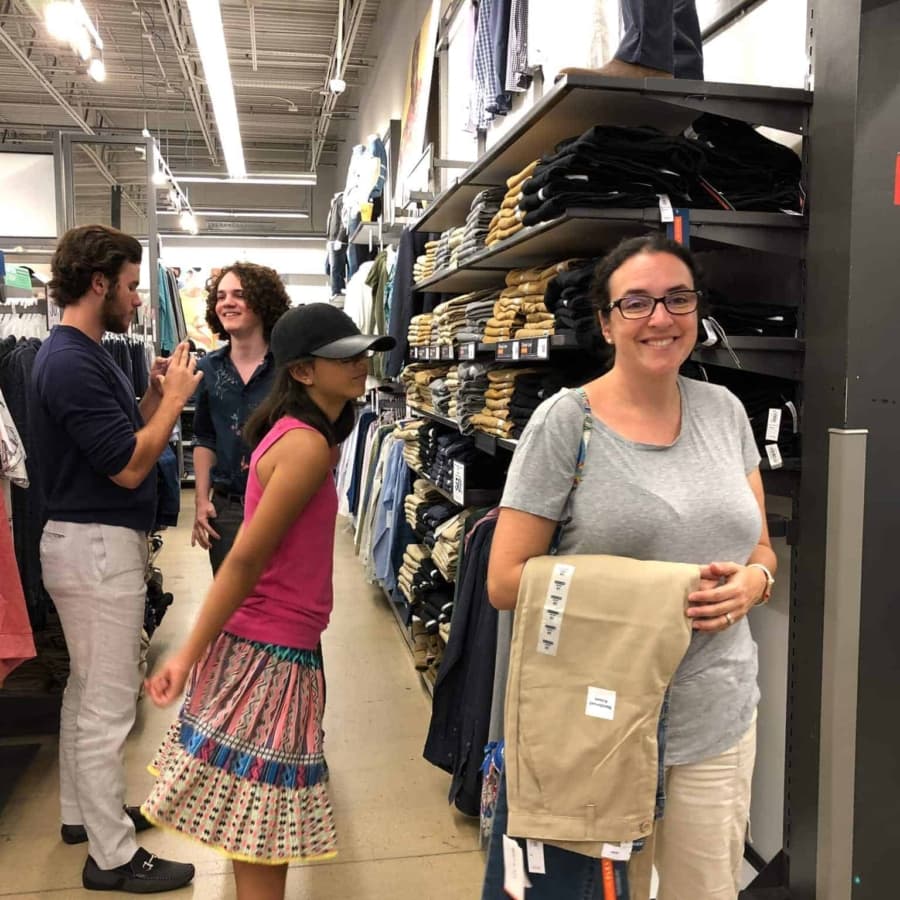 You can easily spend a couple days going through all the stores, so plan accordingly. There are plenty of great hotels within minutes of the outlet malls.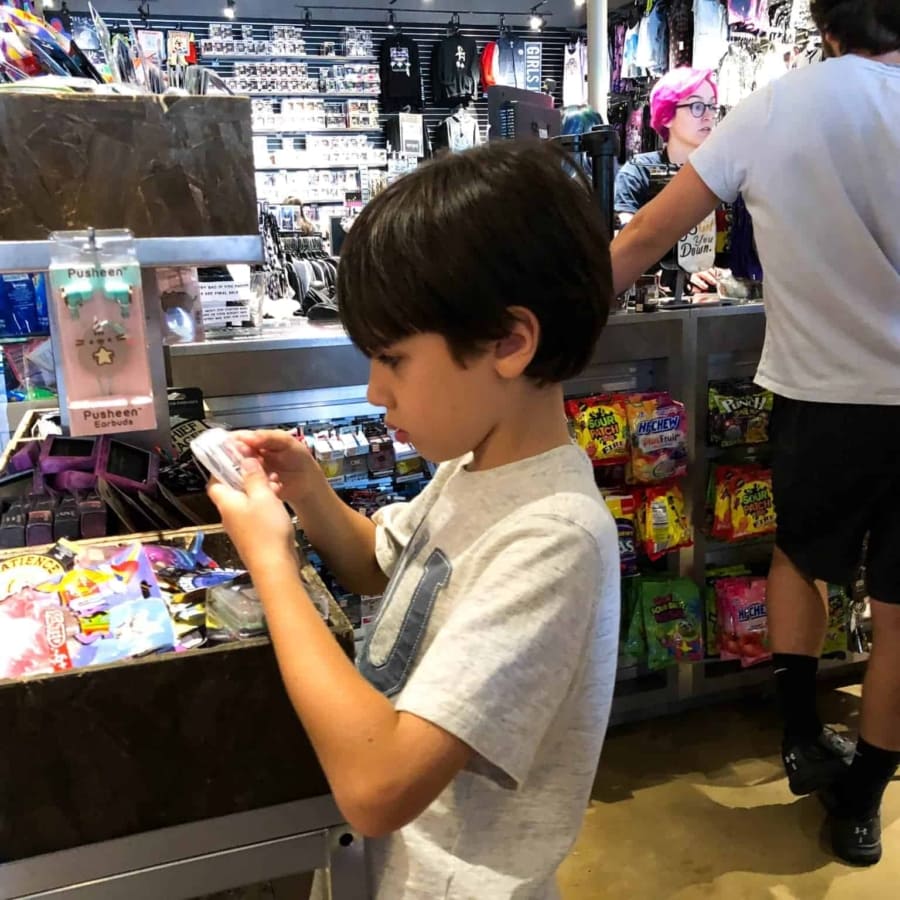 We made sure and used the restrooms there, which were nice and clean, and then we hit the road again!
City Market in Luling
633 E Davis St, Luling, TX 78648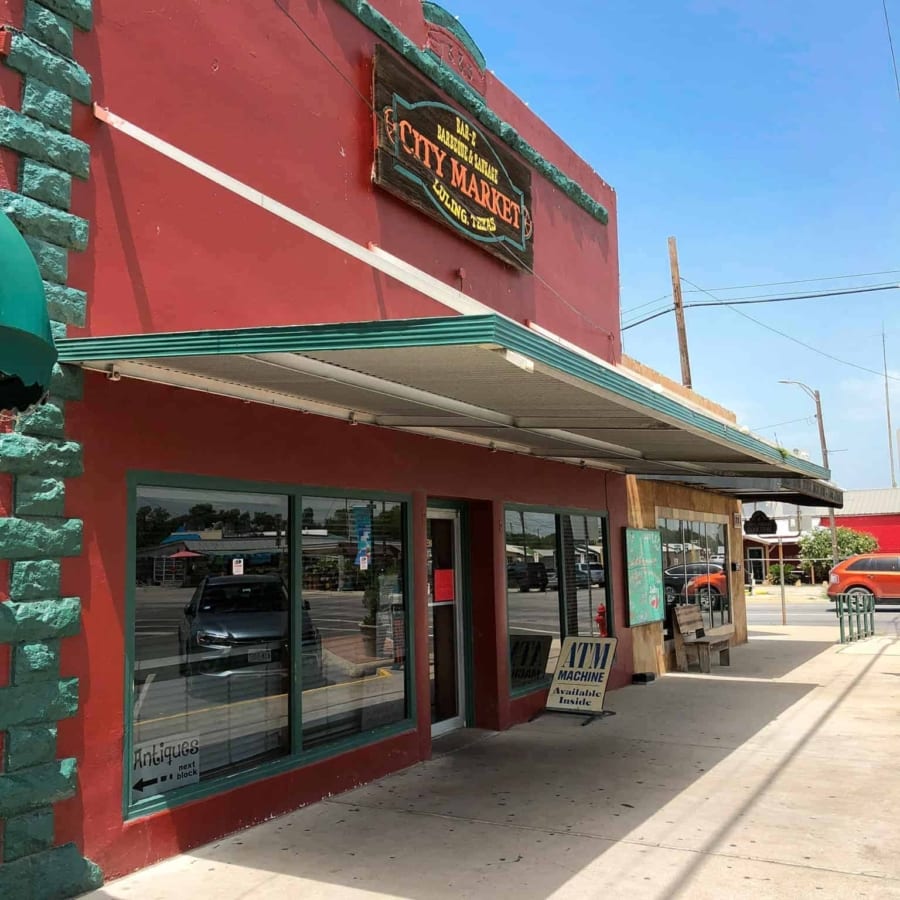 Ok, so to close our trip off, we made a stop in Luling for the best bbq ever! We've stopped there before and it was the one stop we wanted to make happen no matter what. We even extended our trip for a day so we could make sure and be on the road when they were open!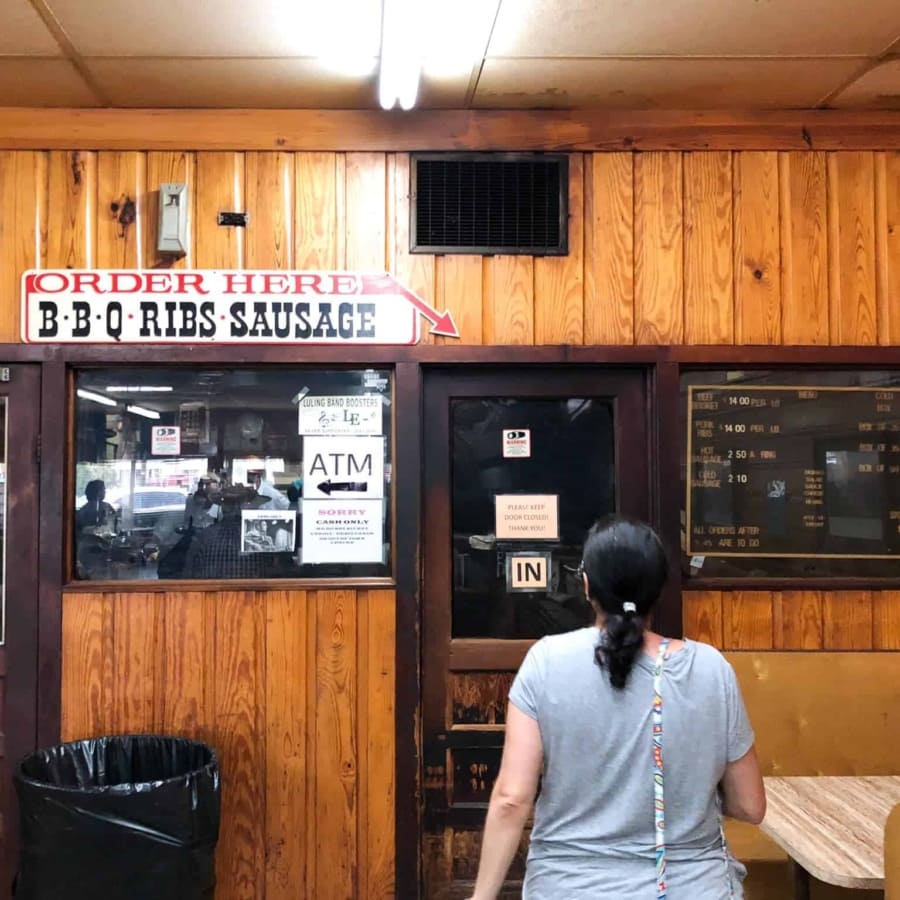 City Market in Luling, Texas has the best, most authentic bbq in Texas in my opinion. It is a no-frills, get amazing food in your belly kind of place. They have 3 main items on the menu: brisket, sausage, and ribs. You order your food right from the pitmaster in an enclosed smoke room at the back of the restaurant and they serve your food on butcher paper. Doesn't get any more authentic than that!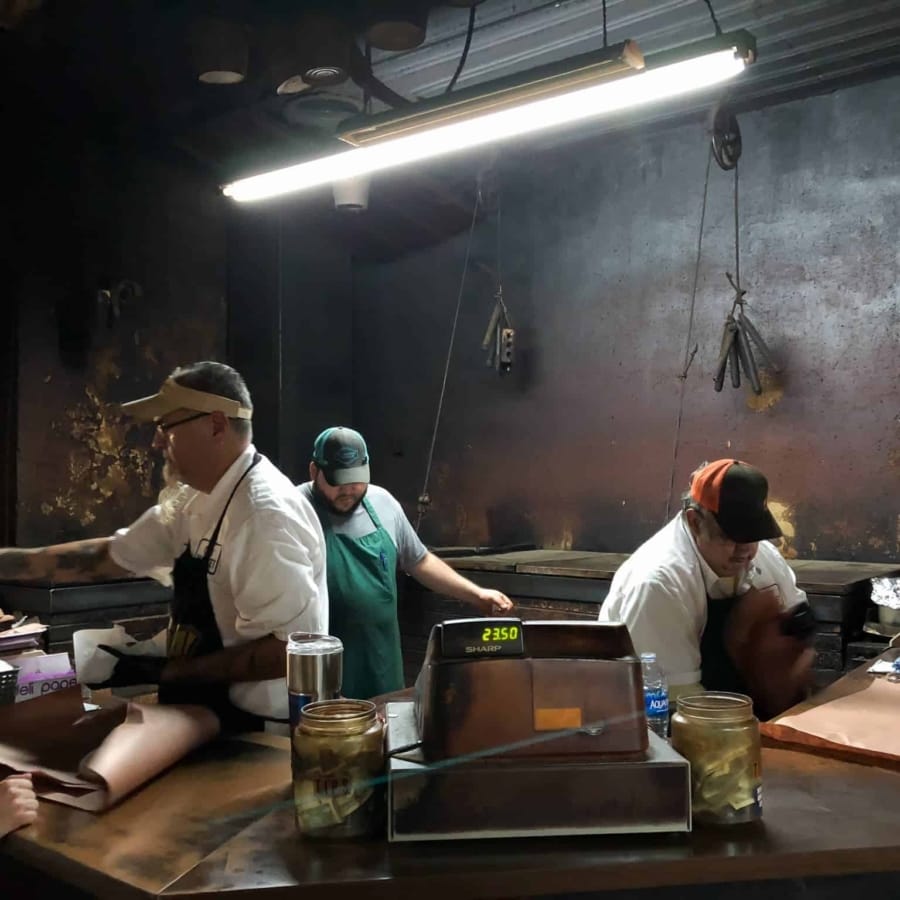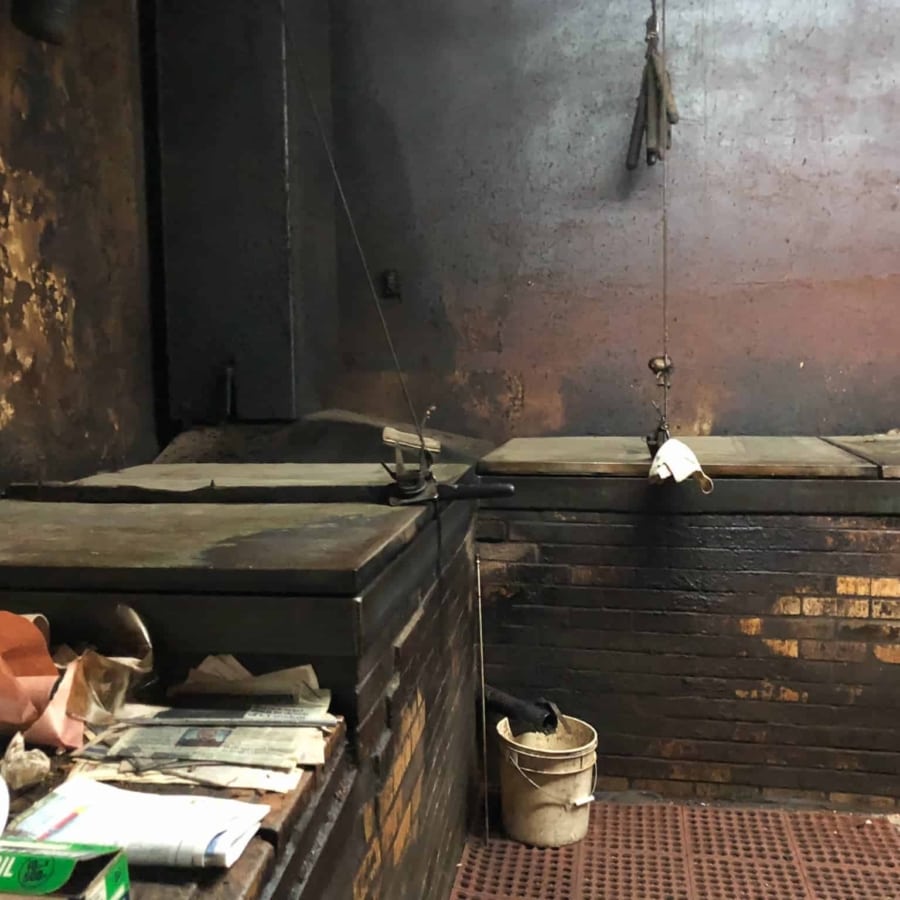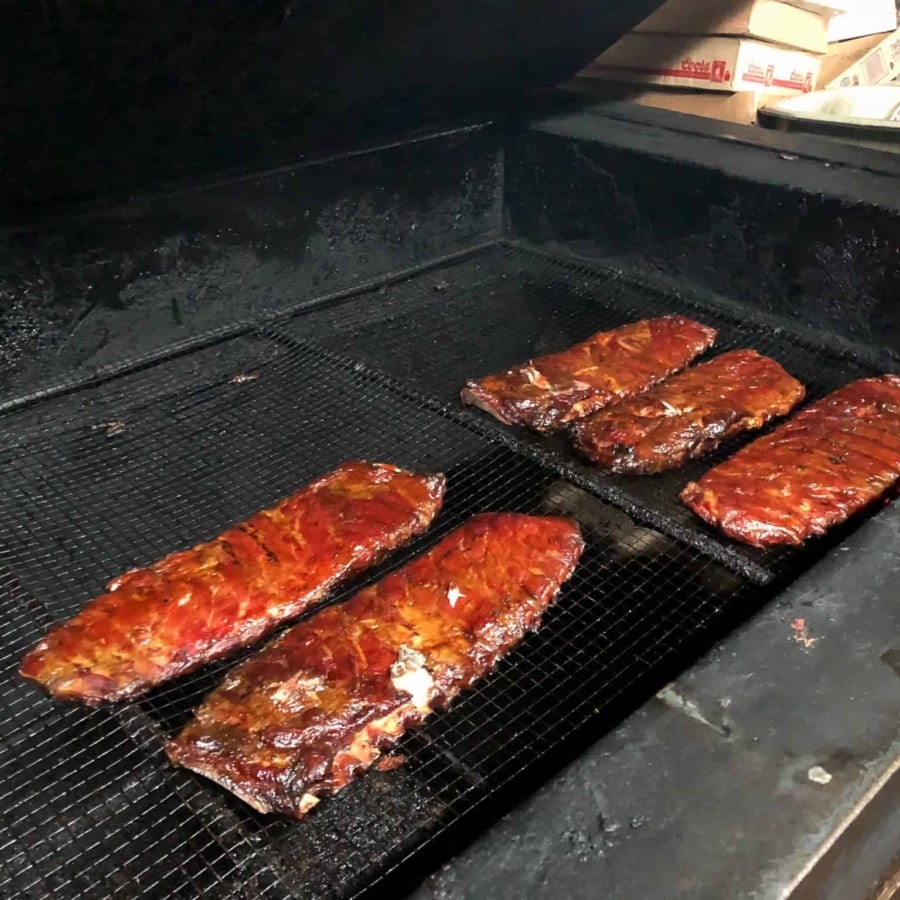 The ribs fall off the bone, the brisket is spectacular, and the sausage is to die for. We ordered a couple pounds of everything and we literally devoured it in minutes.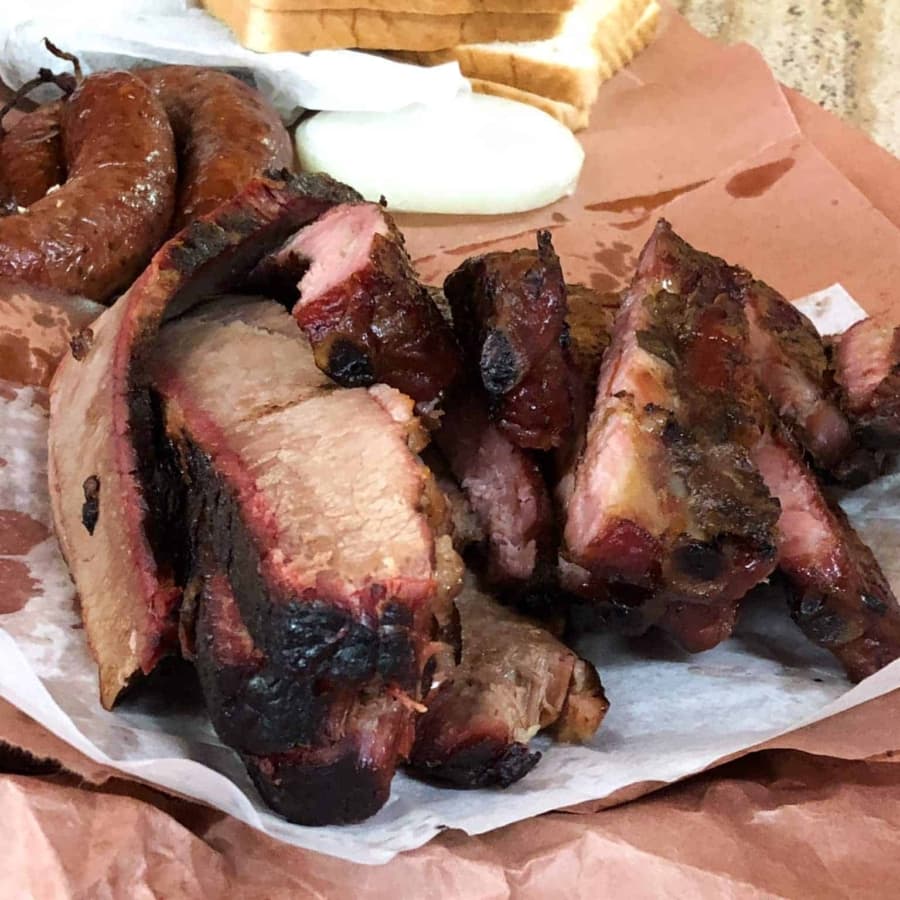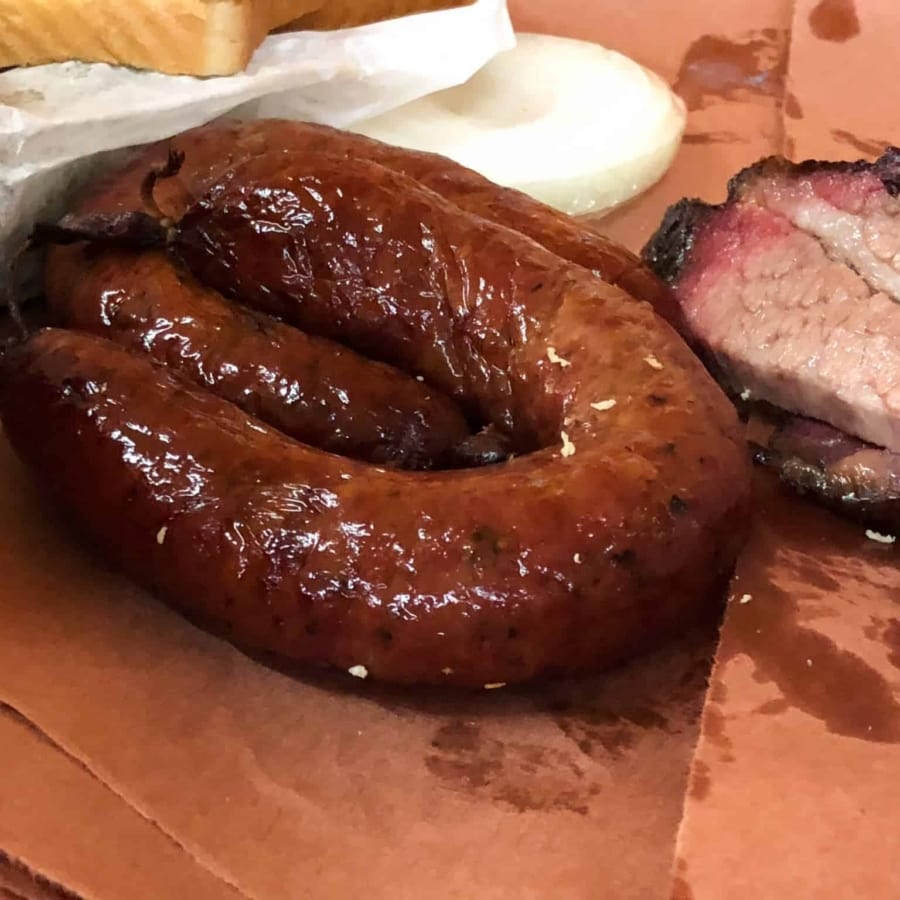 You can also get sliced bread and pickles with your order. After ordering your meats, you can then head to the front of the restaurant to order your drinks and sides. You also must ask for their special sauce. It is amazing and they'll give you a bottle of it to take to your table.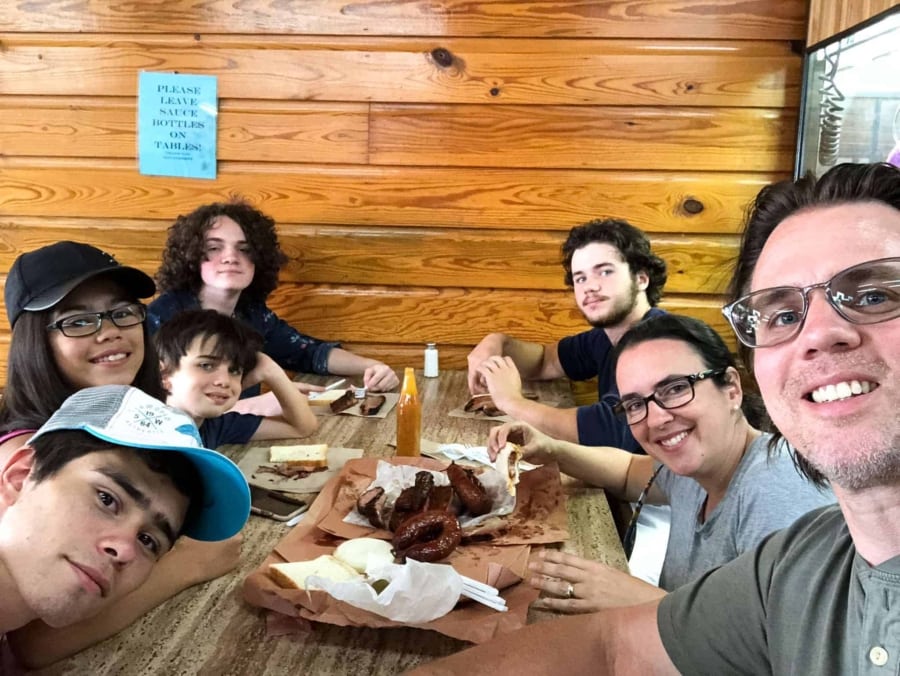 A few important things to note is they are CLOSED ON SUNDAYS. (Hence our extending our trip by a day!) Another super important thing is they ONLY ACCEPT CASH. If you happen to forget this fact though, they do have an ATM available in the store.
After our stop at City Market in Luling, we were full, tired, and ready to get home! We did not stop anywhere else along the way.
Taking The Scenic Route Between Houston and San Antonio
I want to mention an alternative route to you in case you're looking for a more scenic drive. You can take Highway 90 Alt instead of I-10. Along the way, you'd be able to enjoy the Painted Churches in Schulenburg, Shiner Brewery, Papes Pecan Shop, and Palmetto State Park. You can easily go up to Luling for BBQ and head right back to Highway 90.
Well, if you are planning a road trip between Houston and San Antonio, I hope you will stop in the places I recommended. You will not be disappointed! Do you have any favorite stops between Houston and San Antonio that I didn't cover? I'd love to hear about it in the comments!
Happy road tripping! And don't forget your Road Trip Essentials!
Make sure to read about our awesome day at SeaWorld, as well as the best places to eat in San Antonio when traveling with kids, and the best things to do with kids in San Antonio (coming soon).
Quick & Easy Recipes
When you sign up to become a newsletter member, you'll get access to my latest quick & easy homemade recipes, homemaker tips and tricks, free printables, and more delivered directly to your inbox each week.