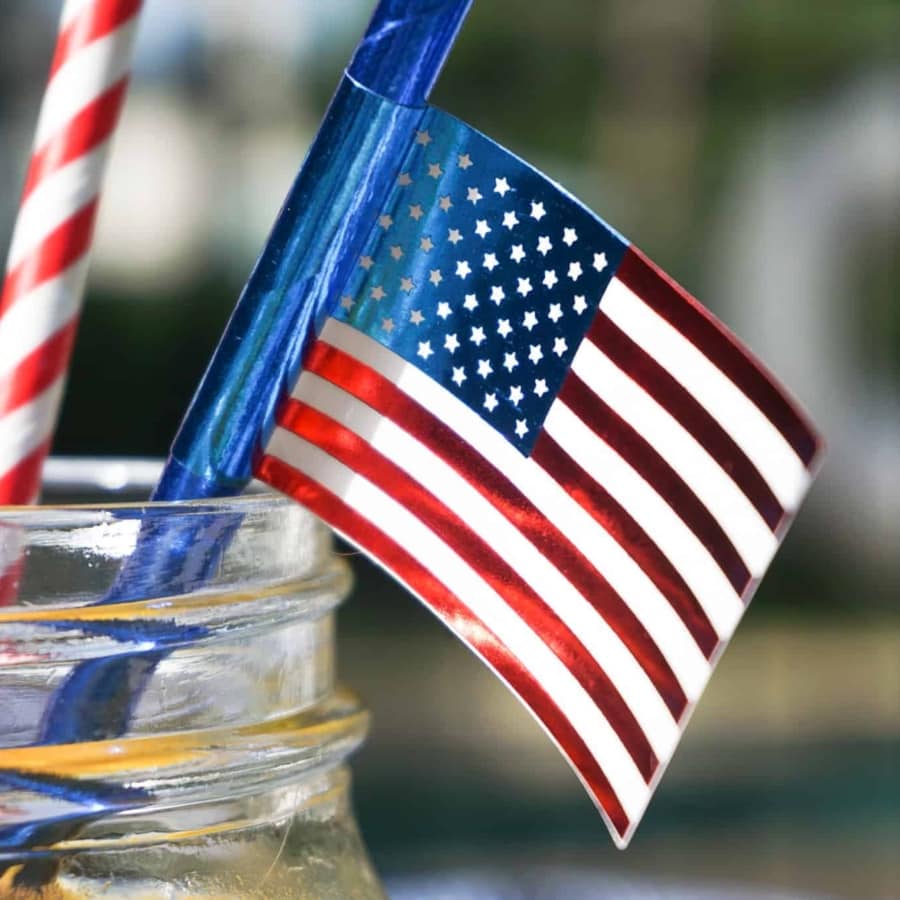 As most of you know, I was born in Honduras. My whole life, though, I was very involved (and enthralled) in the American culture. I went to "The American School" in Honduras, I've spoken both Spanish and English since I was little, my family and I frequented the United States, and some of my very best friends in school were American.
This post contains affiliate links. For more information, see my disclosure.
Born a Honduran, Destined to Become an American
I don't know what it was that always drew me towards the "American way of life", but there was always something there. Now don't get me wrong, I love my home country and love the people there, especially my family. Honduras is where I was born and raised and where my two oldest were also born and raised, and it will always hold a piece of my heart. But for some reason, even growing up, I knew that The United States was where I was going to end up.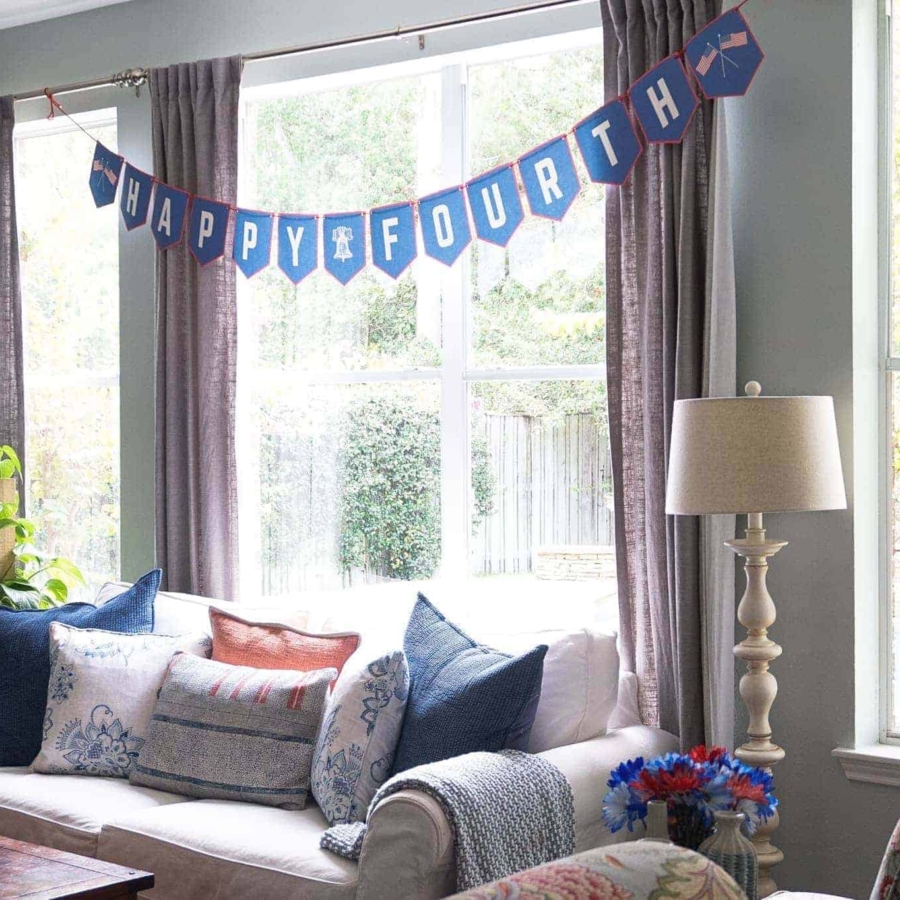 I remember reading those "Teen" magazines and seeing all the contests announced in them, and they always said, "Open to U.S. residents only." I would always think to myself, someday, I'll be able to enter all those contests! I know it may sound like a silly thing, but that was my dream, to be a U.S. resident, and have all the opportunities available to me that were only open to them! I also remember, every time I heard the U.S. National Anthem in my school or on TV, I would get chills. It's as if it was my own.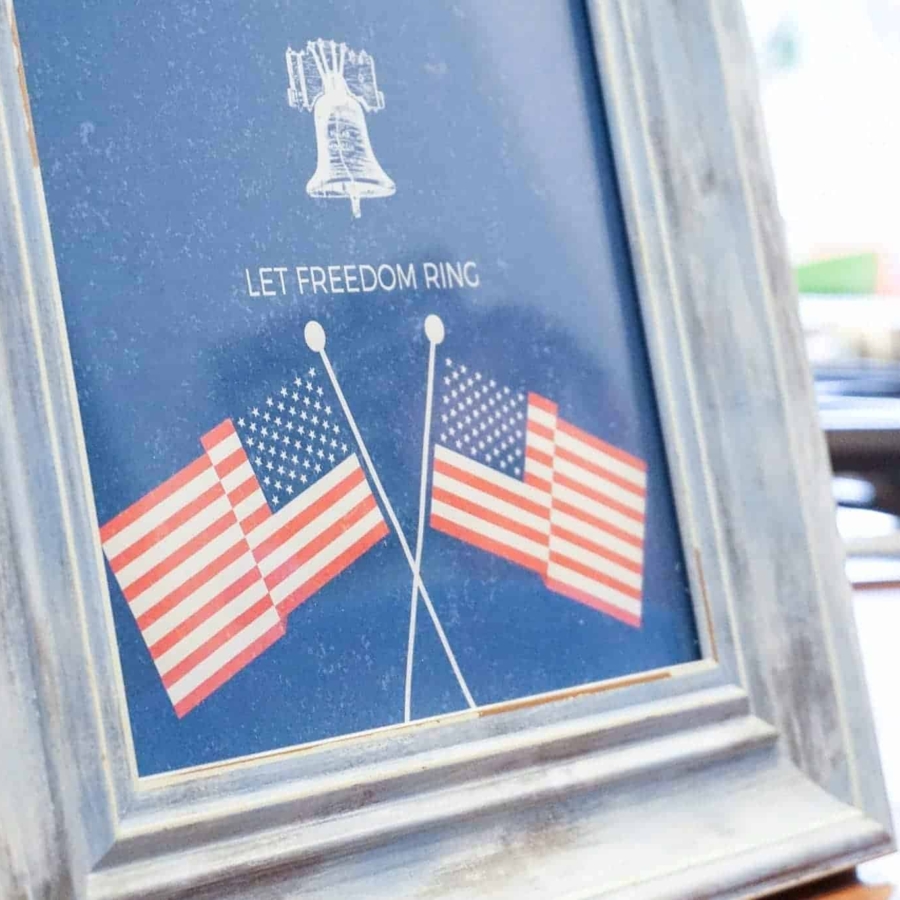 A Taste of the American Experience
When I went to live at a tennis academy in Florida in 11th grade, and then went on to college in Dallas, I got a taste of what it was like to live in the US, and I loved it. It was only a taste, though, since I was not a U.S. Resident yet.
Ryan and I got married in Honduras and came back to Dallas to live our first few months as a married couple there. We then went back to Honduras, and lived 10 wonderful years in my home country, surrounded by my family. But as fate would have it, after 10 years of living there, we would make our way back to Texas.
Proud to Become an American
On March 27th, 2013, I became a citizen of the United States of America. It was such a proud day. I remember sitting in the auditorium thinking, wow, after all these years, I'm finally a U.S. citizen! It was a bittersweet moment because, in a sense, I knew becoming a citizen meant I'd probably not be going back to Honduras again, but at the same time, I knew this was where I was supposed to be.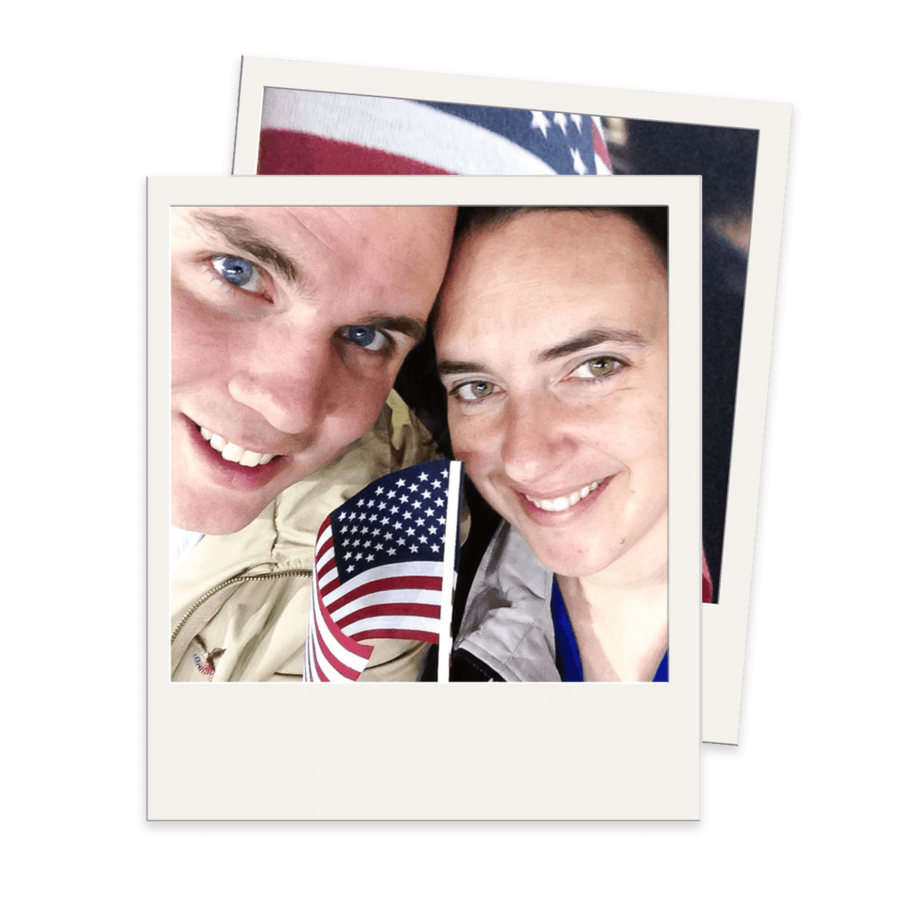 Most of my family is now living here as well, and those that aren't I miss dearly but am lucky enough to have many of them visit several times a year.
Celebrating the Fourth Abroad
When we lived in Honduras, Ryan and I would always have my family over for a 4th of July Celebration. It was a celebration we hosted, of course, since it was Ryan who was the "Gringo" of the family. Well, we've continued the tradition here and still enjoy hosting a 4th of July celebration with our family and friends!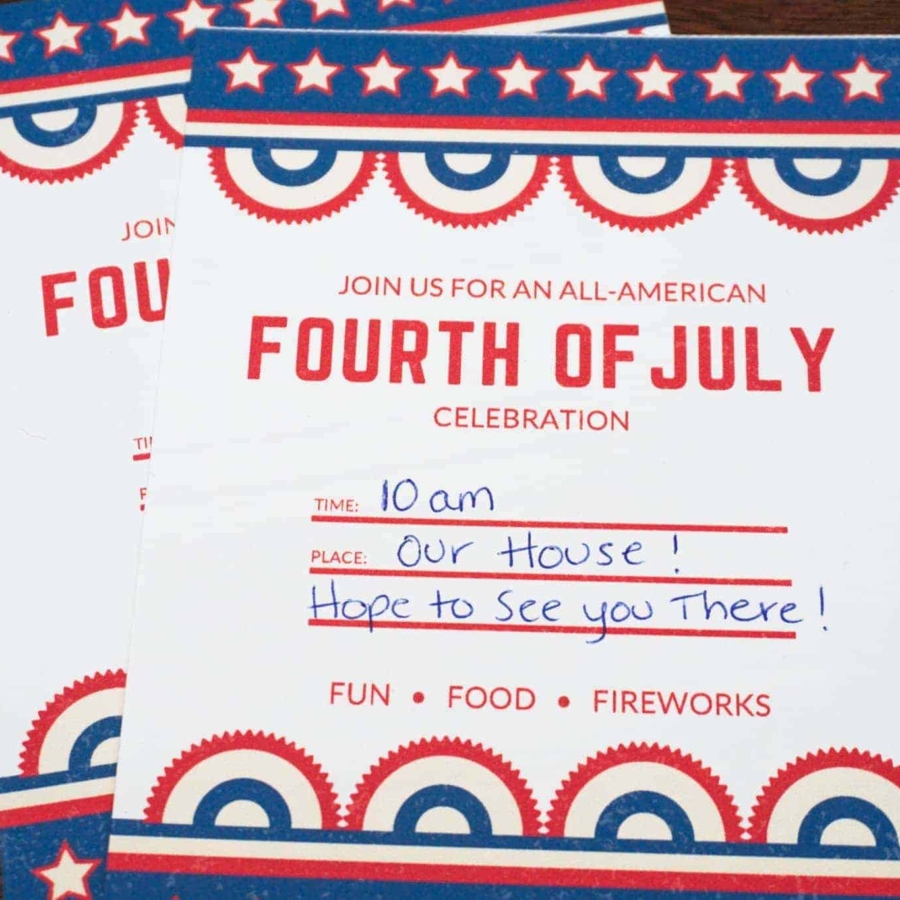 Food, Fun and Family
This year, we celebrated a couple of days early so that we could celebrate my daughter's and my dad's birthdays, which happens to fall on the same day! We had an All-American celebration with hot dogs, chips, dips, cupcakes, and all the trimmings!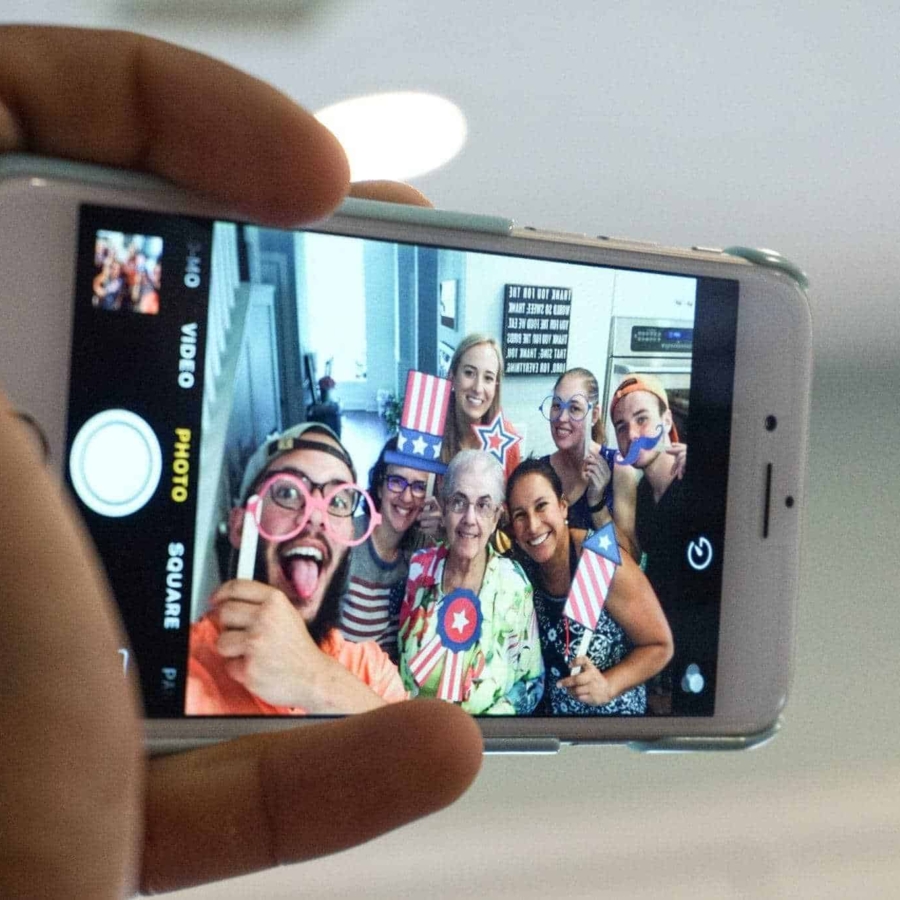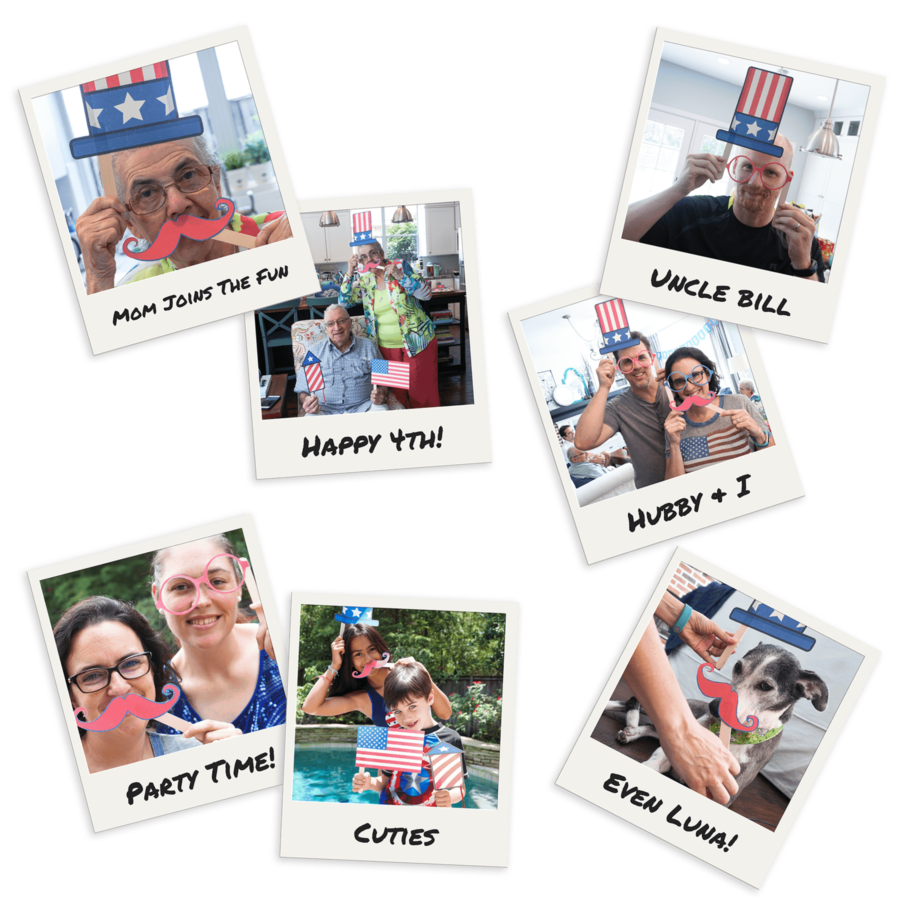 Decorating With Our 4th of July Printables
We used the printables available to my subscribers, and they made everything look so patriotic! The 4th of July printables party pack is loaded with tons of goodies like water bottle and soda can wraps, a frameable picture, an awesome banner, cupcake toppers, photo props, and more.
I wanted to use everything in the pack, so I spent several hours cutting every single piece that we created. It's not a task for the weak! I finally made it though. I was able to speed things up by using my new paper trimmer. For all the round or oddly shaped printables, I used scissors.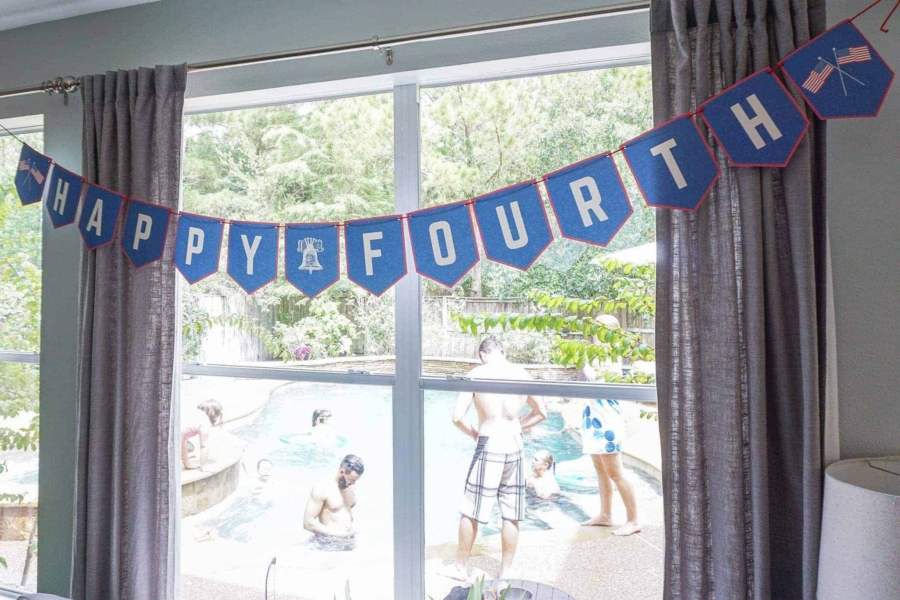 Fun in the Sun
It was a beautiful sunny day, so we took full advantage of the pool! Everyone had plenty of sunscreen and bug spray on, and we had a great selection of music thanks to my nephew. He brought a waterproof speaker with him and, WOW, the sound quality was amazing. Plus, I didn't have to worry about the kids getting it wet while splashing around the pool. It's definitely on my list of items to get soon! (Update: we got one and LOVE it!)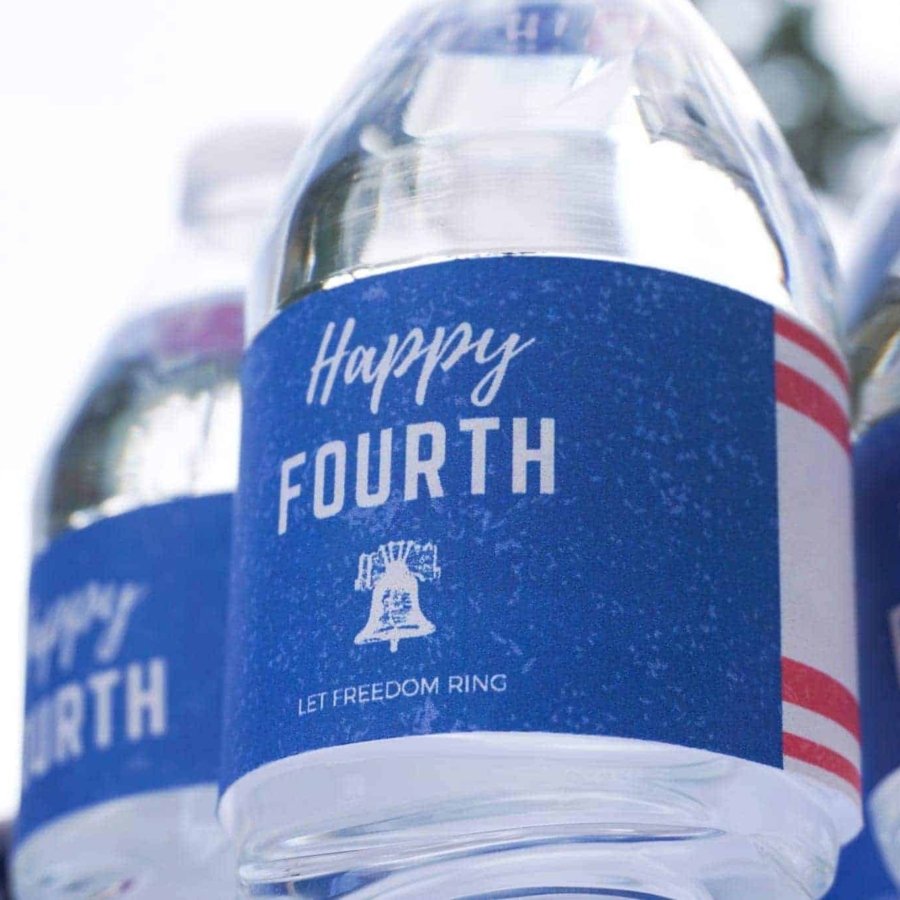 Since it was so sunny out, we made sure to have plenty of drinks available to keep everyone well hydrated. We wrapped all our water bottles and soda cans with these cute wraps from the printables. I used cardstock and it held up really well.
Beating the Heat With a Refreshing Drink
We also made this crazy delicious Pineapple Mango Lemonade that everyone loved! I featured this drink in my Fun & Refreshing Summer Drinks post where you can find a link to the recipe. The chunks of frozen mango give it the perfect touch!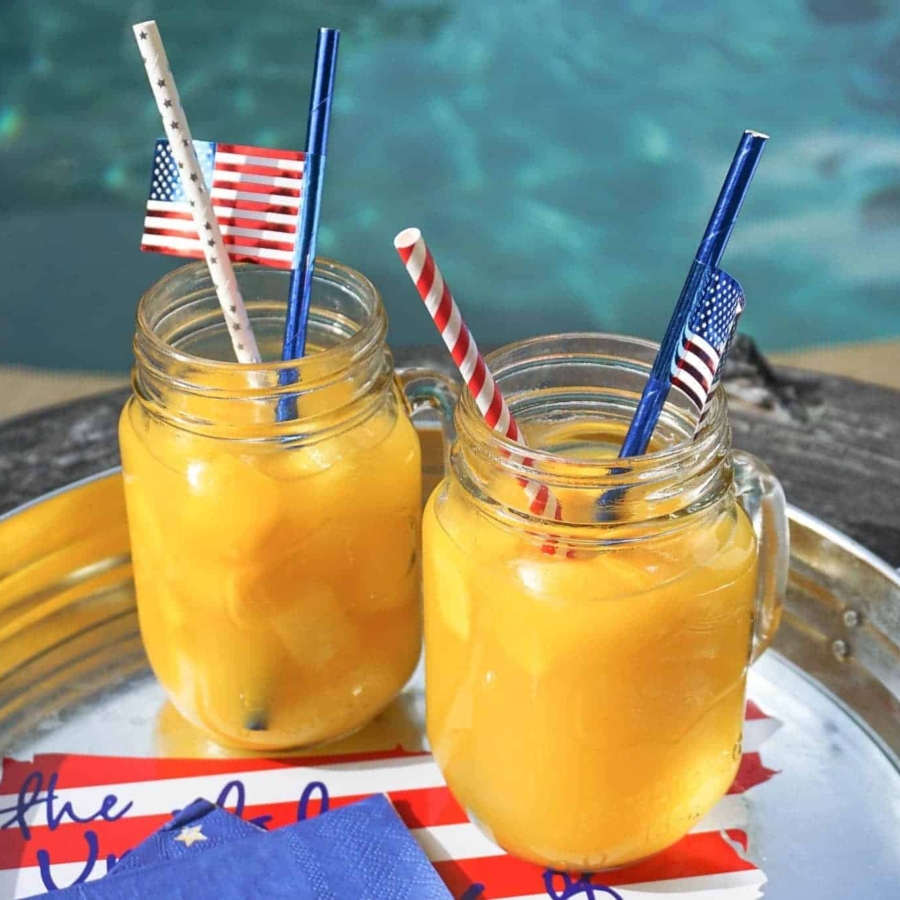 Setting up Our All-American Buffet
I found some cute patriotic tins at the Target Dollar Spot, and put the utensils in them. Using the food labels from the 4th of July Printable Pack, I labeled everything in sight!!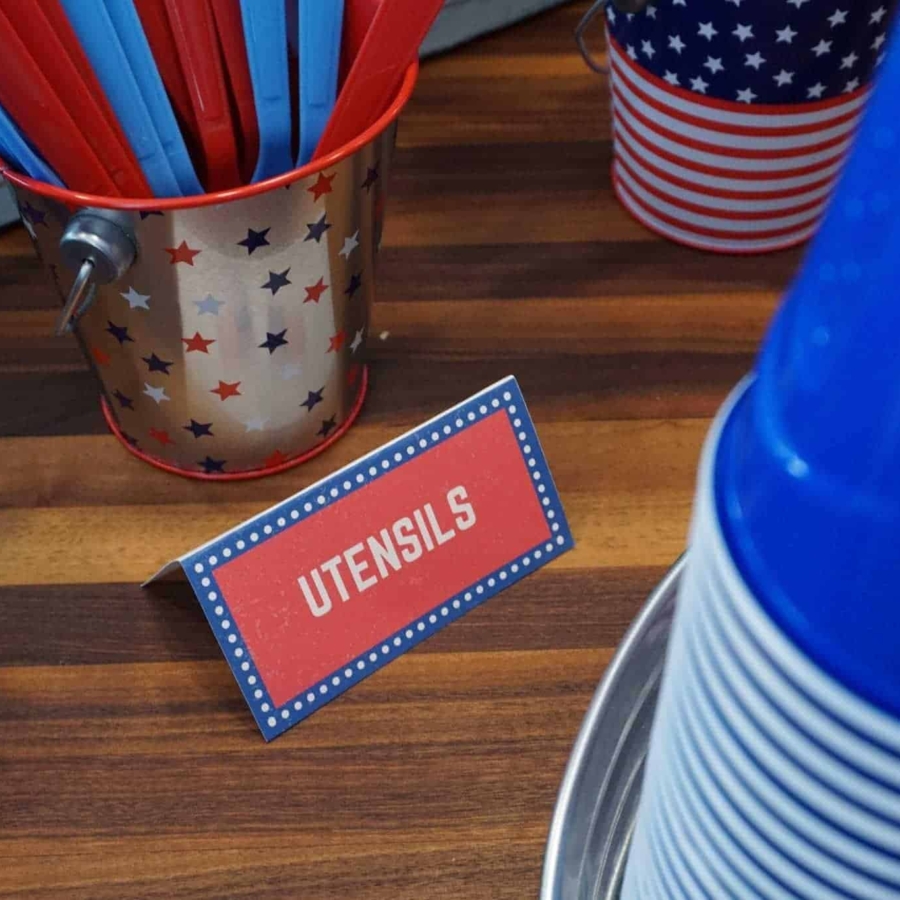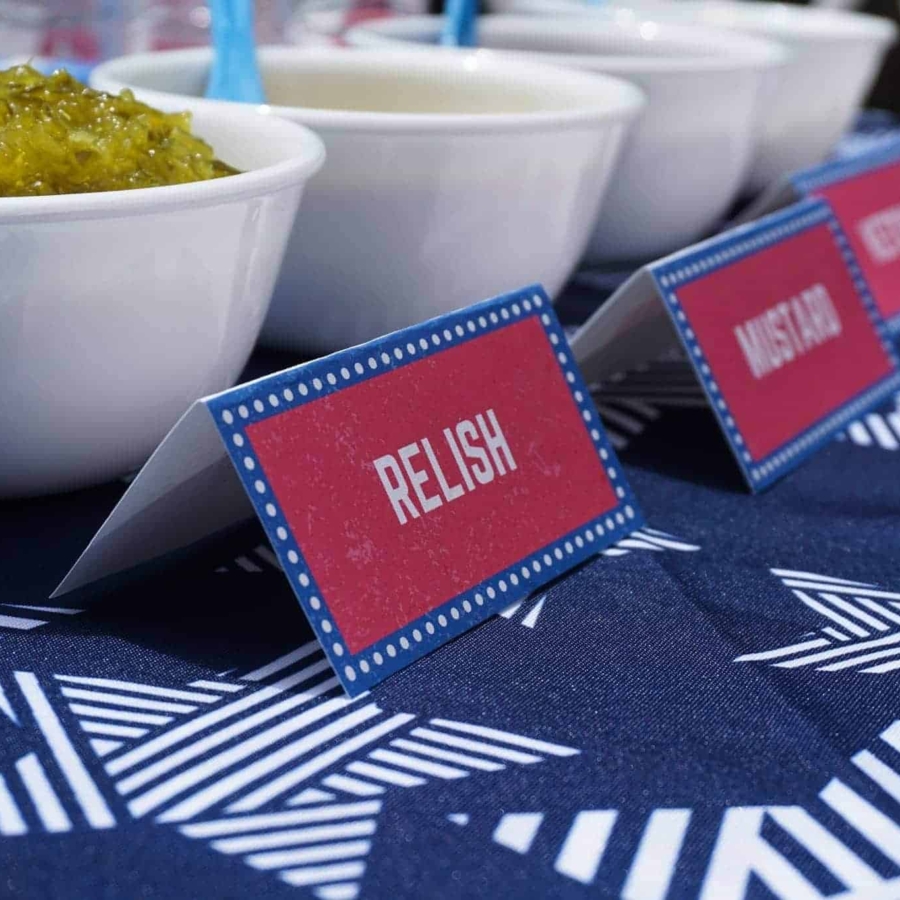 Hot dogs were an easy choice for the party. We simply placed them in the oven and when ready, let everyone fix their own to their liking! We had chili, cheese, sauerkraut, relish, and many other condiments so everyone had plenty of choices.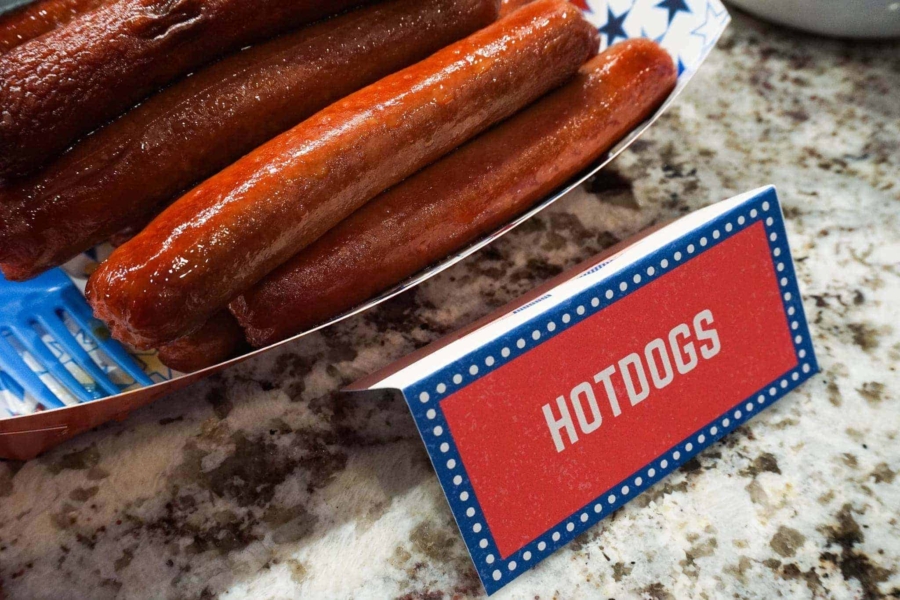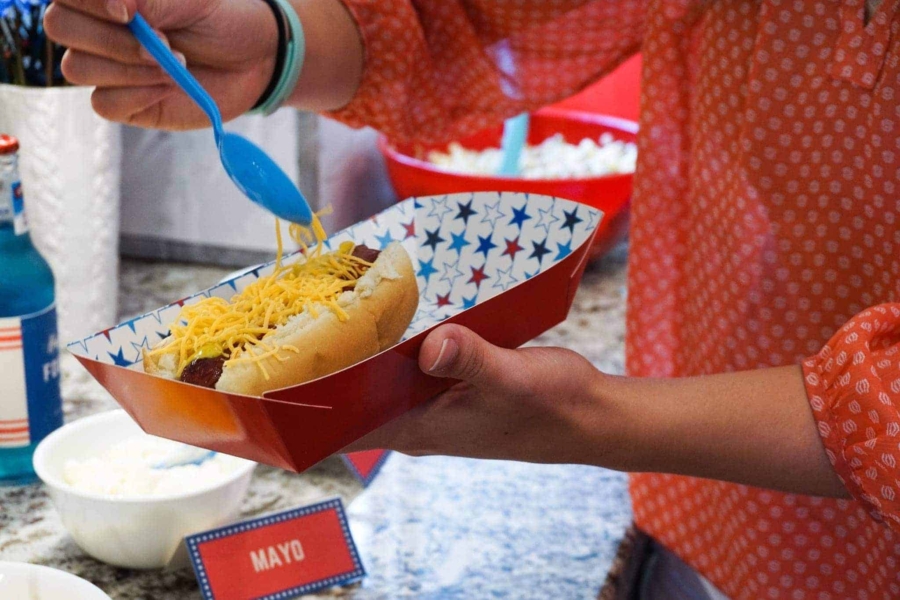 We also had plenty of chips and dips to keep people munching while the hot dogs were cooking. For some ideas of dips, you can make for your party, you can post on easy party dips. You can also make a delicious and easy homemade guacamole everyone will love!
For this party, we had our favorite chicken dip, some store-bought crab dip, and a delicious cream cheese jalapeño dip my mom made. She also made an amazing pasta salad that was a huge hit!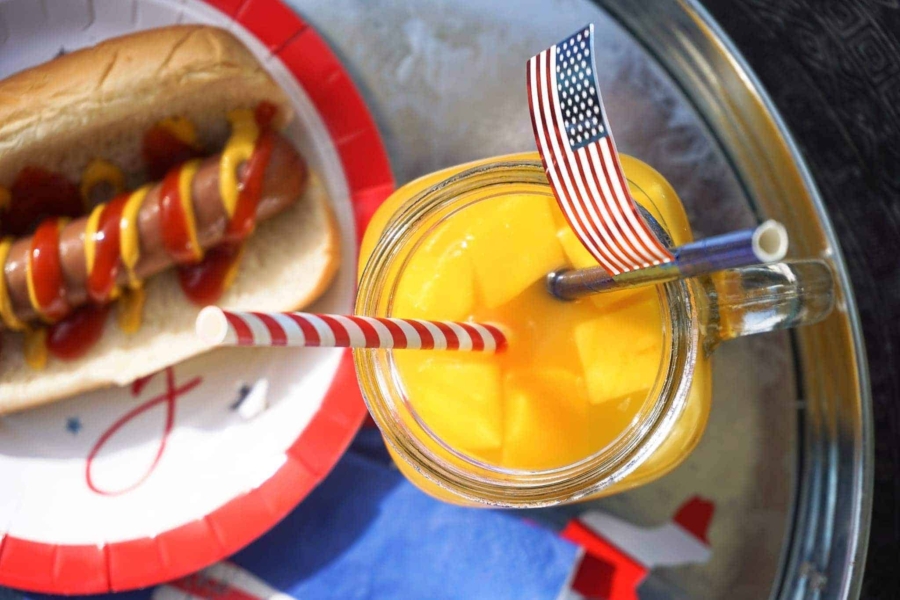 A Patriotic Sweet Treat
I found these pretty cupcakes at Walmart, and let me tell you, they were so delicious! They are Kimberley's Bake Shoppe Cupcakes and they are really moist and super tasty! I bought the strawberry (with strawberry filling!!), lemon, and vanilla. There wasn't one cupcake left when all was said and done! I highly recommend these if you don't have time to bake your own. The quality was excellent, and I've seen them at other grocery stores as well.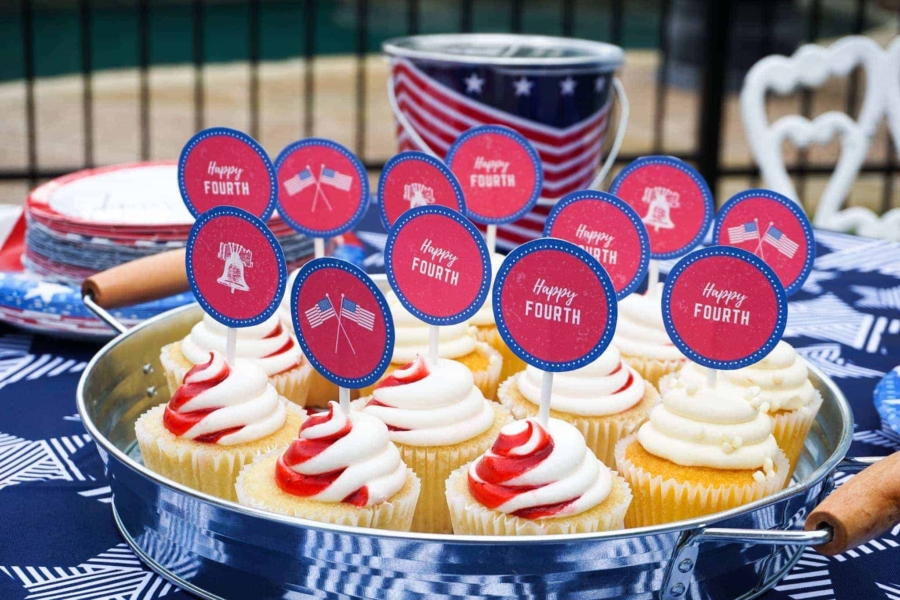 We topped the cupcakes with the cupcake toppers from the printable pack and they looked so cute! I used lollipop sticks and simply put a piece of clear tape on the back to stick the topper to them.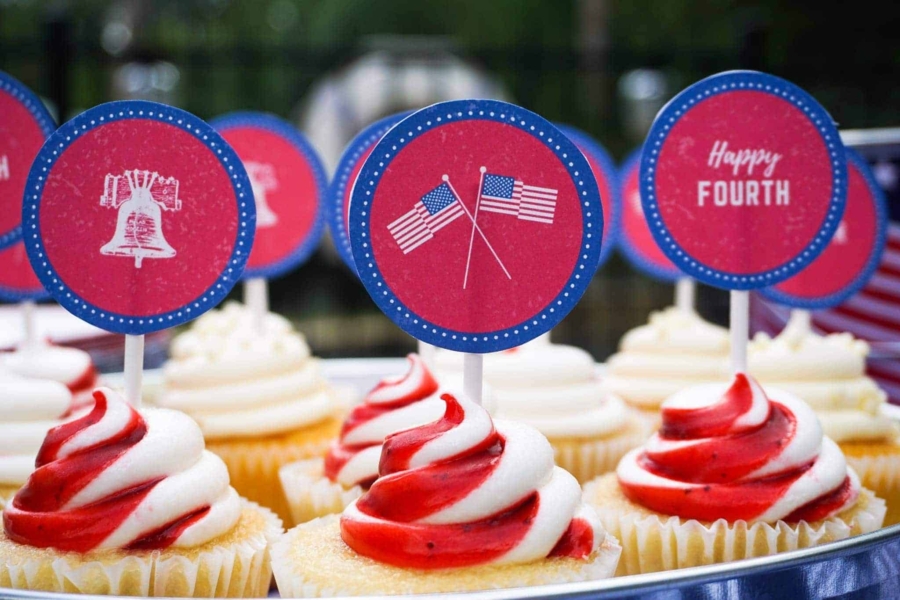 Ending the Party With a Splash
Well, the party was a success and everyone seemed to have a lot of fun! We kept everyone fed and hydrated and, of course, entertained! It was especially entertaining when my son decided it would be a good idea to toss me in the pool, clothes and all! And, unlucky for me, there were some pictures taken of it!!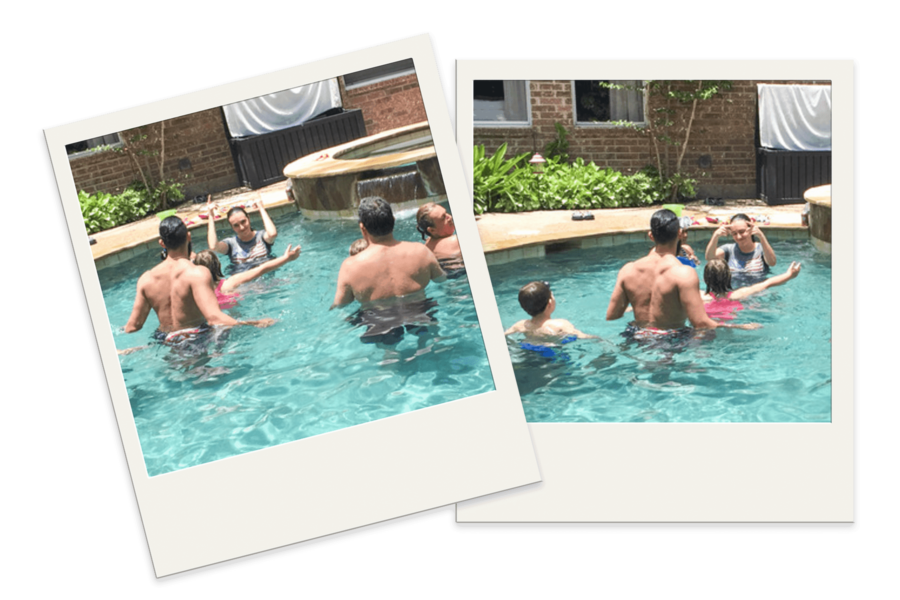 Another Great Fourth
I'd say it was another great 4th of July celebration for the books!!
I hope no one misunderstands my excitement for becoming a U.S. citizen and celebrating the 4th of July. In no way, am I less proud of being a Honduran. But all of us that are here, are here for the same reason. We all left our home countries, searching for the wonderful opportunities that are granted to the people of this great nation. I have always felt welcome in the American culture, and to this day, that has never changed. I will always be proud of my roots, but I can also say without a doubt, I am proud to be an American!
For a complete menu for your 4th of July celebration check out my Easy 4th of July Recipes with Instant Pot ideas as well as some stovetop and oven recipes!
Happy 4th of July!
Quick & Easy Recipes
When you sign up to become a newsletter member, you'll get access to my latest quick & easy homemade recipes, homemaker tips and tricks, free printables, and more delivered directly to your inbox each week.