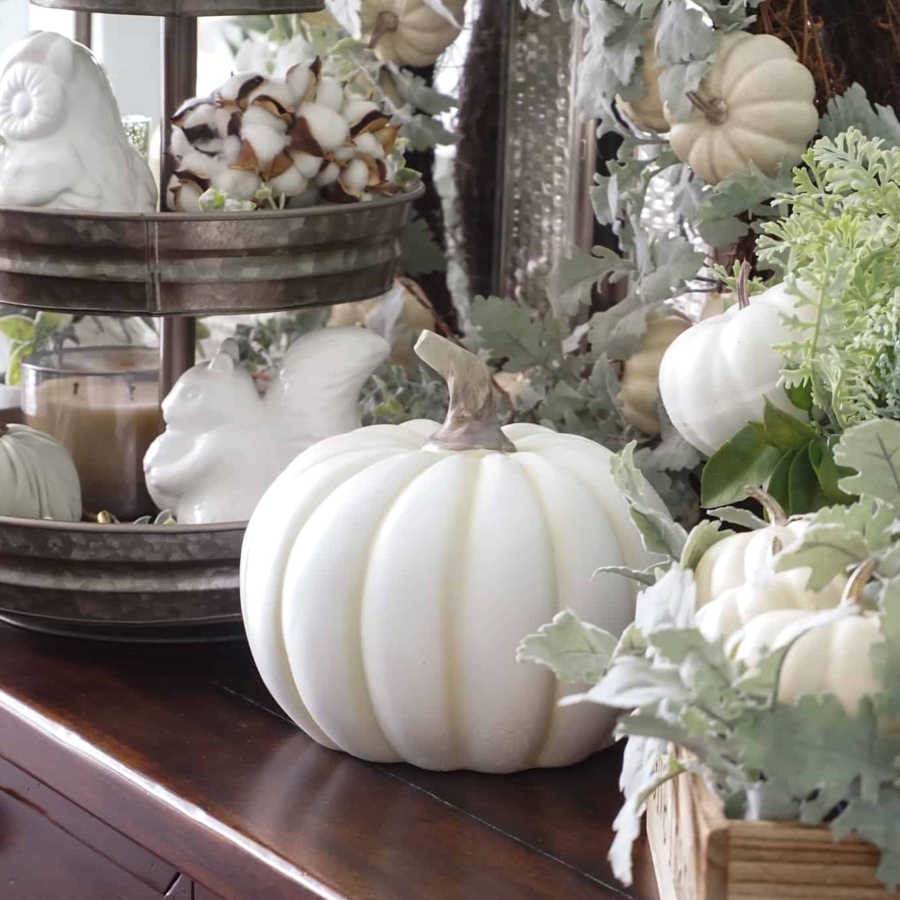 Fall is in the Air!
I'm happy to be able to share my fall decor with you and hope you'll find at least a little inspiration here today! 😉
This post contains affiliate links. For more information, see my disclosure.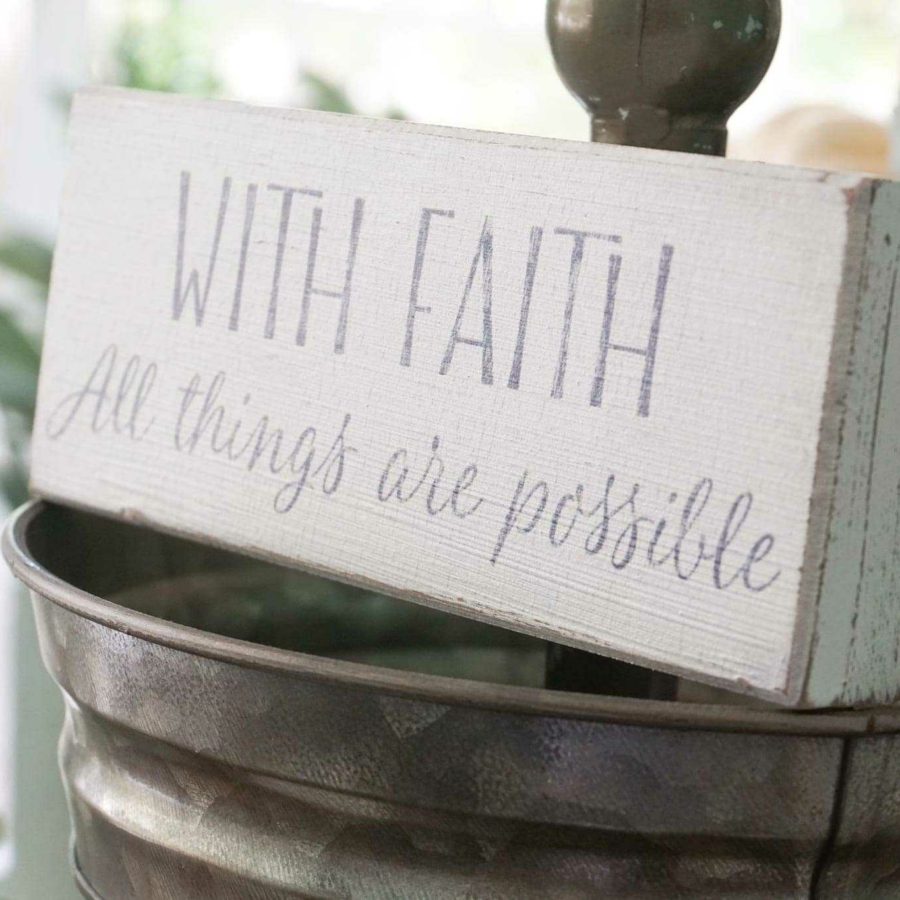 So the truth is, I've never been a huge fan of traditional fall colors. I always see the decor in the stores, or at friends' houses and love it! But when I try to put it in my home, I'm never happy with the way it looks.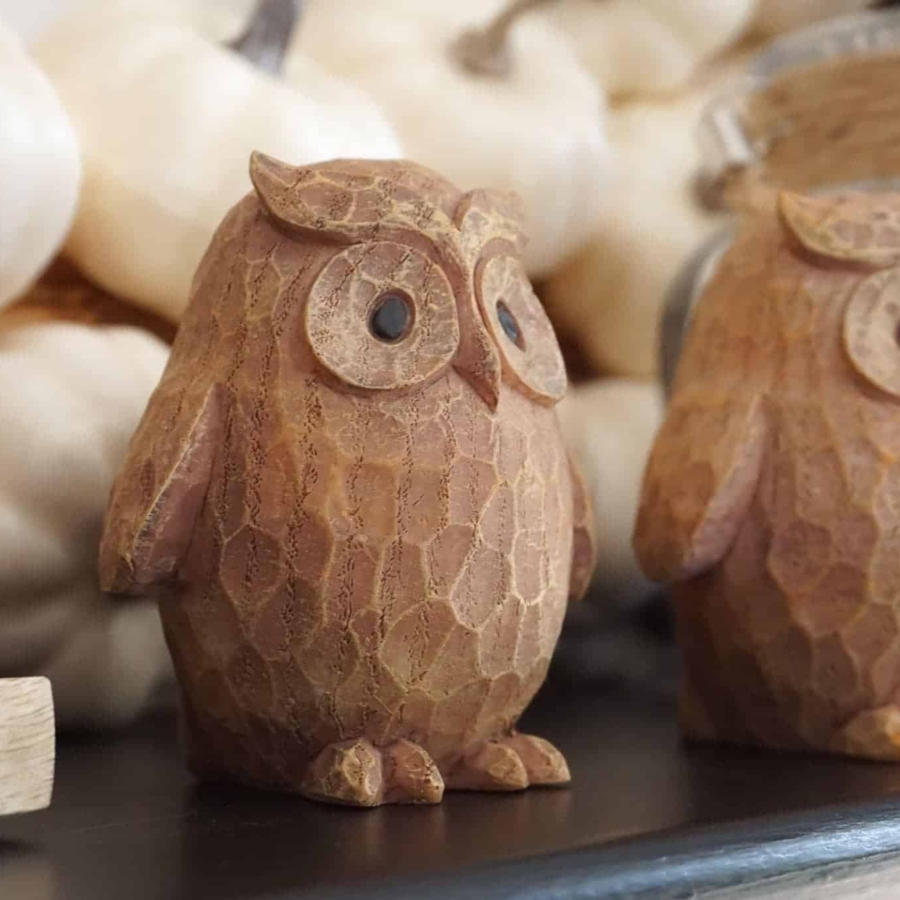 Because of this, I never used to really decorate my home for fall. A few years ago, though, I noticed a lot of neutral decor popping up in stores.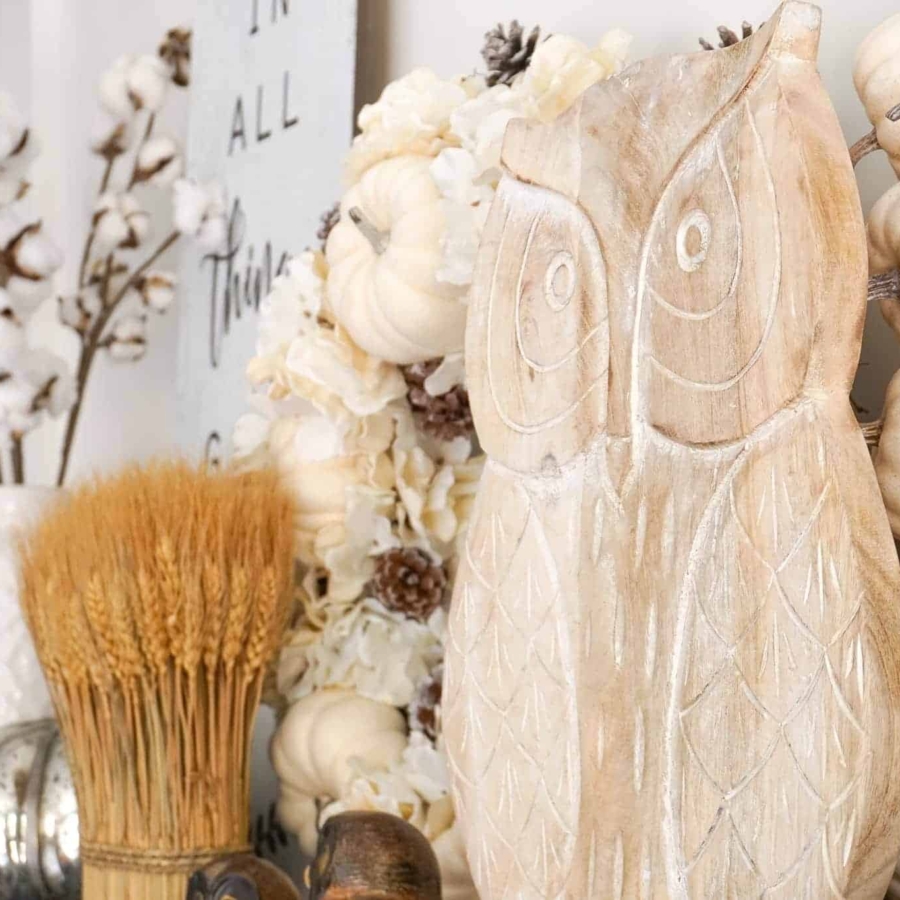 Lots of creamy white and beige colored pumpkins. I brought some home and was thrilled with the way they looked! I know it's weird that a color-loving girl like myself would want to go with a neutral fall theme, but I really like the way it coordinates with the rest of my colorful home.
Decorating a Dining Room for Fall
I usually only decorate two areas of my home for fall, the dining room and the living room. I go all out for Christmas, so for other seasons, I try to keep it simple. So first, let's take a look at my dining room!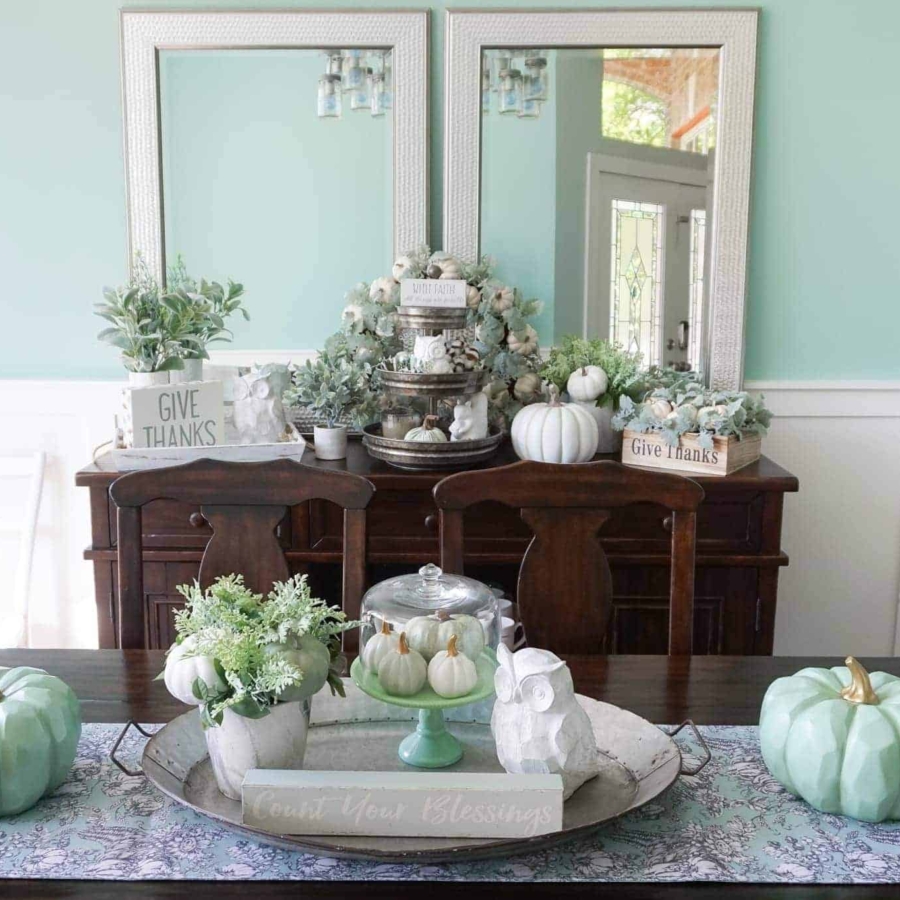 I was gitty when I walked into TJ Maxx and saw they had aqua pumpkins! Seriously! Aqua!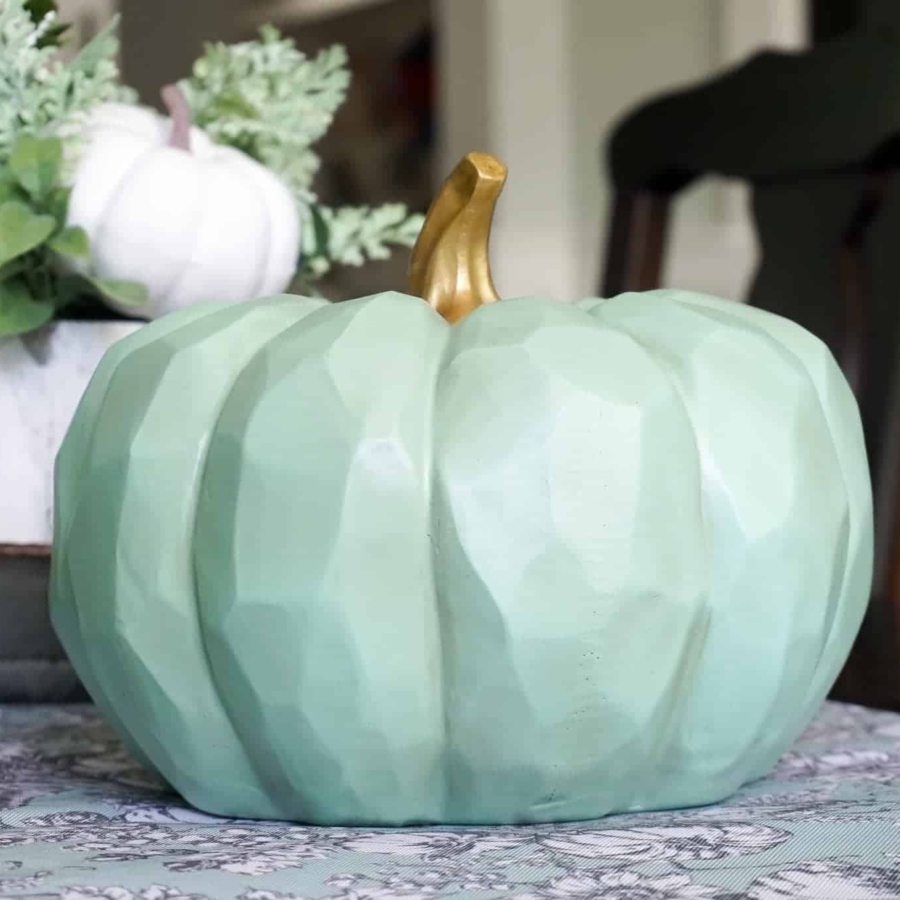 You know they were made for my home! 😉 I got a couple of pumpkins and this table runner and was good to go!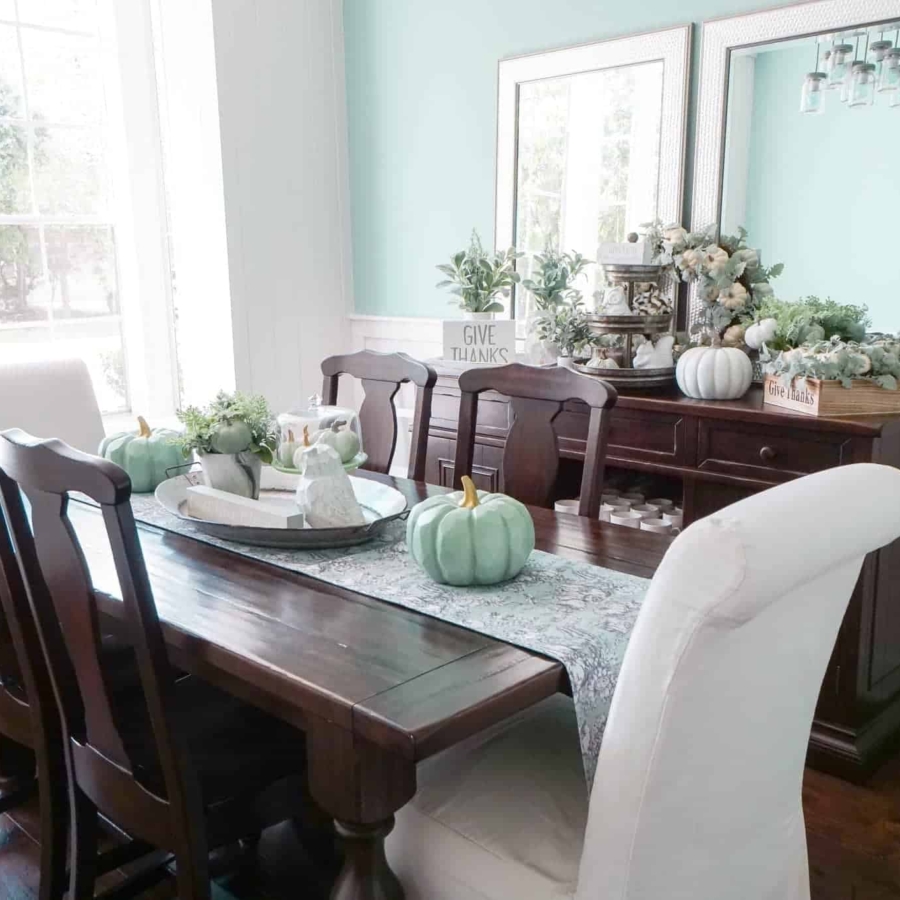 I created a very simple tablescape. A large galvanized tray from Cracker Barrel with a few greenish aqua touches and both beautiful pumpkins on each side.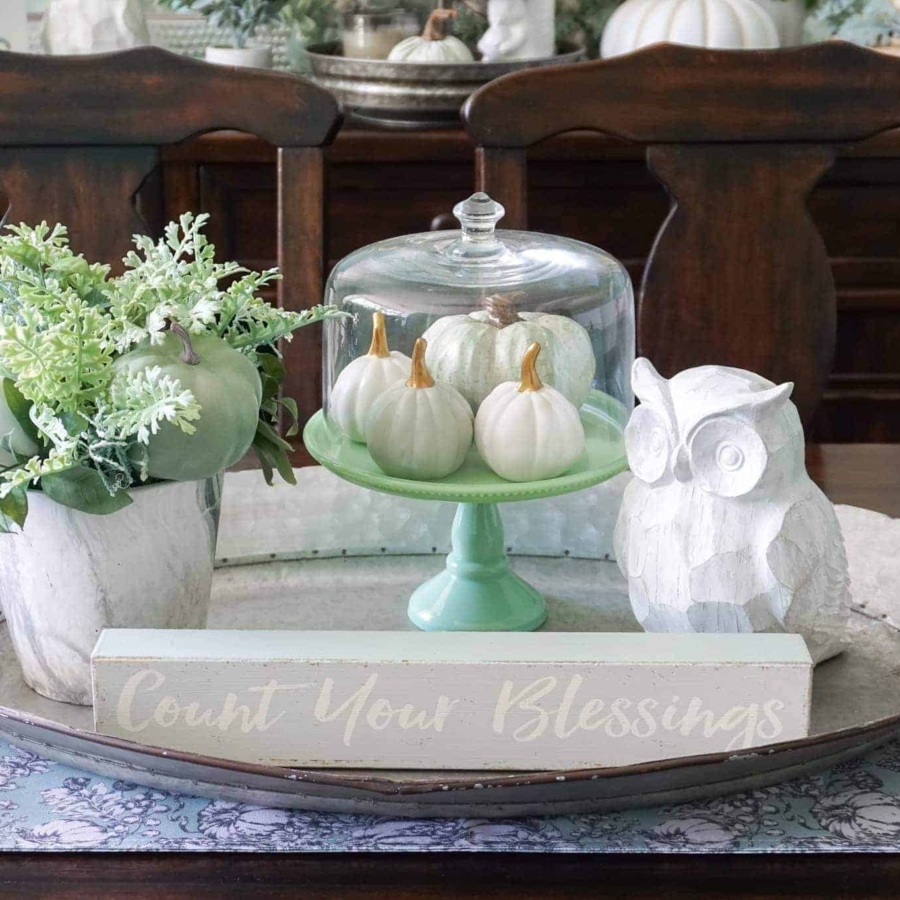 If you know me at all, you know I love owls, and they're always peeking out from somewhere in my year-round decor. But of course, during fall, they all come out to play!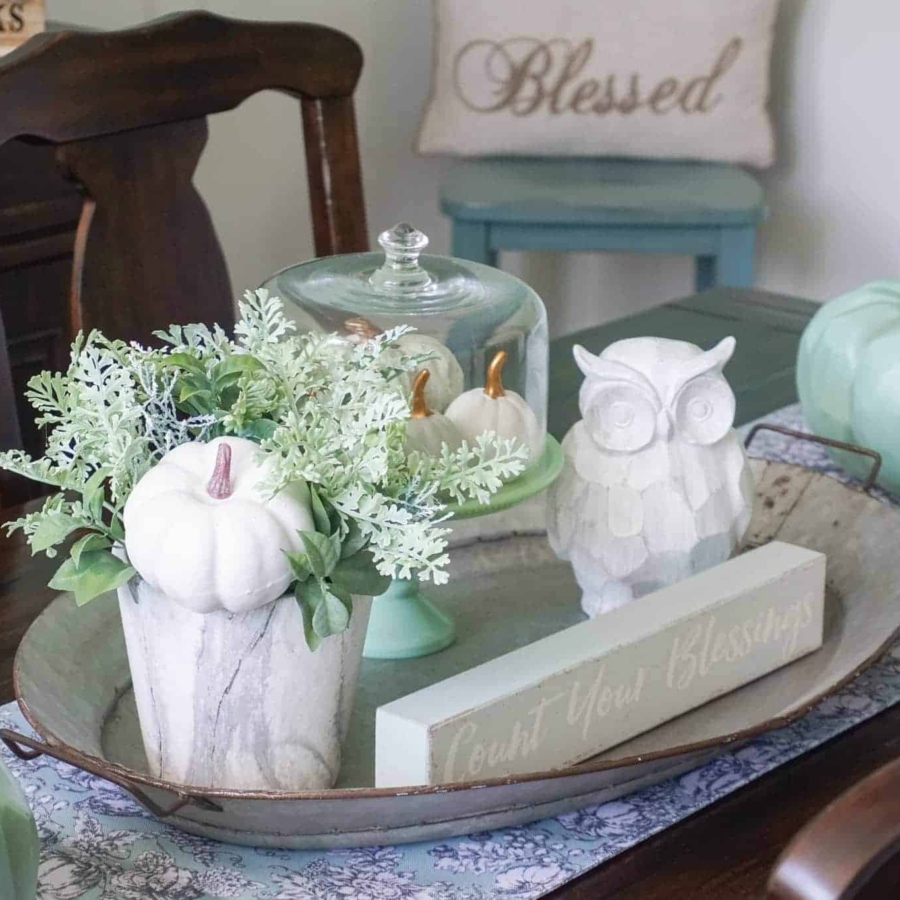 I decided to use the aqua pumpkins in my dining room. The pumpkins mixed with the greenery blend perfectly in here! I love the way they complement my dining room wall color. By the way, it's Sherwin Williams Hazel.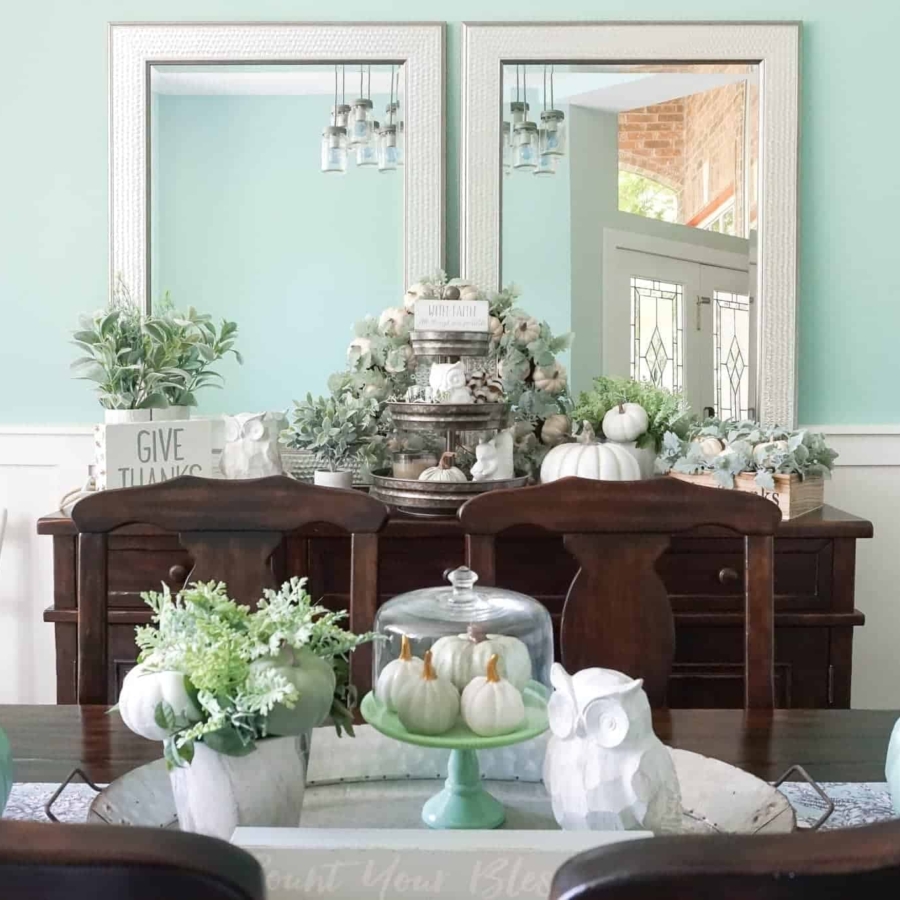 I also got some mini pumpkins at the Target Dollar Spot and placed them inside my Pioneer Woman mini cake stand. I think they look so cute in there!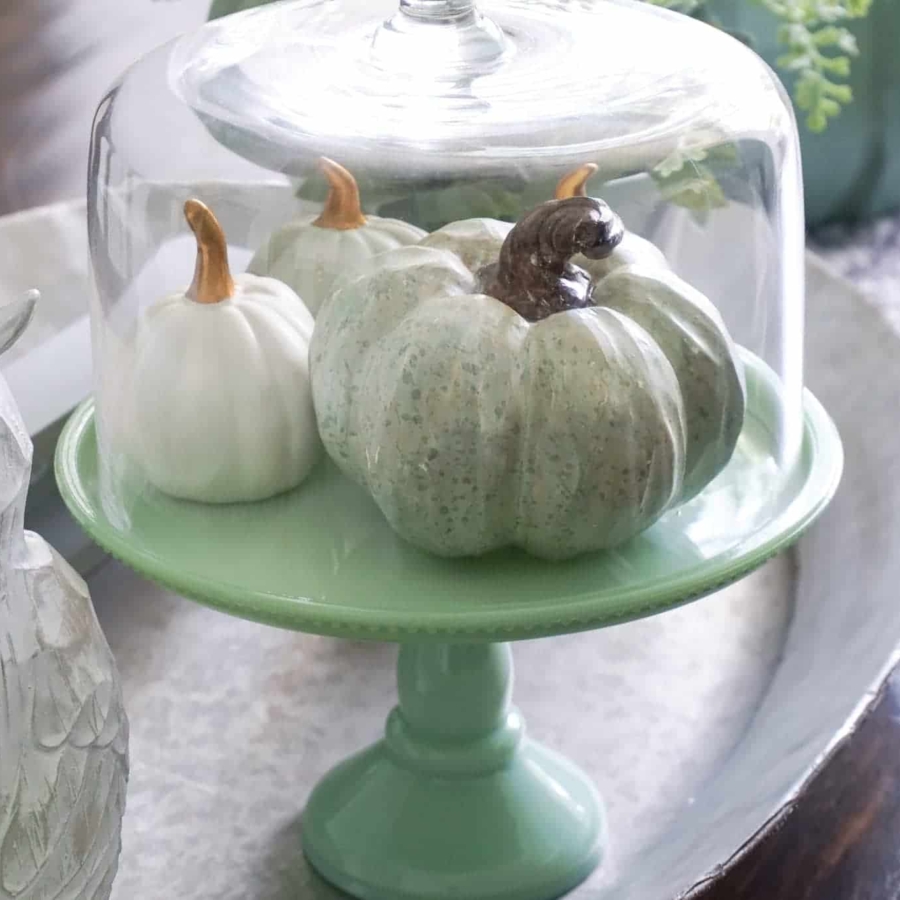 The table looks simple yet pretty, and it was definitely done on a budget, only purchasing a couple of things while also making use of last year's decor.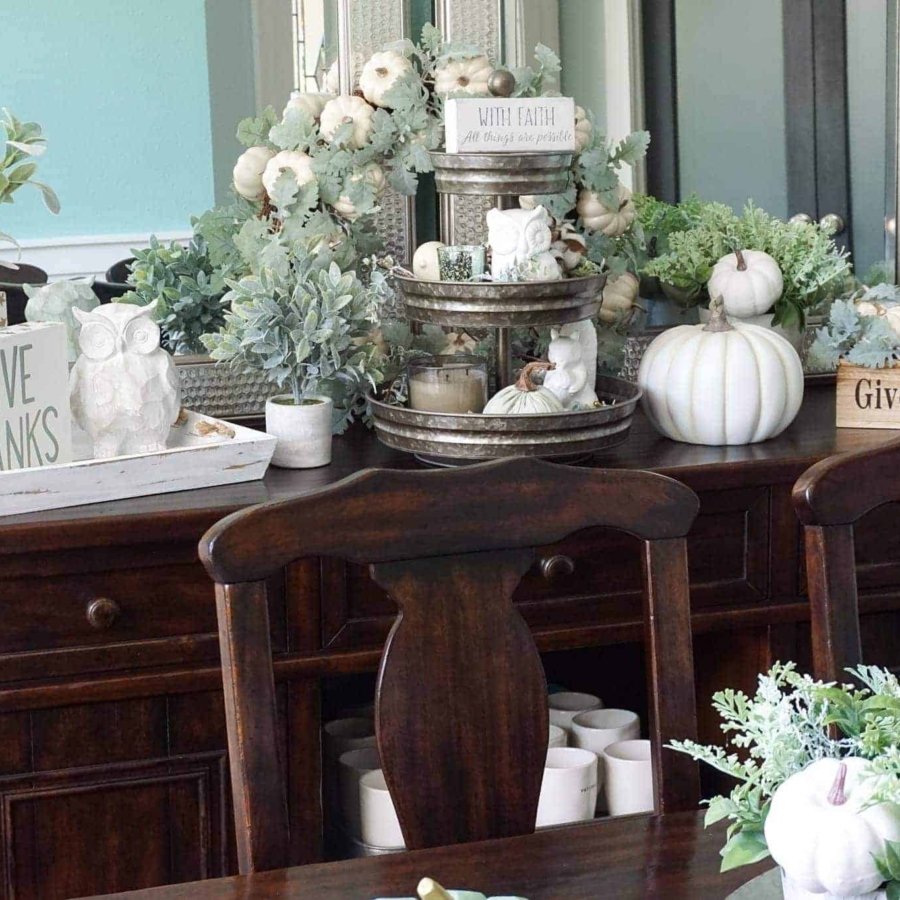 On my buffet, I always start off with my tiered tray. This is probably the most versatile piece of decor I own. I change it up for every season and holiday! It's a very inexpensive way to decorate for the seasons! Just a few things from the Target dollar spot and a few more items I already had and it was done!
Decorate Your Space!
Here is a list of items you can use to decorate your space.
Featured Items
Here is a list of the products featured in this post or products similar to those featured in this post:
Fall Scented Soaps and Candles : Mrs. Meyer's has this Apple Cider fall scent for all its soaps, candles and multi-surface cleaner. This sweet and crisp seasonal scent has a touch of spice that will have your home smelling delicious throughout the fall season.
Mini Cake Stand : This mini cake stand adorns the centerpiece on my dining room table this fall.
I kept everything kind of neutral and organic, with a touch of greenish aqua. Don't you love that cotton ball?! I definitely have a lot of fun switching the tray up every few months.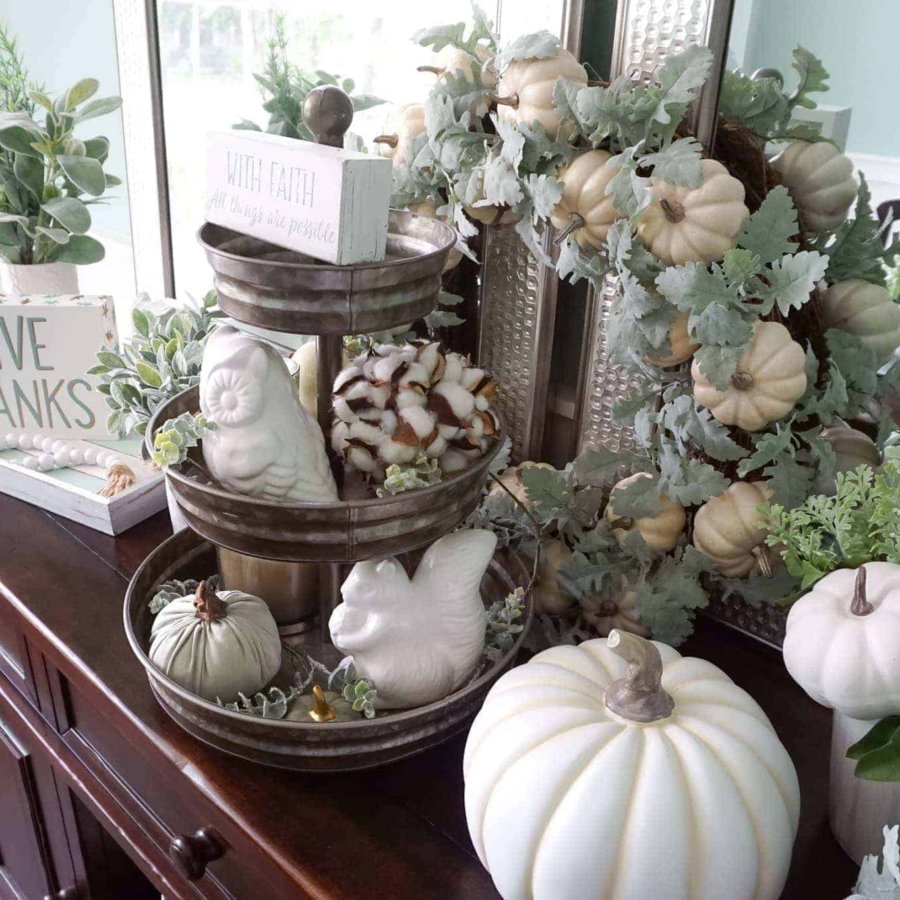 This wooden tray has just a few pieces on it. A wooden owl, a pretty wooden sign, and some wooden beads! I placed some lamb's ears (which I love year-round!) in a pretty white vase and done!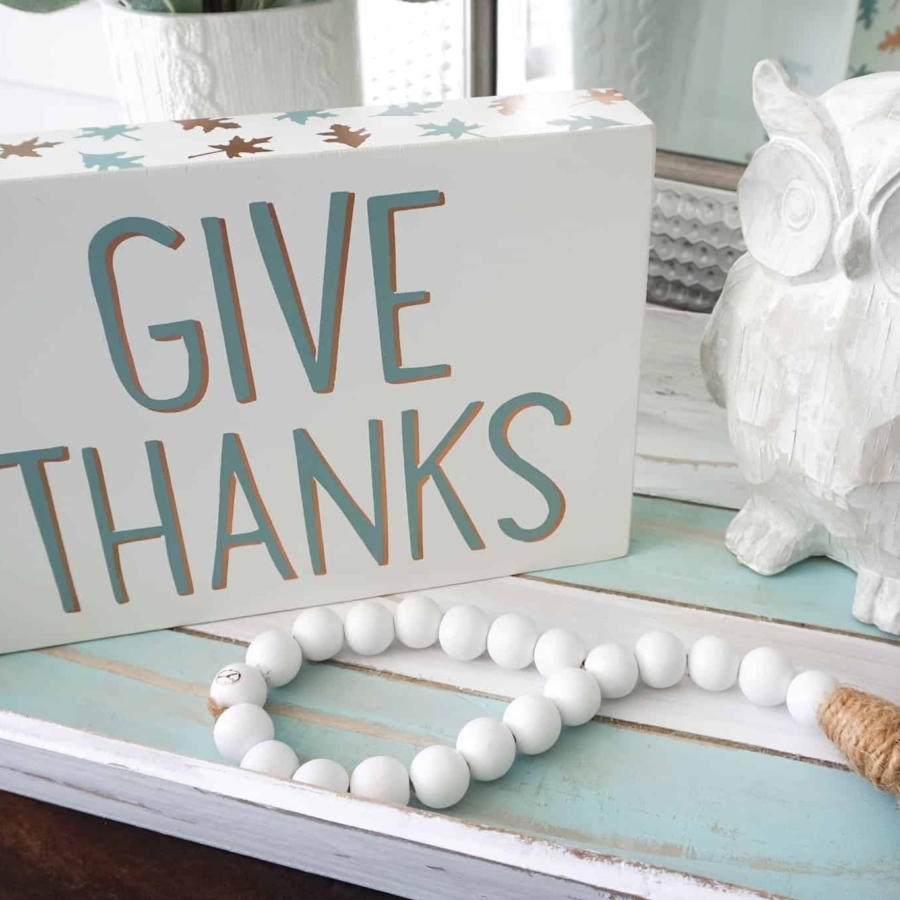 My mirrors, which I have leaning against the wall, stay here all year round. They make the buffet look fuller than it actually is and they match any decor I put in the dining room.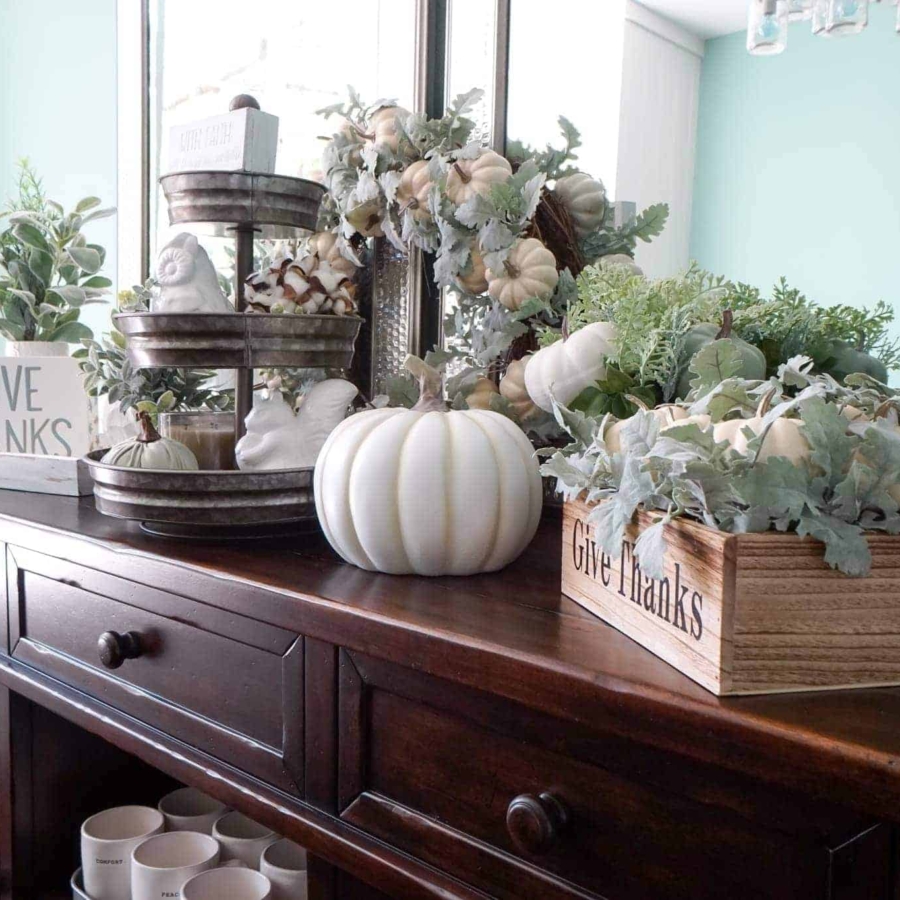 I love the way the pumpkin wreath looks leaning against the mirrors.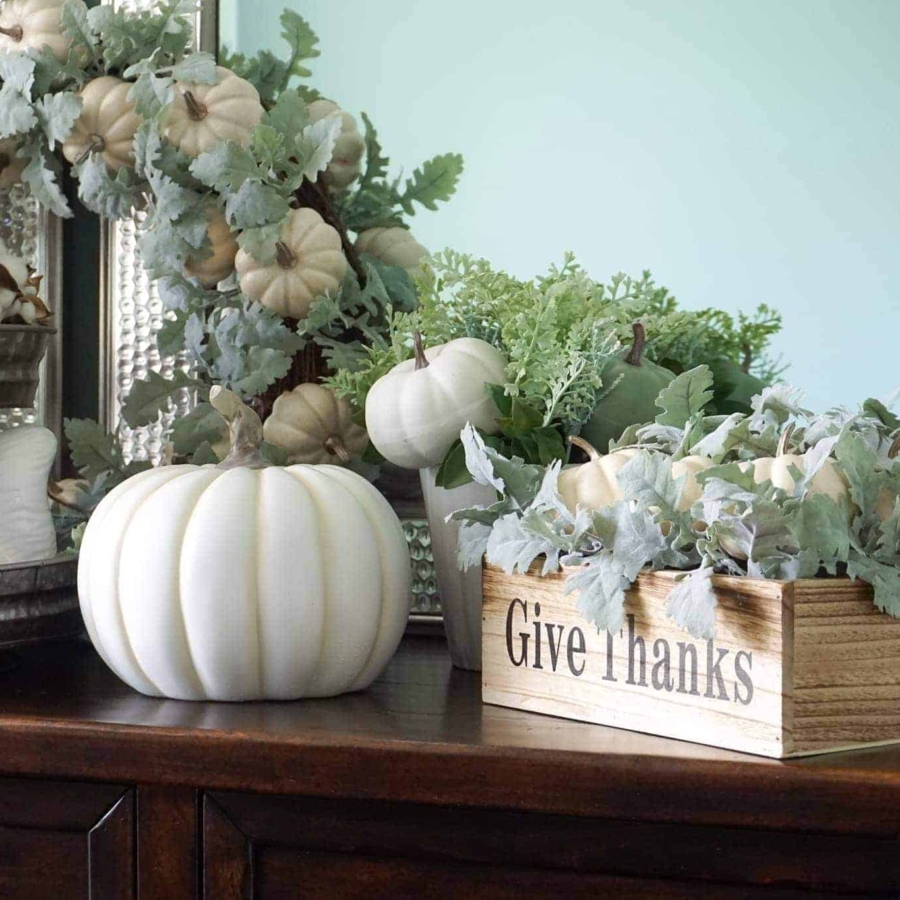 I placed a couple more decor pieces on each side of the tray and some greenery to make the buffet look full. Lots of pumpkin decor of course! As a few of my blogger friends like to say "Give me ALL the pumpkins!"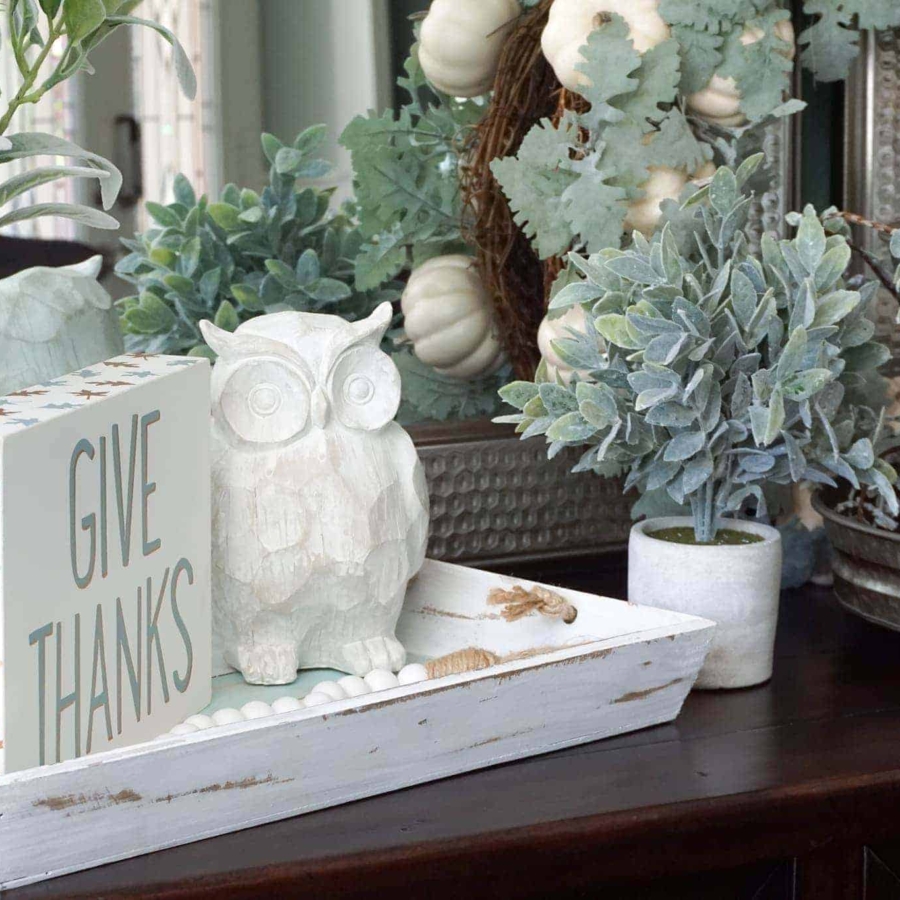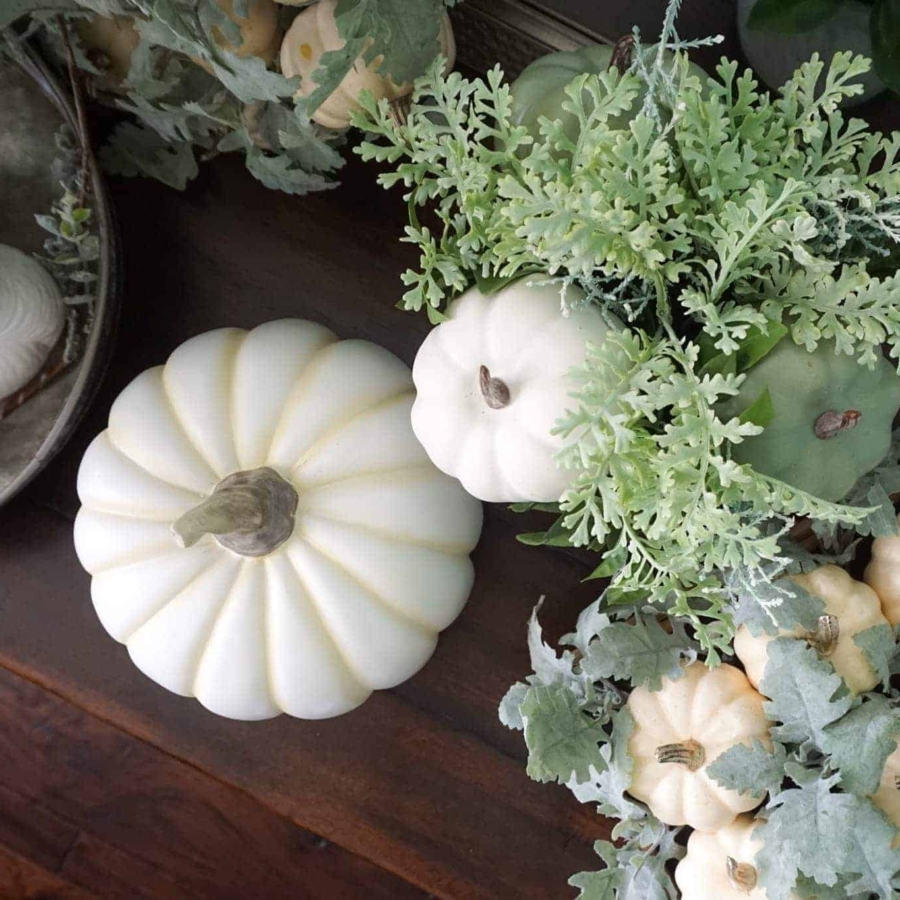 Decorating a Living Room for Fall
Now, onto the living room!
I definitely went neutral in here. Very unlike me, I know, but I'm really enjoying it.
These little cuties were a gift from my late mother-in-law. She loved to go thrift shopping and she knew I love owls! She found these for me on one of her shopping trips.
I love packing things in when decorating my mantel. I basically just place a lot of things together, lean things against the wall, and play with them from there until they look how I want them to. This big wooden owl is a new addition this year. Love it!!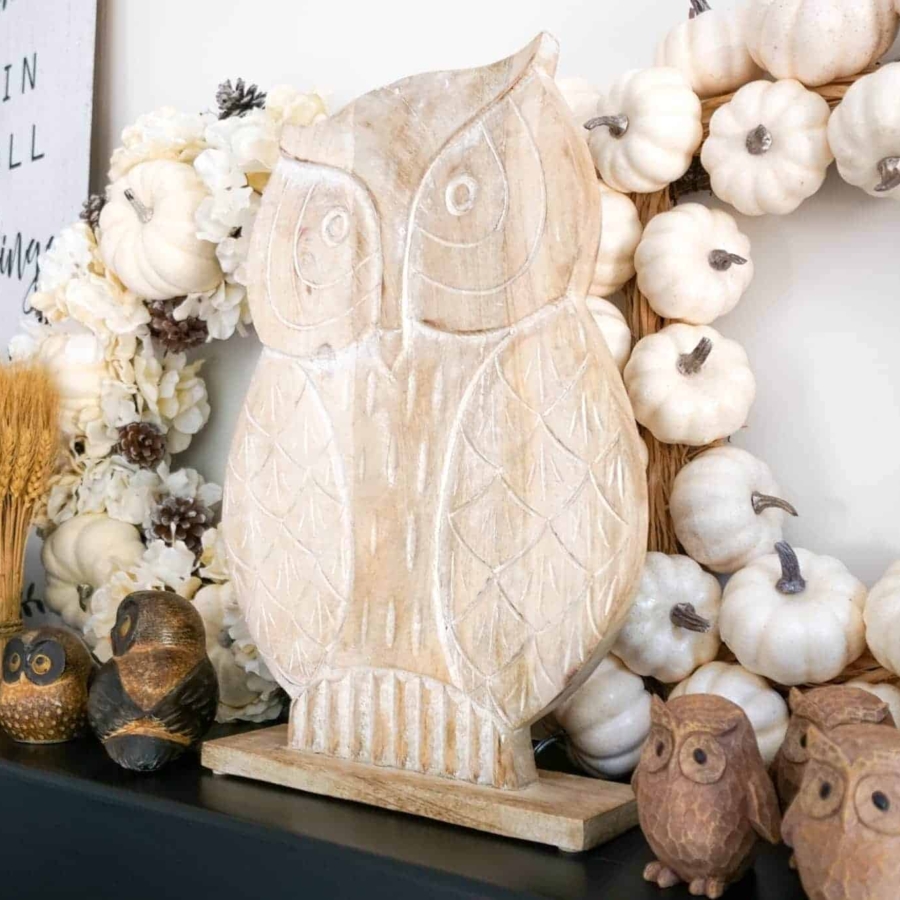 The square wreath next to it is one of my favorite fall decor items I own! I found it a couple of years ago, and to be honest, I had never seen a square wreath before. I fell in love as soon as I laid eyes on it! And those tiny, adorable wooden owls in front of it were also a gift from a friend. See what I mean when I say "if you know me at all you know I love owls"?!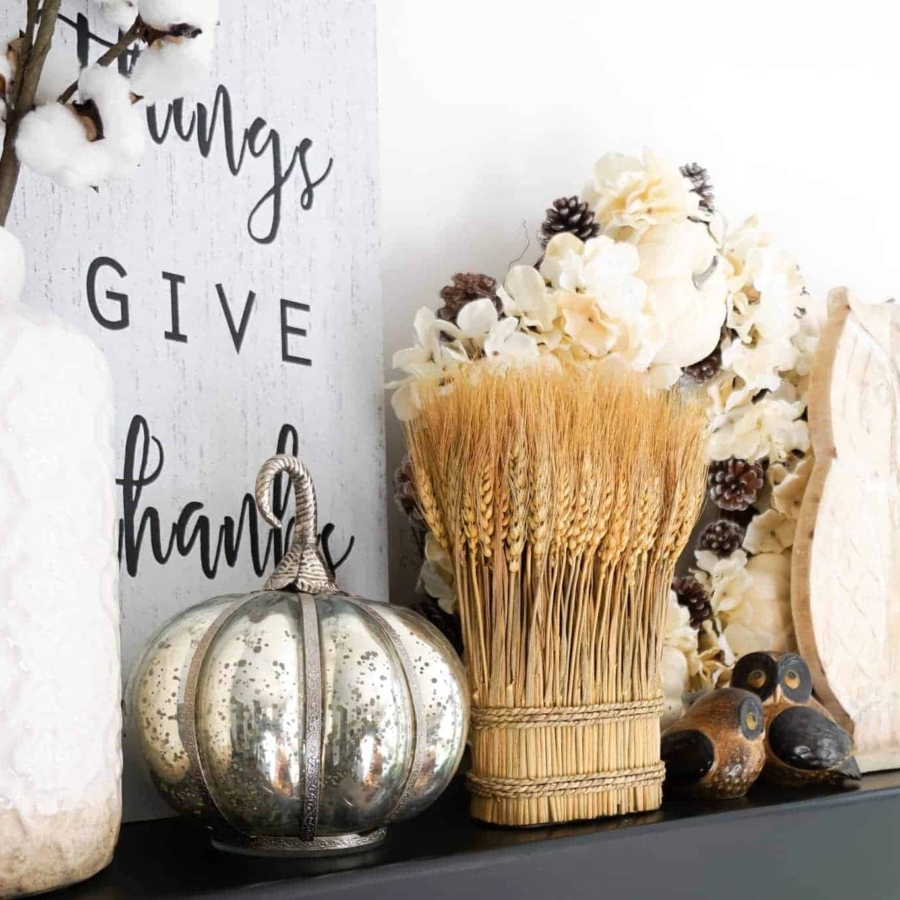 I'm happy with the way things came together on the mantel. I used mostly creams and browns, and a few silver touches.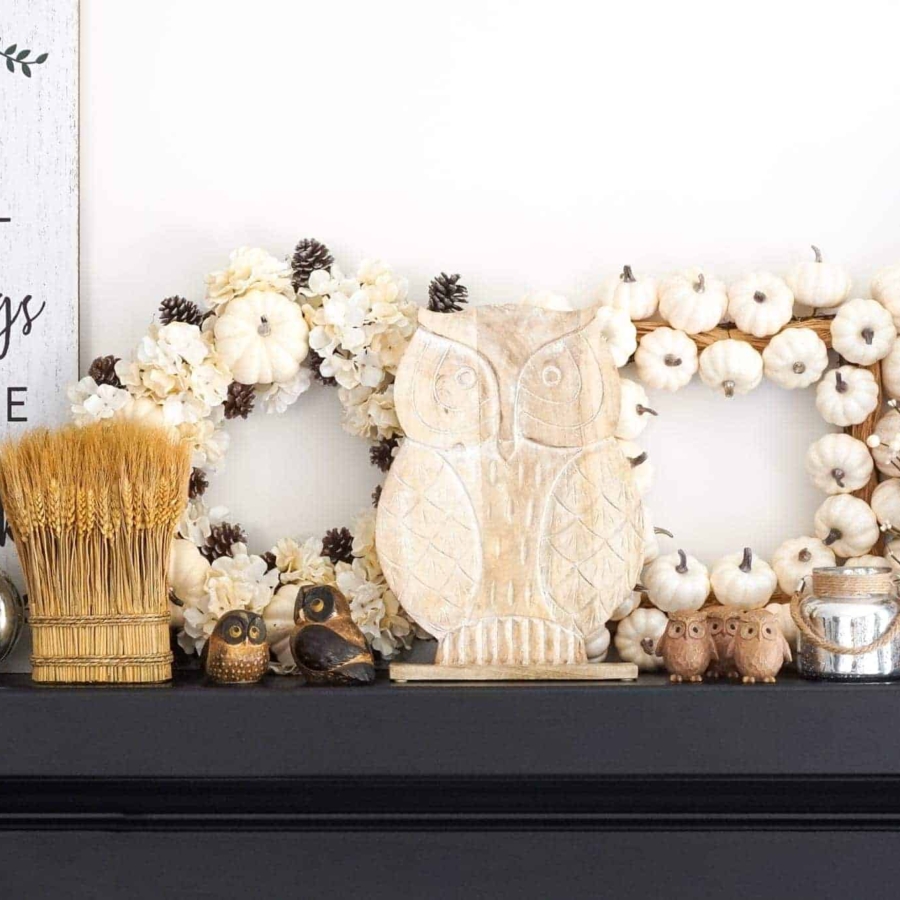 Here's a look from further back. You can see the shelves on each side are decorated for fall as well. Pumpkins, pumpkins, and more pumpkins! I did throw a squirrel in there on the left side to mix things up!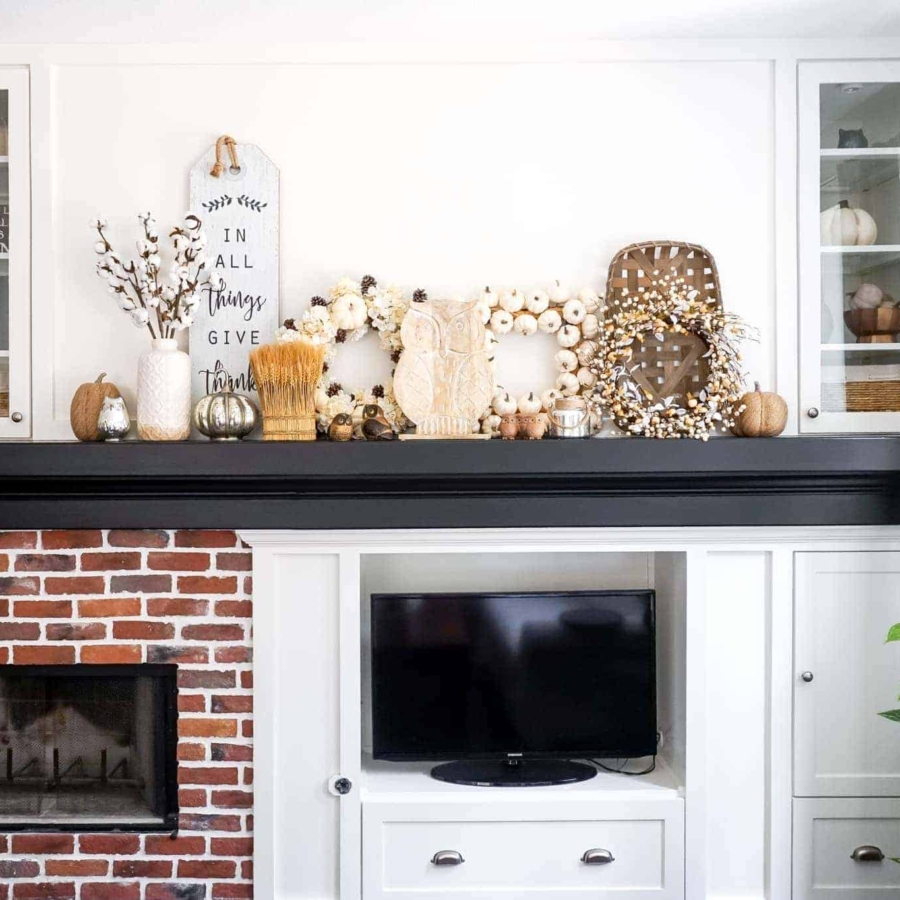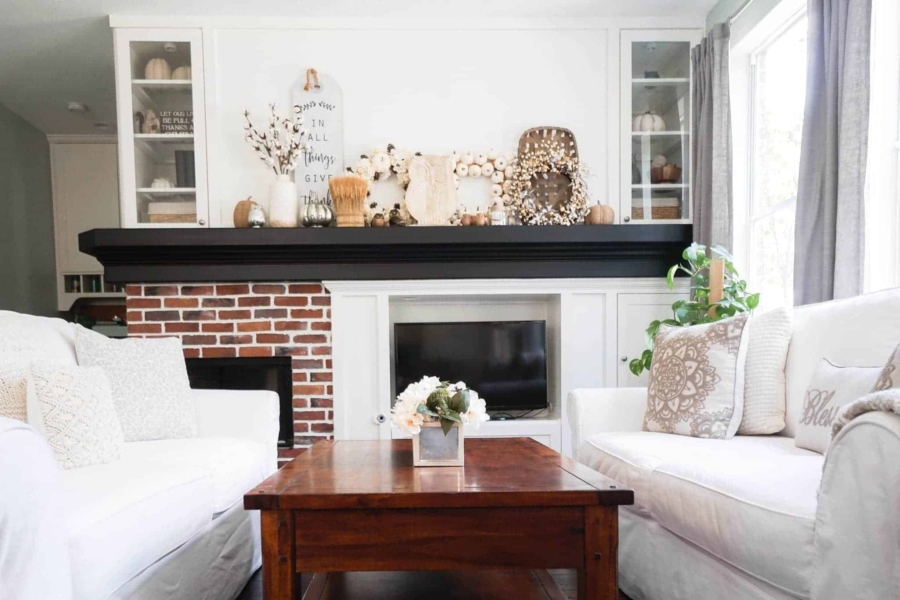 I decided to keep it really simple on the coffee table and placed just a single hydrangea and pumpkin arrangement. On my couches, I added a few creamy throw pillows and a throw blanket, and the room was done!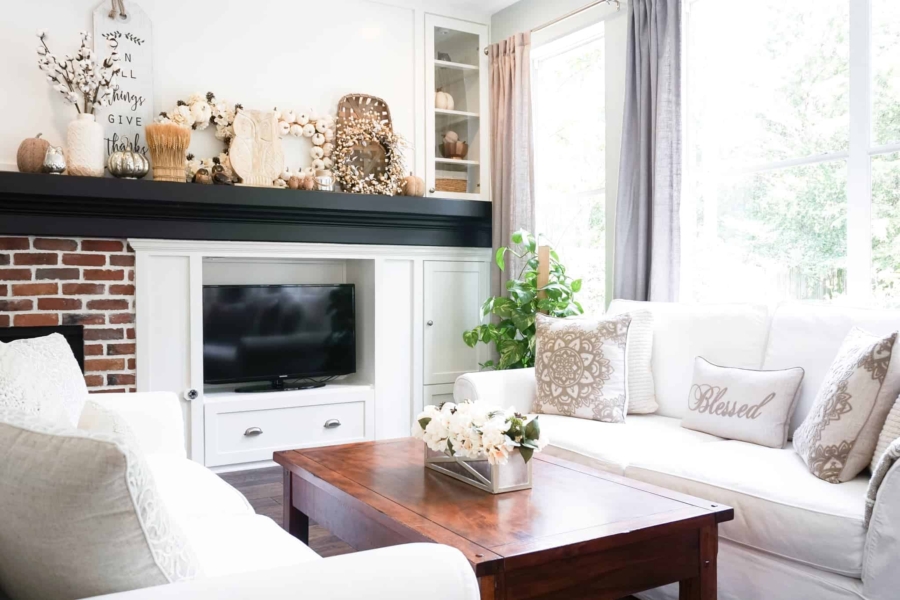 Decorating a Kitchen for Fall
The only other spot in the house that has a touch of fall is next to my kitchen sink! I am loving the limited-edition Mrs. Meyer's soaps, candles, and multi-surface cleaner. They smell delicious!! Nothing says fall like Apple Cider!
The bottles are so pretty I like to keep them on this beautiful tray my friend made me for my birthday! A pretty wooden sign with a touch of copper and a beautiful kitchen towel with a copper pumpkin gives the tray the finishing touch!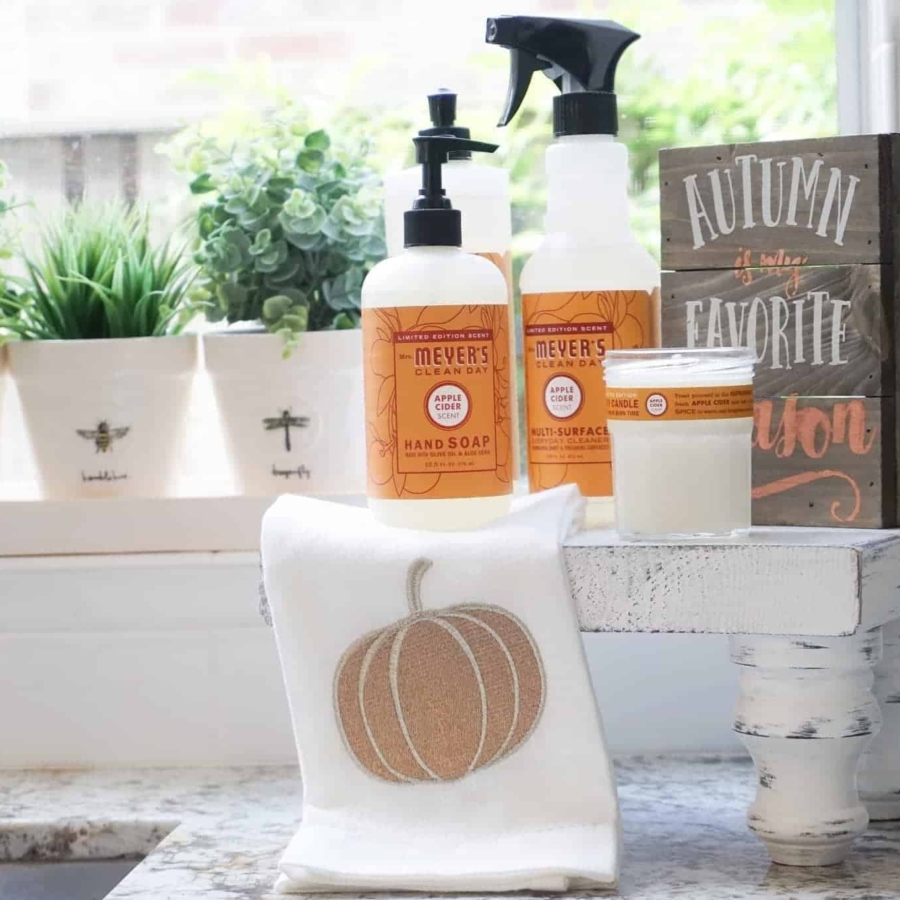 There you have it! My Fall Home Tour! I really hope you enjoyed it as much I enjoyed putting it together.
Quick & Easy Recipes
When you sign up to become a newsletter member, you'll get access to my latest quick & easy homemade recipes, homemaker tips and tricks, free printables, and more delivered directly to your inbox each week.