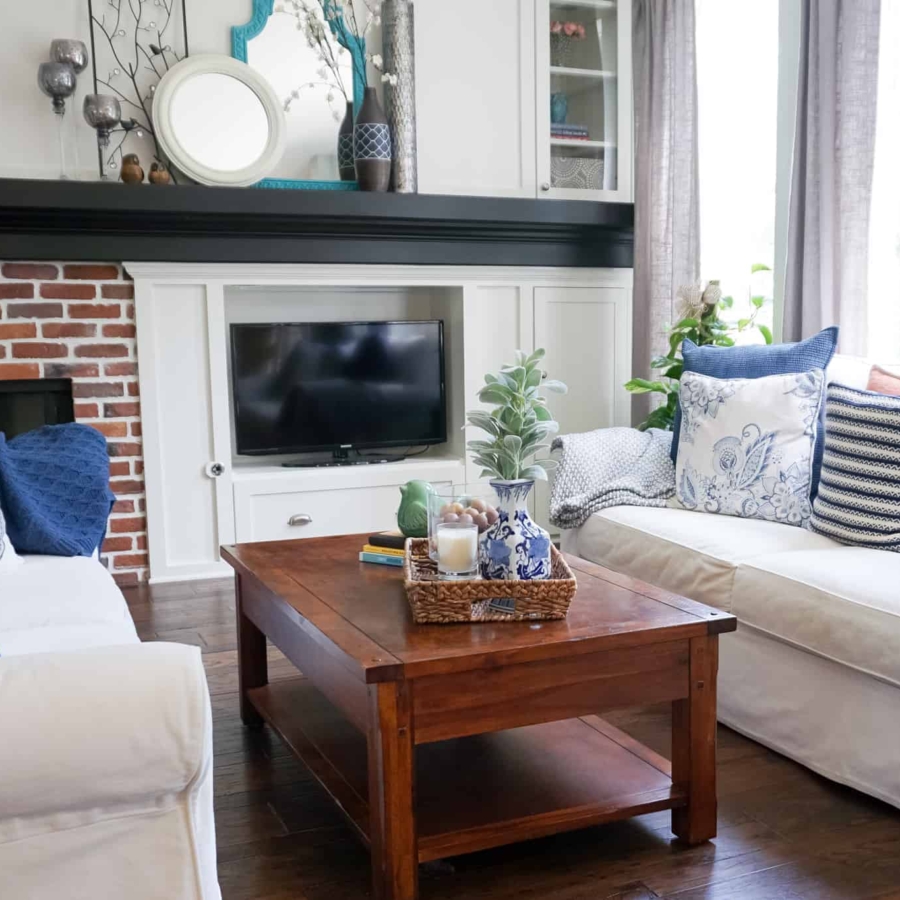 By now you probably know how much I love our Pottery Barn white sofas. I love that they allow me to change the living room decor with just a couple of inexpensive throw pillows. I'm a big fan of color, so having white sofas allows me to use so many different colors in my decor, and not be committed to just one! You can read more about this in my post Why White Is the Best Choice When You Love Decorating With Color.
This post contains affiliate links. For more information, see my disclosure.
So why would I have white couches with a house full of kids and pets? (Don't ask who makes a bigger mess!)
When people see our white couches they always think we're nuts since we have 5 kids and too many pets to count! Well, we are a bit nuts, but that's another story. As for having white slipcovered couches, it's genius if you ask me!
The key is they are slipcovered.
Every single visible part is washable! Another important fact is they are high-quality sofas.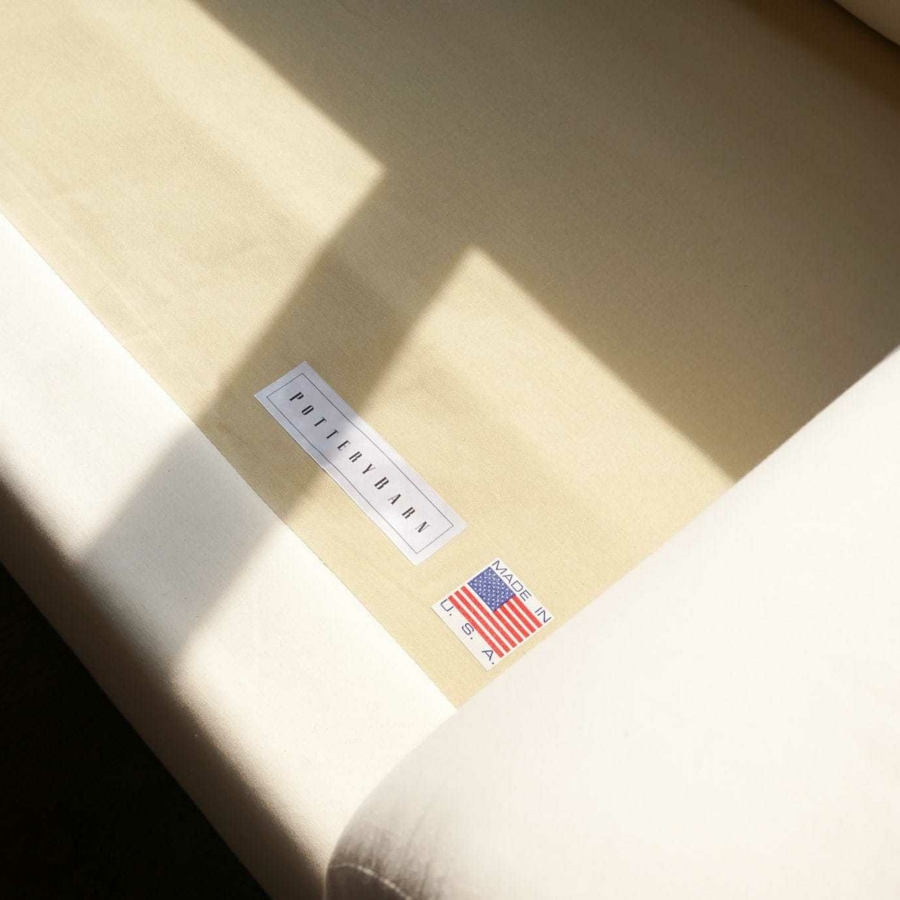 Now, I know that Pottery Barn may not be within everyone's budget, but I really feel that buying quality furniture for your home is a good investment and it can actually save you money in the long run. Every single piece of Pottery Barn furniture we own has performed tremendously well in our home of 7 (plus pets!) We used to have to switch out furniture every couple of years until we decided to just buy quality things that would last, even if it meant getting them little by little.
Pottery Barn Slipcovered Sofas
I have two of the Pottery Barn Comfort Roll Arm Slipcovered Sofas in Warm White Denim. Like I mentioned above, I realize that these are not budget couches. It took me quite a while to save up for these beauties but I feel this is a case where you definitely get what you pay for. They are very well constructed and extremely sturdy. Plus, they can be washed!! These are the kind of couches that will last a lifetime.
All the couches I've had in the past were from big box furniture stores and they'd only last for a few years before either breaking or being so filthy that you'd feel gross just sitting on them. The fact that I can wash my couches is just amazing!!
If you're in the market for a slipcovered couch but Pottery Barn is not quite in your budget, there are other options available. I know that both IKEA and Birch Lane have more affordable options. I can't vouch for how well these sofas hold up since I've never had them but I have heard a few people mention that they love theirs.
Clean Your Space!
Here is a list of items you can use to clean your space.
Featured Items
Here is a list of the products featured in this post or products similar to those featured in this post:
10 Best Household Cleaning Products
If you're ready for a quicker and easier cleaning routine, then make sure to check out my Favorite Household Cleaning Products.
Now back to cleaning the sofas!
How Do You Keep White Slipcover Couches Clean?
I always get asked if they're easy to clean and take care of. They are white, so yes, they do get stains and they do get grimy. The beautiful thing is those stains and grime can be washed out! Since I get so many questions about the couches and how I keep them clean, I've been wanting to show you how I do it. Well, after this summer the couches were in dire need of a good cleaning! So I documented the whole thing so you can see how I clean my PB slipcovered couches.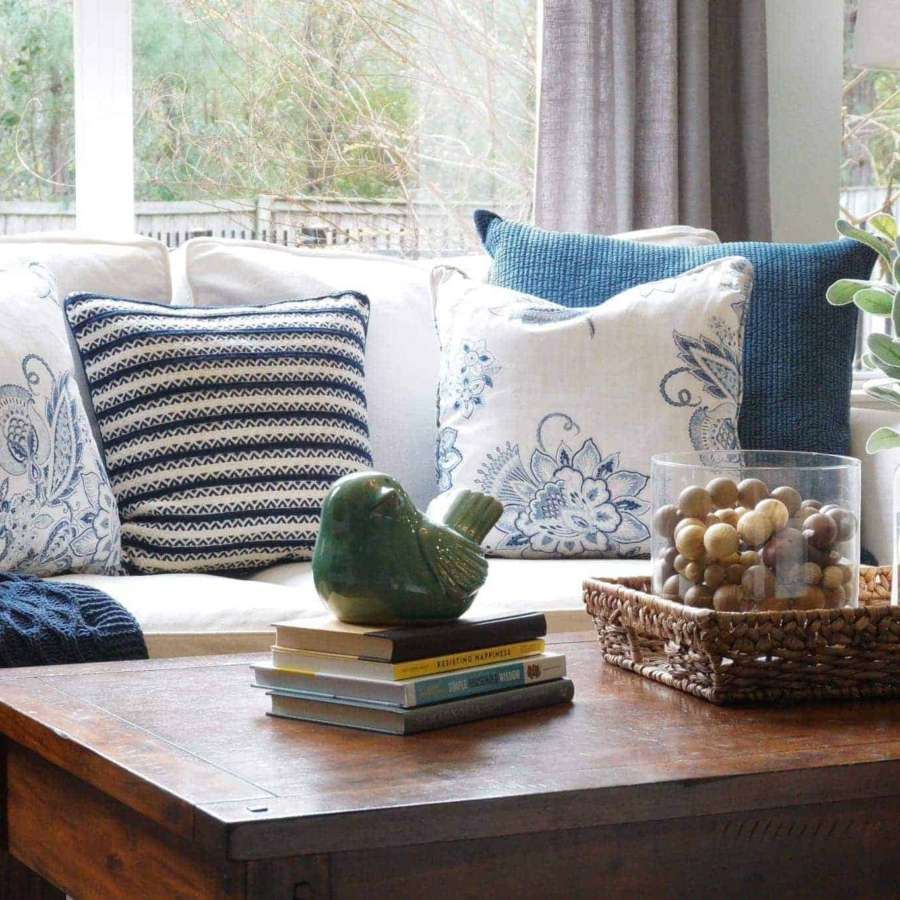 How The Slipcovers Looked After Eight Months of Grime
Down below, you can see Exhibit A, also known as Luna. Luna was quite shy and skittish when we first got her. She was scared when approached by anyone and she certainly wouldn't dare climb on a couch when she first came into our home. Well, it seems we may have made her feel a little too comfortable and at home, and lately, this is what we come to when we walk downstairs in the morning! A quick "Luna!" from me and she quickly gets off, but of course, the damage has been done, after sleeping like a princess on my white couch all night.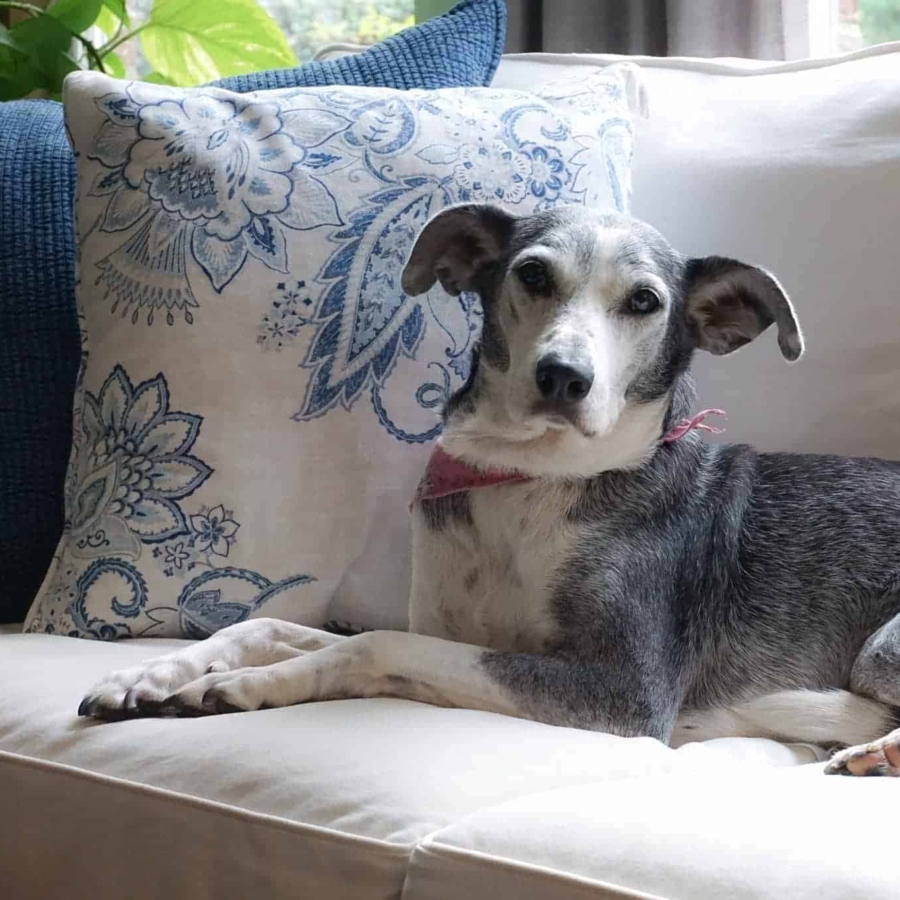 This little gem below had me worried. This stain came from a plant that is sitting close to the couch. Surprisingly enough, the plant is still alive, which is a miracle since I kill plants.
That's my hobby apparently… Killing plants.
Hey, I have 5 kids and they're all still alive, so I'm doing something right. Can't win 'em all!
Anyways, the stain looked like it was going to be a tough one!!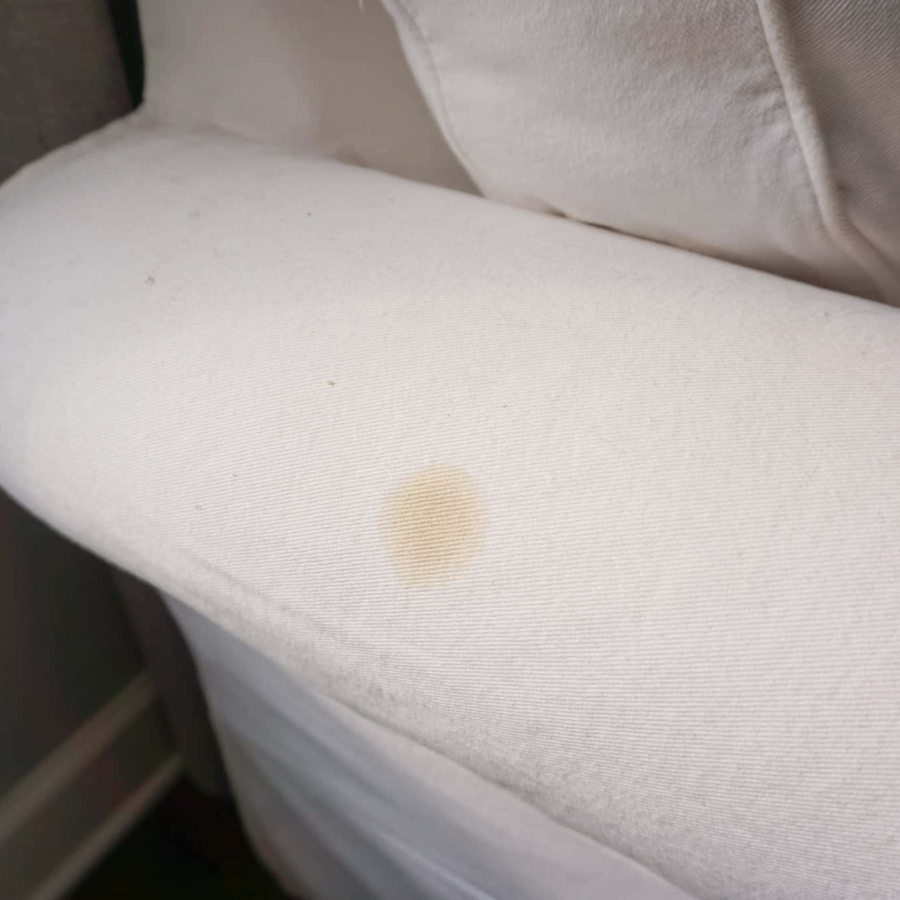 You can really appreciate the griminess (is that a word?) in this photo. That's about 8 months of grime right there. Yuck!!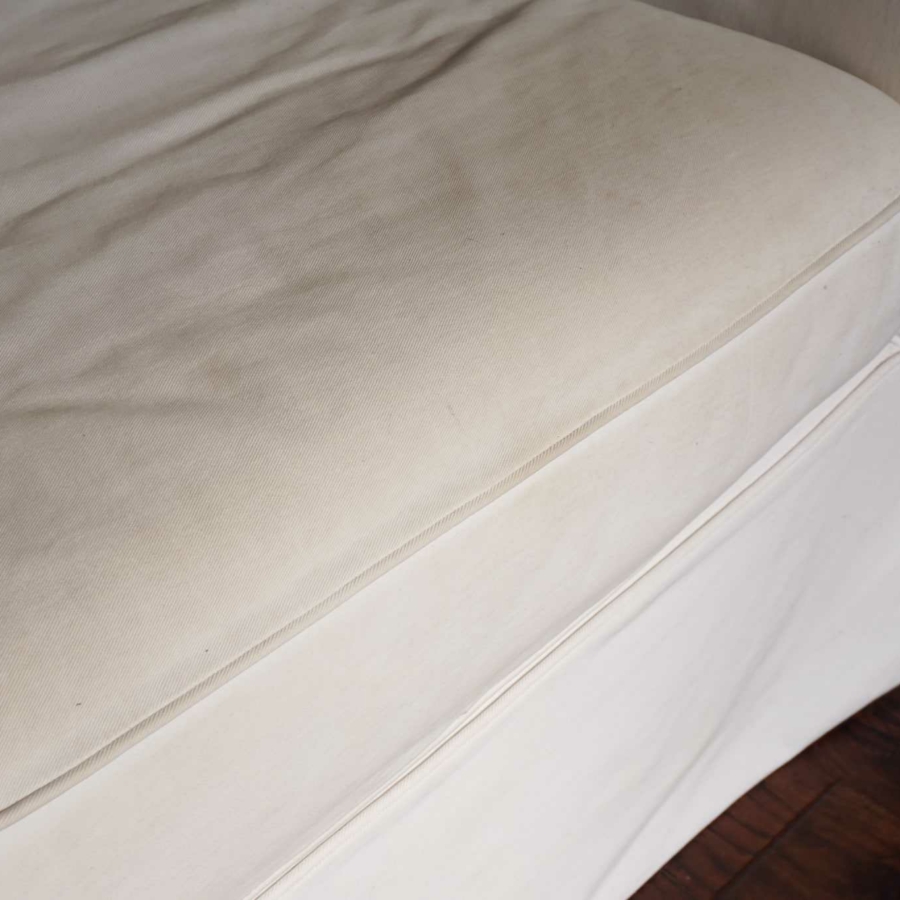 Before I finished cleaning all the covers, I wanted to make sure and show you the huge difference in color between a clean cover and a not-so-clean one. So read on to see how I went from grimy to sparkling clean!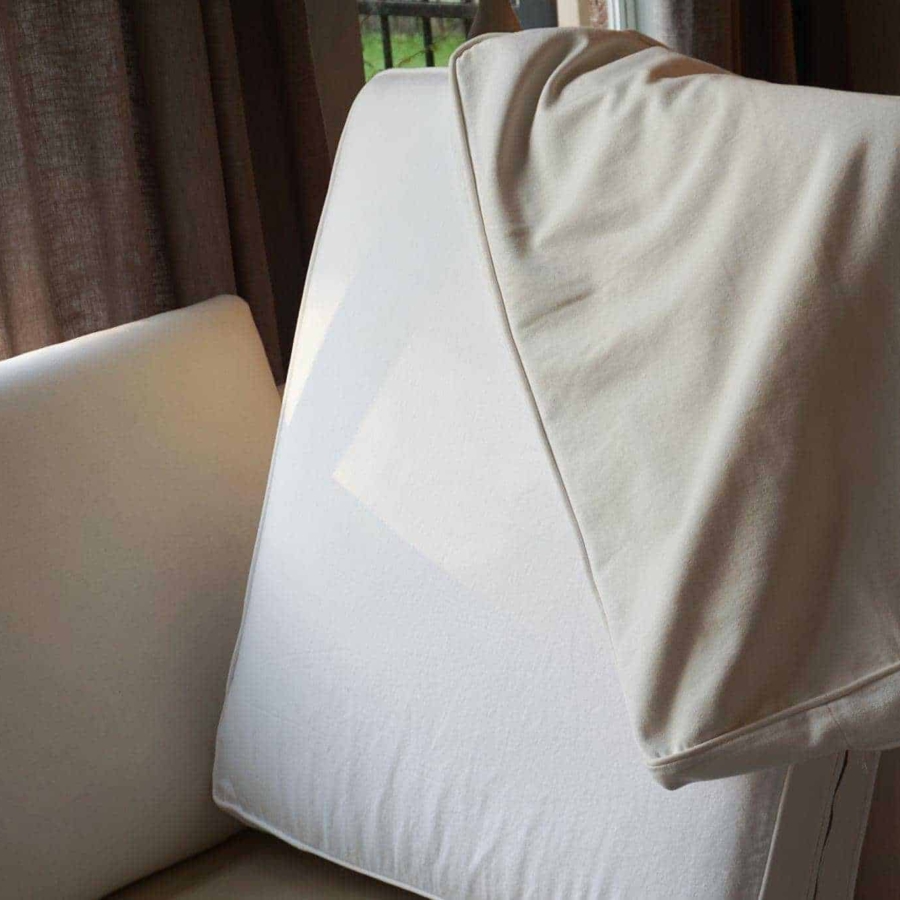 Washing Pottery Barn Slipcovers
I must put a disclaimer in here: Pottery Barn has specific instructions on how to care for their slipcovered couches.
I don't follow them to a "t", I know I'm a rebel!
How You're Supposed To Wash Your Pottery Barn Slipcovers
So, if you want to be absolutely sure they won't get messed up, you'll definitely want to follow their advice. I'm sharing with you what I do to clean them, it has worked for a few years and I've never had a problem. But like I said, I don't do exactly what Pottery Barn recommends, because I've had to get rid of some tough stains that just weren't budging with their recommendations. You can read the Pottery Barn recommendations below: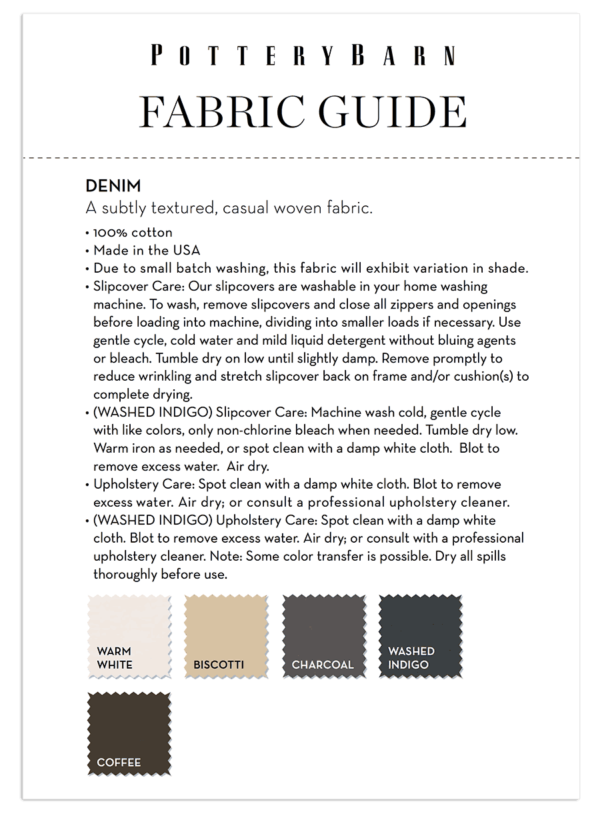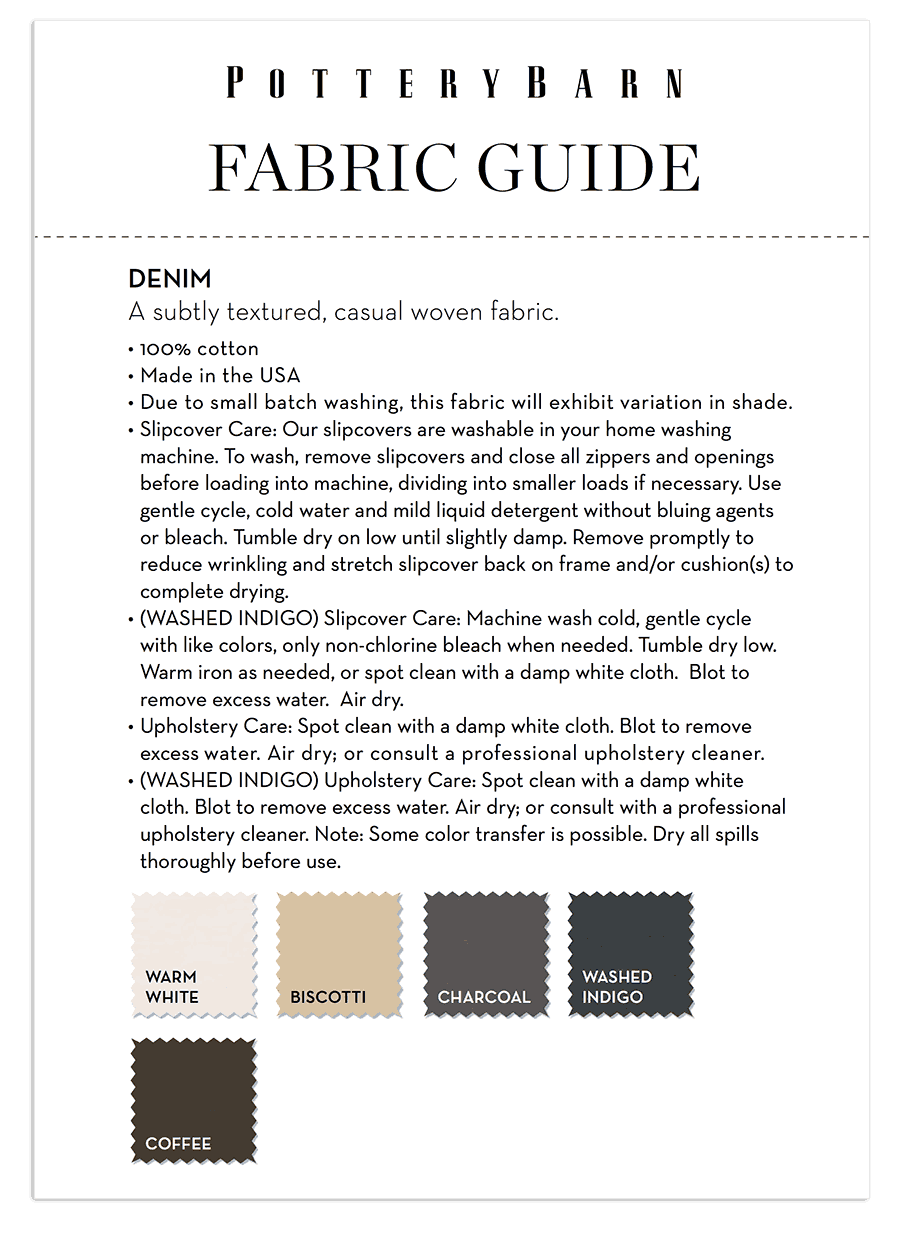 OMG! My Hubby Bleached My Couch! And How It Changed the Way I Wash My Slipcovers
I usually wash our slipcovers every few months. By that point, they are usually pretty gross. I had used the cleaning method above numerous times with great results. However, we've had some extended periods of craziness around the house for the last couple of years and there have been times when I didn't get around to washing the slipcover and cushion covers for over 6 months.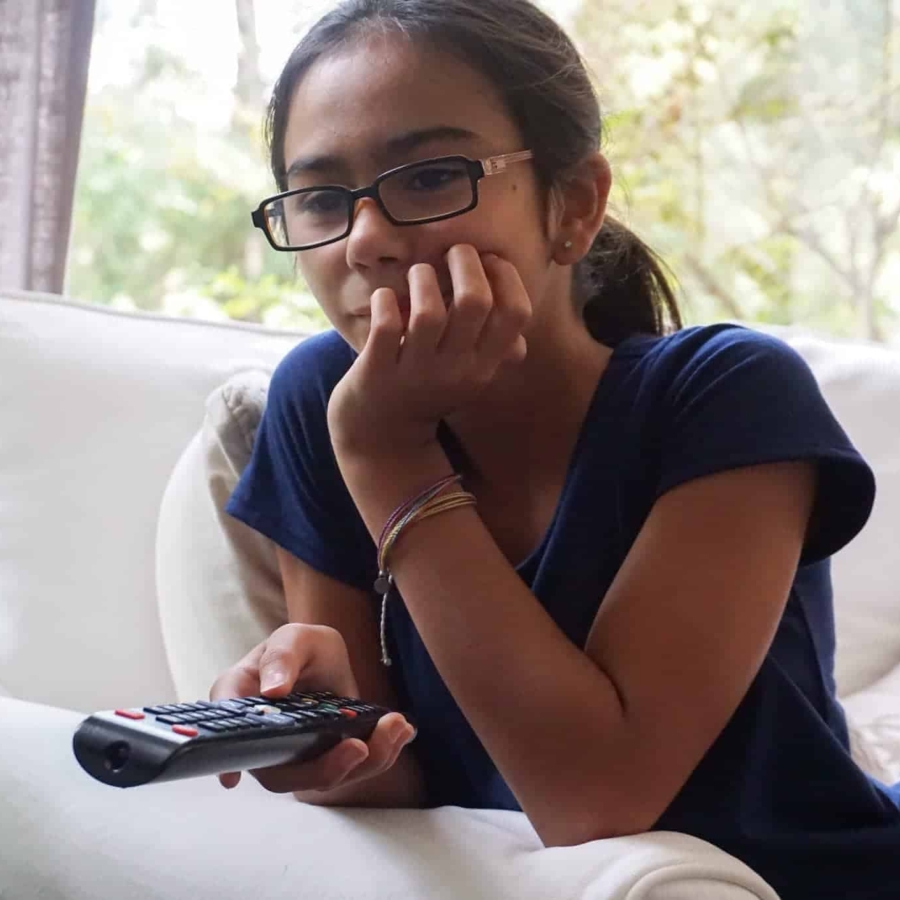 Just picture those beautiful white couches being used as a kid playground and pet bed for six months and you can imagine how they looked. The amount of smudge and dirt build-up was excessive.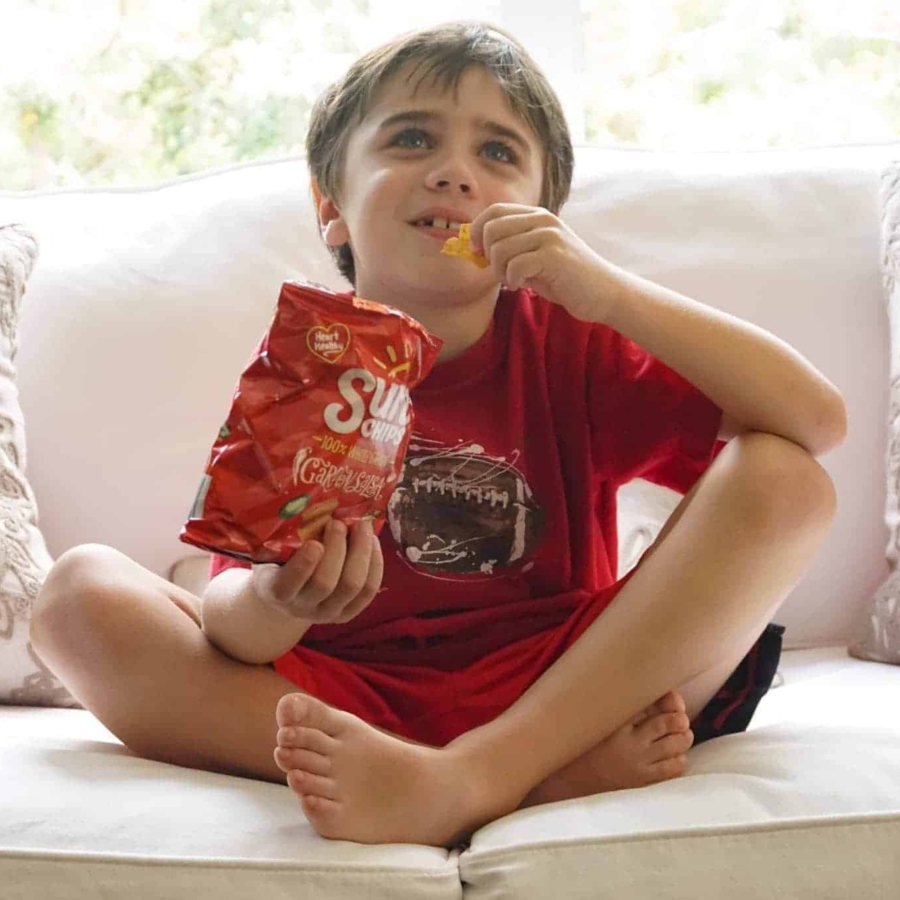 After this unusually long period of neglect we, again, used the suggested cleaning method from Pottery Barn but some of the stains remained. It was just too much gunk for a normal washing to get out. I was a little bummed but put the slipcovers back on because the remaining smudges were minimal and could be easily hidden by flipping a cushion or strategically placing a throw.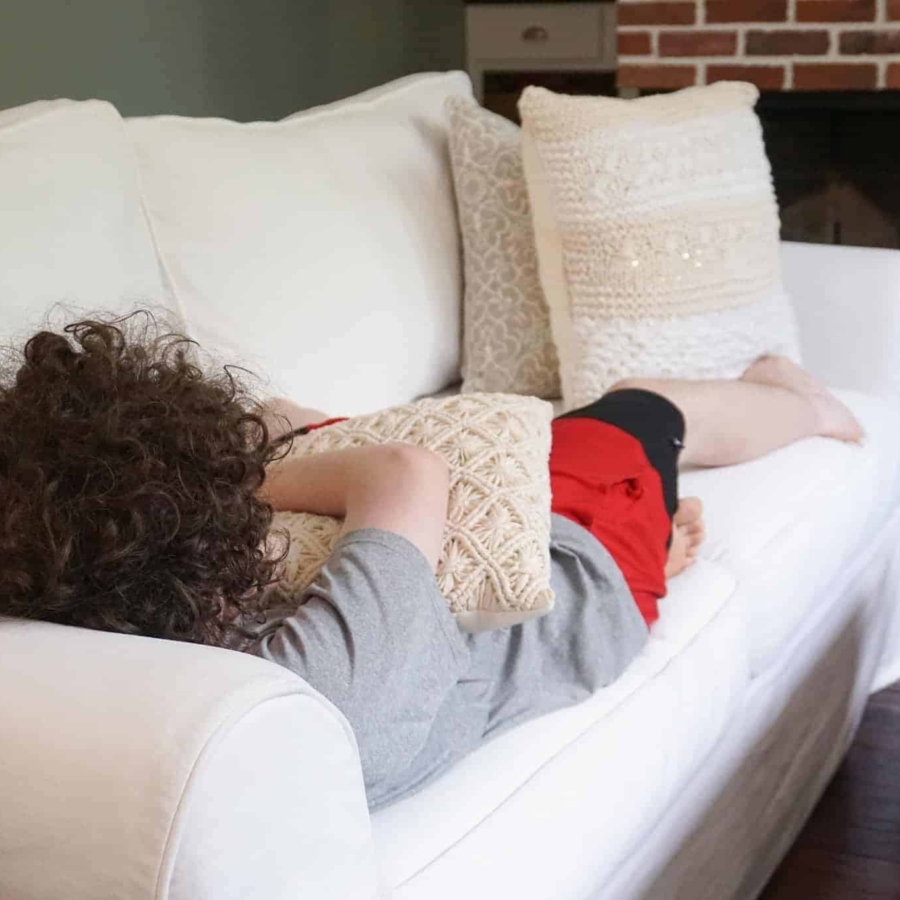 The next time the couches were washed, it had been yet another long period of neglect and there were even more significant stains. This time I was dealing with a big chocolate smudge, a muddy shoe print, and several other unidentified, nasty-looking stains. My hubby said he was going to try soaking them for a while to loosen the stains before washing. What I didn't know is that he had secretly soaked them in bleach. Gasp!! He knew I would have freaked out had I known before seeing the finished result.
How did they turn out?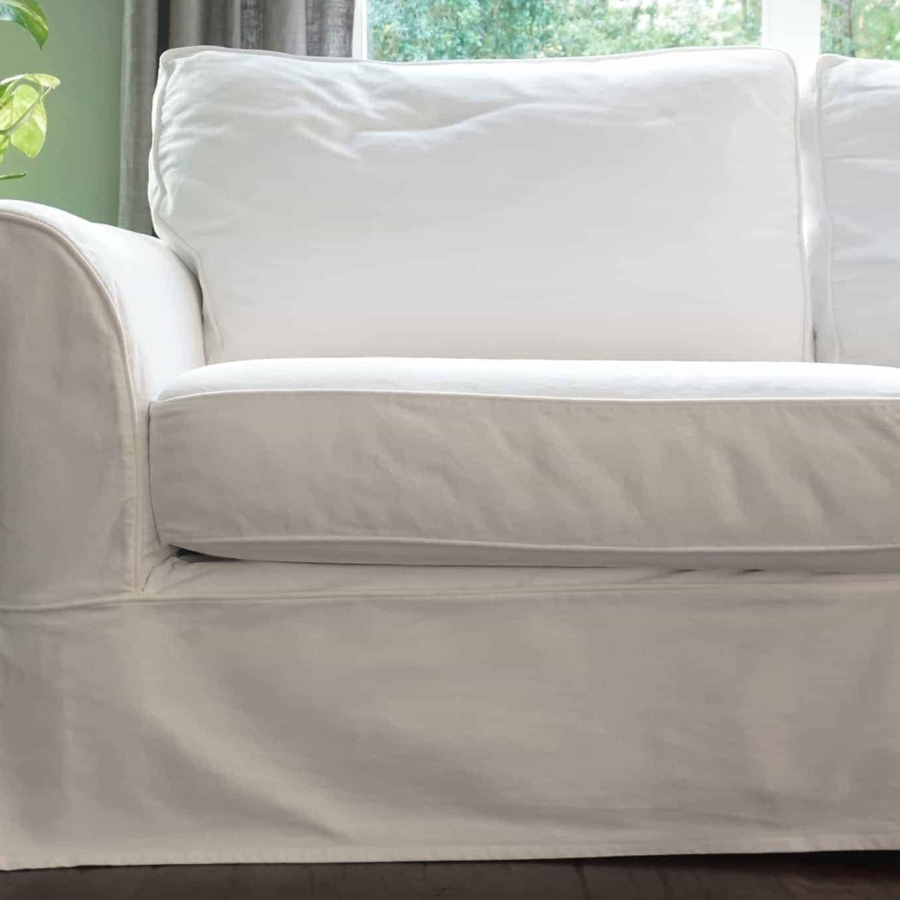 They turned out amazing!!!
They looked brand new. Now, this is the only way I wash them. I'm not recommending this method by any means, and if you do follow this method you are doing so at your own risk. All I know is that this is what works best for me. Our couches are Denim in Warm White. I have no idea how this would turn out for other slipcover materials.
The denim material is very sturdy and has held up well to this cleaning process. I'm always a little hesitant when using the bleach on my slipcovers but I haven't noticed anything negative with this process, no rusting around the zipper or blotchy spots in the fabric. After bleaching them, the slipcovers do come out a little whiter than the original Warm White, which I actually prefer. Of course, all I have to do is wait for a couple of weeks of gunk build-up from the kids, and Luna and I have Warm White slipcovers again!
How I Wash My Pottery Barn Slipcovers
Word of Warning: As I mentioned before, the method I use works for me but I cannot recommend it to anyone else. I am posting it for informational purposes only and if you decide to use it, you'll be doing so at your own risk.
So, here's the process I use, step-by-step:
Spot Cleaning and Removing the Slipcovers
First, I thoroughly vacuum up any pet (and human) hair from the cushions. I also lift the cushions and take care of all the hidden goodies like all the remnants left over from snacking sessions with Goldfish, M&Ms, and a variety of cookies, crackers, and chips. I usually will uncover a long-lost lego or other toys we've been searching for months. The point is, I want all the covers as clean as I can get them before removing them to be soaked (I don't want a bunch of crumbs and hair floating around in the water).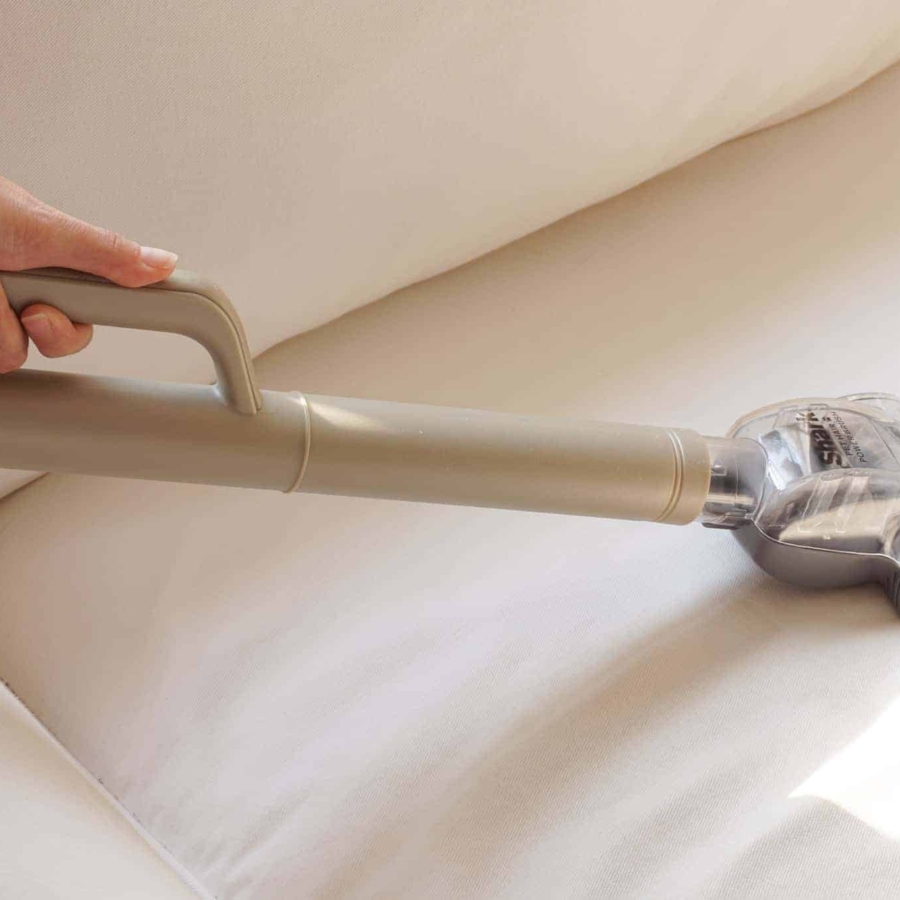 Second, I spot treat any really tough spots with Shout Triple-Acting Stain Remover Spray. This is the stain I had mentioned came from a plant that is sitting next to the couch.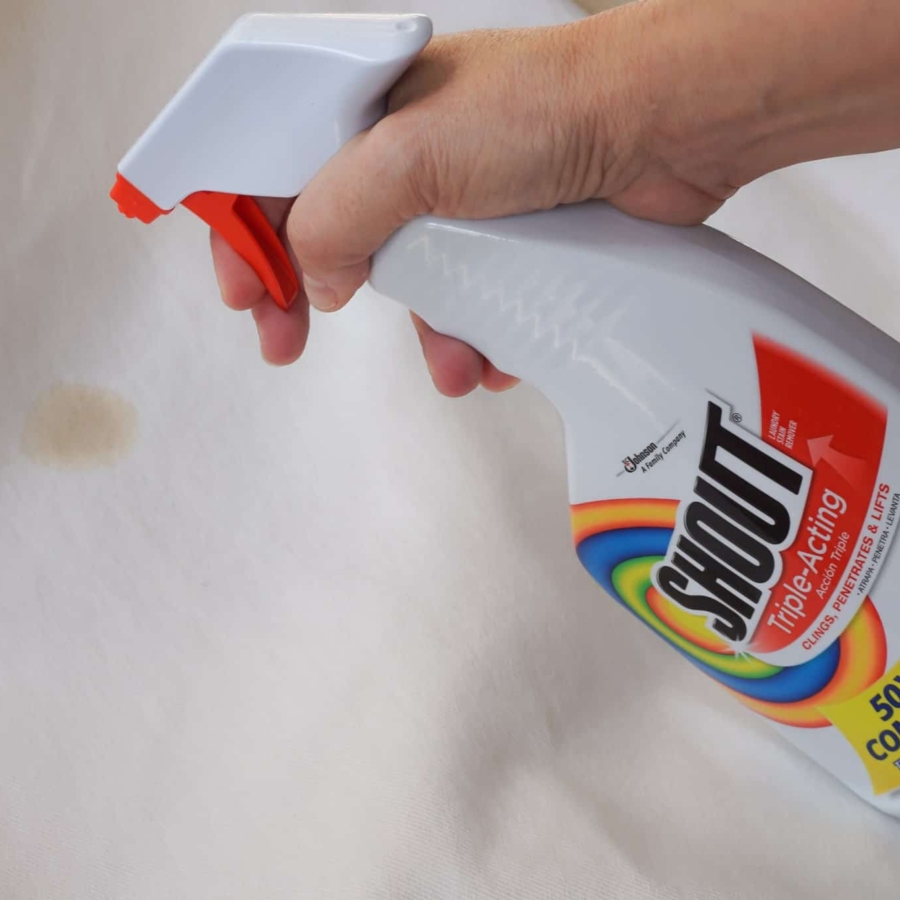 Third, I remove all of the covers and stack all the cushions on the couch.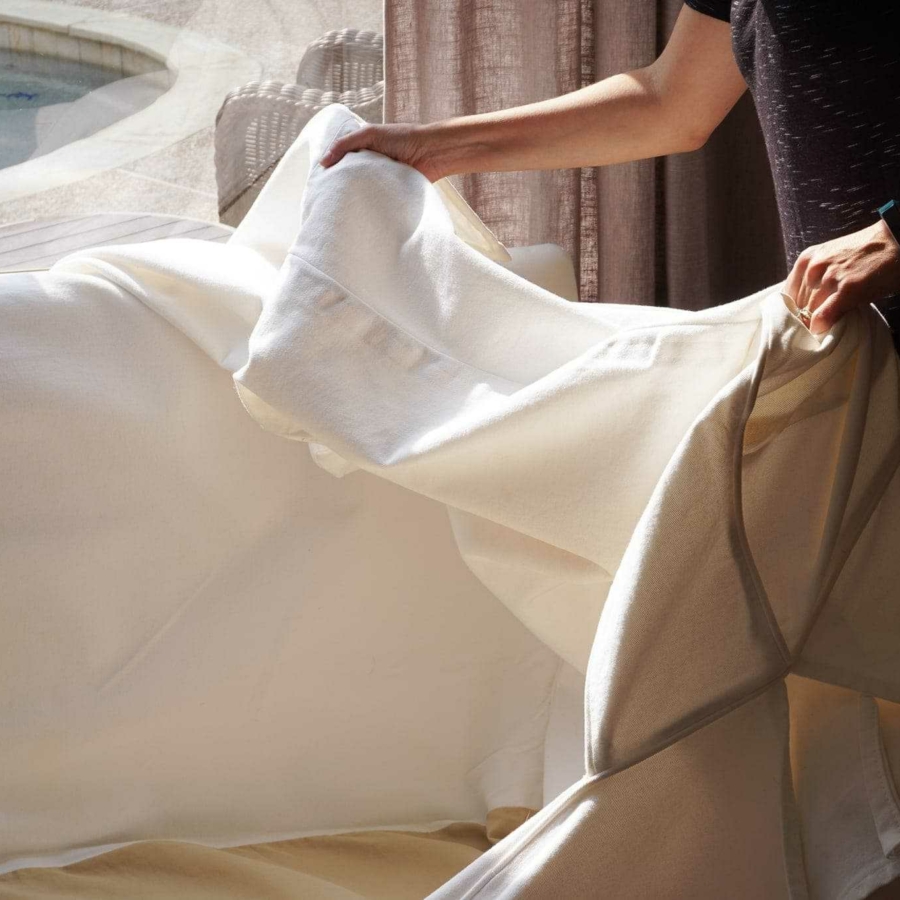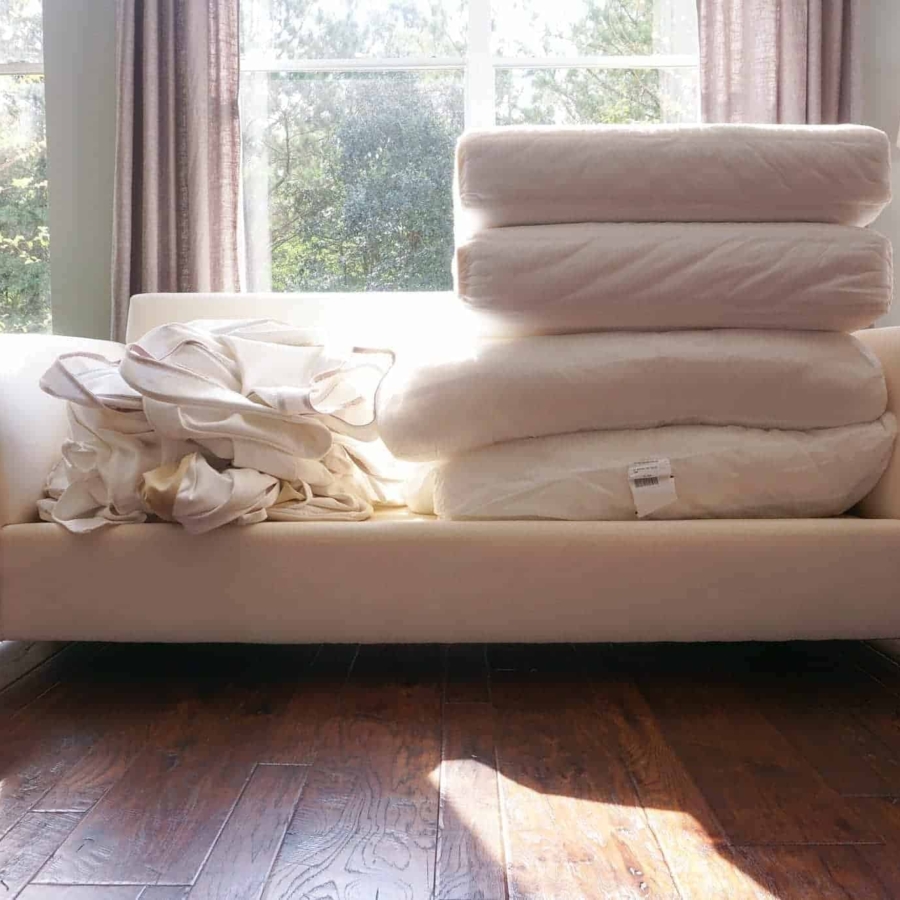 Soaking the Slipcovers and Cushion Covers
I then fill the tub with 16 gallons of hot water.
Quick Tip
How to Easily Measure Water in a Tub
You may be asking: How do I easily figure out how much water I need in my tub so that it equals 16 gallons?
Here's how:
Grab a 1-gallon pitcher or jug.
Fully open the faucet. (Since I filled the tub with hot water, I did the measurement with only the hot water side of the faucet open)
With a stopwatch or the timer on your phone, time how long it takes to fill up the pitcher.
However long that takes, multiply that number by 16 and you will have the amount of time necessary to fill your tub with 16 gallons of water.
In my case, it took 15 seconds to fill a 1-gallon container. So, I had to leave the faucet on for a total of 4 minutes to fill the tub with 16 gallons of water.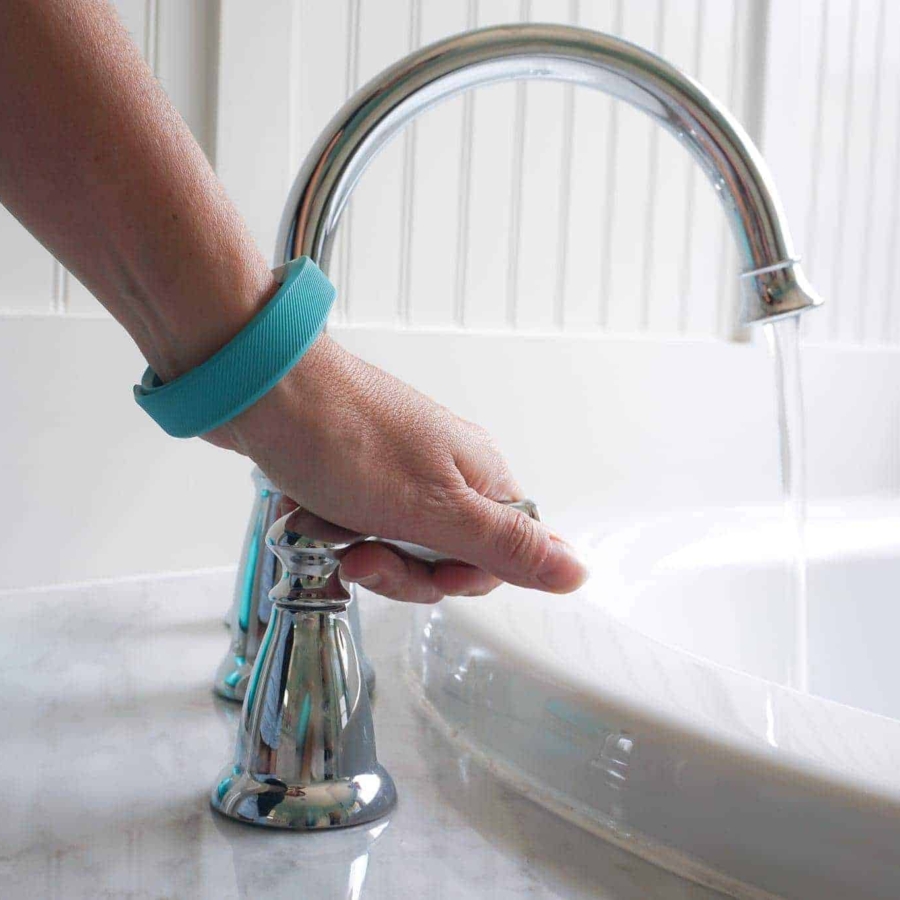 I add 1 gallon of bleach to the water (a 16:1 water to bleach ratio).
So that there are not too many pieces soaking in the tub at one time, I split everything up into 4 groups.
First, I place only the cushion covers of the first couch in the tub.
After those have soaked for a few hours, I remove them and then take them to the laundry room to be washed and dried.
I then add the couch slipcover for the first couch to the tub and let it soak for a few hours as well.
After I remove the couch cover for the first couch and take it to the laundry room, I then start the same process for the second couch.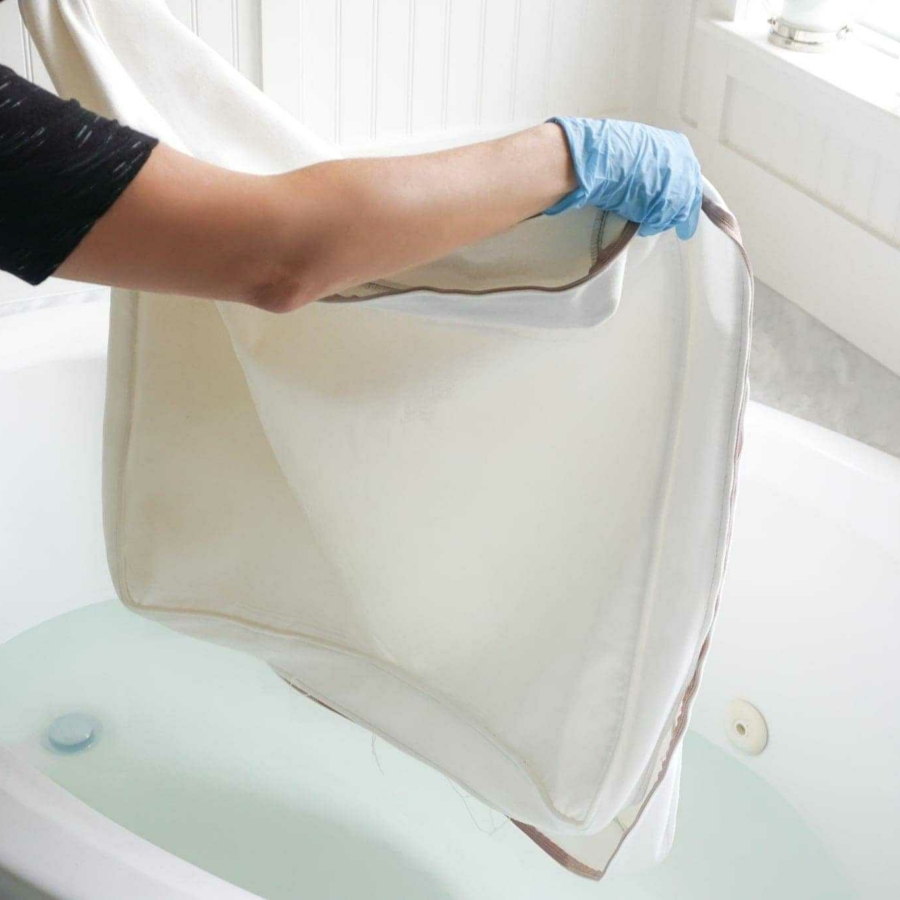 I make sure to fully submerge everything.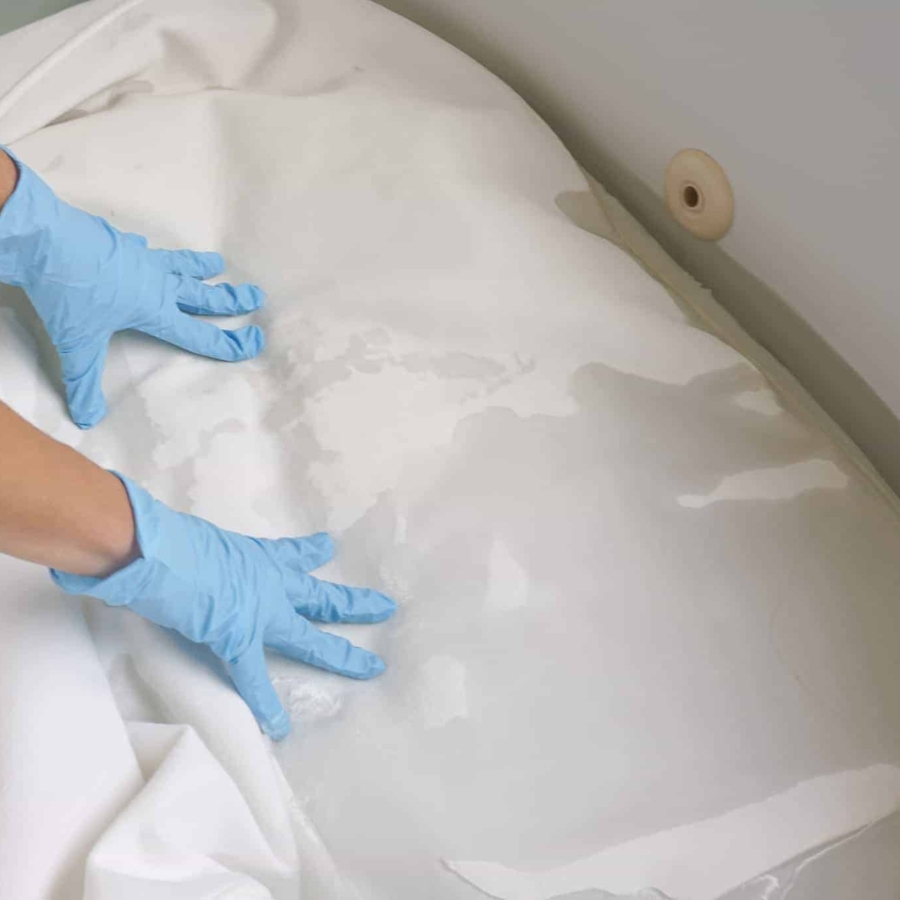 I let each group of covers soak for 3 to 4 hours, moving them around periodically. After an hour or so, I switch everything up by placing the top cover on the bottom and jostling everything around really well. This ensures that everything is getting a good soak.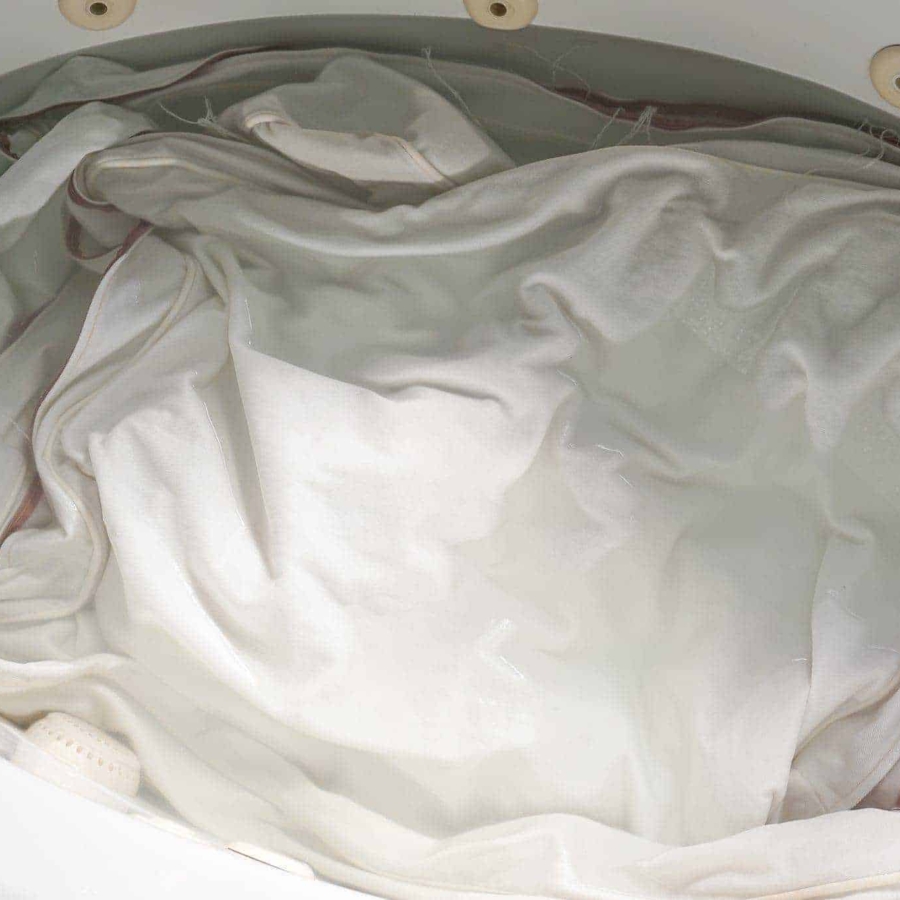 Washing and Drying the Slipcovers and Cushion Covers
I then remove the covers from the tub, ring them out a bit and bring them in a laundry basket downstairs to the laundry room to be placed in the washer.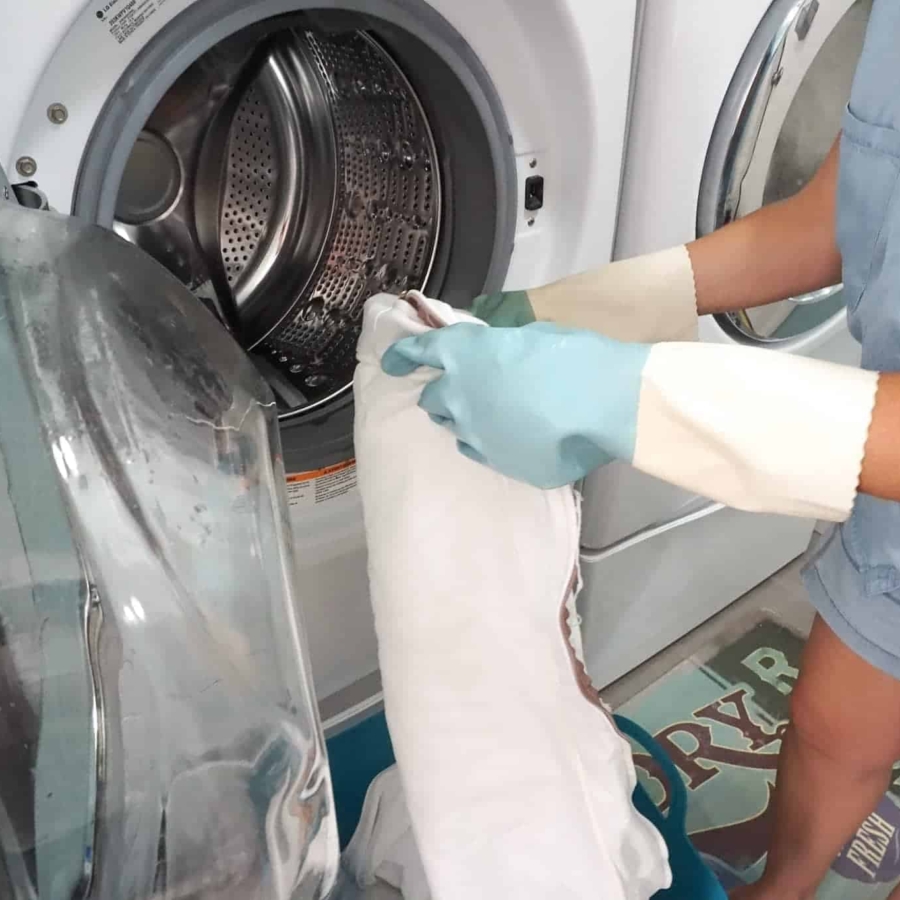 I make sure to unfurl the covers and zip up the zippers so that they get fully washed.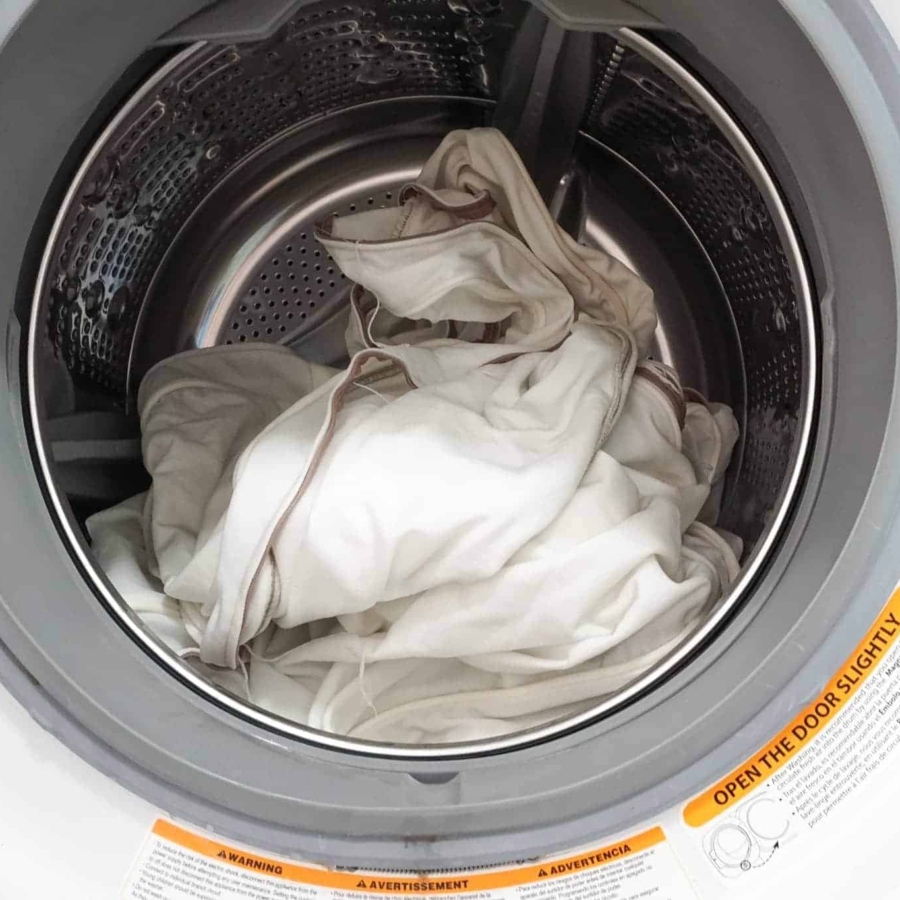 I add the liquid detergent and also add more bleach to the receptacle in the washer filling it to the MAX line.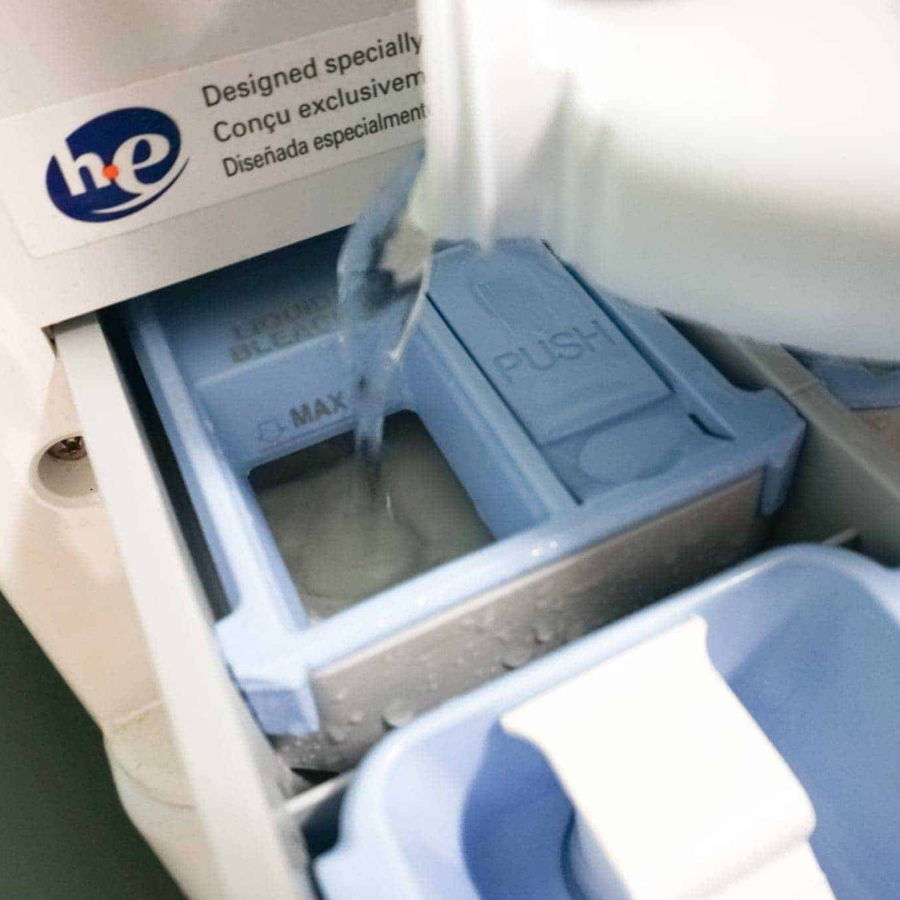 I then set the washer's water temperature to HOT. Yes, you read that correctly.
Yikes! Will the covers shrink? Find out below.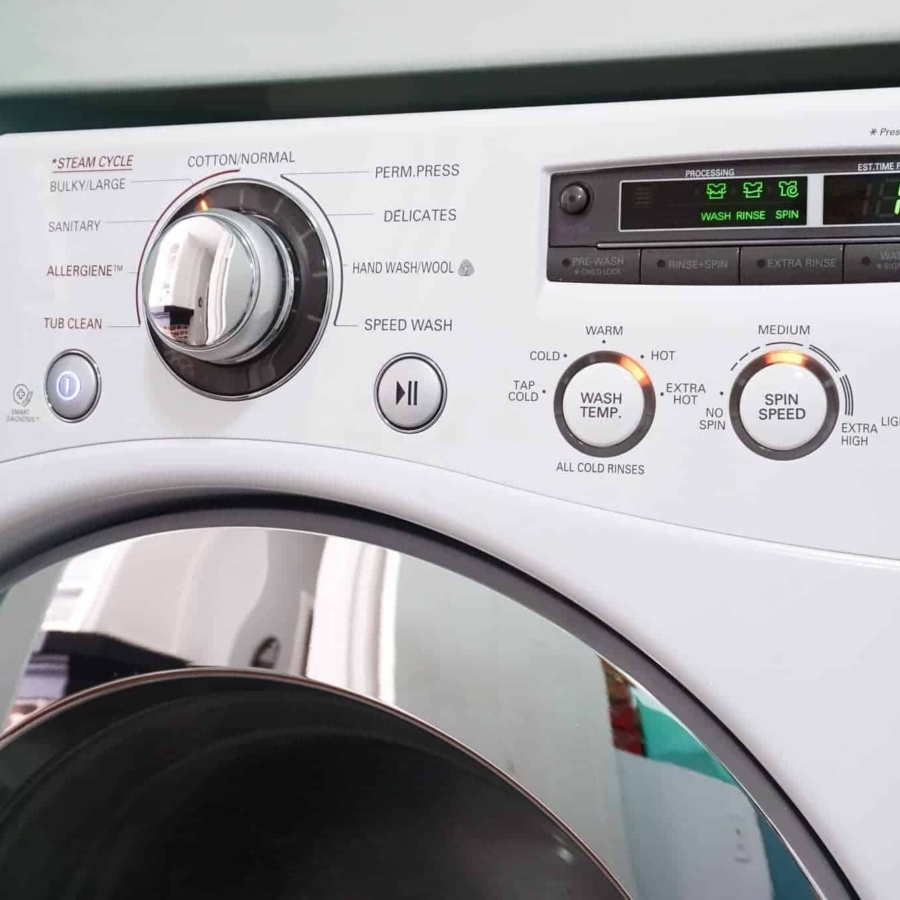 Once out of the washer, I set the covers to dry using the sensor on my LG dryer. The sensor always turns the dryer off before the slipcovers are fully dry. I'm not sure if this is an issue with my dryer but it works out perfectly because I need the covers to be slightly damp when placing them back on the sofas.
I explain why below.
Placing the Slipcovers Back on the Sofas
Like I mentioned above, the covers are slightly damp when I take them out of the dryer. Placing the covers back on the couch when they are slightly damp will prevent them from wrinkling so much.
So, did they shrink?
I'm always afraid that the slipcovers may end up shrinking in the hot water but the denim always holds up well. The fit is always perfect.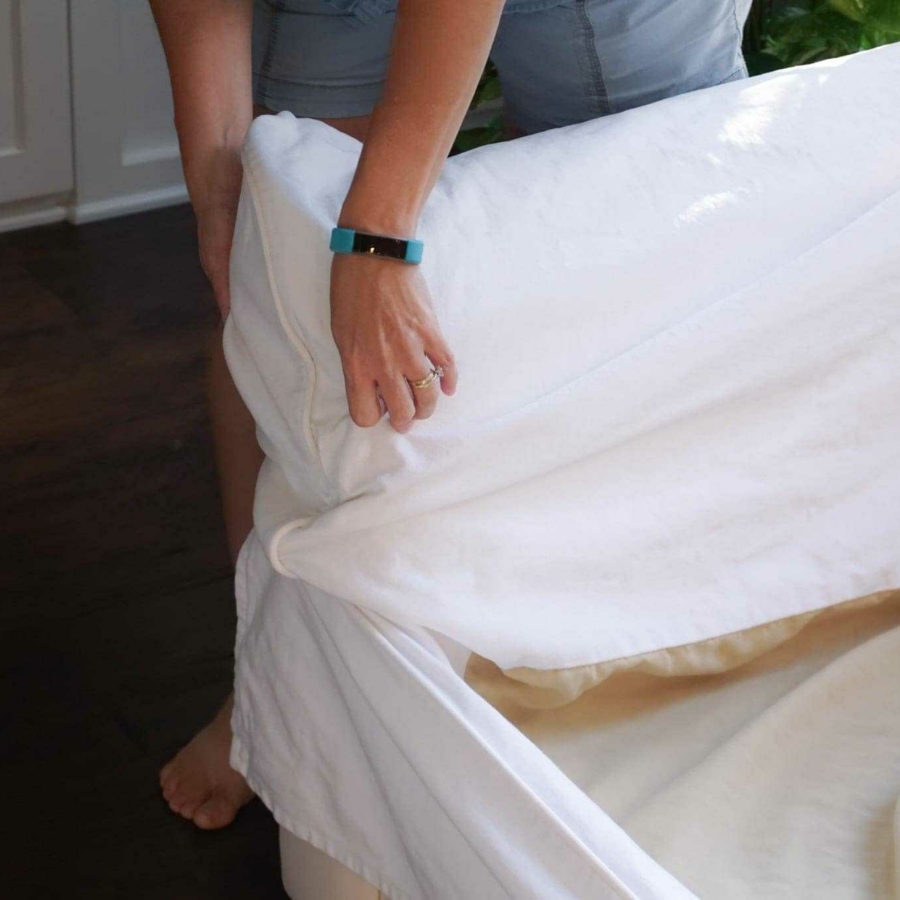 And voila!!!
Beautiful Clean White Slipcover Couches
As usual, the couches came out looking beautiful. No more grime and that ugly spot from the plant disappeared.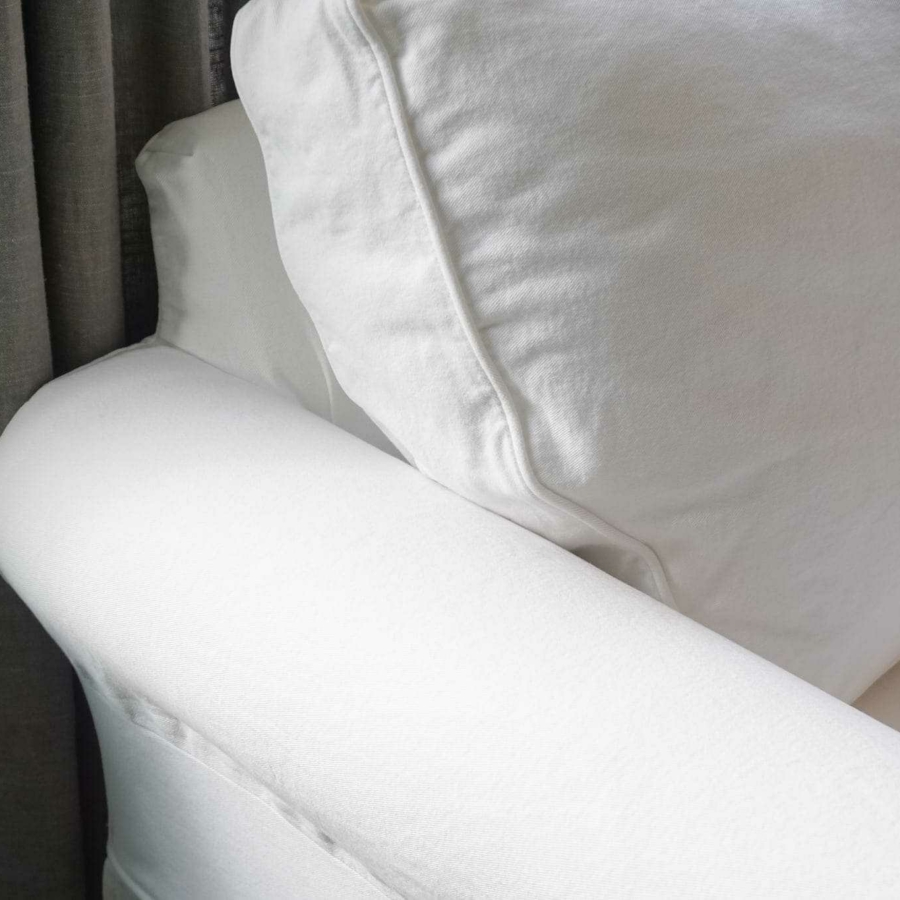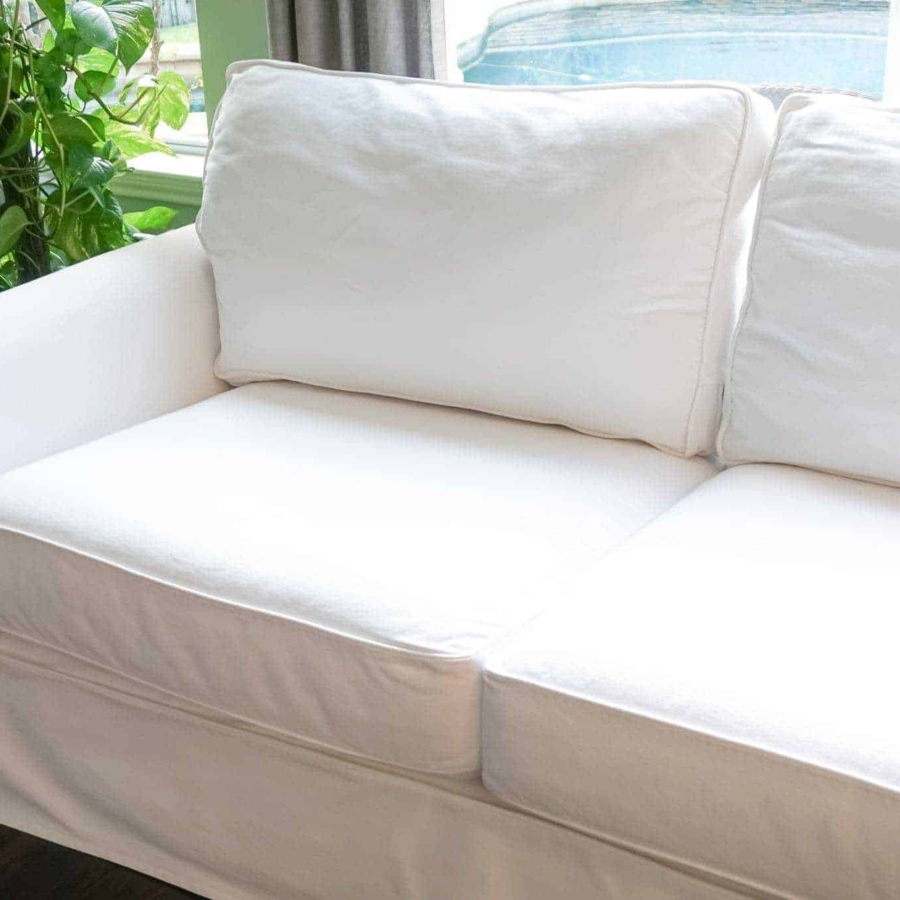 Now, it's time to for the fun part! Start decorating!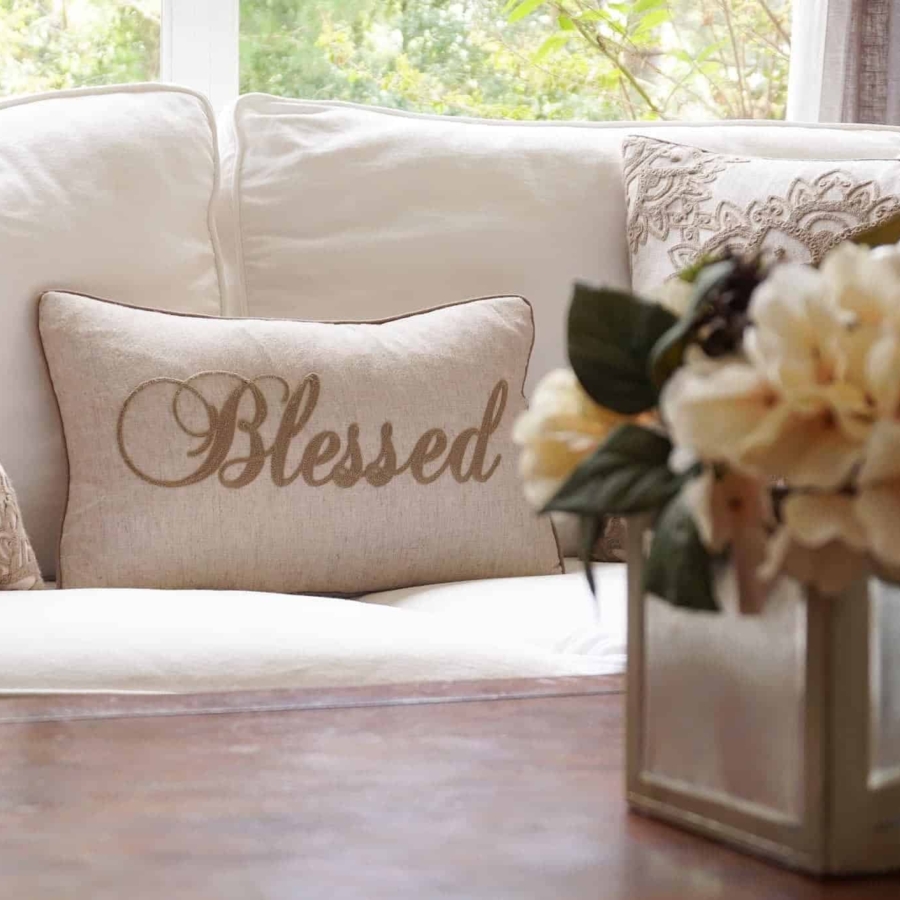 So there you have it! That's how I clean my couches! I imagine there's a person from Pottery Barn reading my blog post and crying because I soak my covers in bleach and then on top of that, I have the audacity to wash them in hot water!
I've had the couches for years, if I wasn't washing them like this, then they would be ruined because of all the stains on them. So I was willing to take a chance because I really couldn't lose! Who knows, they may start falling apart in a few years because of the bleach, but as I said, they already were looking pretty yucky!
Would I wash them like this if they were brand new? Probably not.
I'd probably wait until they reached a point of do-or-die. In any case, my apologies to Pottery Barn for rebelling against their cleaning instructions!
I hope you found this post helpful in some way! Do you have slipcovered couches? I'd love to hear how you clean them in the comments below!