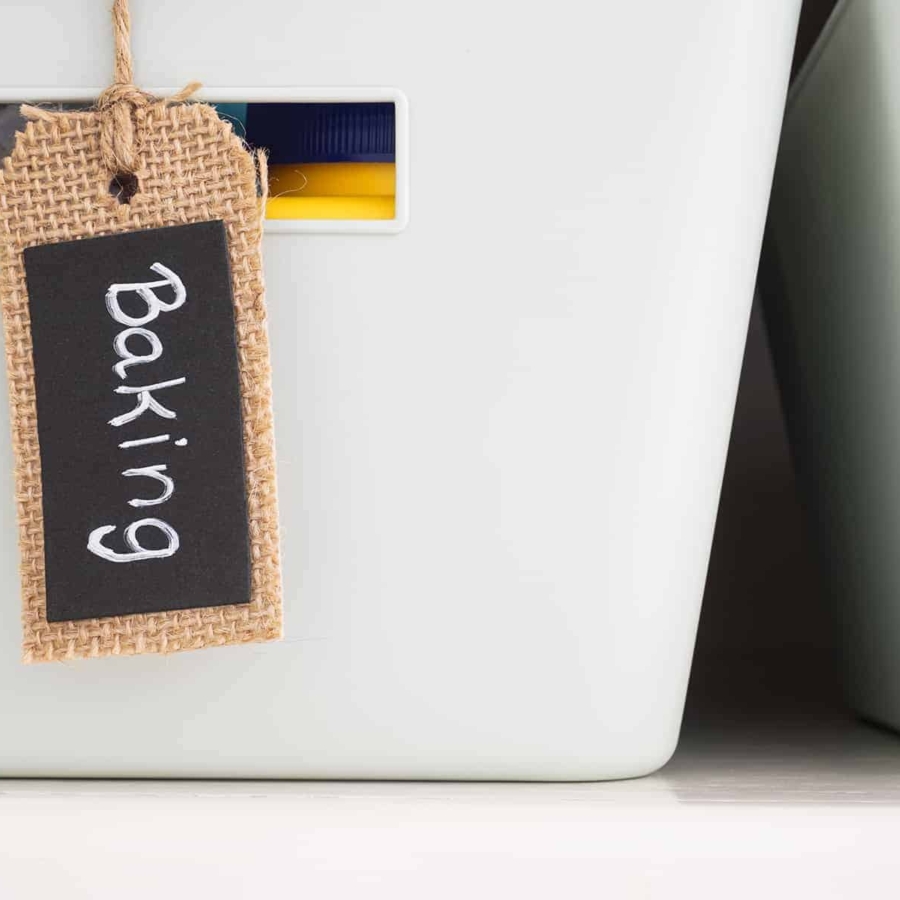 Oh, the beauty of an organized pantry! It makes my heart flutter when I open my newly organized pantry! Does that happen to you, or am I just a little too weird? 😉
This post contains affiliate links. For more information, see my disclosure.
If you're reading this though, I'm guessing you love organization as much as I do and are hoping to find some motivation and inspiration to organize your pantry! Well, I thought I'd share with you all some of the pantries that inspired me to turn my pantry into an efficient, beautiful part of my kitchen!
These pantries are all different sizes, they use different organization products, but they all have the same end result: a beautiful and functional pantry!
Creating A Pretty and Organized Pantry
This first pantry is Abby's, from Just a Girl and Her Blog. If you've never been to her blog, you are missing out! She has a wonderful organization and decor tips all year round!
Abby just recently moved to a beautiful new home, and her pantry was one of her first projects. Her pantry is so organized and pretty! She even put up wallpaper on the back wall, which makes the pantry look even prettier. I also love the way she added pops of color with blue and light aqua bins.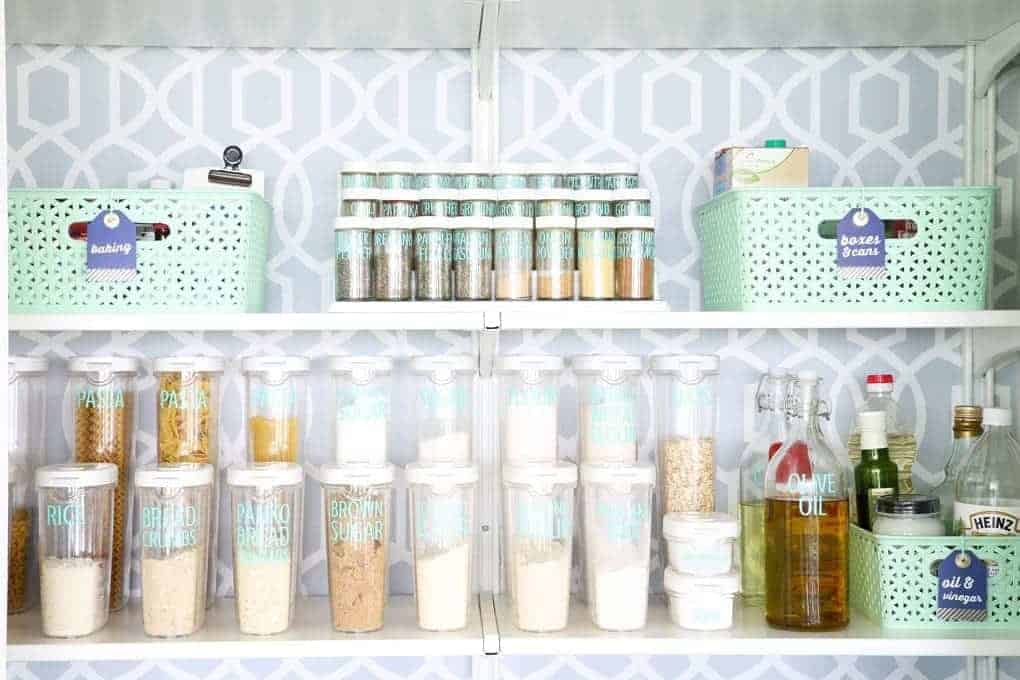 Organizing a Pantry Using the NEAT Method
The next pantry comes from The Container Store blog and the ladies of Neat Method. They are the gurus of organization.
This pantry is what dreams are made of!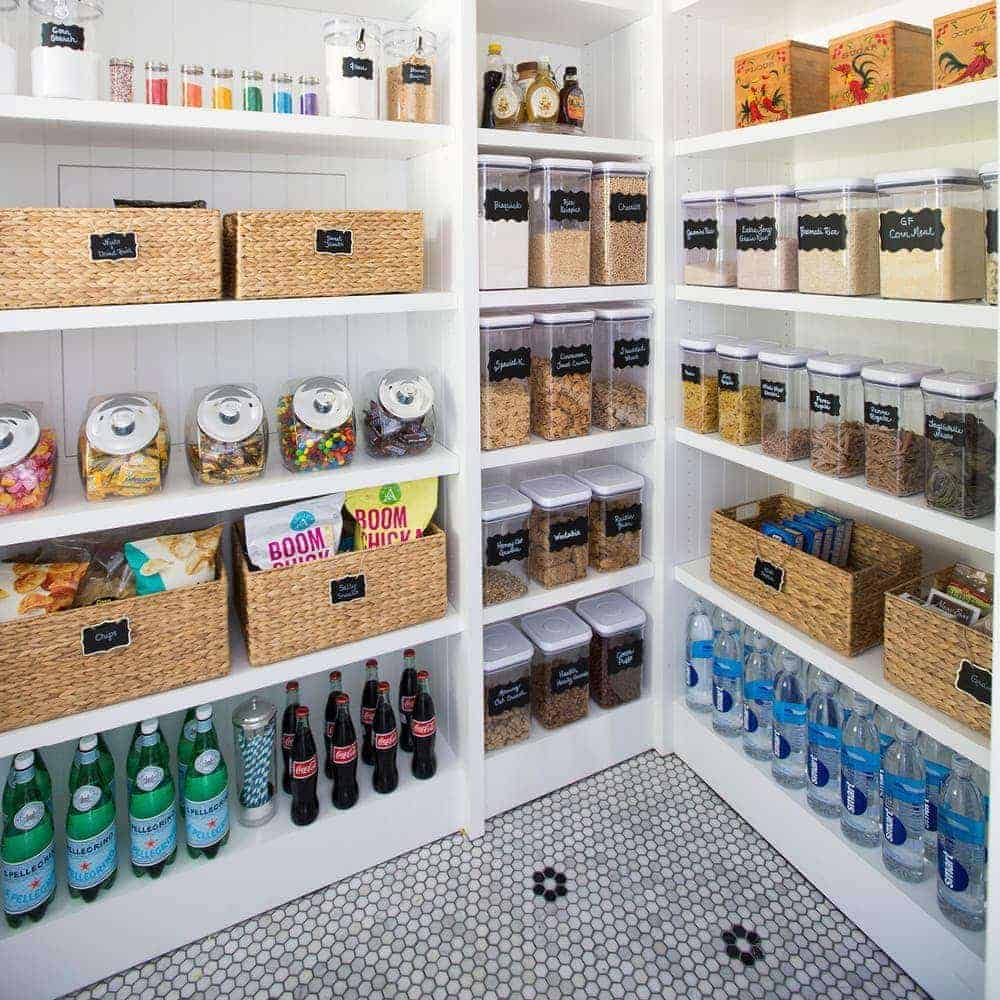 Now, in all reality, maybe we can never get our pantry to look exactly like this, but the whole idea is to take inspiration from it and use as many elements as we can.
Do what works best for you! Always keep in mind that you're the one that lives in your home, and you're the one that uses your pantry on a daily basis. Sometimes the absolutely perfect pantries we see in ads make for a pretty picture, but they may not be something we can realistically maintain.
With that being said, The Container Store has so many wonderful storage containers and ideas, certainly, you can improve your pantry and make it beautiful and functional for you.
Finding a Pantry Organization System That Really Works
This next pantry from A Bowl Full of Lemons uses many products I used in my pantry. Most of them come from The Container Store.
I love how she mixed the clear OXO containers with beautiful baskets. Her method for storing cans is awesome! She uses filing bins as opposed to the step organizer I use in my pantry.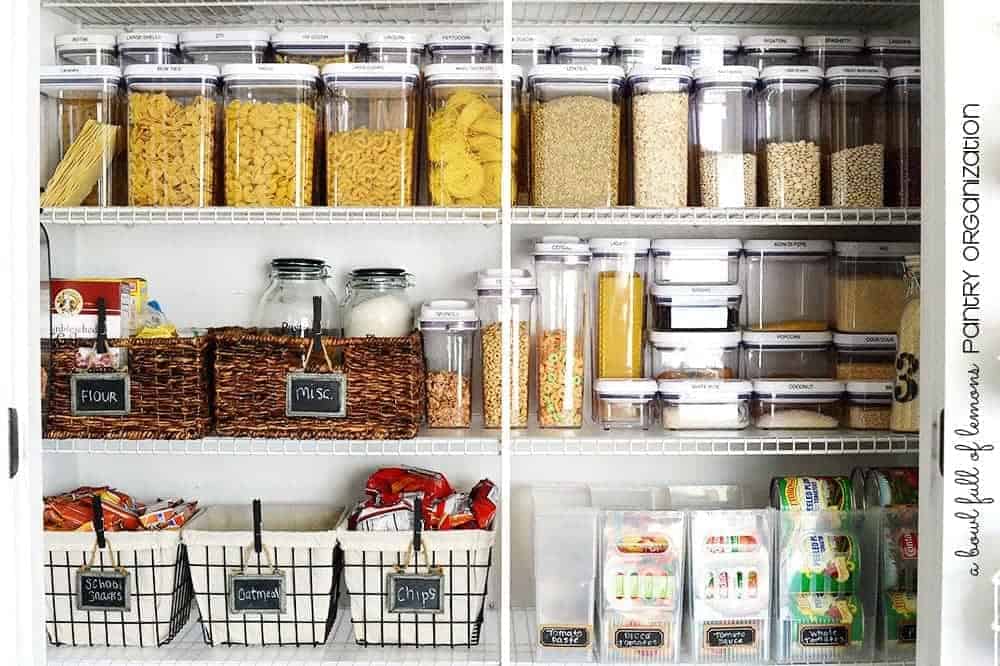 Her pantry is absolutely beautiful and I think you can get some great ideas from it!
Do-it-yourself Meets Pretty & Functional With This Pantry Makeover
Now for those of you that love DIY or have one of those handy vinyl letter cutters, this next pantry has great ideas! I, of course, love the color in the pantry! Aqua is just so relaxing! I also love the glass jars that are used to hold the grains and the sugars.
It's such an organized pantry and it looks so much prettier than it did before the makeover. The before and afters are awesome!
Creating a Clean, Decluttered & Organized Pantry You'll Be Proud Of
Finally, I thought I'd throw in my pantry!
Hopefully, it can serve as inspiration for you. As you know, I'm a little of an organization fanatic. So I tend to keep things a little more organized than most people with five children! But there's no reason why you can't see what I've done and use some of it, or all of it to make your pantry more efficient and beautiful.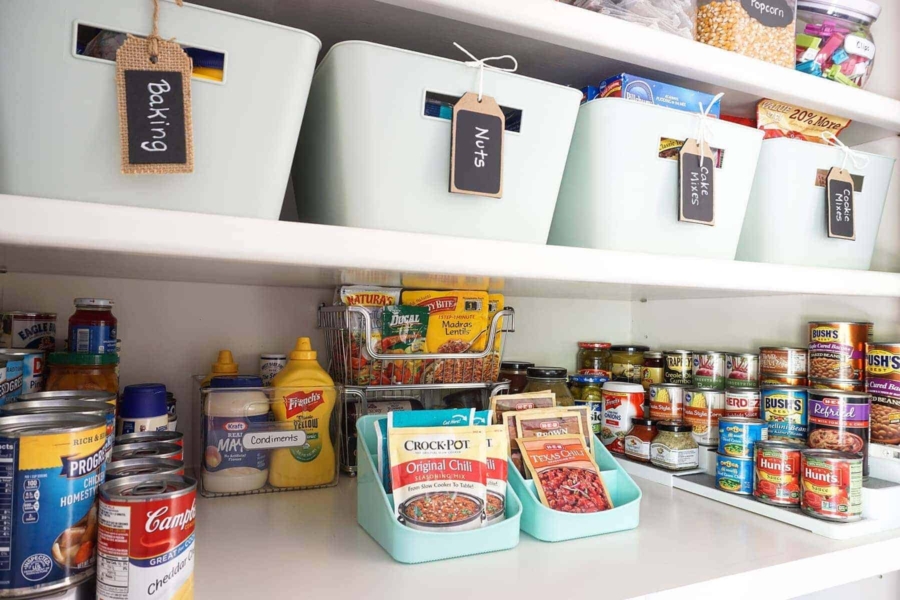 Take a look at my 7 Steps to a pantry that you can be proud of!
I really hope these AMAZING pantries gave you some great ideas and tons of motivation to get your own pantry cleaned out and organized.
Quick & Easy Recipes
When you sign up to become a newsletter member, you'll get access to my latest quick & easy homemade recipes, homemaker tips and tricks, free printables, and more delivered directly to your inbox each week.