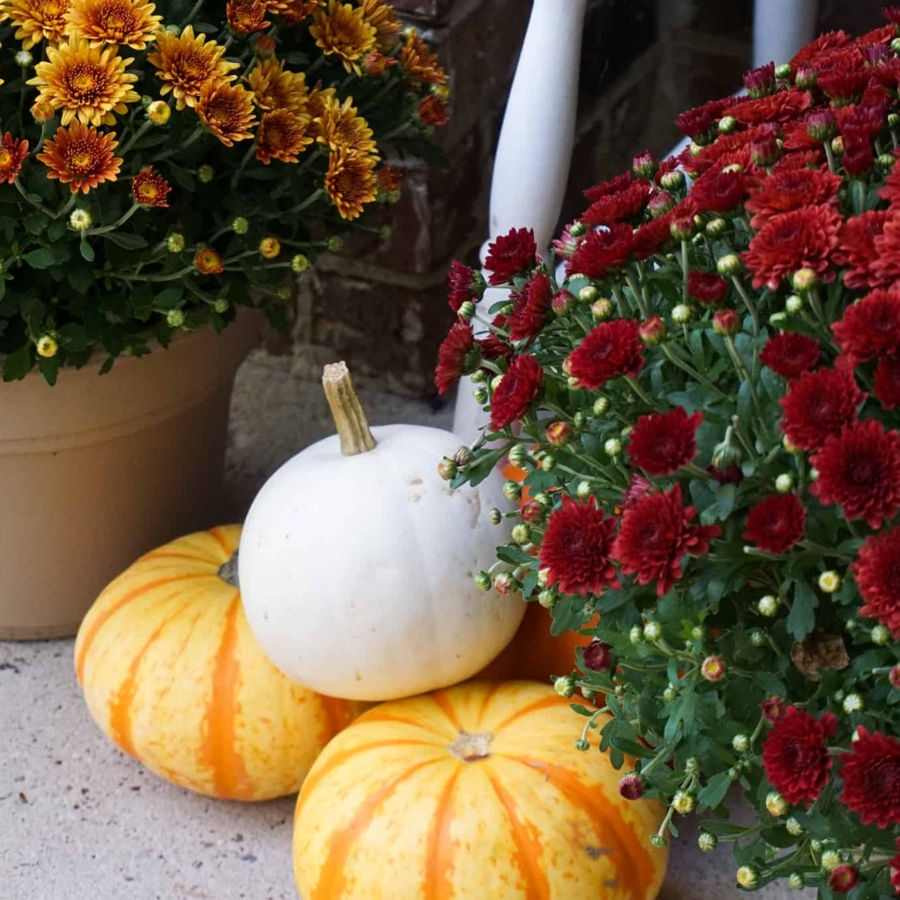 My front porch is usually a neglected area of my home and I didn't own a lot of cute fall porch decor. My front porch was honestly starting to feel creepy as if I had it ready for Halloween, except I didn't. 😱 I usually don't have a lot of time to put into my outdoors, but the porch was feeling a little too sad!
This post contains affiliate links. For more information, see my disclosure.
So a few days ago, I decided it was time to give it a quick fall makeover and went on the hunt for some budget-friendly fall porch decor.
Flowers Can Bring Your Porch to Life
I really didn't have any money set aside in the budget for porch decorating so I had to keep it simple and low-cost! So, I went to my local Kroger and they had an amazing deal on these beautiful mums! I put 3 in the cart and headed inside to their seasonal area. They usually have some cute things so I thought I'd give it a try.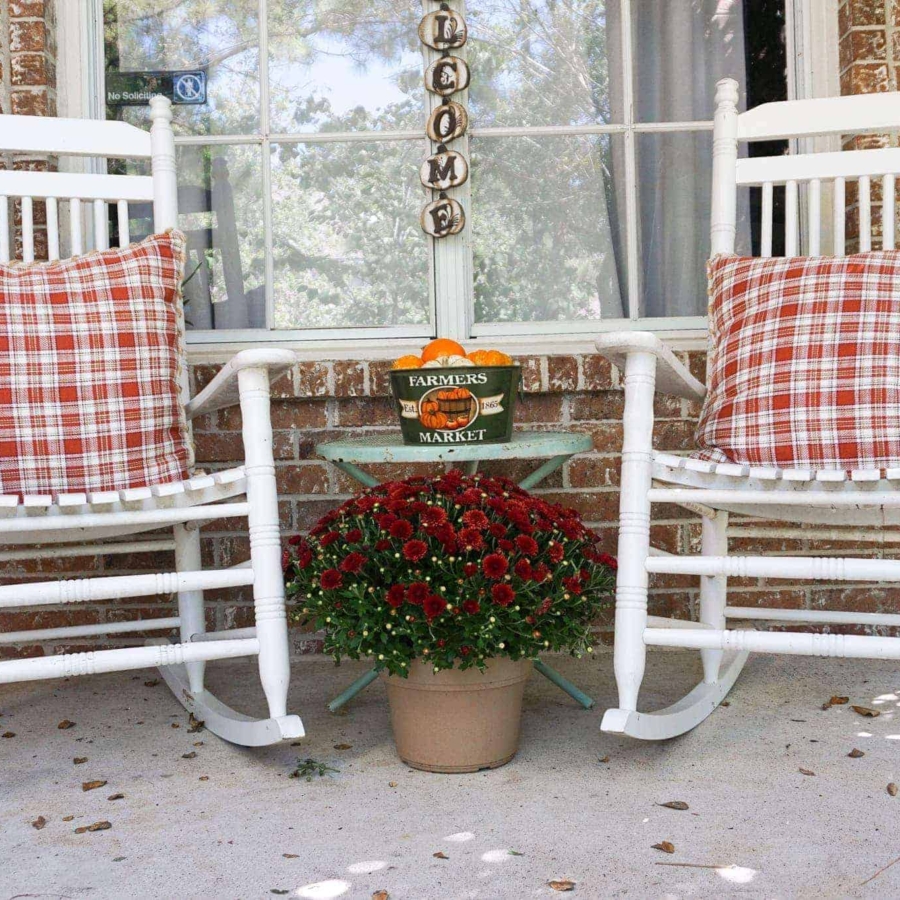 Look for Budget Fall Decor Pieces
Well, I wasn't disappointed! They had such pretty stuff at really nice prices. I got this cute tin bucket that was perfect for setting on my chippy aqua table. I also got a bag of mini pumpkins and filled the bucket with them. Now the bucket looks like the picture on the bucket! 😉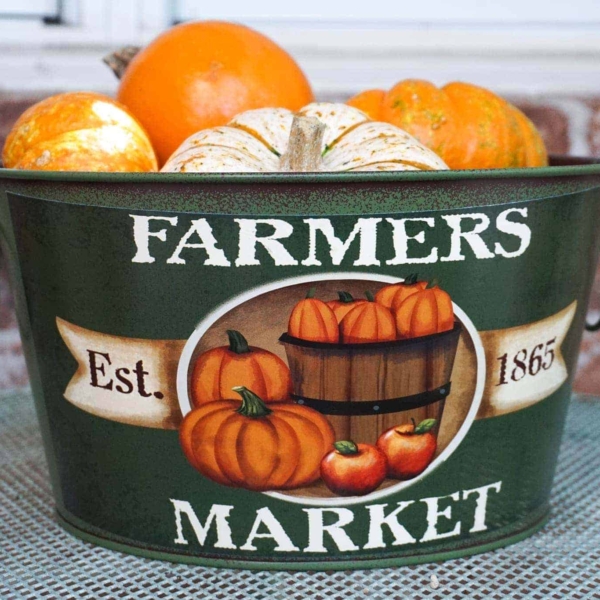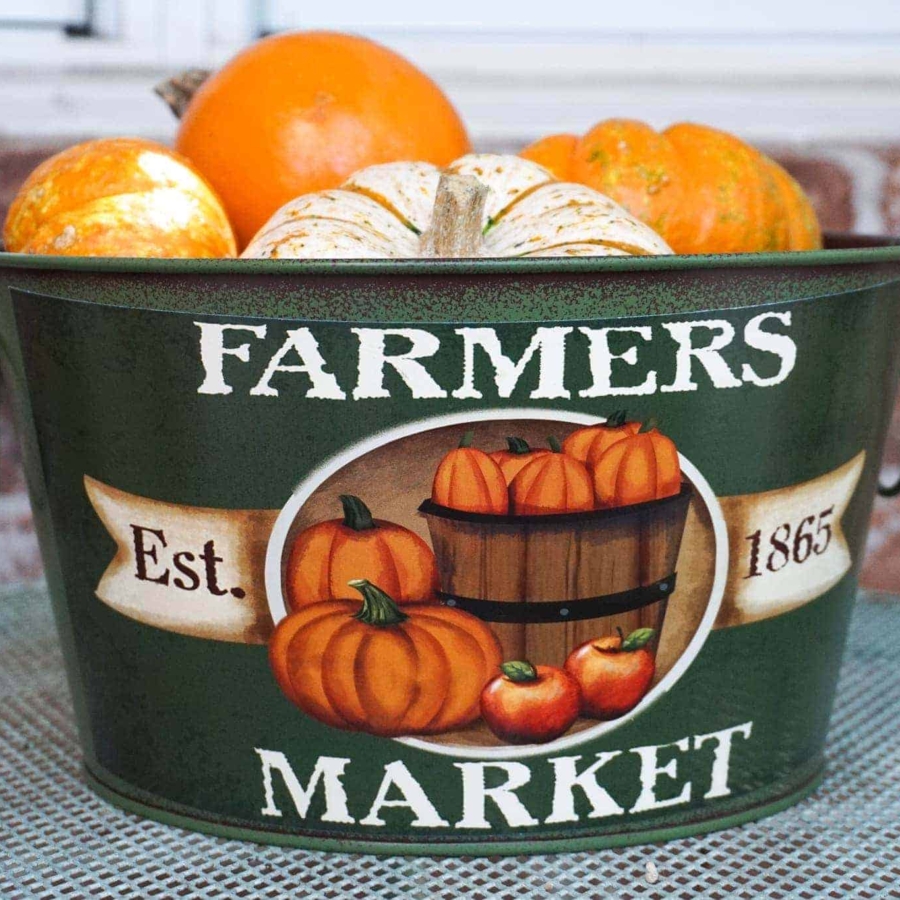 The pretty welcome sign hanging on the windows is perfectly pumpkin filled. By the way, this is the first time that I actually like our front door color! It matches the fall decor perfectly! I'm usually not a fan of its burnt orange color. I also added some throw pillows to the rocking chairs, to tie everything together.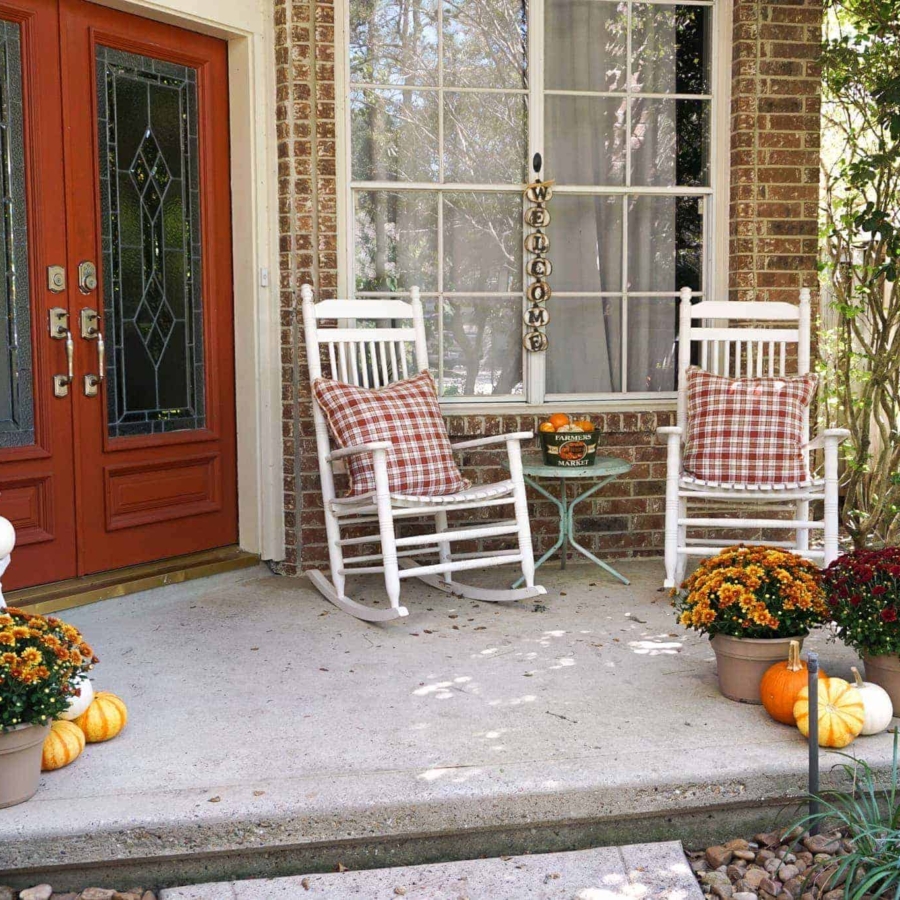 Decorate with Real Pumpkins
I got several small, real pumpkins and placed them in groups around the porch. Setting them up in groups of two, three, and four and then alternating the colors adds some visual interest. The white pumpkins are so cute! I also got a super cute decorative pumpkin bouquet and placed the bouquet in the rusty watering can and it looks perfect in there.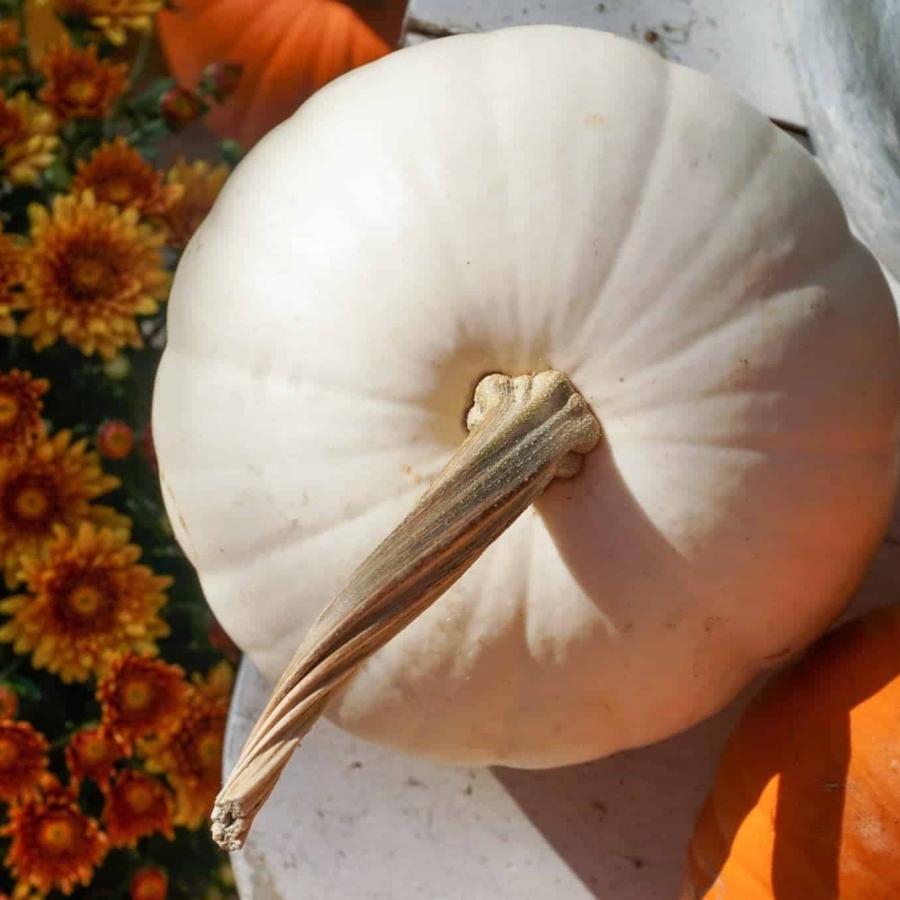 The one thing I didn't get, that I wish I had is a welcome mat! The one we usually use didn't quite match the fall colors, and I really didn't want to spend on a new one right now. Maybe next year!
Decorate Your Space!
Here is a list of items you can use to decorate your space.
Featured Items
Here is a list of the products featured in this post or products similar to those featured in this post:
Galvanized Watering Can : This galvanized watering can makes a beautiful addition to any front porch. I leave mine on the porch all year long.
Rocking Chair : I love my rocking chairs. We got ours from Crate & Barrel and have had them for a few years. If you can't make it out to Crate & Barrel, these are a very similar set of rocking chairs that get good reviews.
Add Some Welcoming Touches
My friend Niveen, who recently started her business, gifted me this gorgeous wood sign, hand painted by her! It adds the finishing touch to the porch. She is very talented and makes beautiful items, a lot of them personalized, and she has very reasonable prices. You can visit her Facebook page, The Goods Fairy, and see all the neat items she makes. She has giveaways from time to time, so make sure to like and follow her page to stay in the know! You can start your Christmas shopping early! 🤗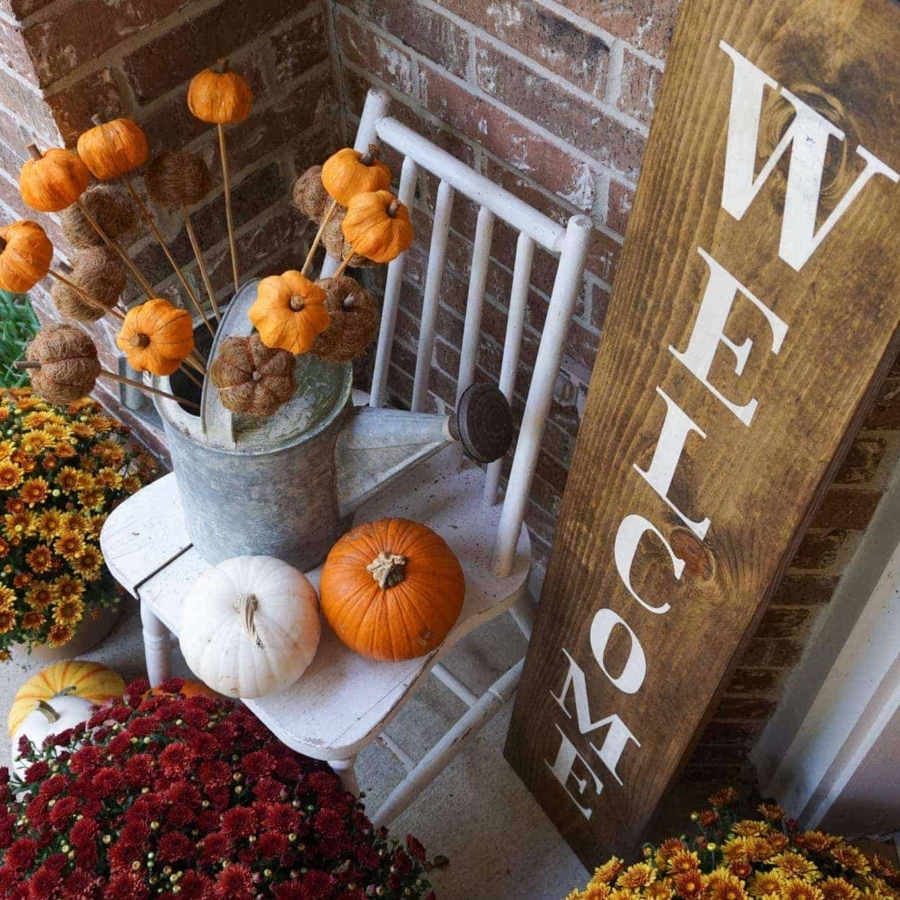 A Simple and Budget-Friendly Fall Porch
I love the way the porch looks in the late afternoon. The sun hits it in just the right spots and creates these beautiful late afternoon shadows. It really gives you the feeling that it's fall. Even though most days it's been 90 degrees here! I got the bouquet of pumpkins at TJ Maxx and I just love how they look inside my super old and falling apart watering can! The nice thing about them is that they can be reused year after year.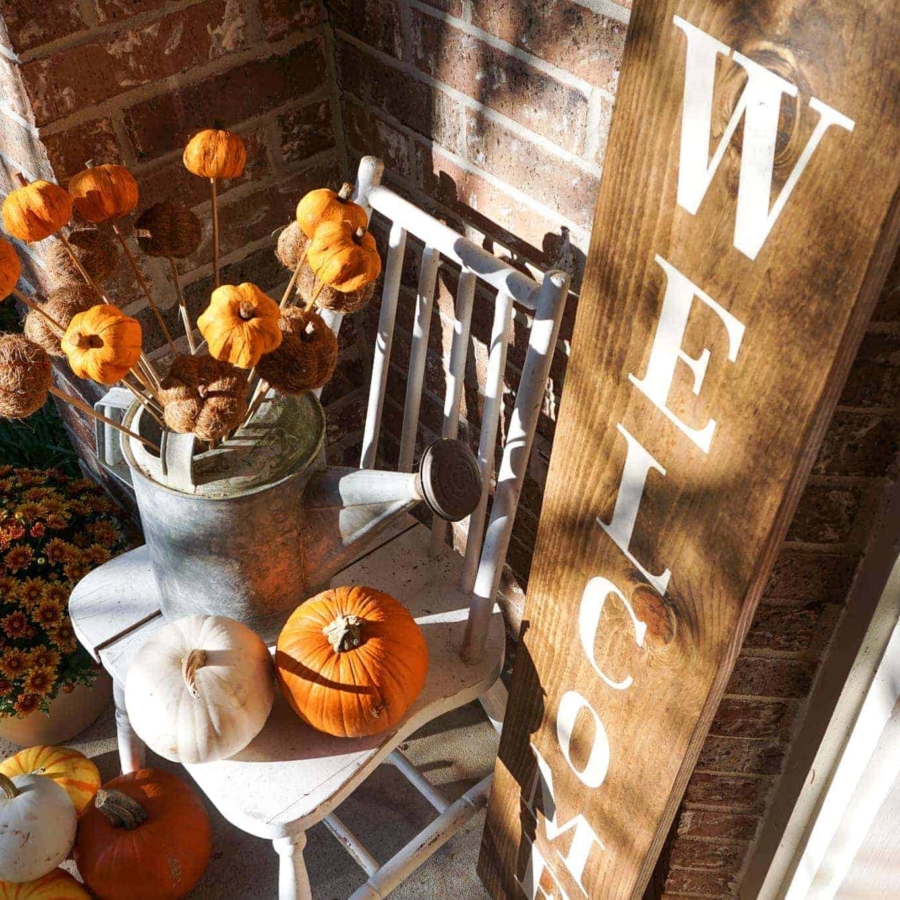 Well, there you have it. My very simple and inexpensive fall porch makeover. It was definitely a quick makeover, and I just wish I would've done it sooner!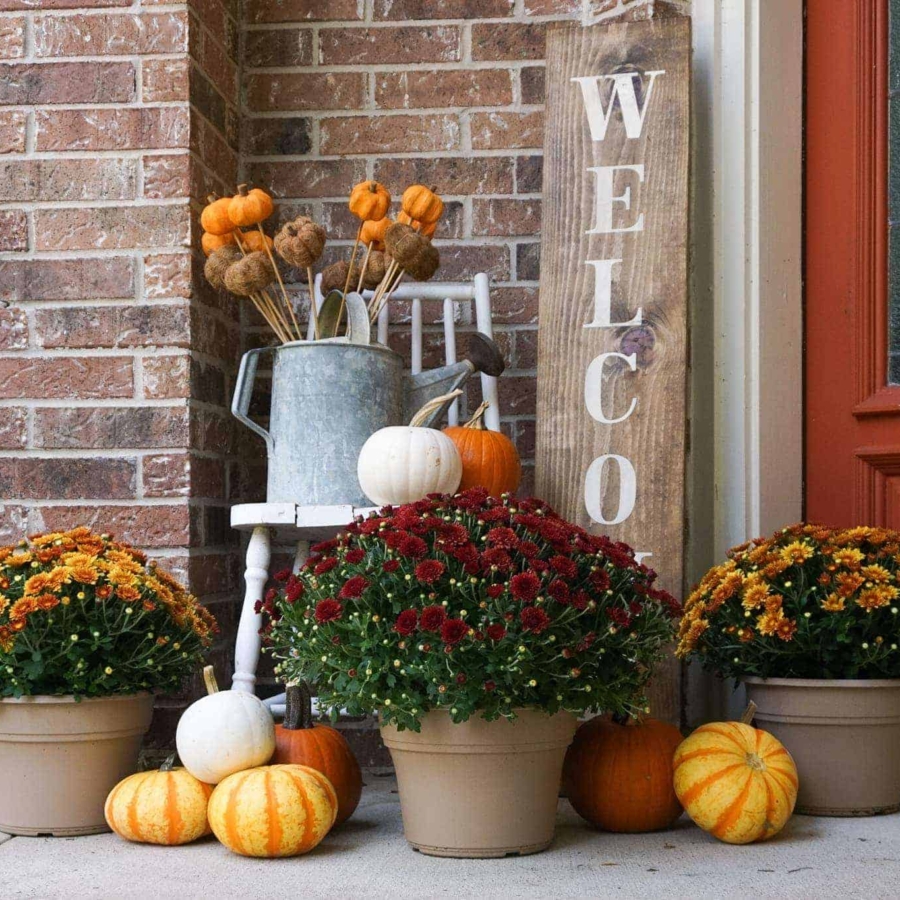 Do you decorate your front porch for the season? I'd love to hear about it in the comments. For more fall inspiration, check out my Fall Home Tour.
Quick & Easy Recipes
When you sign up to become a newsletter member, you'll get access to my latest quick & easy homemade recipes, homemaker tips and tricks, free printables, and more delivered directly to your inbox each week.