Have you ever thought about organizing under the kitchen sink? There's a spot in our homes that often gets neglected and becomes a collector of junk and unnecessary items galore! That spot is under the kitchen sink!
This post contains affiliate links. For more information, see my disclosure.
I know in our home, the cabinet under the kitchen sink is a catch-all spot for an assortment of bottles, boxes, paper towels, and other packaged household items. There is usually dishwashing detergent and hand soap spilled all over the bottom of the cabinet. It's usually a complete disaster. And it's definitely not a space to brag about!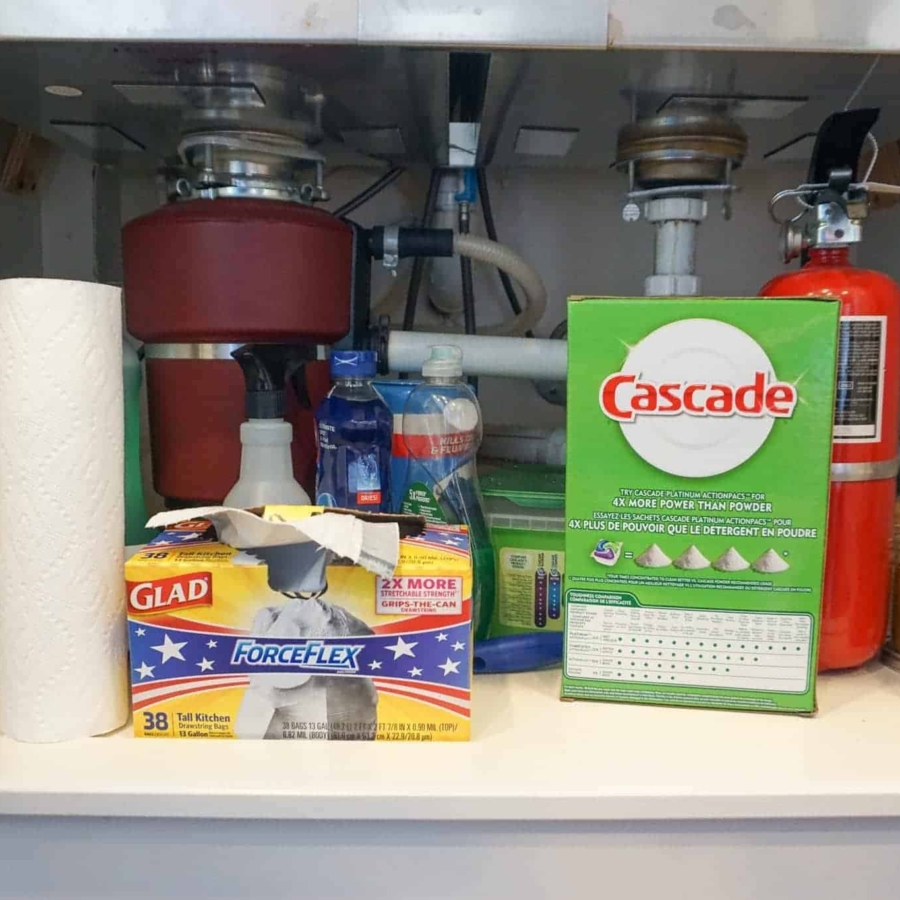 Until now!
Why not keep it tidy and organized, and why not make it pretty while you're at it? We open it every day several times a day, so I think it's definitely an area that needs to be addressed when it comes to organizing your home. The plus side is that it's such a small space, you can be done in no time, and then you can be inspired to start organizing a bigger space!
I've been wanting to organize mine for a while, so of course, I looked for some inspiration before I started and I found it on my friend Abby's website. She recently organized her space and it was exactly what I envisioned!
Get Organized!
Here is a list of items you can use to help you get organized.
Featured Items
Here is a list of the products featured in this post or products similar to those featured in this post:
The First Step of Organizing Under the Kitchen Sink: Clear It Out
When tackling under my kitchen sink, I started how I always start when organizing something. I took absolutely everything out! That way I can start with a blank slate.
Declutter, Donate & Throw Out Useless Junk
Once everything was out, I started going through all the junk (I say junk because most of what was under there ended up in the trash!). I got rid of anything that didn't belong. I put a couple of things in a donate pile and a lot of things in the trash!
Clean the Space
Once I was done sorting through what was already in there, I started cleaning the surface. I used my go-to products. Paper towels, a multi-surface cleaner, and a Magic Eraser.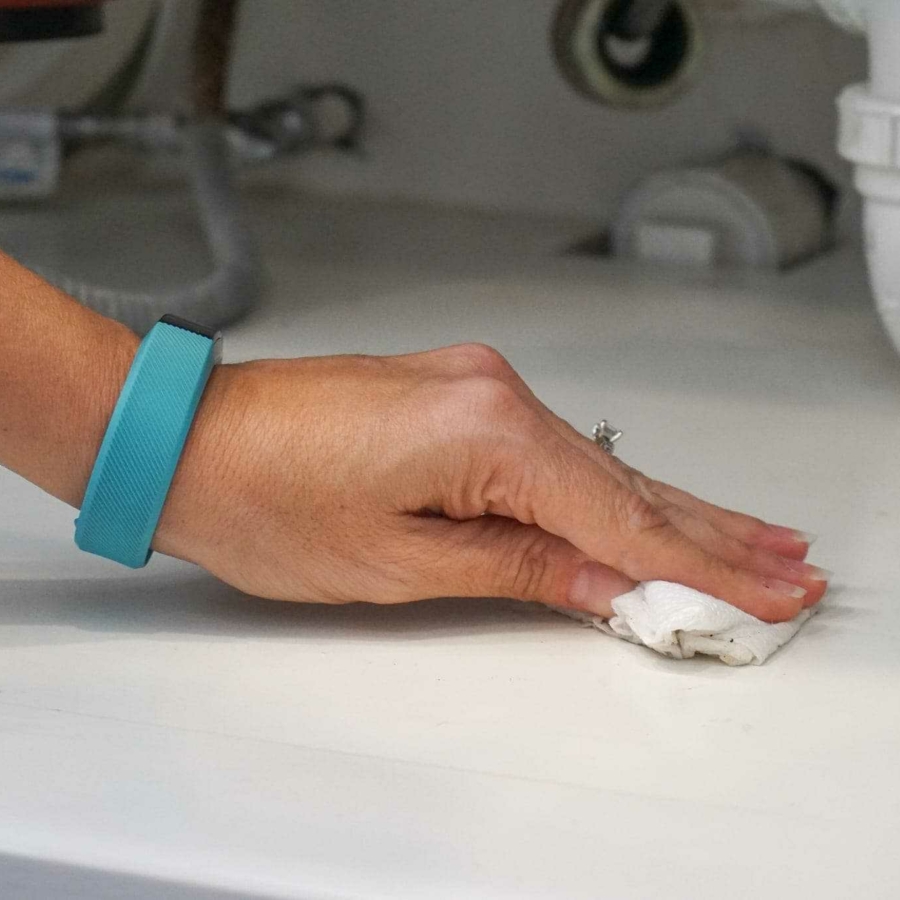 It took me a couple of minutes to wipe everything down and leave it looking like new.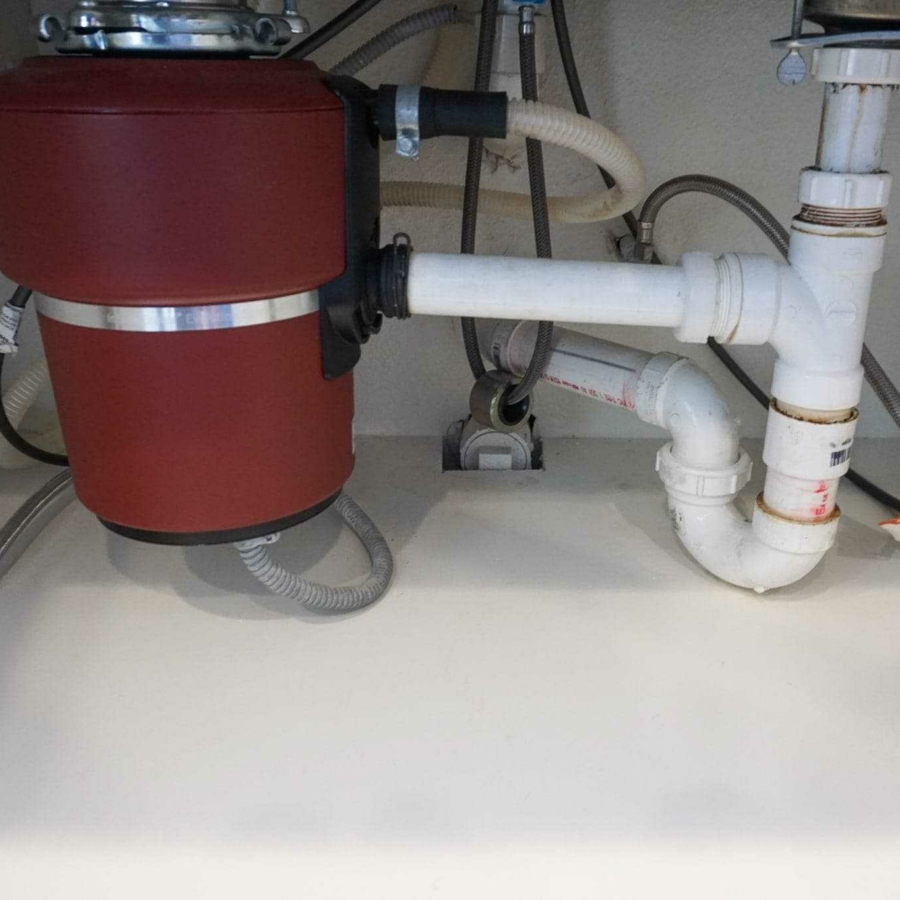 Pretty It Up With Decorative Contact Paper!
I decided I wanted the space to look pretty, not just organized. The perfect and easiest way?
Self-adhesive paper!
I went on the hunt for some pretty paper and found so many gorgeous choices! I finally settled on this Con-Tact Paper. Boy, was I pleased when I got it in the mail! It was perfect. Exactly what I imagined.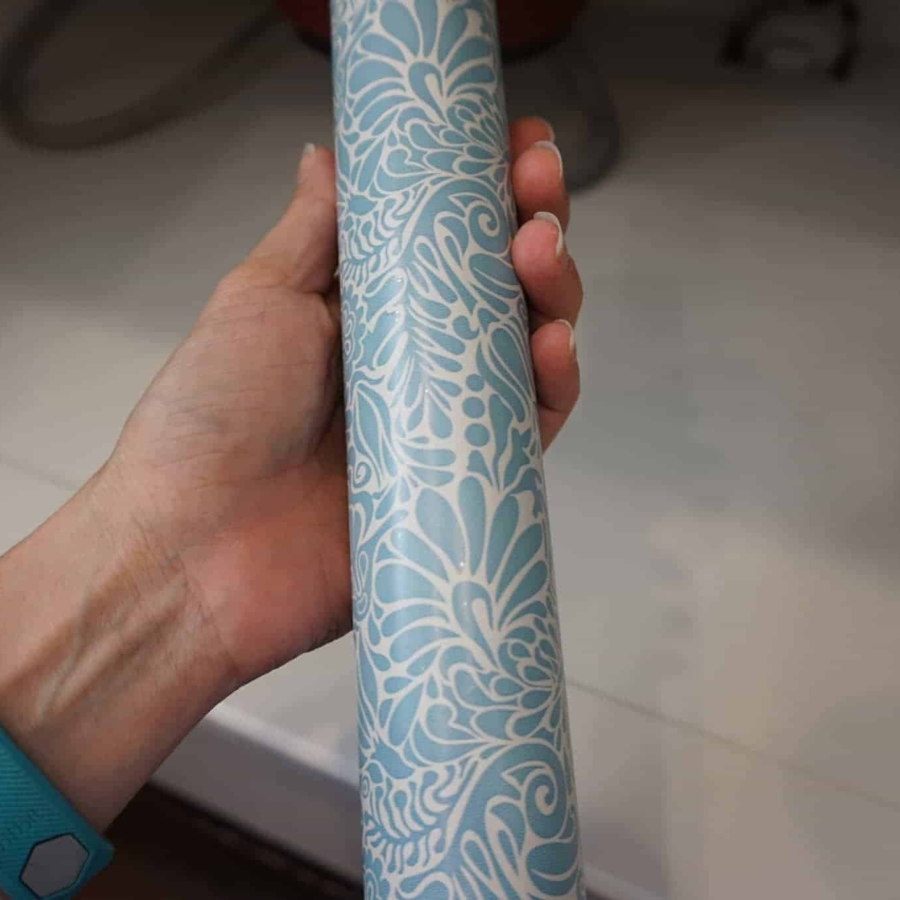 So I went to work applying it. I read lots of reviews since I wanted to make sure to get a good quality paper, that wouldn't be horribly hard to remove. This one didn't disappoint.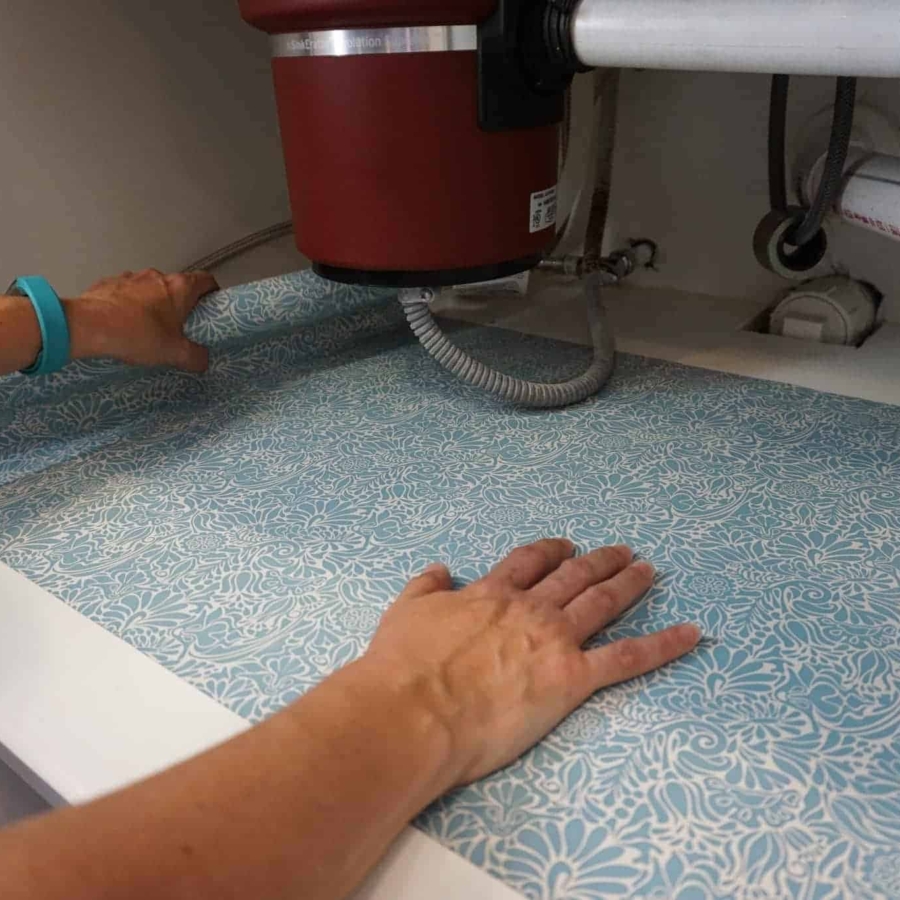 It was easy to readjust when I needed to and it was fairly easy to put on. It comes with a nice grid on the back which makes it easy to measure and cut.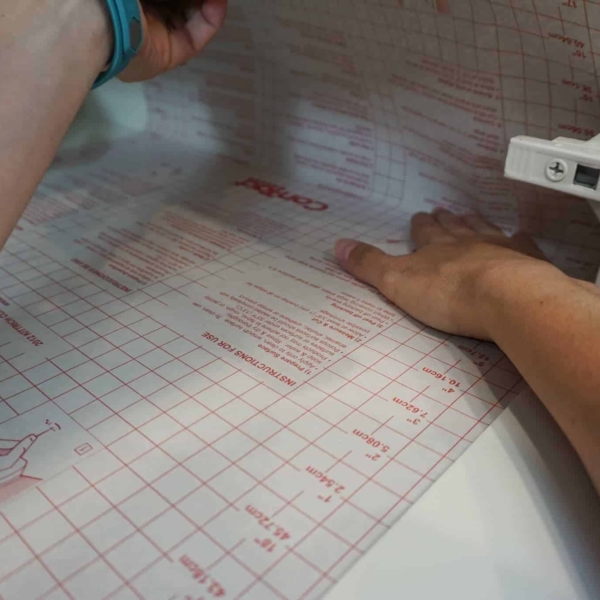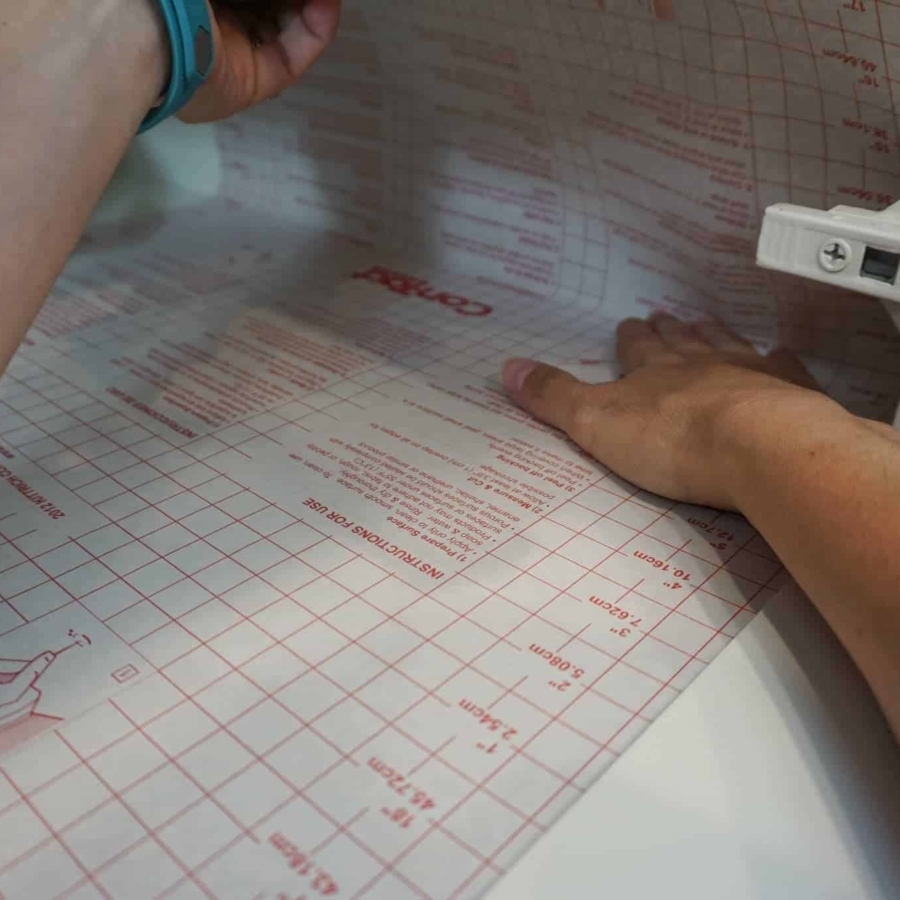 Other than one time, when Ryan and I put up wallpaper in our first home (and almost started World War III in the process), this was my first time applying self-adhesive paper. I felt it was easy and I did a good job at it.
I consider this my initiation into DIY. Watch out DIY World, here I come! OK, probably not.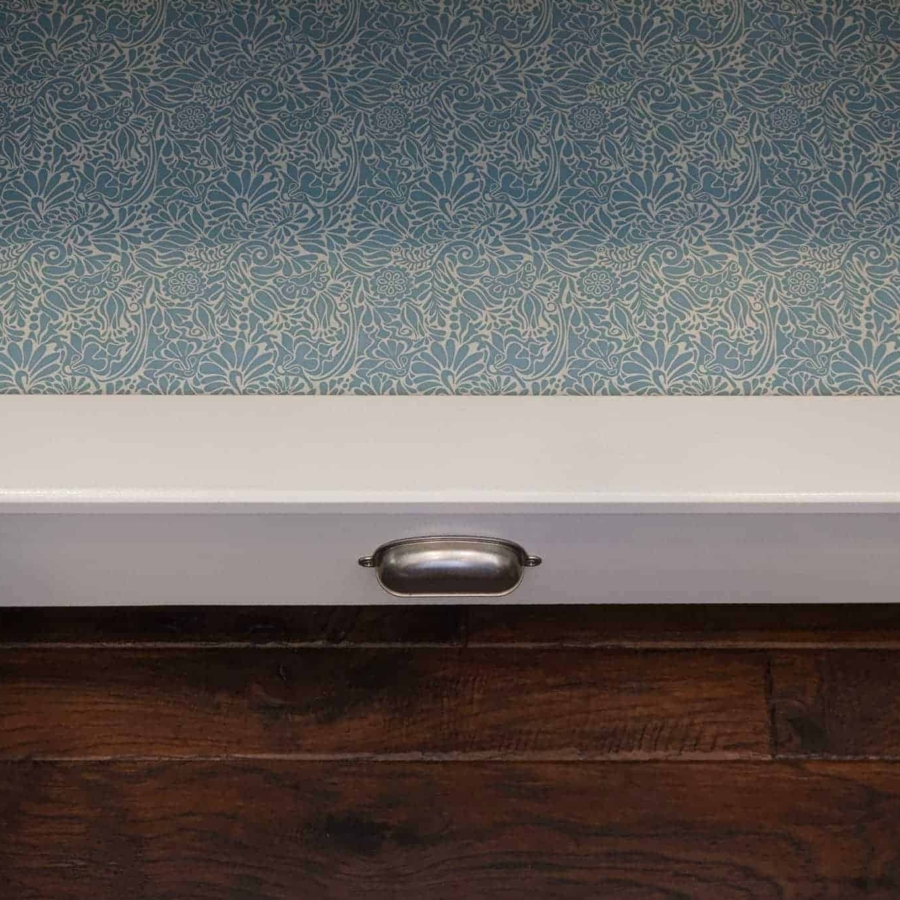 Plan the Space-Based on What Makes Sense for You
Once I was done with the paper, I thought about what would make sense to go under the cabinet. For us, it's paper towels, garbage bags, dish detergent, rinse-aid, extra sponges and magic erasers, wipes, and a few extra cleaning supplies and hand soaps.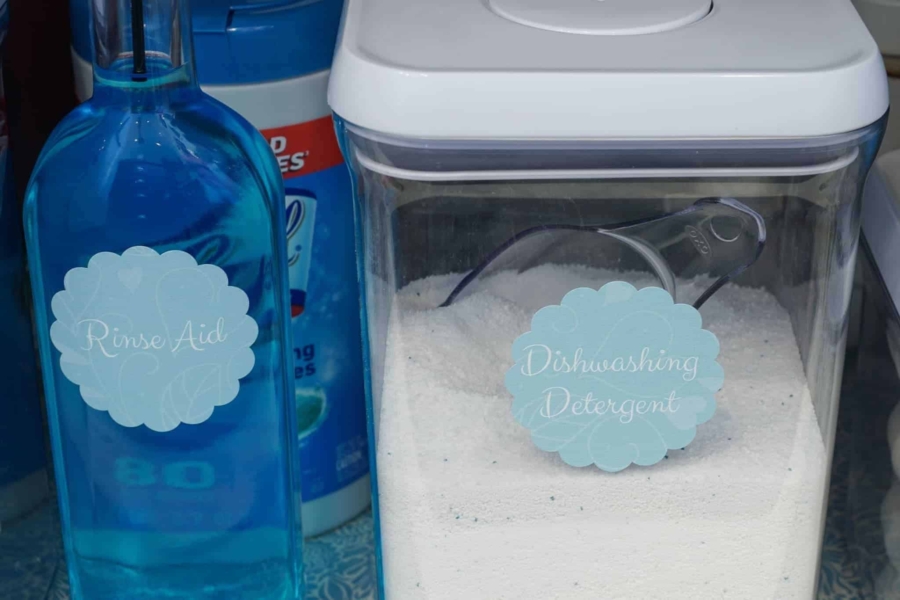 That's it. I don't need anything else to go down there. This is what makes sense for us. Your list may be different but always try to think of the essentials that you need and try to avoid turning the space into storage for unnecessary things.
Choose Storage Options That Work Best for Your Space and Needs
So, I knew what was going in there and now I needed some containers to put everything in. I wanted to give it a uniform look like I did when I organized my pantry.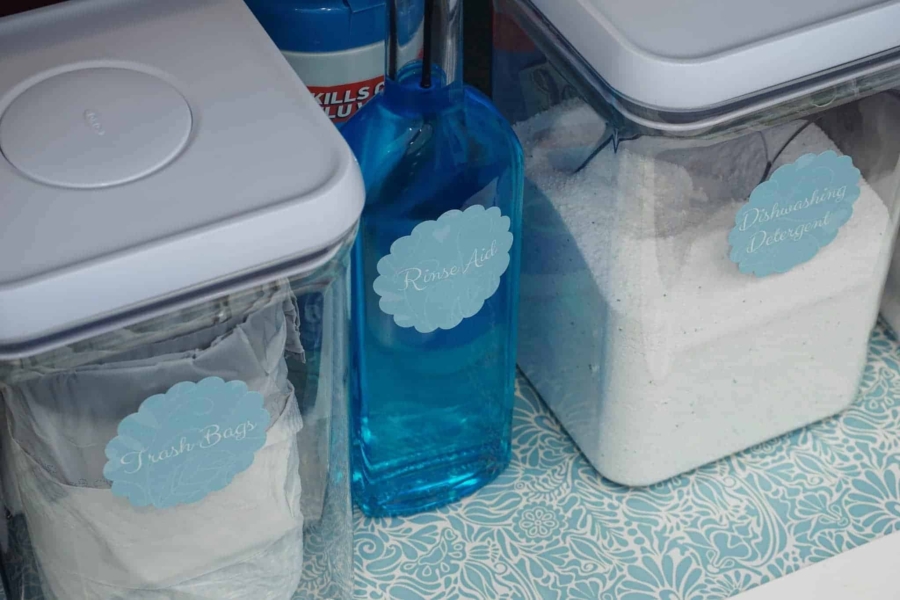 There were some unused OXO containers stored away so I went with those. Also, I used a small basket for my extra cleaning supplies and an olive oil dispenser for my rinse-aid.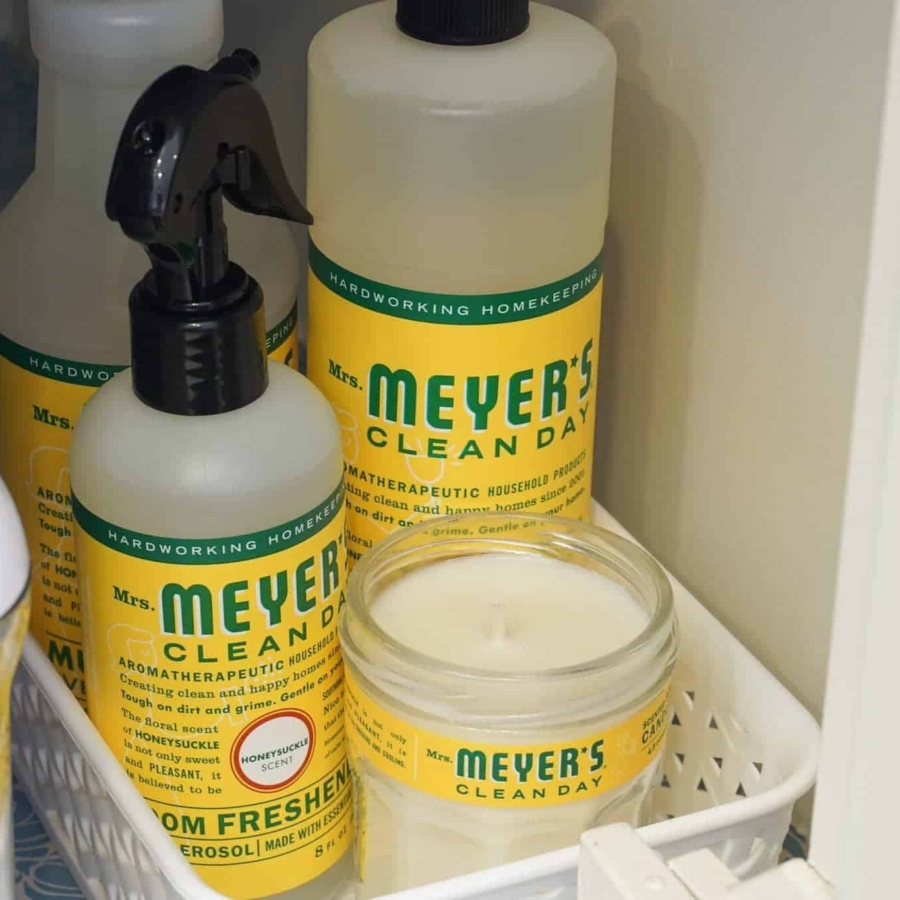 The OXO containers are great because they're clear, and I can see exactly when I'm running low on something. If the OXO containers are a bit above your budget, there are plenty of great, more affordable, alternatives. Our paper towel rolls are always just thrown in the cabinet, so I wanted to get a paper towel holder that would keep it in one place. This is the paper towel roll I decided on. It's very sturdy and got great reviews.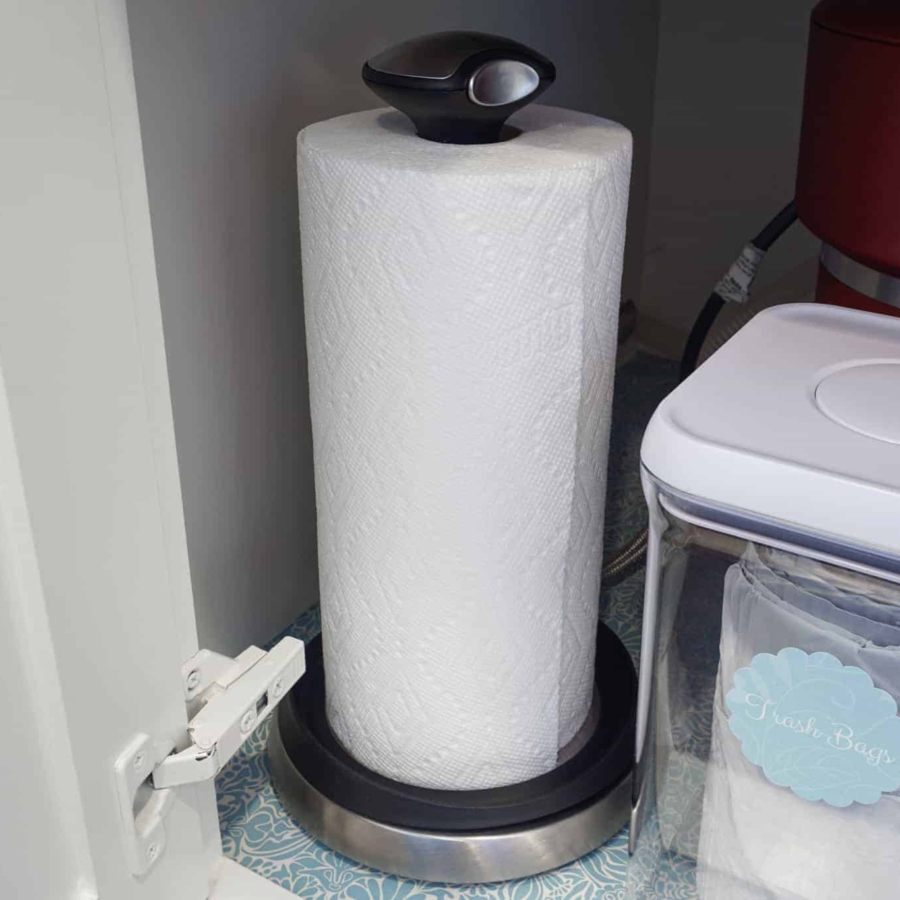 There are a lot of neat organizational products made for keeping things tidy under the kitchen sink but, unfortunately, most of them don't work under mine. We have a drawer under the cabinet and the pipes take up most of the space in there. So, none of the cool under cabinet shelves and products worked for me but they may work for you!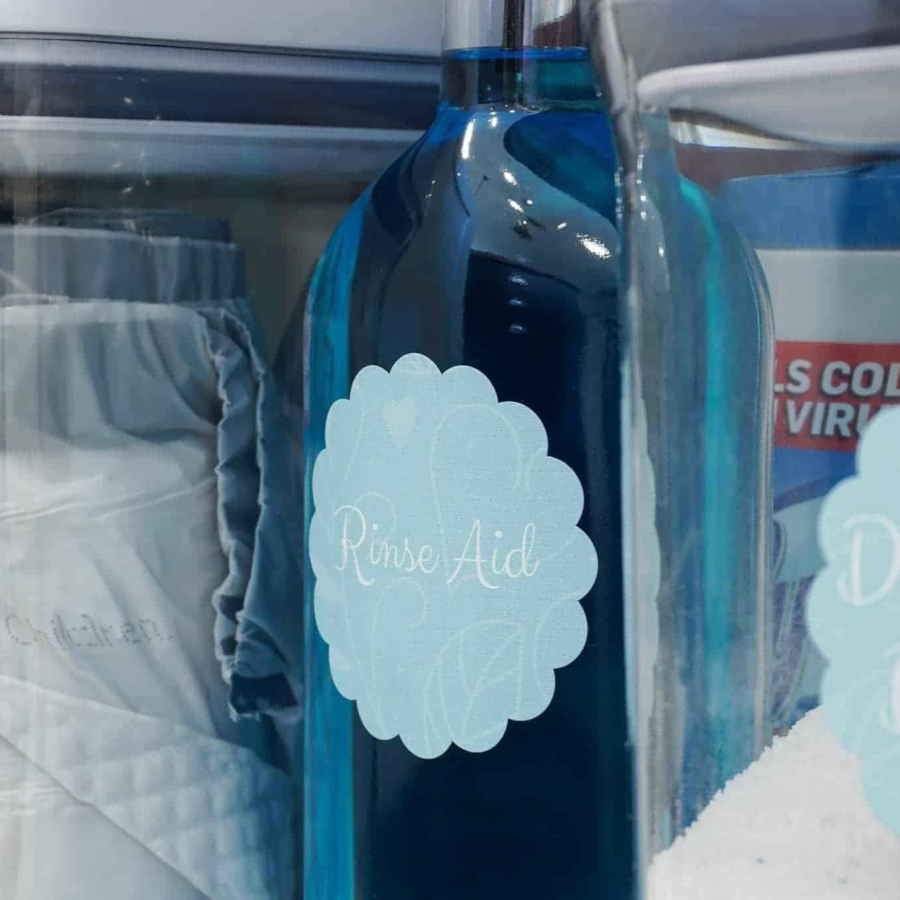 Spruce up Your Containers With Labels
I put everything in their respective containers, and then created labels for them! I had these Avery scalloped labels on hand and thought they'd look perfect.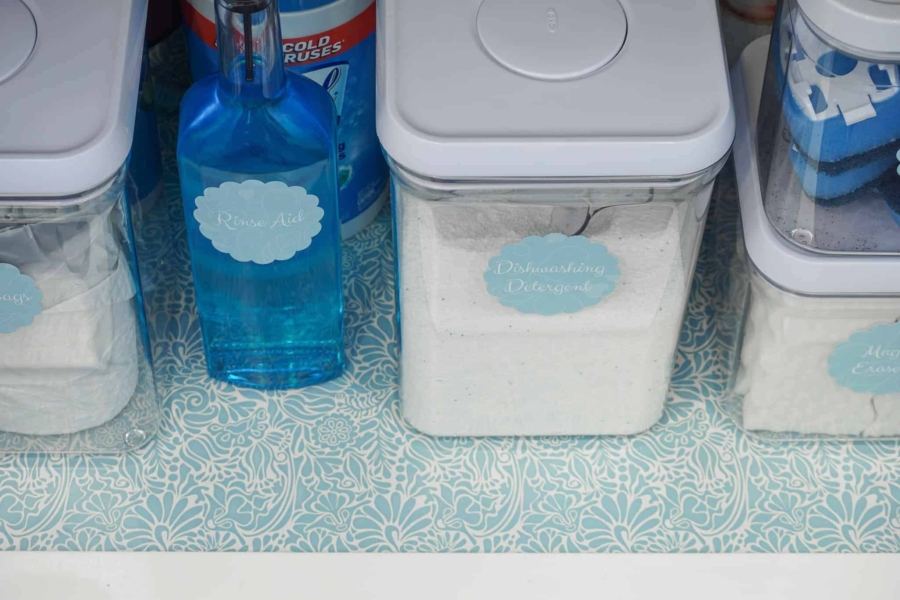 I'm so happy with the way they turned out! So happy, that I decided to turn them into a printable in case you decide to pretty up your cabinet under the kitchen sink! You can access the printable here.
Place Everything Back in the Cabinet
Finally, I put everything back in! I kept everything towards the front since there are so many pipes and tubes in the back.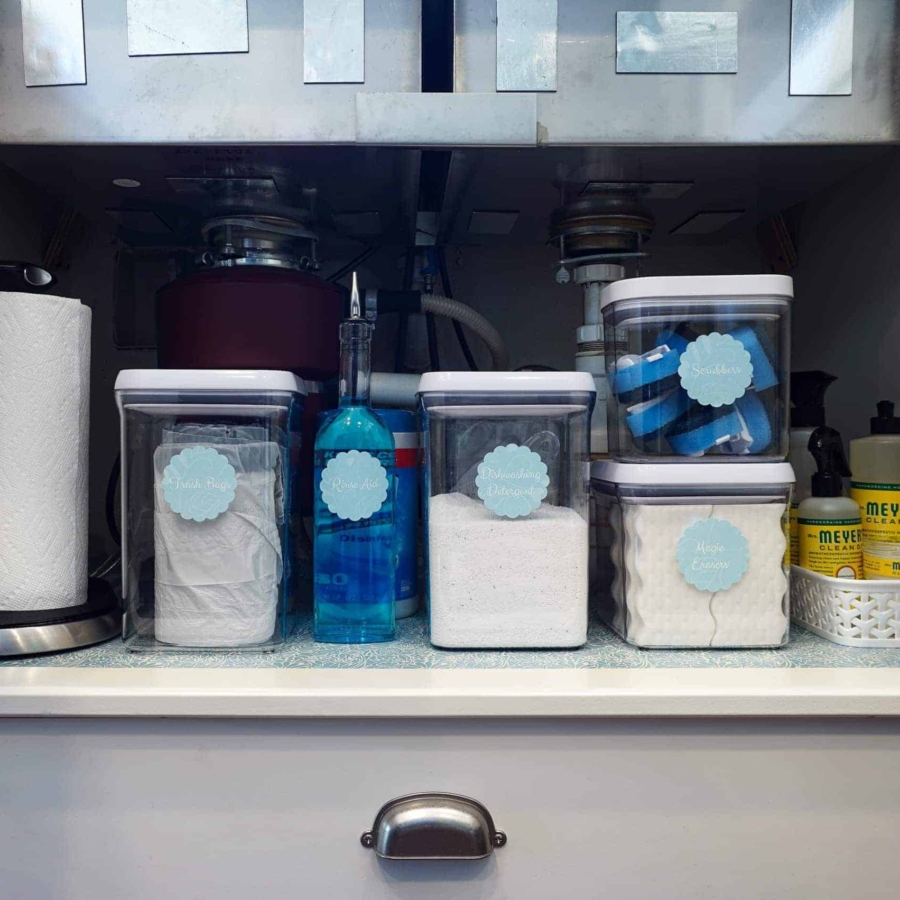 One last tip for you. I like to keep an open, unlit, Mrs. Meyer's candle under the kitchen sink. This way when I open the doors, the smell is great! I personally love a very clean scent.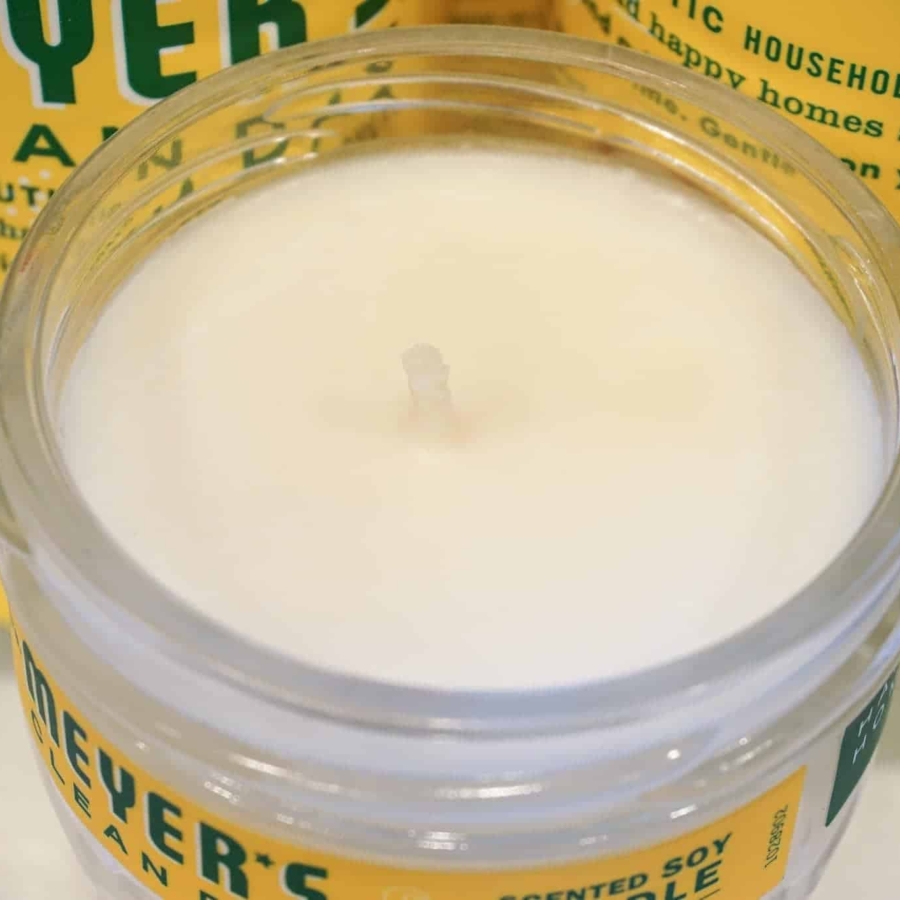 The Perfect Project to Start Getting Your Home Organized
I am so pleased with the way this space looks now!! Even a couple of my kids, who opened up the cabinets, said "Wow, it looks great!" without me even asking for their opinion! This was a very easy space to organize and "pretty" up! If you've been looking for something to organize, but feel overwhelmed with starting, I recommend organizing under the kitchen sink! You'll have it looking great fast, and you'll be motivated to keep going!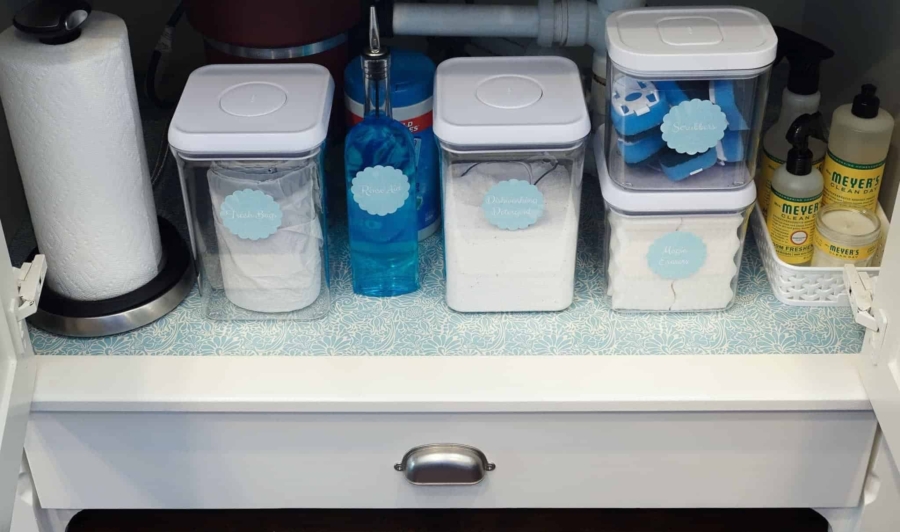 What do you want to organize? Let me know in the comments if there's a space you'd like me to write about.
Quick & Easy Recipes
When you sign up to become a newsletter member, you'll get access to my latest quick & easy homemade recipes, homemaker tips and tricks, free printables, and more delivered directly to your inbox each week.