If you are looking for some amazing Instant Pot Ground Beef Soup recipes, then you're in the right place. This list of soup recipes is part of my big list of Instant Pot Beef Recipes.
Before we get to the recipes, I want to answer a few common questions about making soup in the Instant Pot.
This post contains affiliate links. For more information, see my disclosure.
What Soups Are Best in the Instant Pot?
You can make any soup, stew, chowder or broth using your Instant Pot. Extra thick and cream-based soups may require extra vigilance. I have some tips for making thick soups in the Instant Pot further below.
Do I Have to Use the Soup Function?
No, you don't have to. You can set your pressure and cook time manually using the "Manual" function if you prefer to have more control over how your soup is cooked.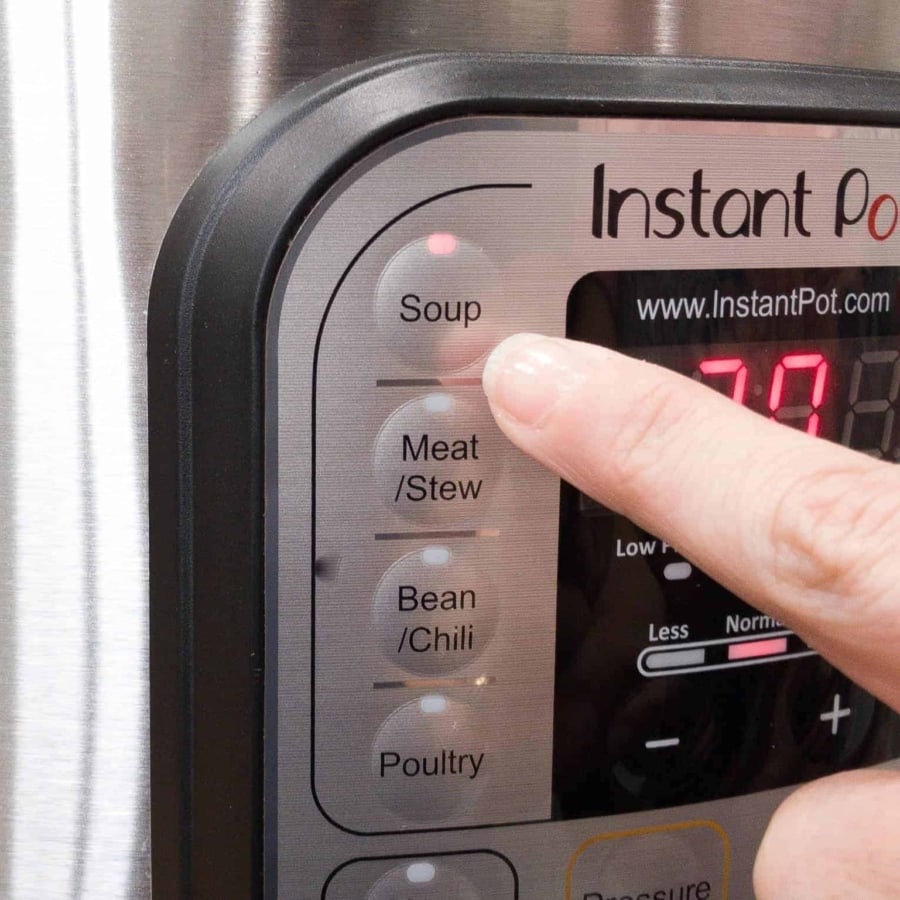 However, using the "Soup" function can make your life easier and result in a better pot of soup. When the "Soup" function is used, the Instant Pot heats up at a slower, steady rate. This helps prevent the contents of your soup from burning to the bottom of the pot.
The "Soup" function also allows the Instant Pot to automatically adjust the pressure and temperature so that the liquid in the pot never reaches a heavy boil. This is a very good thing because it will make your soup more flavorful. It will also ensure that any meat or vegetables remain intact after cooking and do not end up overcooked, dry or mushy. This feature can also help prevent the dairy in your cream based soups from scalding or curdling.
How Do I Use The Soup Function?
Just select the "Soup" button, set your time and you're done.
What's the Best Way To Thicken My Soup?
Thick soups will tend to scorch resulting in the dreaded "BURN" notice.
Why does this happen?
The Instant Pot requires steam to properly cook your food. When you add a thickener like cornstarch or flour to your soup, it absorbs the liquid in the pot making the soup thicker. Steam cannot be efficiently released from this thicker liquid and therefore the Instant Pot is no longer able to properly cook the food inside. This causes anything on the bottom of the pot to start burning.
There are a couple of tricks you can use to help avoid this issue.
Don't Mix It In: When adding thickeners like flour or cornstarch, dairy like cream or milk, or cans of condensed soup; add them last and do not stir them into the other ingredients. Just allow them to sit, floating on top of the other ingredients, and then close the pot and set your cooking time. This will allow the Instant Pot to extract steam from the thinner liquids in the pot as it heats up. The cooking process will automatically mix the thickeners into the soup making your soup thicker as it cooks.
Add It Afterward: You can also wait for the cooking time to complete and then add your thickeners or dairy at that time. To continue thickening, leave the lid off and select the "Sauté" button. Allow the soup to simmer until it has thickened to your desired consistency. If the soup begins to boil too heavily while in the "Sauté" mode, hit the "Cancel" button. Wait for the boil to settle a bit and then hit the "Sauté" button again and "Adjust" it to "Low". Allow the soup to continue simmering until it has thickened to your liking.
Ground Beef Soups
How about a hearty, comforting bowl of soup?
There is nothing more soothing, comforting, and nourishing than a warm bowl of soup. Especially on a chilly day. And the easiest, and best way to make any soup more hearty and delicious is to add perfectly seasoned ground beef to it.
All the soups in this list are perfect for any occasion, the whole family will love them, and they are very easy to make in the Instant Pot.
There are some kid-friendly favorites here as well. My kids especially love it when we make taco soup! They gobble it up in minutes. It's nice to deviate once in a while from our regular ground beef dishes and turn them into hearty soups instead.
There are lots of amazing choices when it comes to using ground beef for making a soup in your Instant Pot. A nourishing beef and barley soup, some kicking taco soup, a yummy cheeseburger soup and so many more!