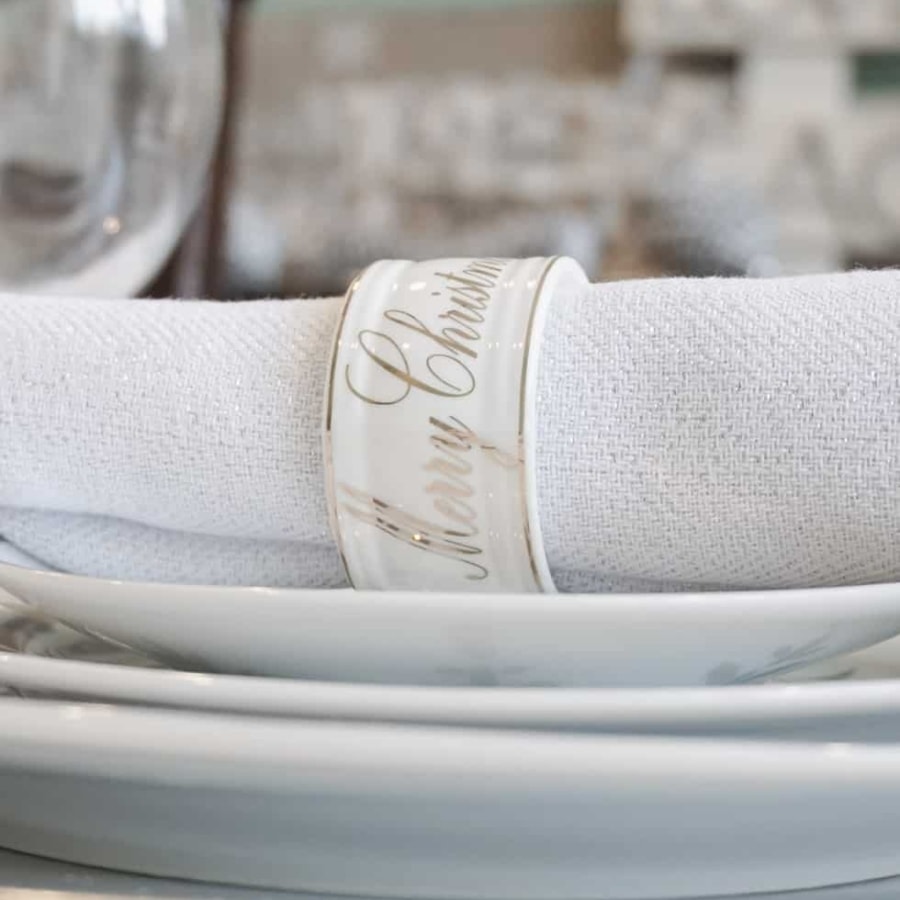 SAVE FOR LATER
When I saw these little birds at Target, I just knew they had to come home with me. I mean, have you ever seen such cuteness? They were absolutely perfect for decorating my dining room for Christmas!
This post contains affiliate links. For more information, see my disclosure.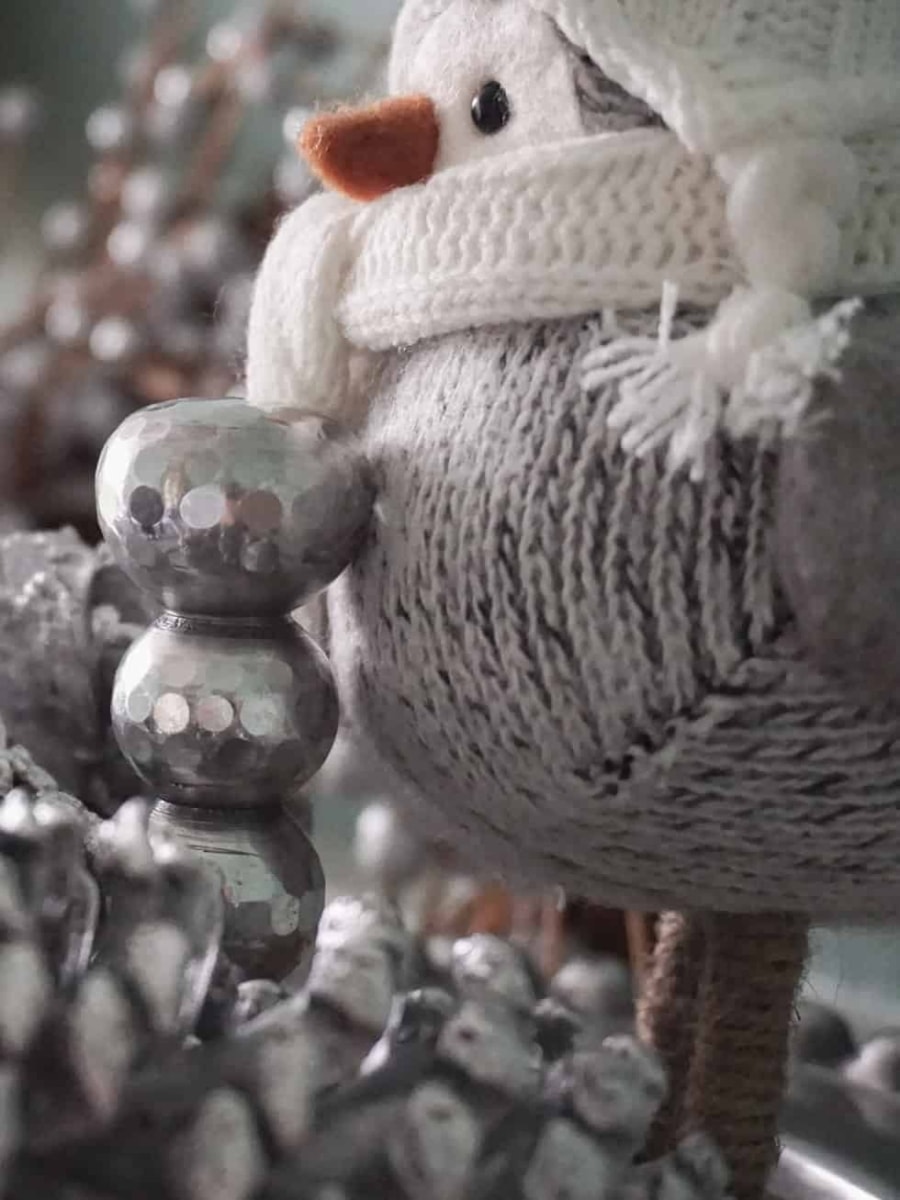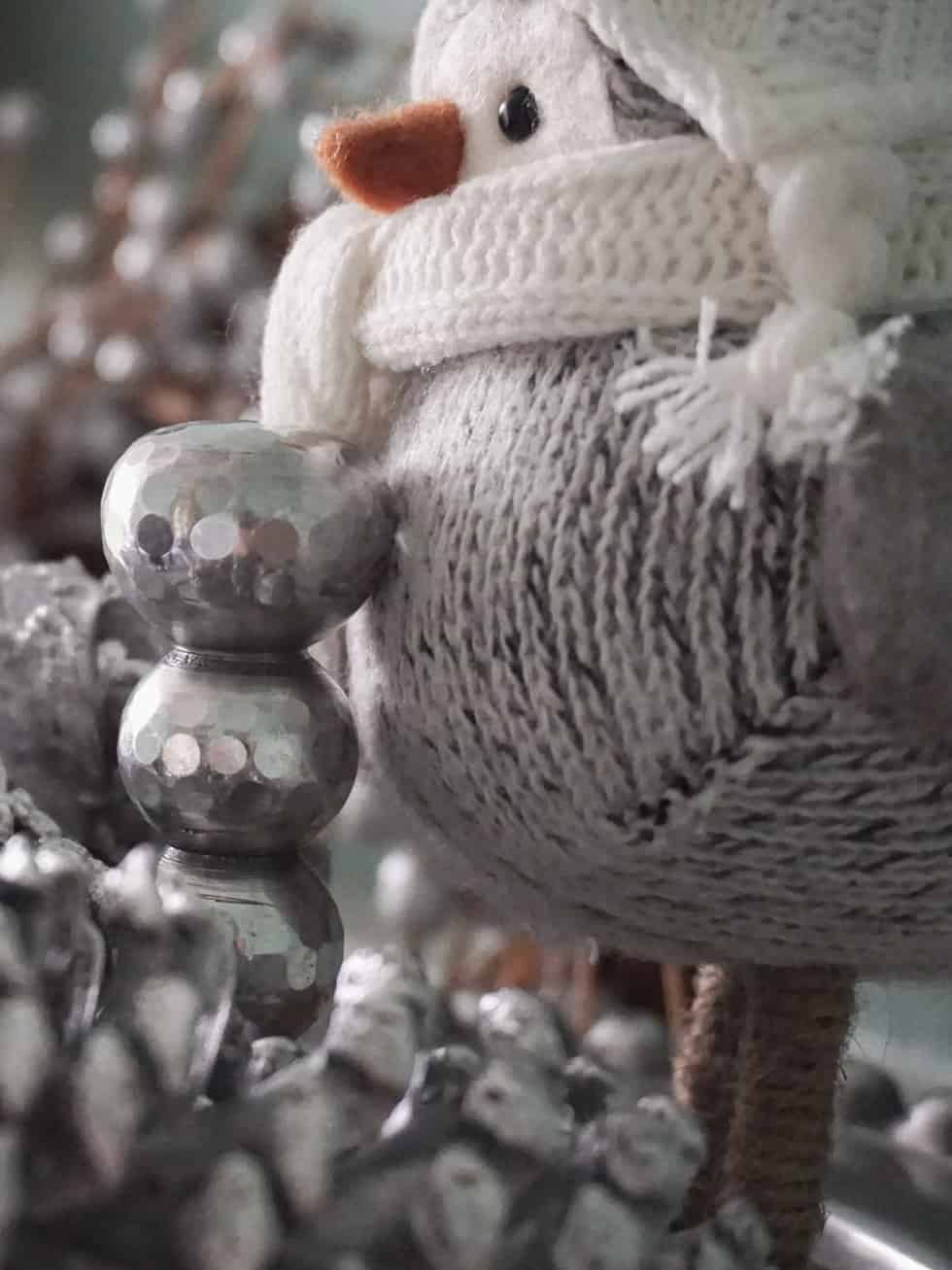 And that's how it started. The little birds led to the polar bears, the bears led to the deer, the deer led to the organic wreaths and the rest is history. I could see it perfectly in my head, a beautifully decorated Christmas dining room, one like I'd never had before.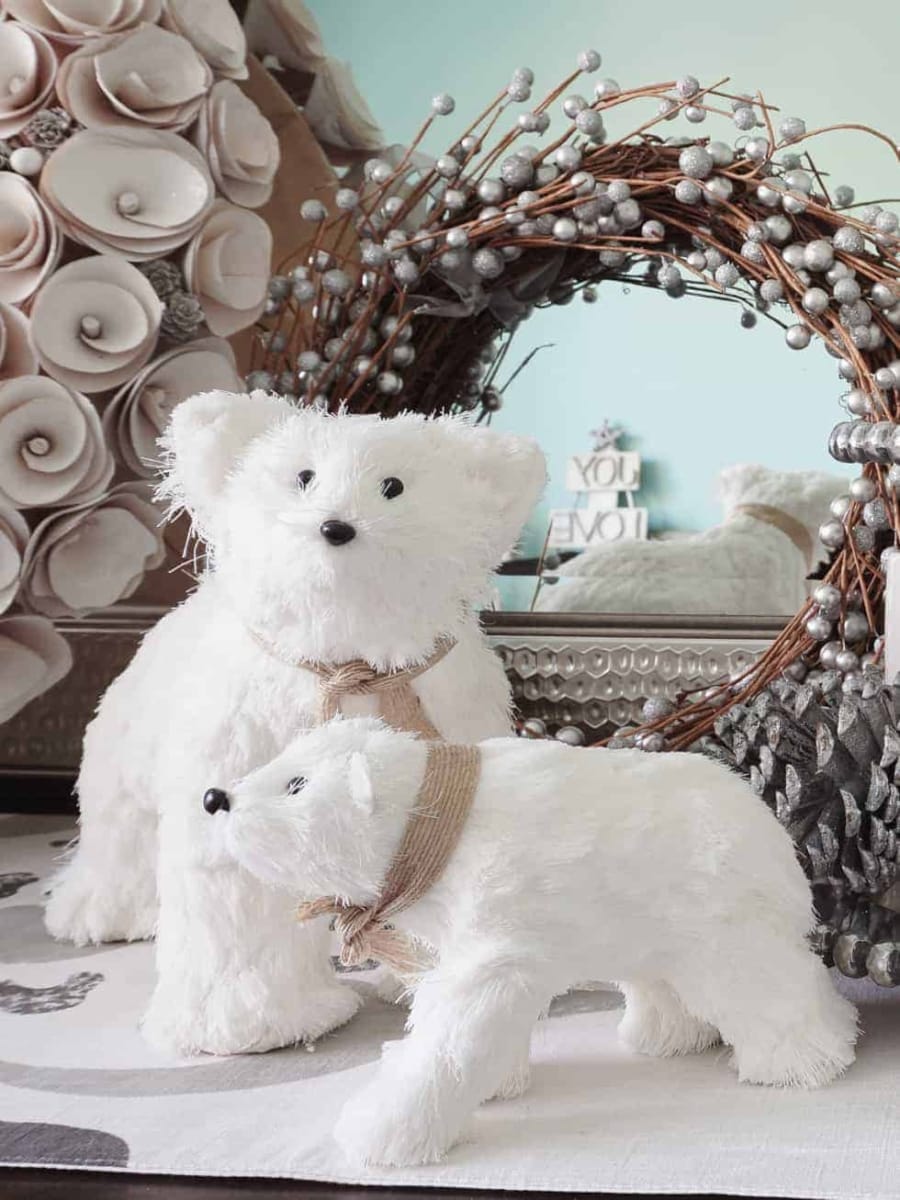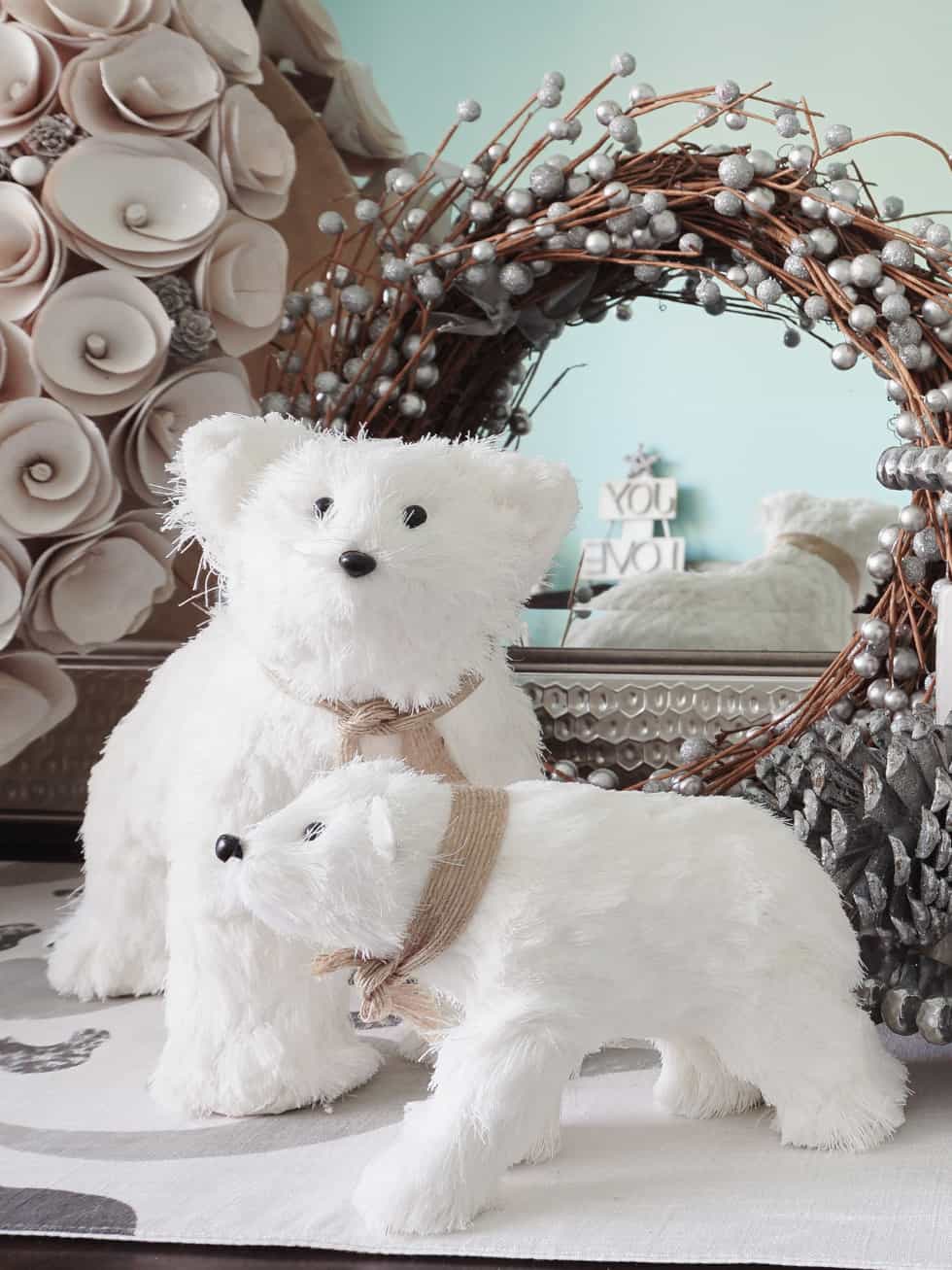 So began my mission to turn our dining room into a Winter Wonderland!
I shared with Ryan my plans for decorating our dining room for Christmas, which involved deviating from our traditional red and white decor and he was more than onboard. Instead of red and white, I wanted a more organic and snowy feel with some shiny goodness for effect. I wanted it to feel like winter when I walked into my dining room.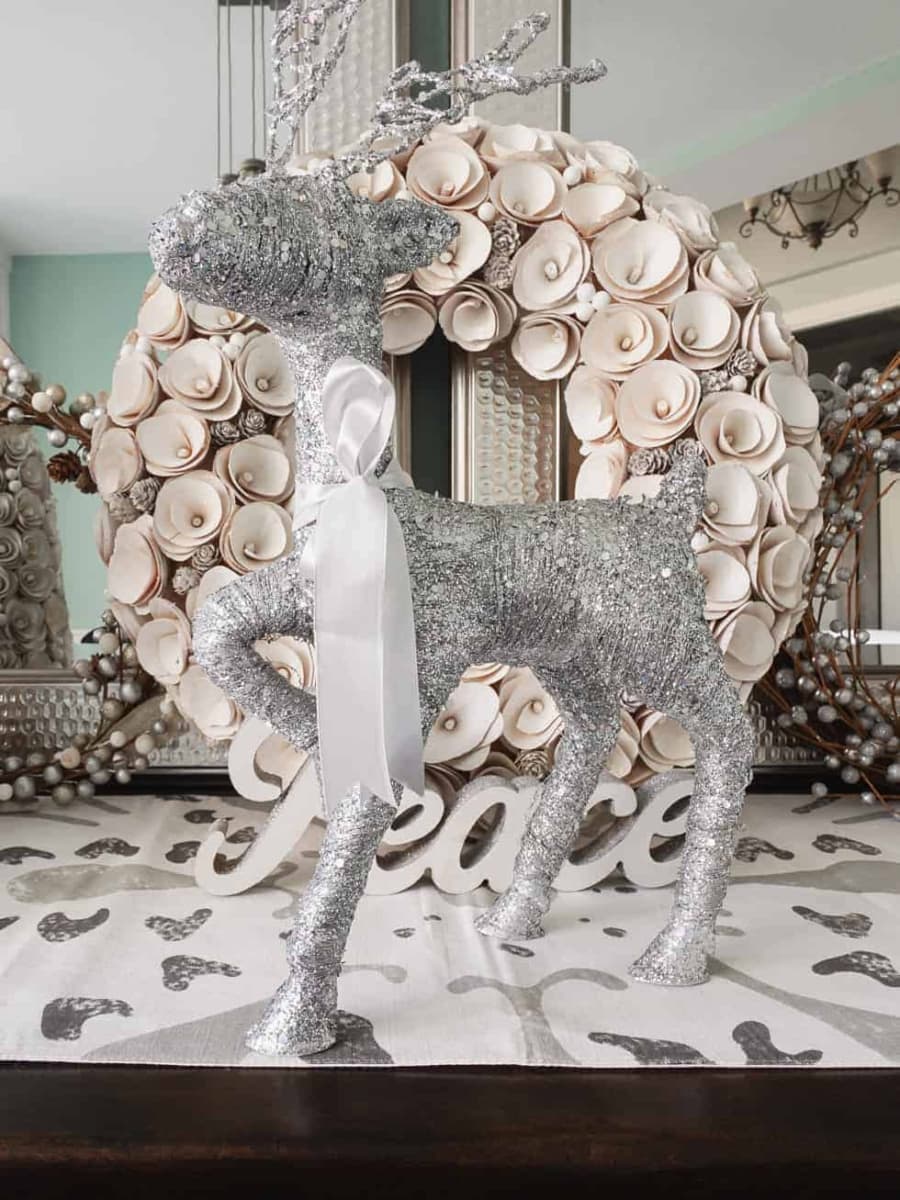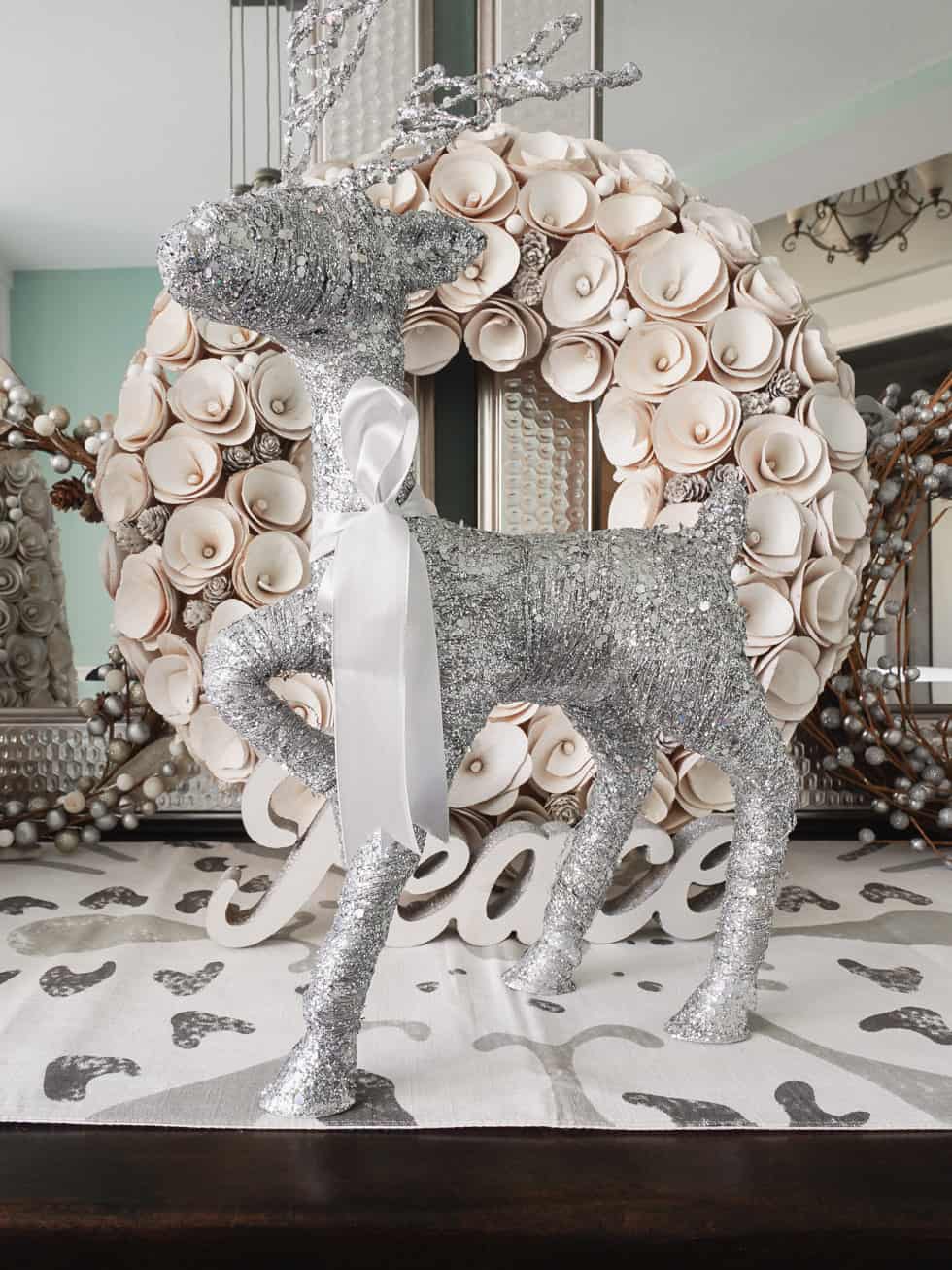 Now, you guys think it's trouble when I go shopping at Target, well when Ryan gets in on the action and we go shopping together, watch out world! We are a pair to be reckoned with. We love shopping together, but it can be dangerous if we don't set limits.
It was so much fun shopping for this project, we went on a series of day dates shopping at Target, Marshalls and TJ Maxx followed by quick lunches, and then back home to watch it all start to come together. Perfect.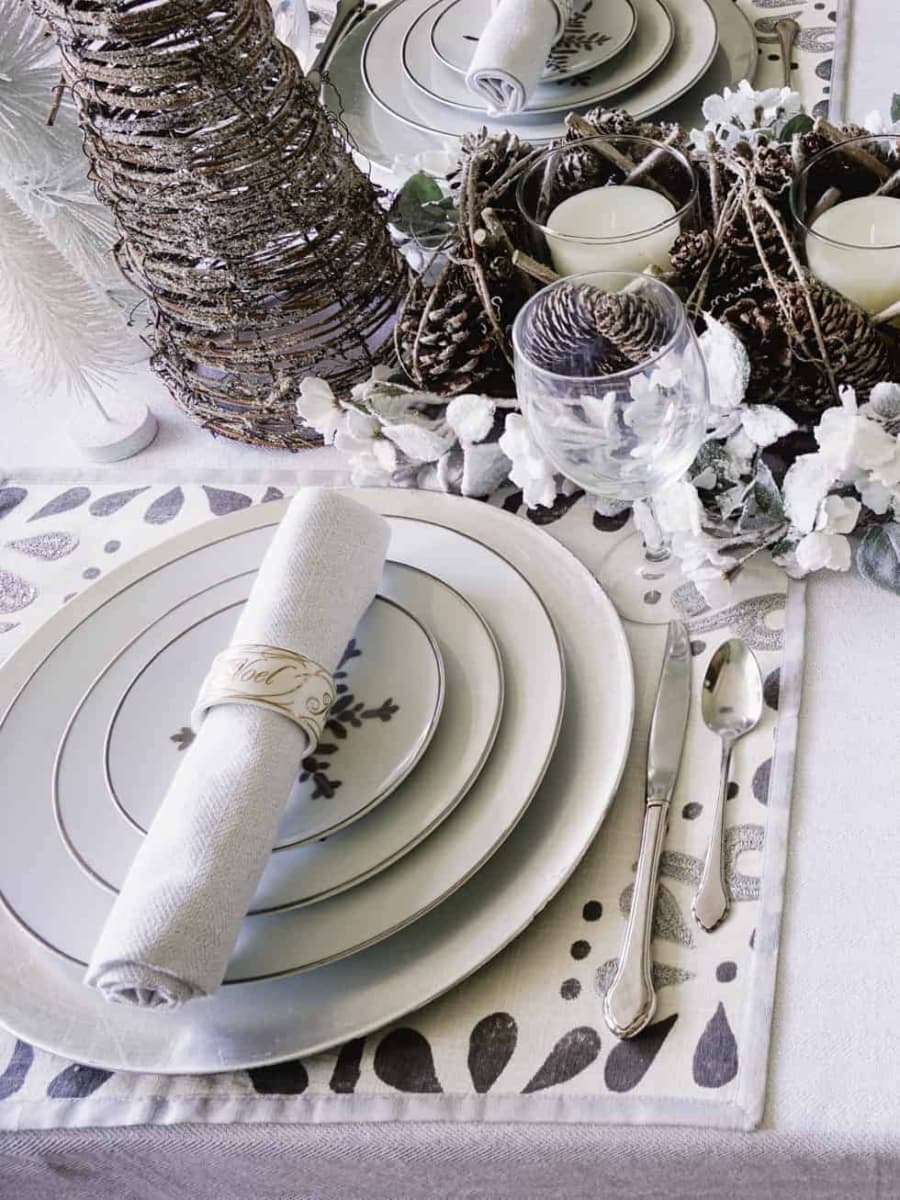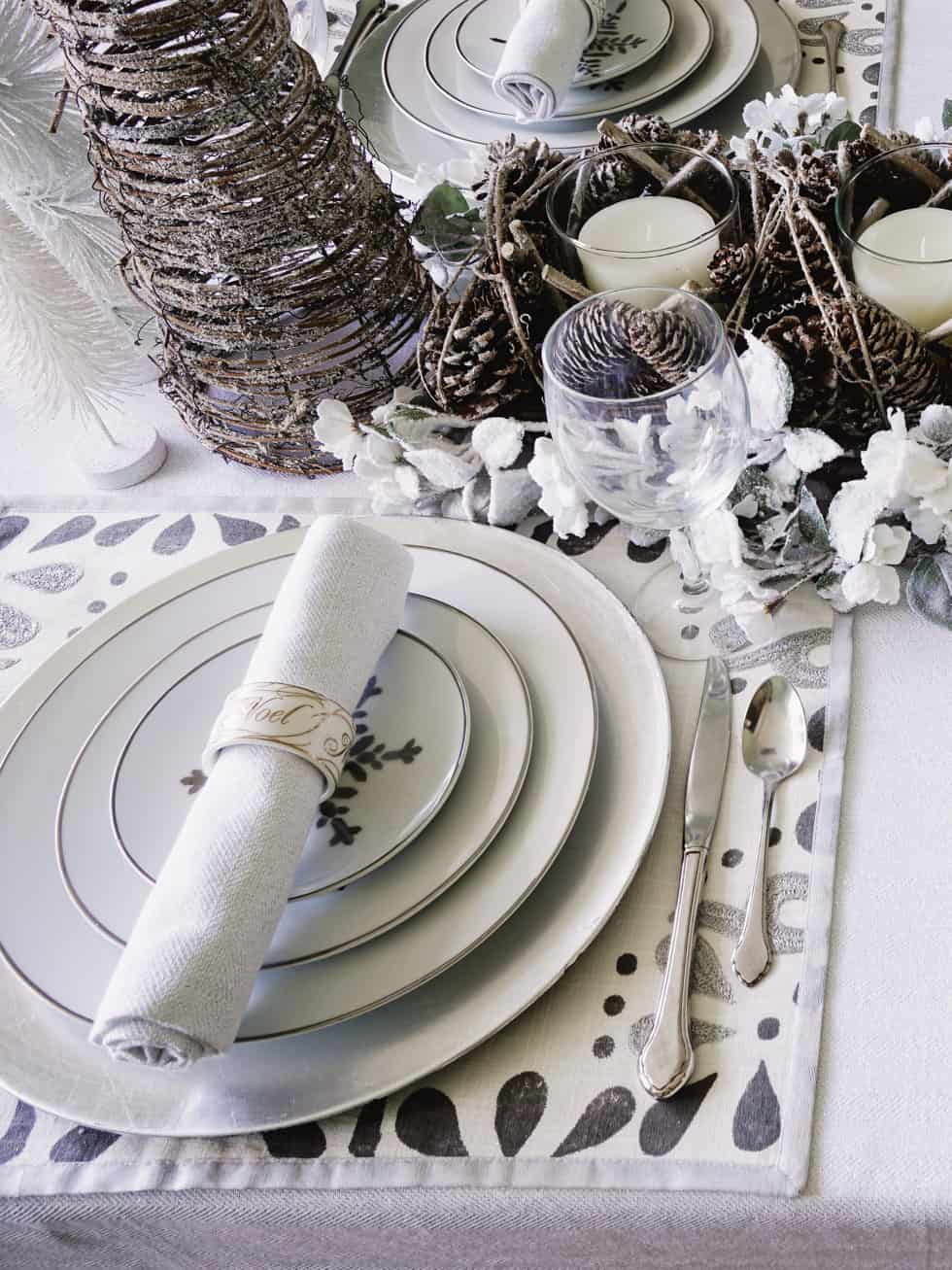 So how do you go about decorating an entire room in a few days? Well, I thought about the way I usually decorate a room and the steps I follow and came up with a quick simple guide to help you get started.
Of course, this post is centered around Christmas decor, but you can follow these steps at any time of the year!
Decorate Your Space!
Here is a list of items you can use to decorate your space.
Featured Items
Here is a list of the products featured in this post or products similar to those featured in this post:
Find Decorating Inspiration
Hopefully, you'll find inspiration after reading this post 😉 but if you don't, then go out window shopping. Try not to buy anything, just go out for inspiration! See what you love in your favorite stores. Most stores have displays of different themes for the holidays. Decide what piques your attention for decorating your dining room for Christmas.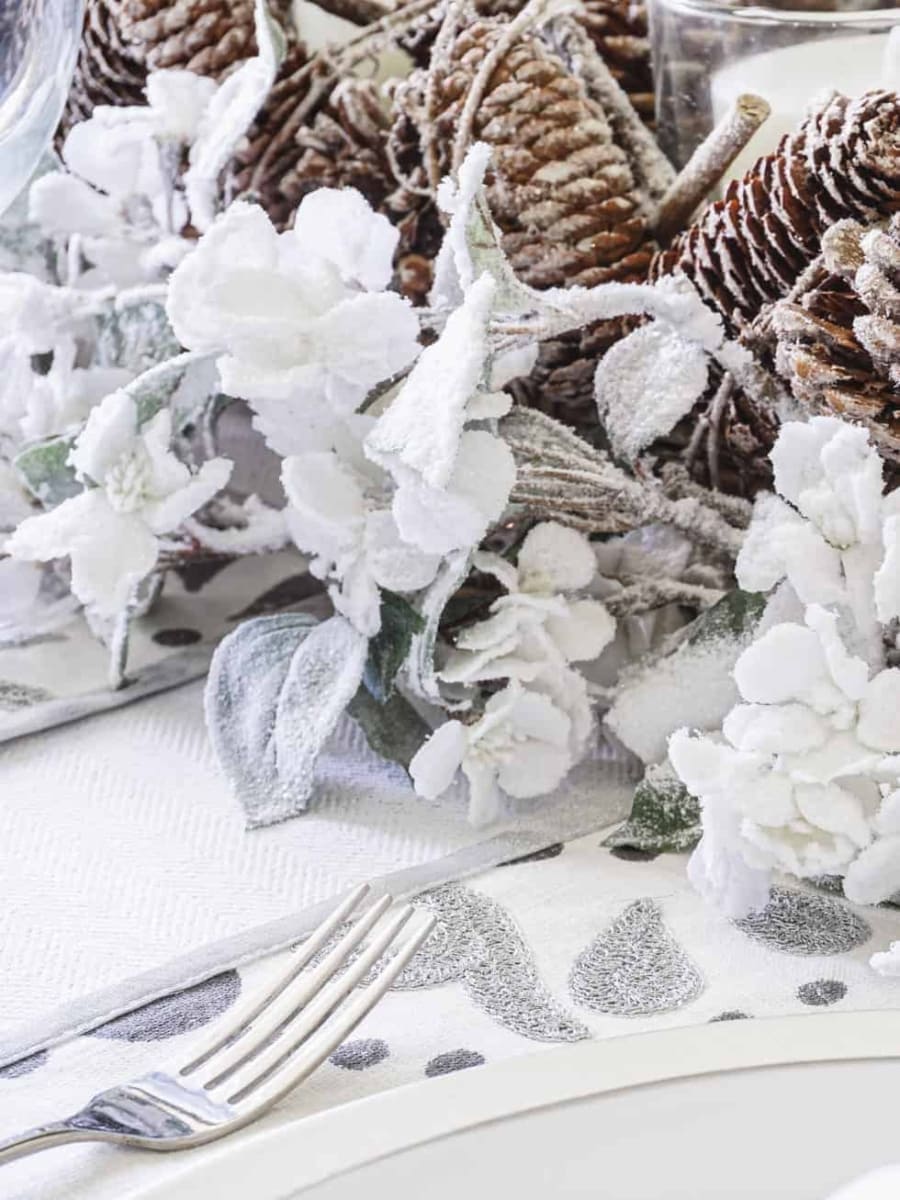 Another option, of course, is to look online. I personally like Instagram and Houzz to find inspiration. There are so many talented people out there, you don't need to reinvent the wheel! As my husband always says, "You need to steal like an artist!" So if you love my Winter Wonderland theme, feel free to steal it, and go make it your own!
Choose a Holiday Theme for Your Dining Room
I almost always like to choose a theme when decorating. For me, it was easy to know exactly what theme I wanted to use when decorating our dining room for Christmas. I wanted a Winter Wonderland with Woodland Creatures and sparkly shiny things.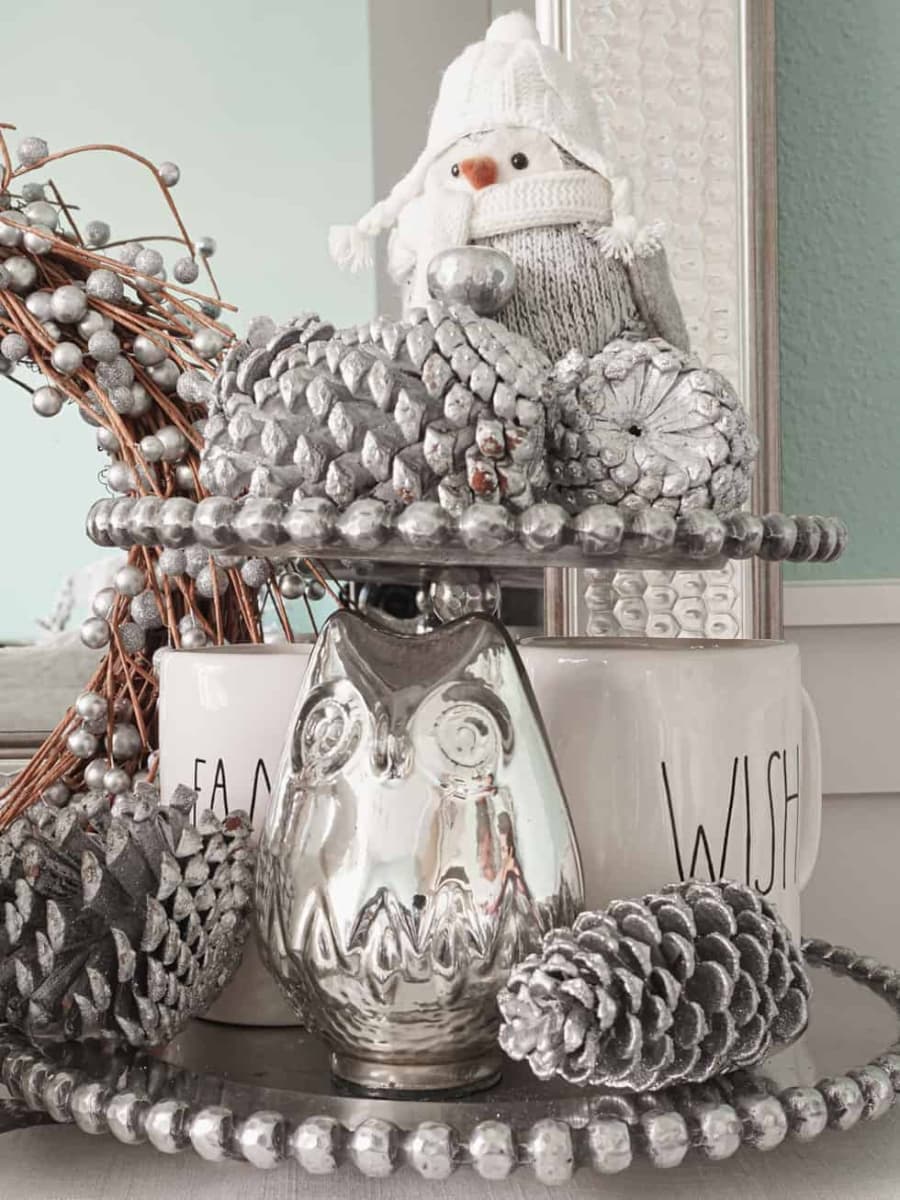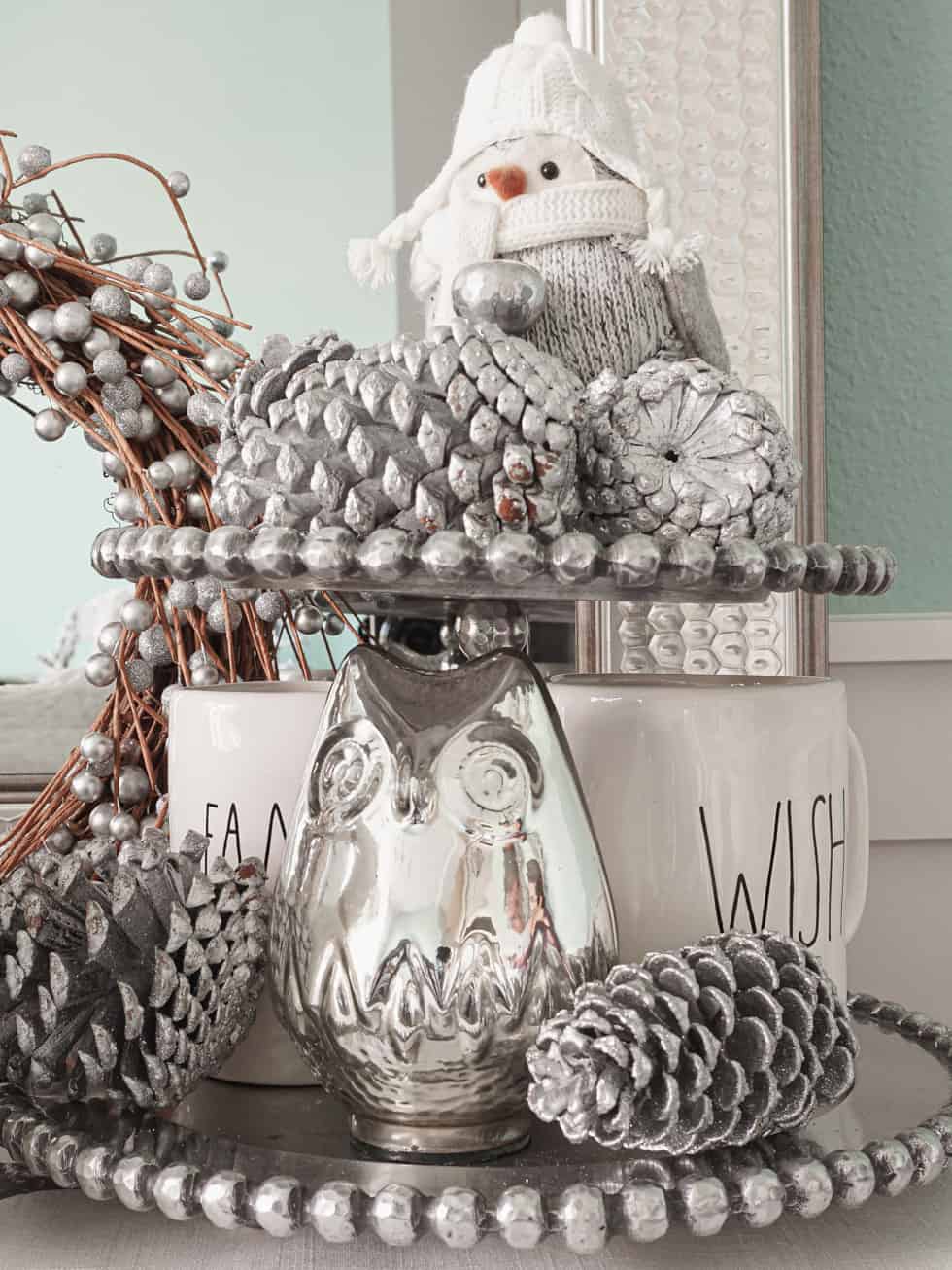 There are so many themes out there you could go with though. Traditional red and green, Candy Cane, Snowmen, Plaid, Vintage, Buffalo Check, just to name a few. Just walk into a store you love, and certainly, you can find a theme you can run with.
Pick a Christmas Color Palette
The color, of course, may come naturally with the theme you choose for your Christmas dining room. In my case, I knew I wanted everything to be silver, white, cream, or organic colored so we set out with that in mind. It's just what comes to mind when you think of a Winter Wonderland.
Quick Tip
Use a Photo and Color Palette to Inspire Your Decor Choices

I will usually look up an inspirational photo on my iPhone when I'm shopping. This helps me when I'm choosing my decor items. It may also be helpful to take a color palette with you. You can upload your inspirational photo to Adobe Color and it will automatically create a nifty color palette (like the one above) to take with you on your shopping trip.
There are so many great options out there as far as color goes. You could go with traditional Christmas colors, you can choose neutrals for a more muted effect, you can pick one color and go with variations of it, or you can combine a couple of colors. The possibilities are endless. Just make sure you pick something before going out shopping, so you can remain focused and not get overwhelmed by all the options out there!
Get Started Decorating
Just do it! When you've been inspired, and you've decided on your theme and color palette, just get right to it. You don't have to go out and spend a lot of money. Shop your home first. You probably own a lot already that you can use in a different way.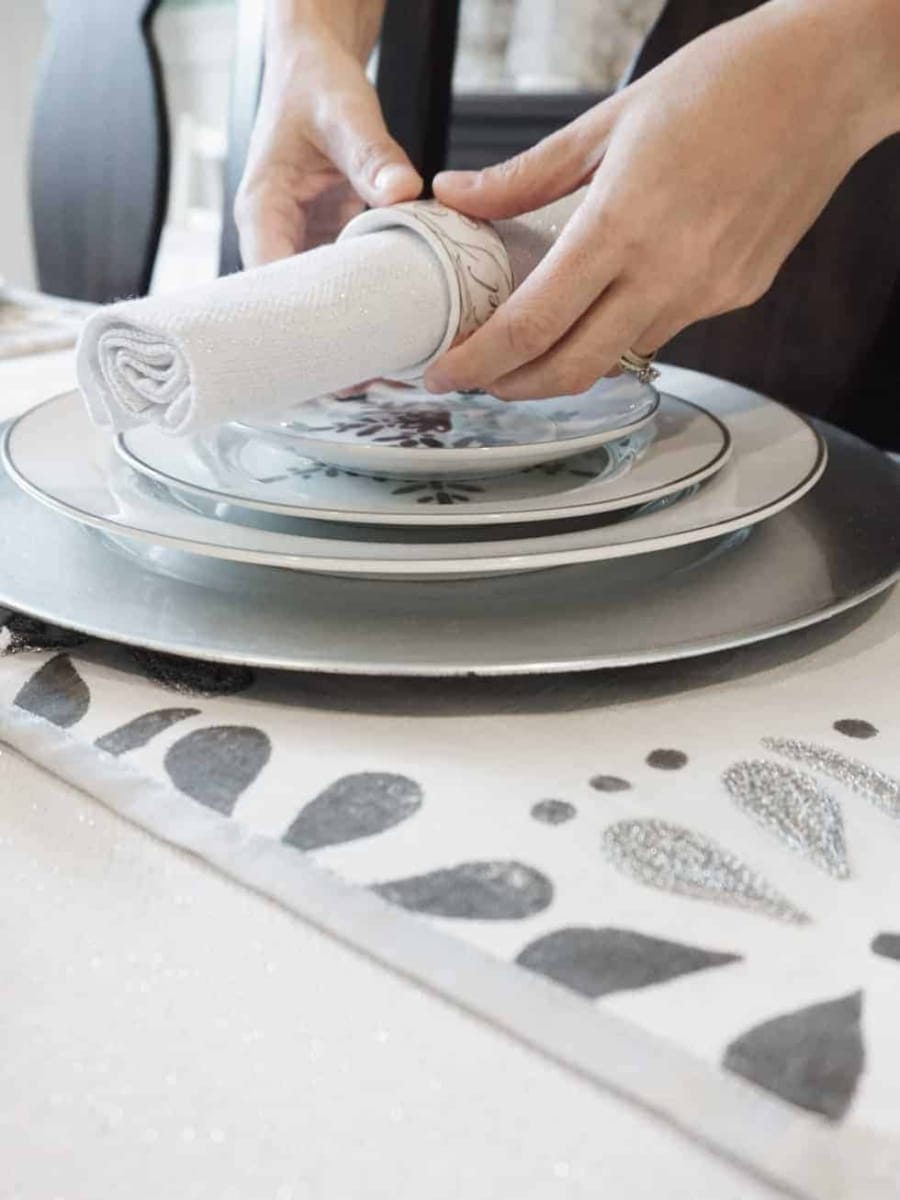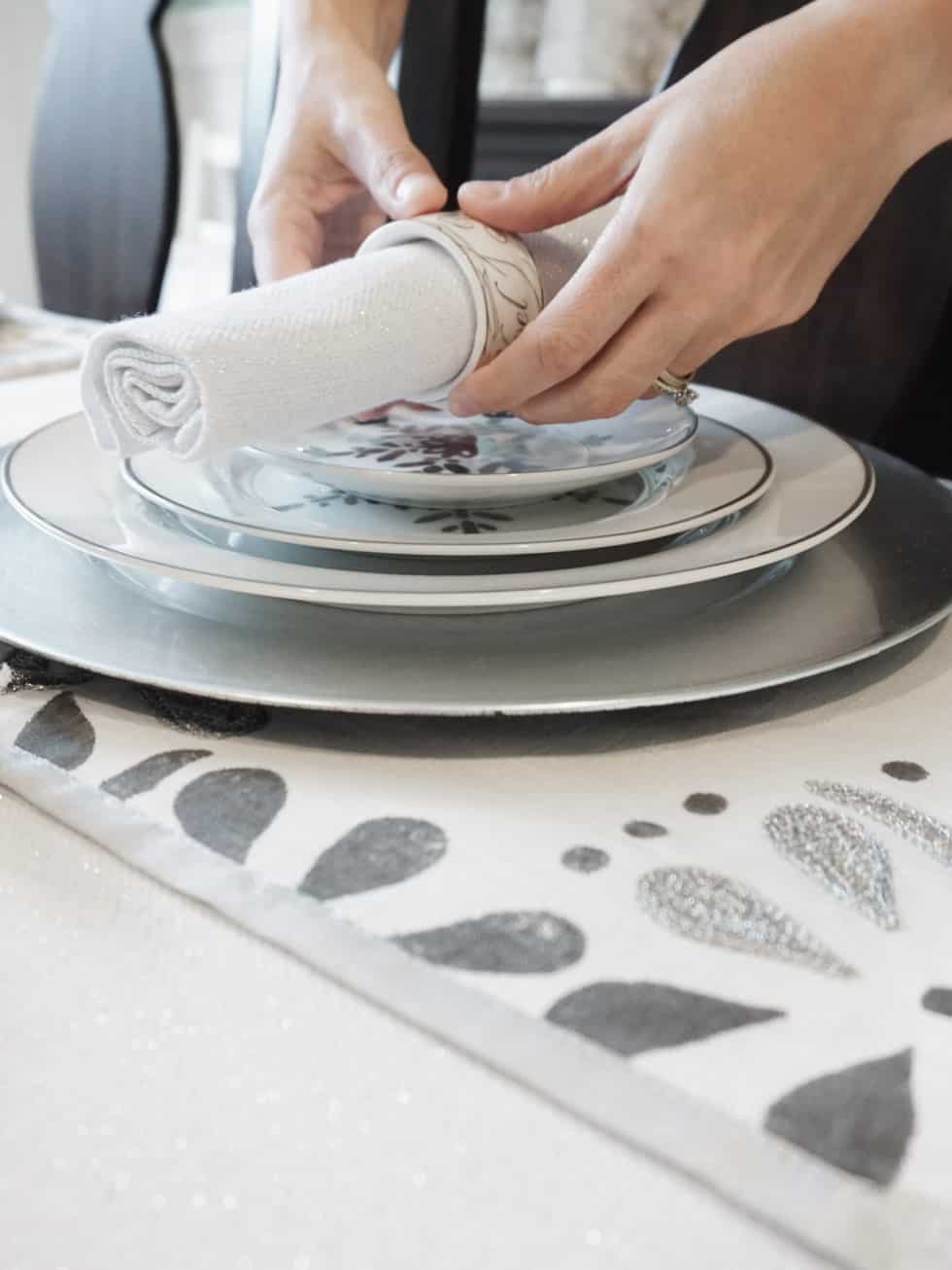 Also, don't forget the Target dollar spot, they have so many cute things there, year-round. I always stop at the dollar spot before anything else. Shop places like TJ Maxx, Marshalls, and Hobby Lobby. They always have great deals on beautiful decor.
If you're crafty, you can even make some stuff yourself. The key is, just get started, don't think about it too much. Once you have your plan, everything should fall into place. Here's how I got started (and finished) with mine.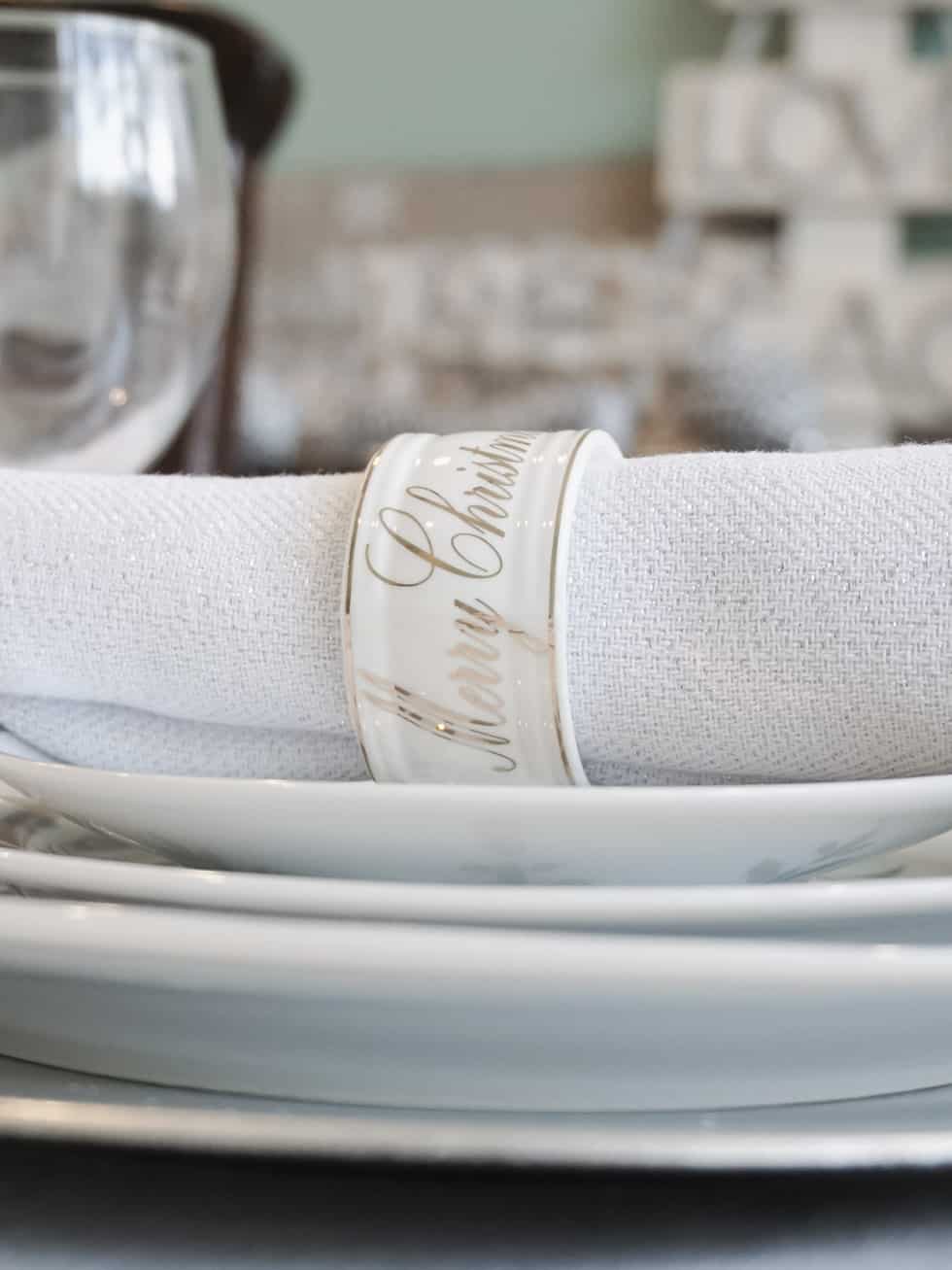 Start with the Basics
We started by picking the perfect tablecloth. I usually keep my table bare with just a centerpiece, so when decorating for Christmas, we wanted to go all out. TJ Maxx had several great options, but I decided to go with a lightly sparkly frost white one and got the matching napkins as well.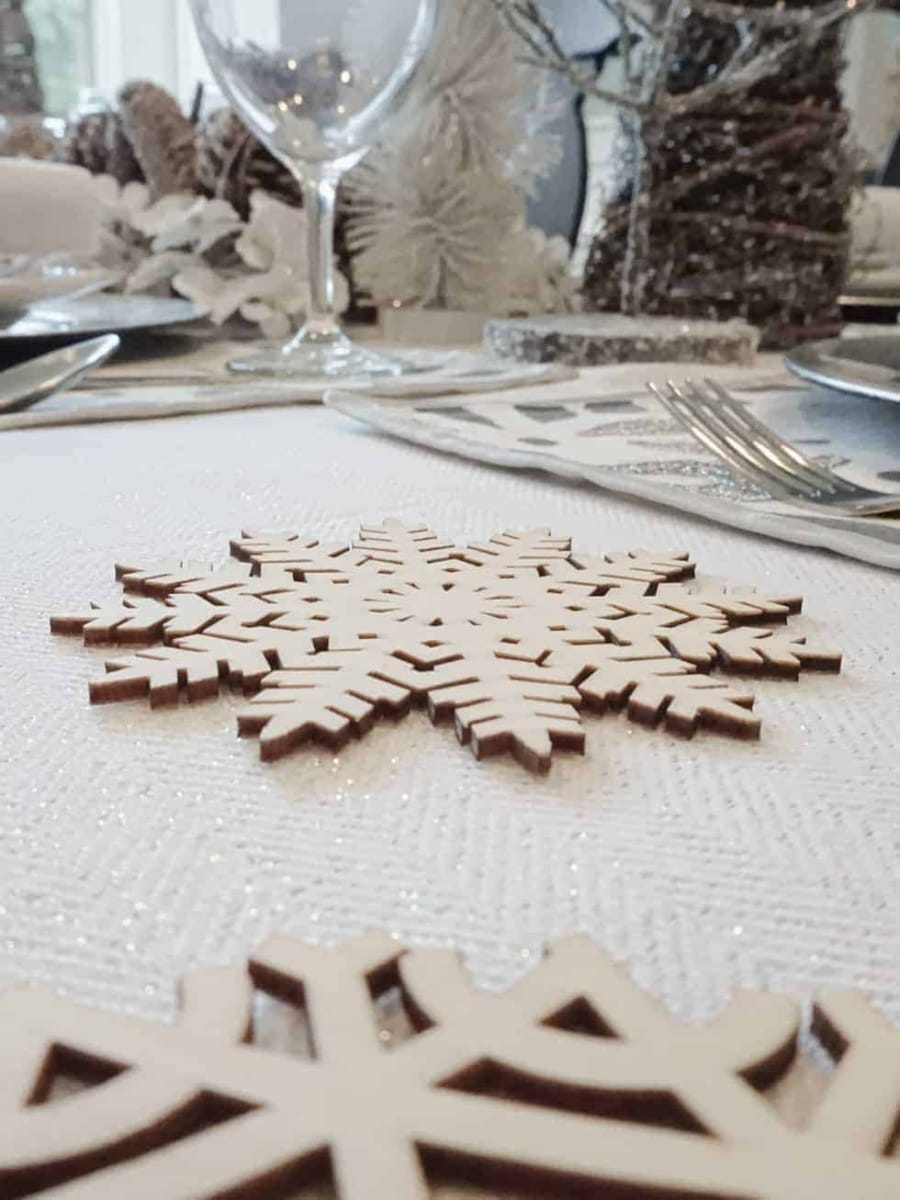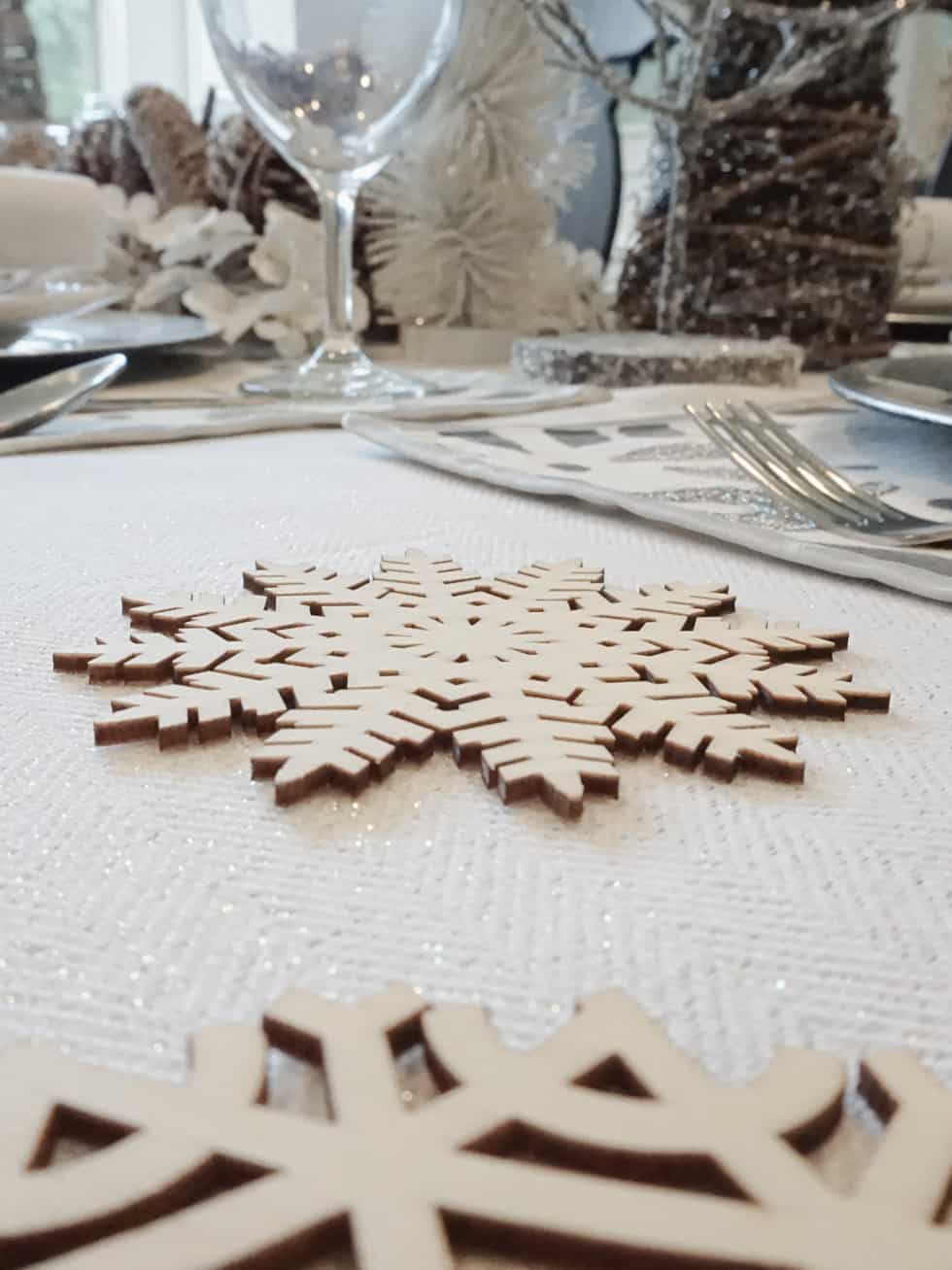 I went ahead and bought a vinyl protector for the table. This is a purchase I can use year-round! It's great to have to protect your wood dining table if you have one.
Quick Tip
Quickly Eliminate Wrinkles With a Mini Steamer
This Happy Housewife does not like to iron, so when I opened the protector and tablecloth up and saw how wrinkled they were, I knew I had to find an alternative to ironing them!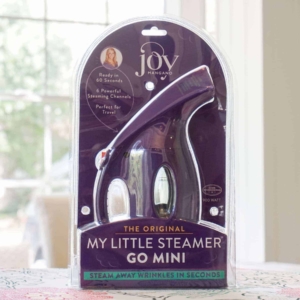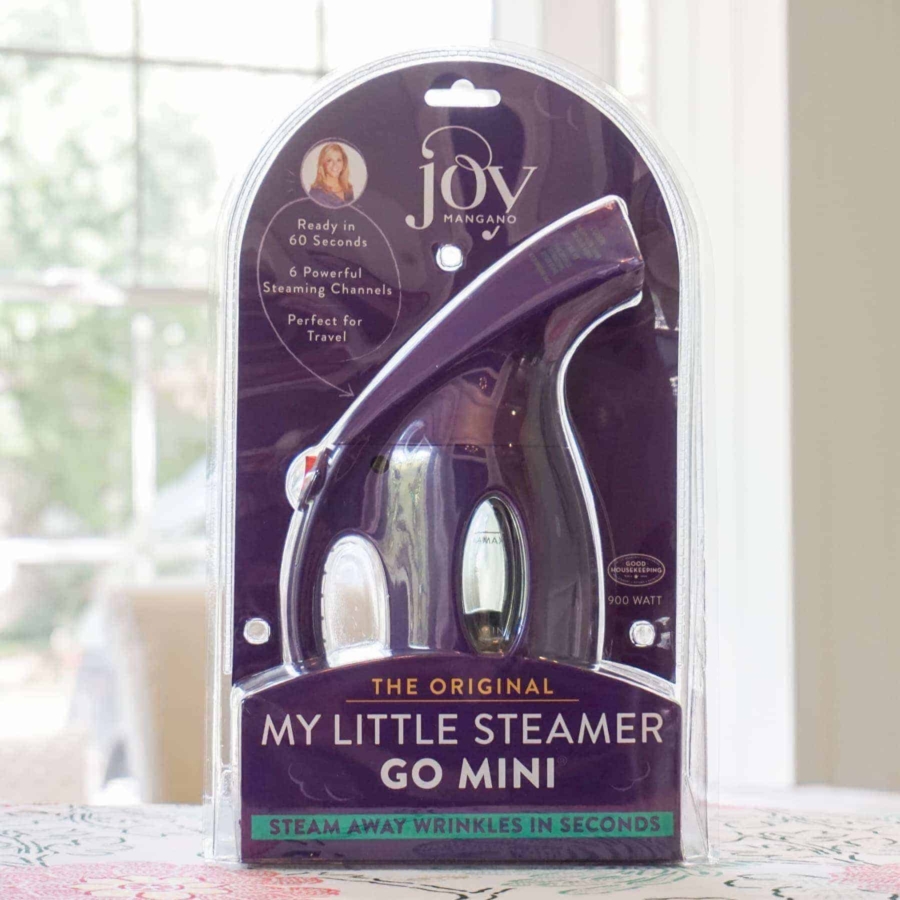 I've always wanted a steamer so it was a perfect excuse to run out and get one. So, I ran to Target and found this cute mini travel one by Joy, and for the price, it seemed worth a try. It also got good reviews at the time so I went for it. Unfortunately, it is no longer available, but there are lots of great options available for small, handheld steamers.
Well, I love it! It worked great at taking out all the wrinkles and it was really light and easy to use. We have now used it for curtains as well, and it worked beautifully.!
Quick Tip
Eliminating Wrinkles With a Mini Steamer
I hung the protector over my ironing board and began steaming out the wrinkles. The protector is plastic and is embossed with a pattern on the top side. The bottom side is cloth. I steamed the protector on the cloth side to avoid melting the plastic.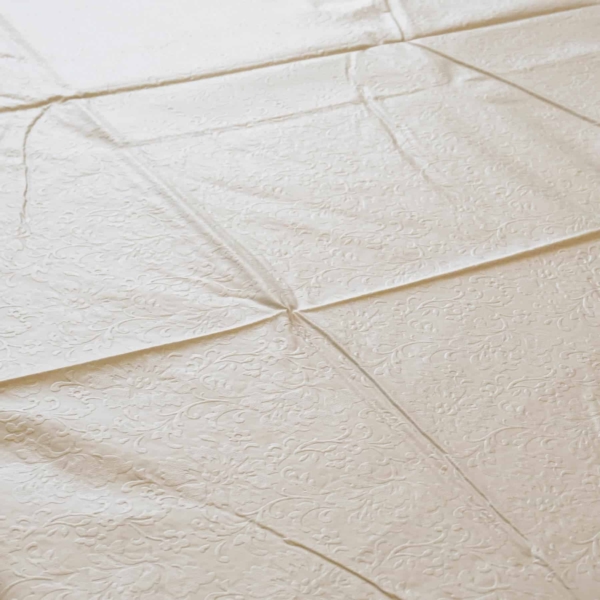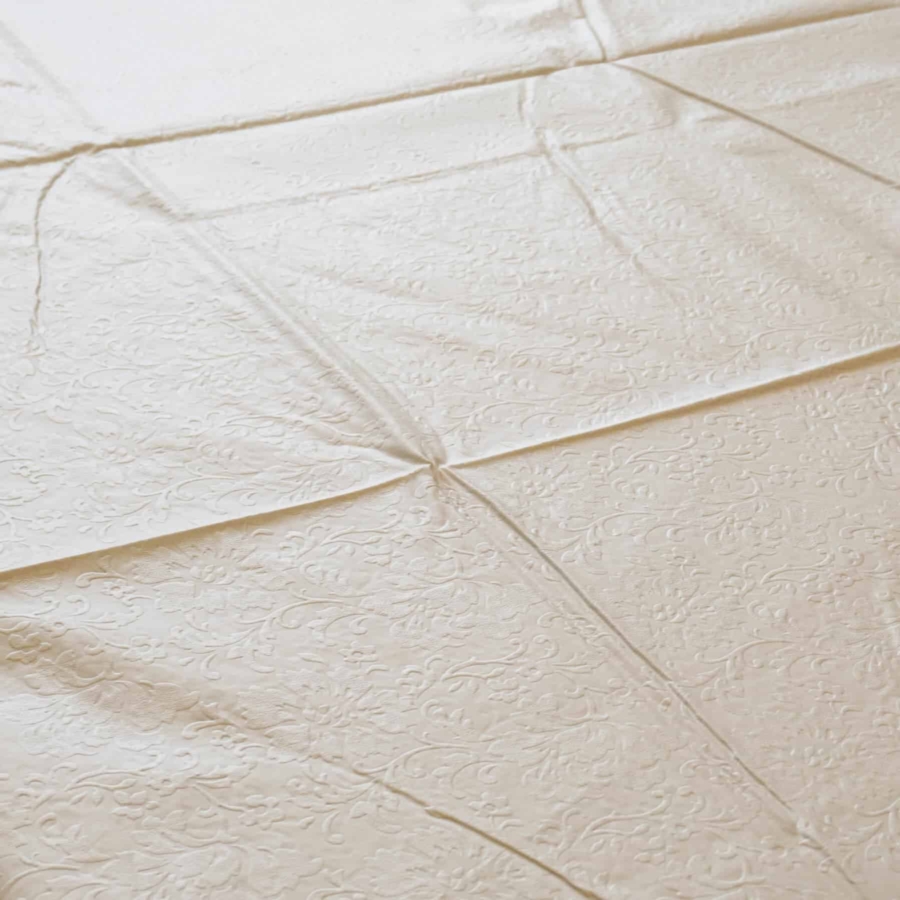 Note that the heat from the steamer will flatten out the pattern on the plastic side of the protector. This was not an issue for me since it would simply sit under whatever tablecloth I put on the table.
I found this Smith & Hawken centerpiece that I got from Target last year and thought it would be perfect for the look we were trying to achieve. The organic feel of a lot of the Christmas decor at Target is just fantastic. I just added some frosted, sparkly white flower stems from TJ Maxx to dress it up a bit more.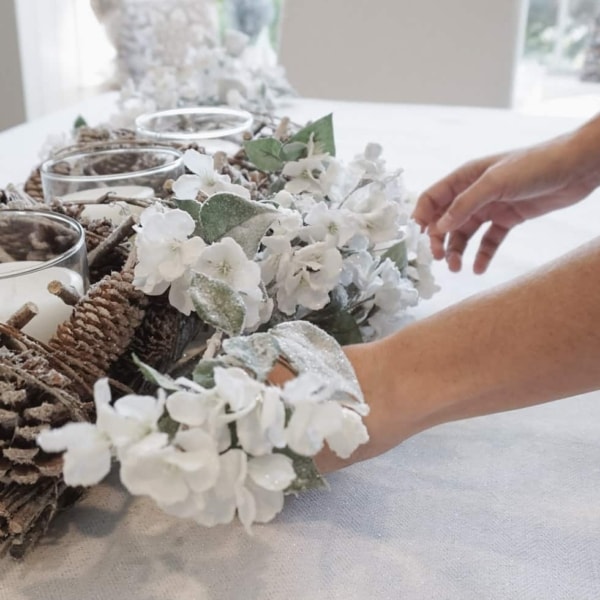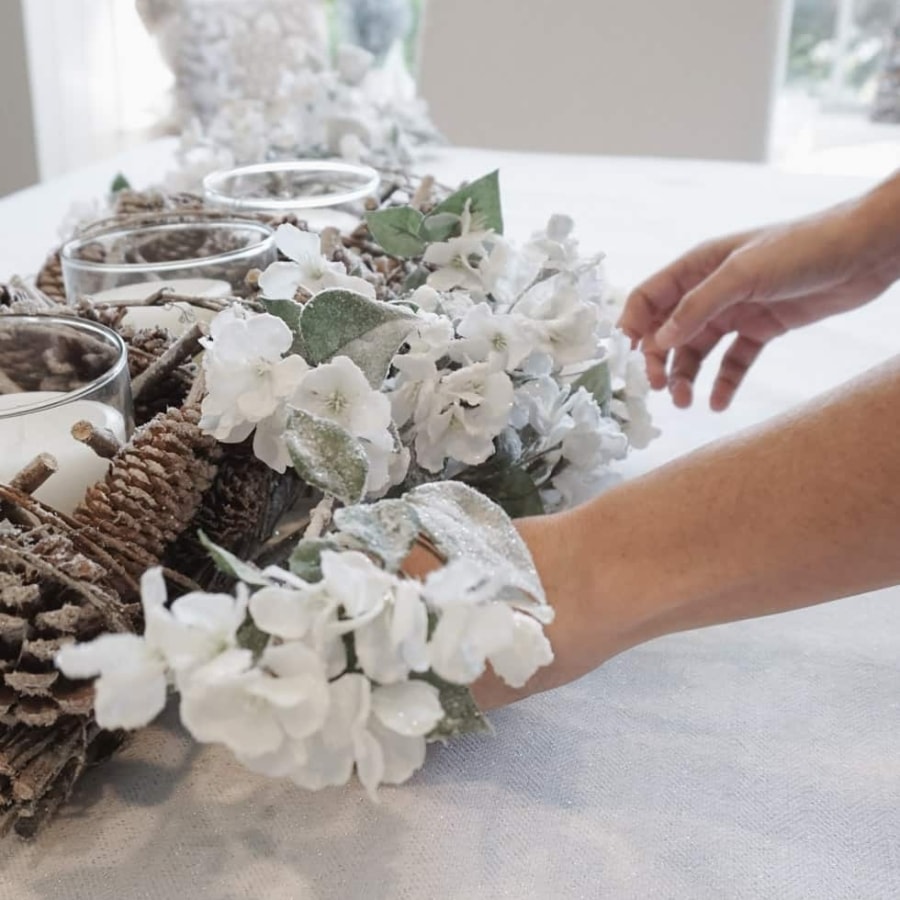 Next, I worked on setting the table. I already had a set of silver snowflake plates, and placemats from Target, so I didn't have to worry about that. I did, however, purchase the silver charger plate. They just add a touch of elegance to the whole table. They're relatively inexpensive and they have them in several colors.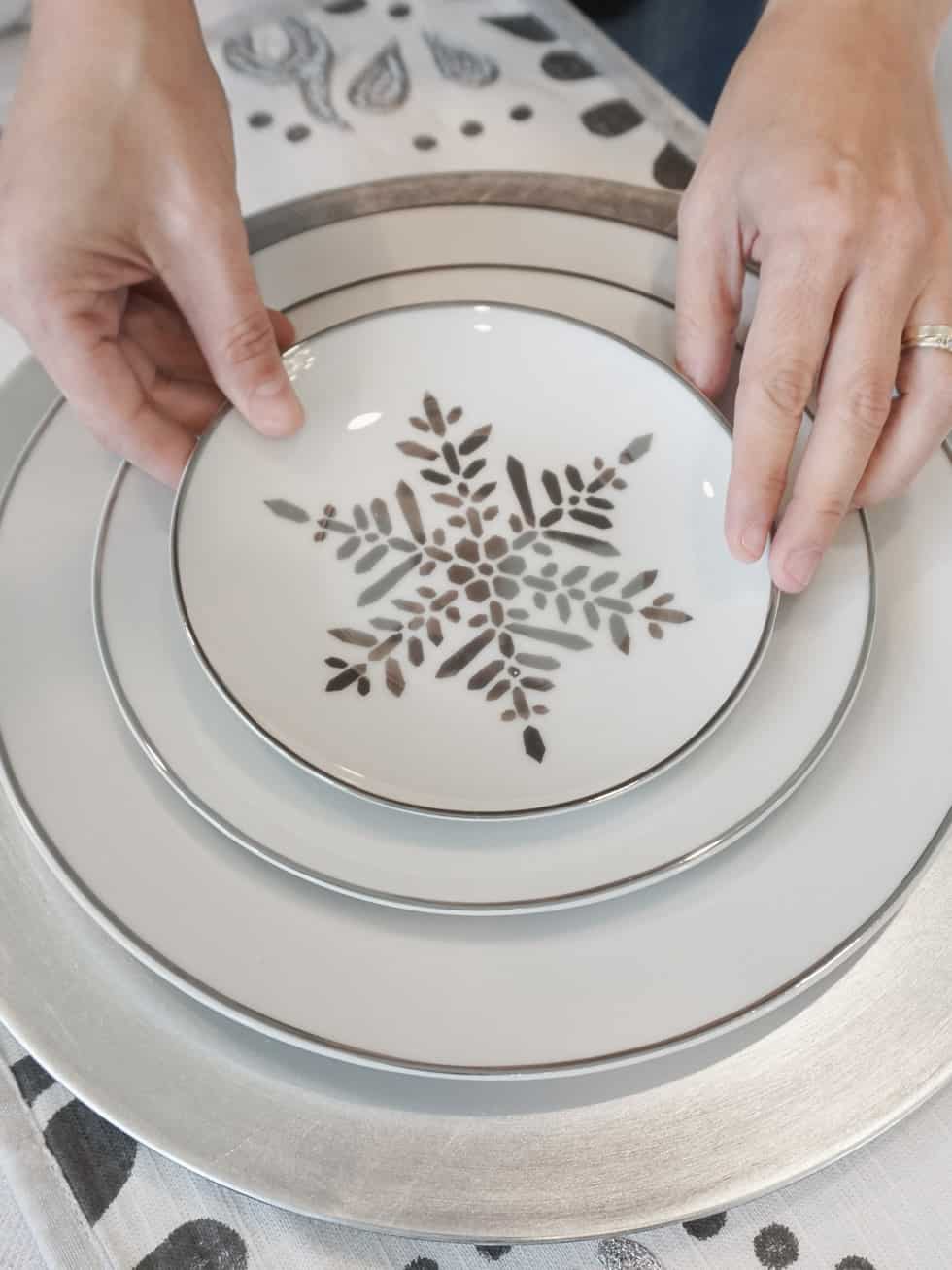 I topped off the place setting with my new napkins and napkin rings. I found these beautiful napkin rings at TJ Maxx. They always have plenty of options to choose from, so find something that works for you.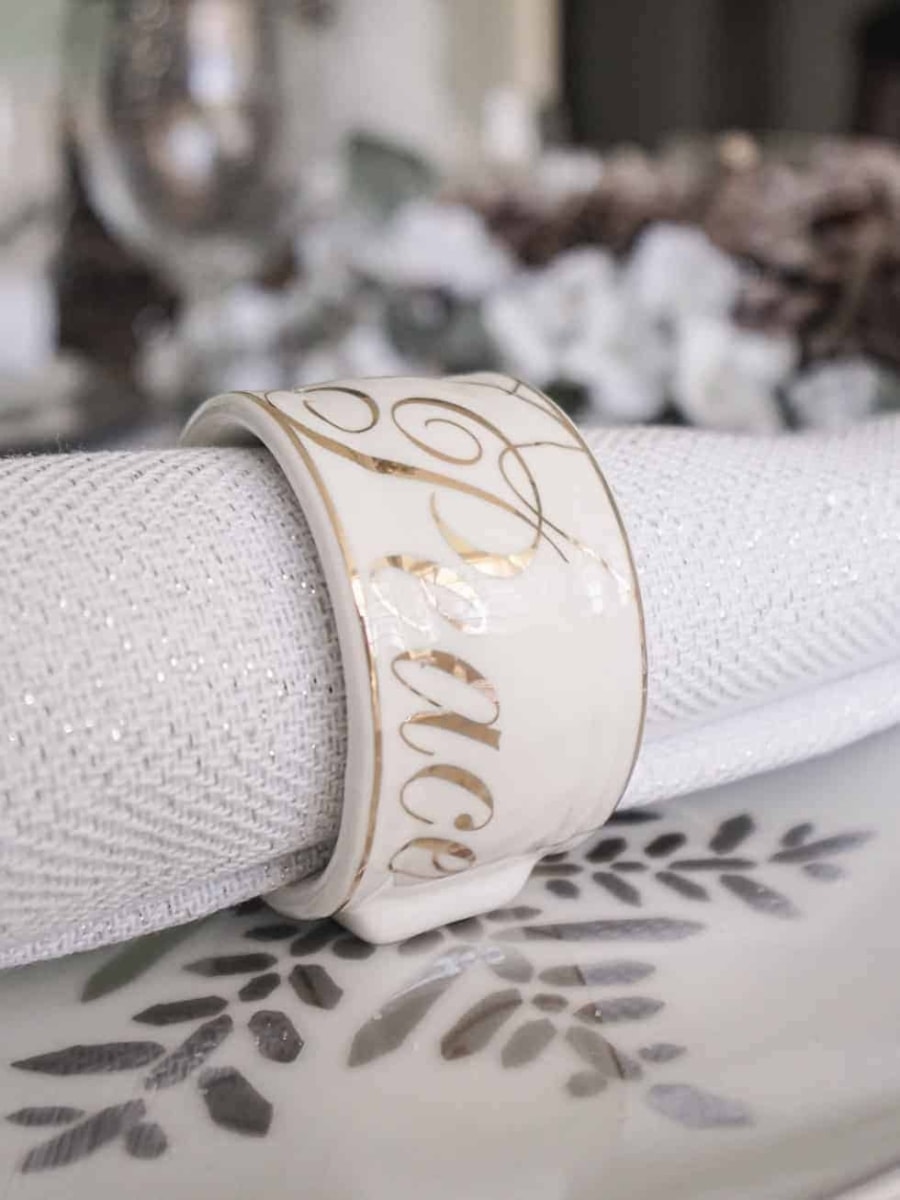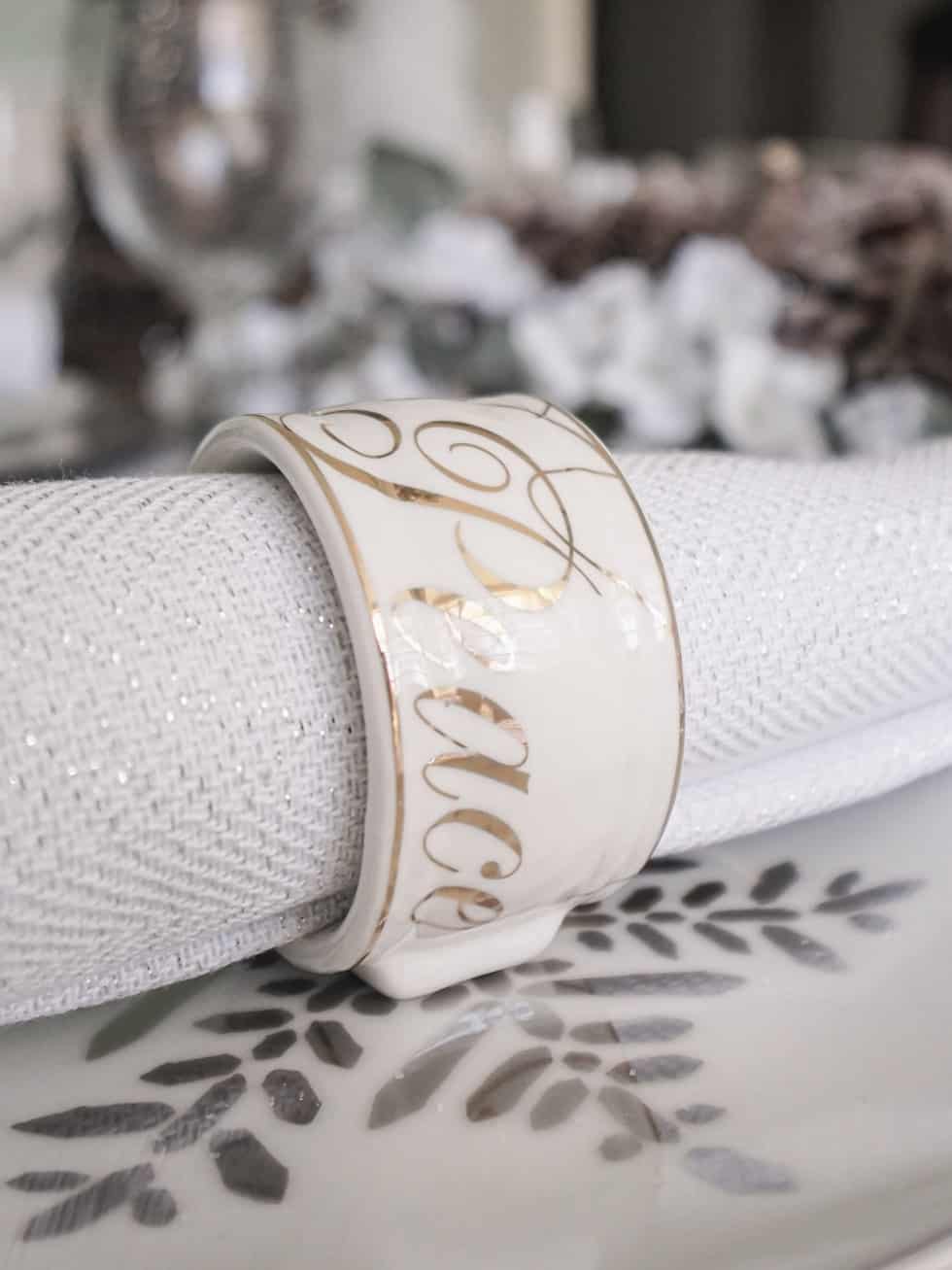 The Finishing Touches
Then it was time for the fun stuff. Filling up empty spaces with the sparkly decor! We had some things from years past, but we also went out and got more in order to fill up the table and buffet. We got lots of cute Woodlands animals, as well as different sizes and shapes of wreaths and trees.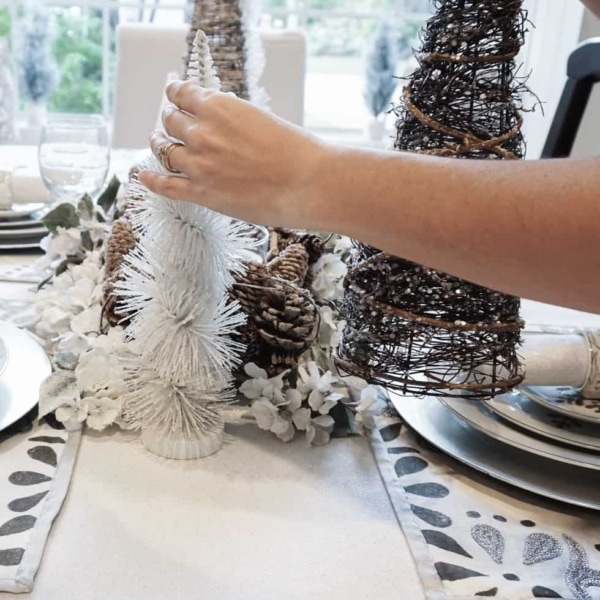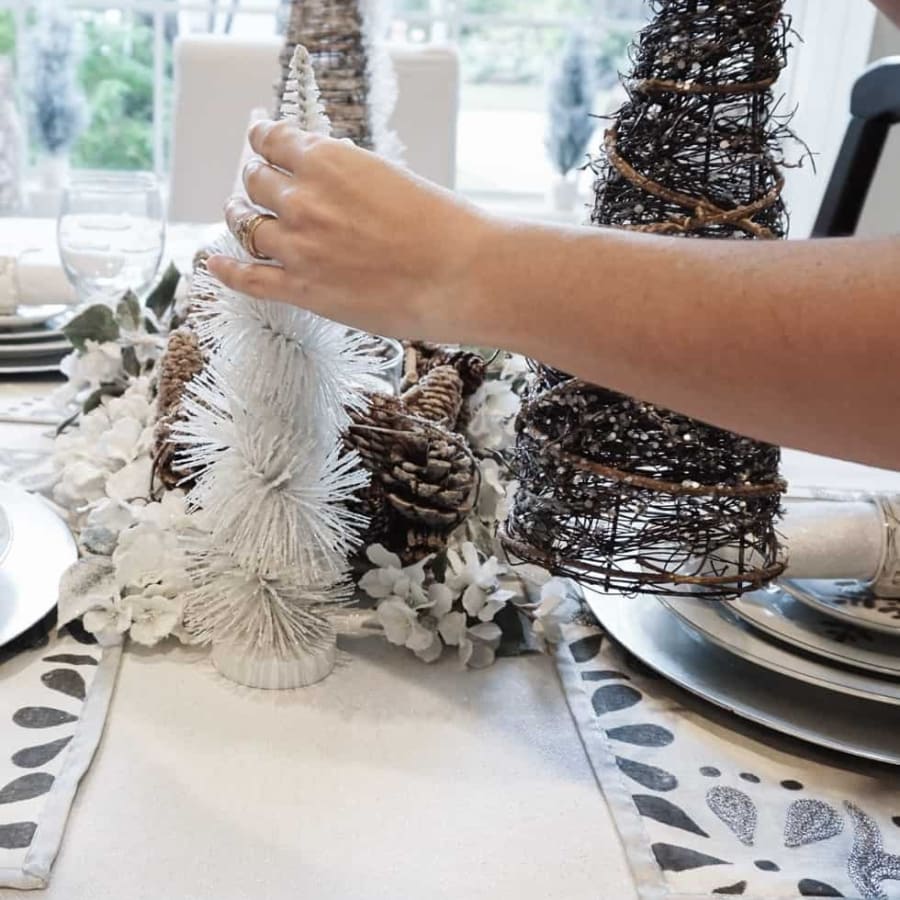 As you can see with the trees, most of them don't match, and they're all different sizes. Play with different heights, colors, and textures to give the table some dimension. Also, don't be scared to fill up the table or buffet more than usual. It gives the whole look a lot more visual interest.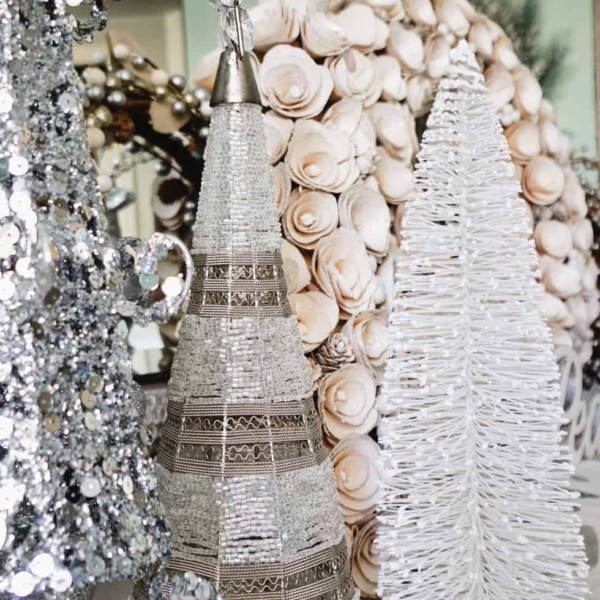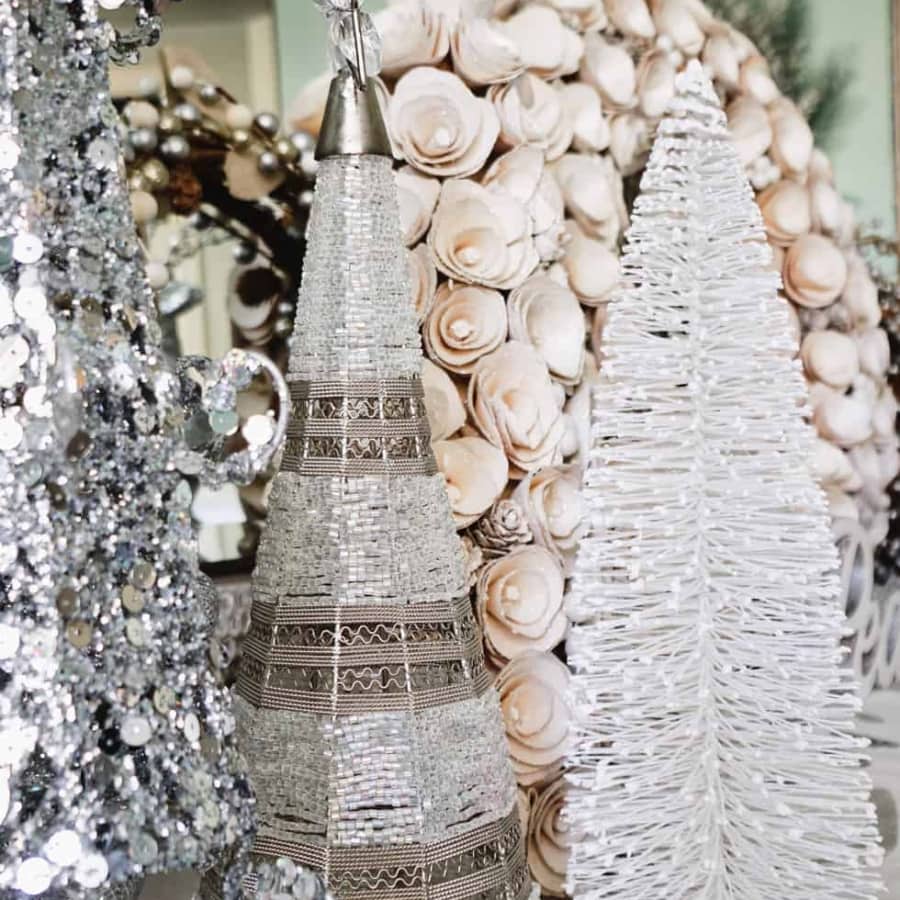 I then added my wine glasses and silverware. I always have to look at my old Better Homes and Gardens cookbook to remember where everything goes! Does the fork go on the left or right? Why can't I remember no matter how many times I do it?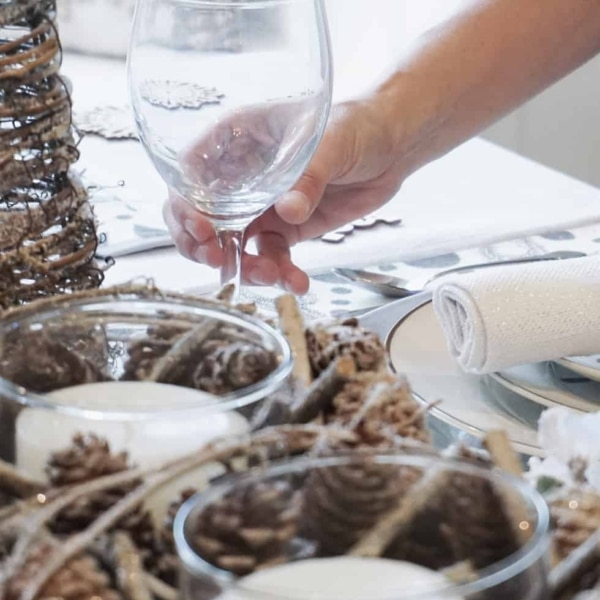 I bought one set of matching whitewashed wood trees in 3 different sizes at Target. They just looked beautiful together at the store and they paired great with these owls from Hobby Lobby, it's just perfect.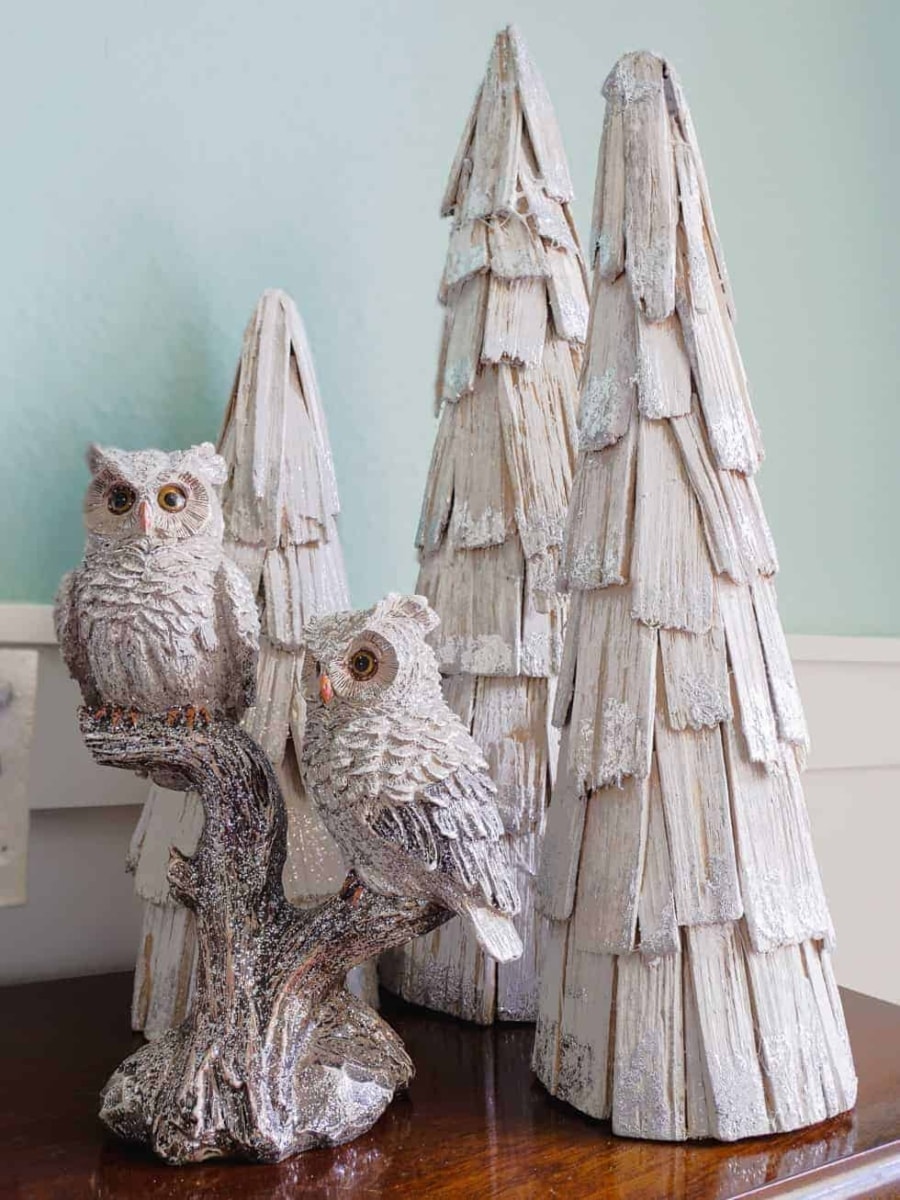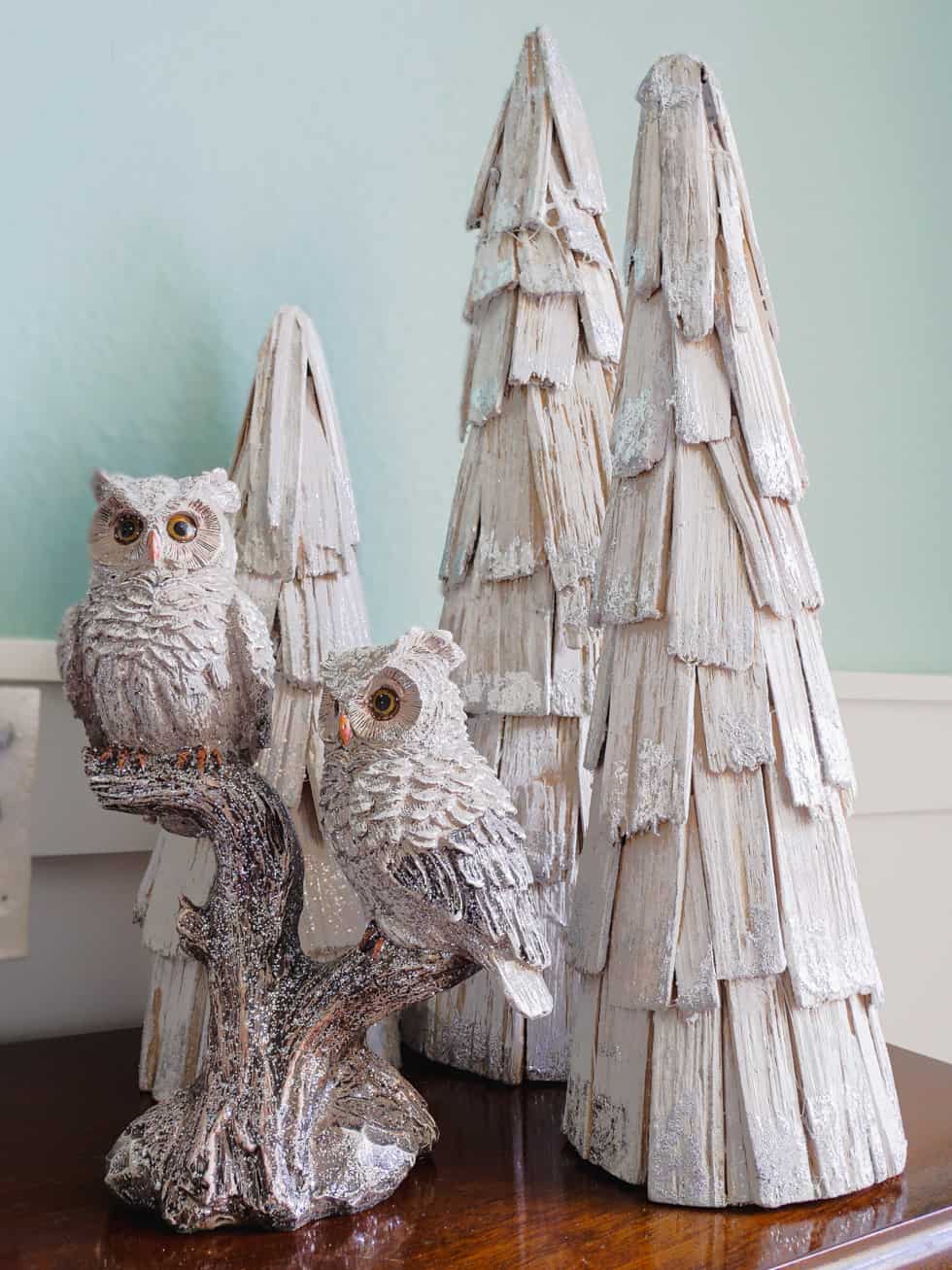 The Big Reveal
And now for the big reveal of my Christmas dining room! I really love how it turned out.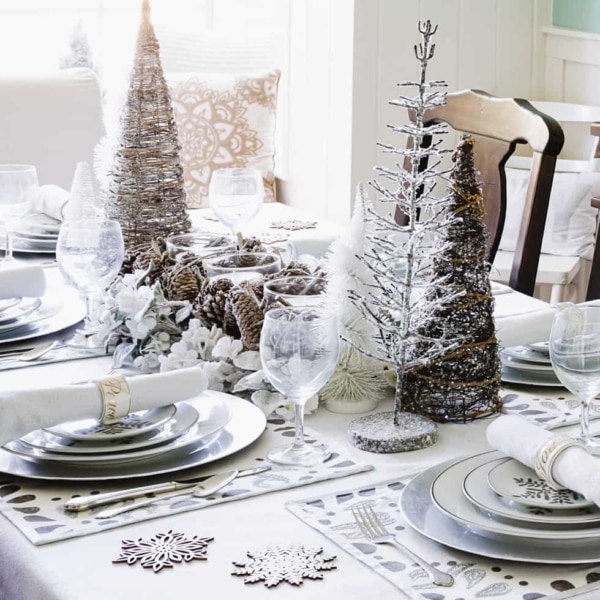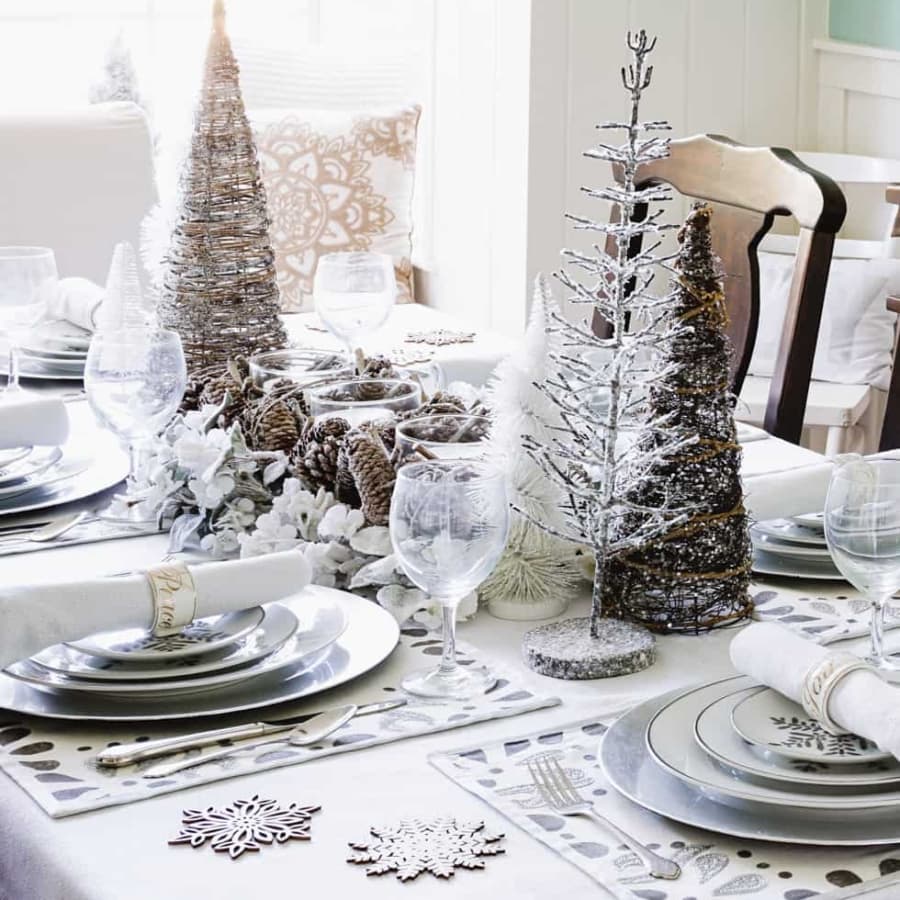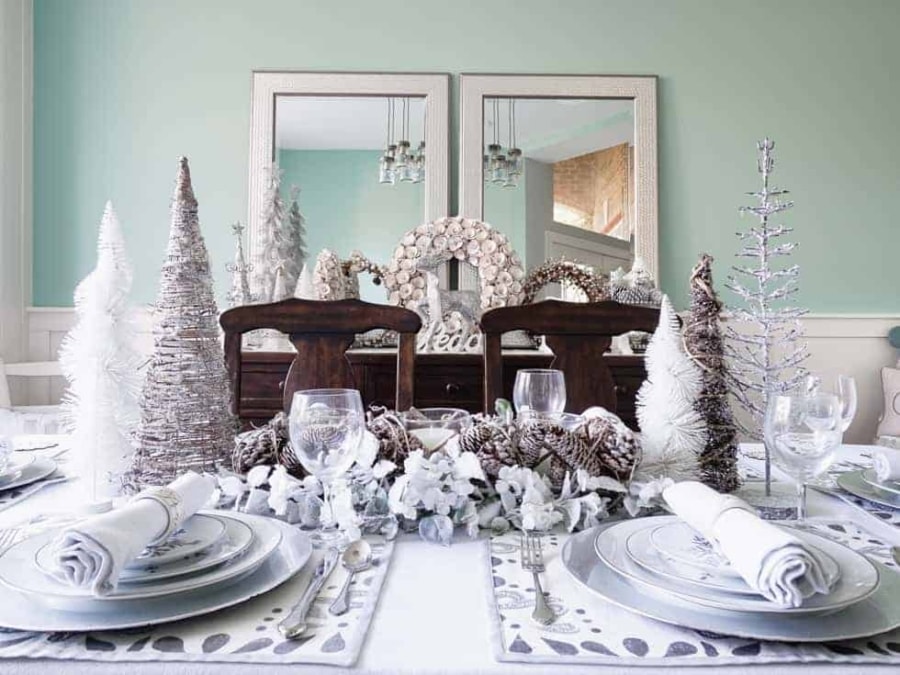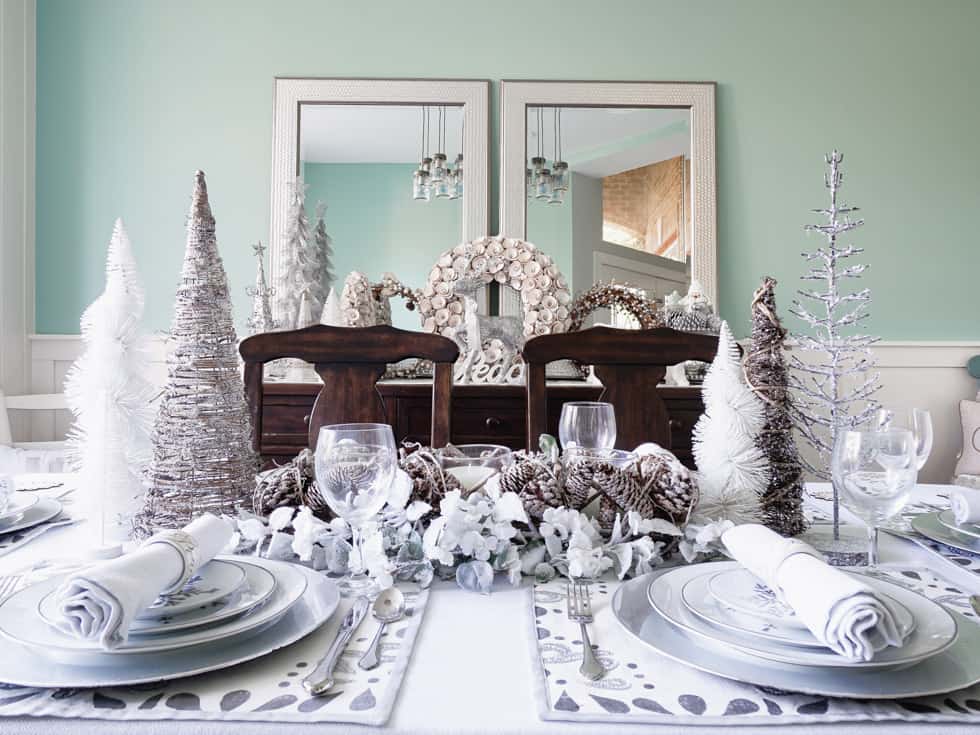 I really hope you have found this post helpful and you'll try something new this year. Don't be afraid to go for something different, or to deviate a little from your usual decor. You will be pleasantly surprised!
Now It's Your Turn
Now it's your turn to transform your own dining room into a Christmas Winter Wonderland. Feel free to copy me if you like what I did with my dining room. Or, use my tips to create your own look. Either way, happy decorating! For more decor inspiration, visit the Decor section of the blog!
Quick & Easy Recipes
When you sign up to become a newsletter member, you'll get access to my latest quick & easy homemade recipes, homemaker tips and tricks, free printables, and more delivered directly to your inbox each week.