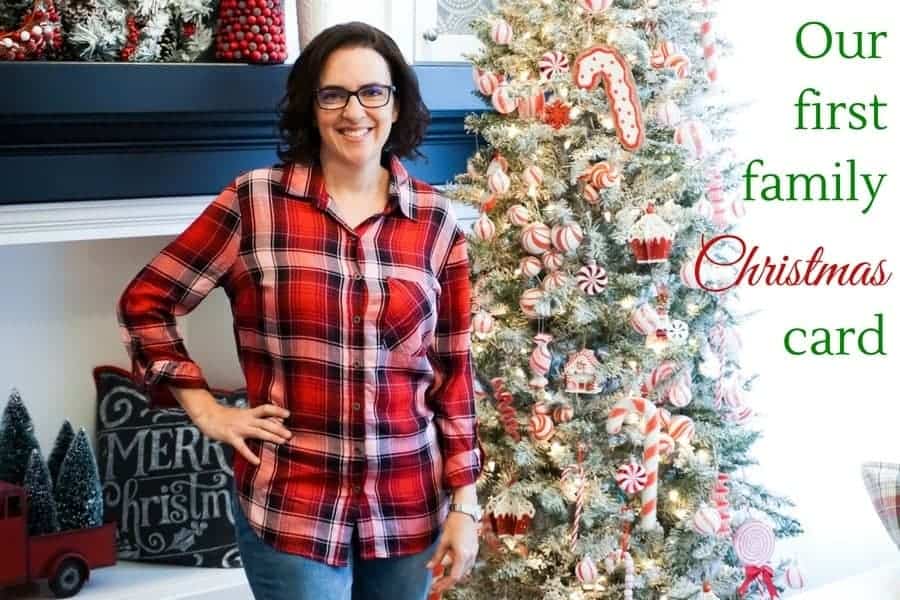 For years we have wanted to make a Christmas card. Every year we swear we will have one ready by the end of November.
Every year, December 25th rolls around and…no Christmas card.
This post contains affiliate links. For more information, see my disclosure.
We were determined not to let another year go by without getting it done. Ryan even set a reminder on his phone a year ago so we wouldn't forget! Well, it worked! 18 years of marriage and 5 kids later, we finally made a Christmas card!
Since it was such a momentous occasion for us? I thought I'd share it with you and show you how we got a beautiful Christmas card, for a reasonable price.
So here it goes, The Cooper's very first Christmas card!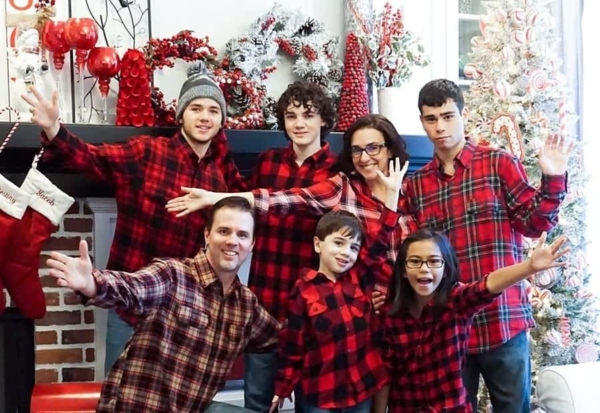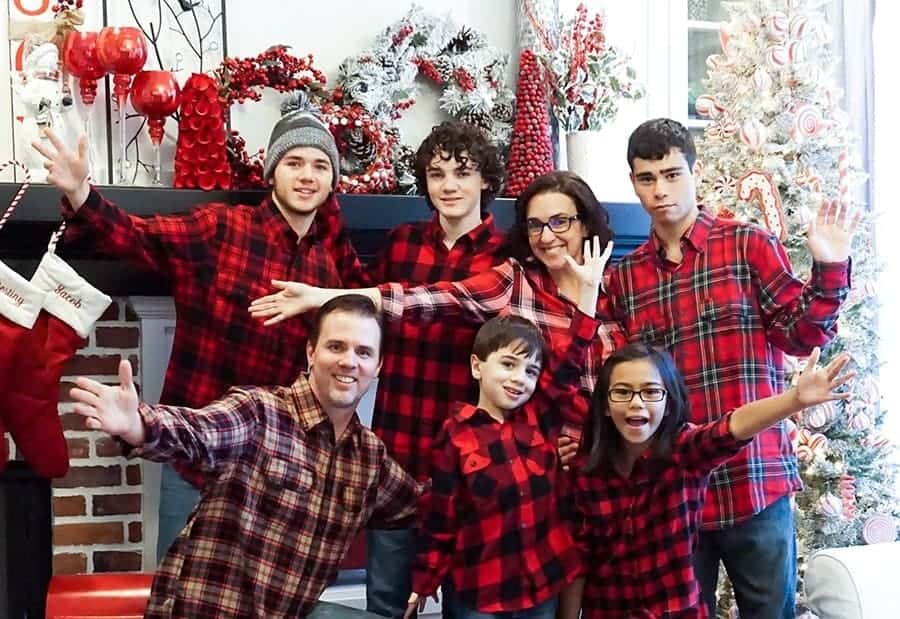 Our Christmas Card Photoshoot
This is the fun part! At least for me, it was. As for the kids, well, we all know it's a hit or miss with children and photoshoots. Most of the kids were slightly upset that I was making them dress as "lumberjacks" but in the end they grudgingly obliged,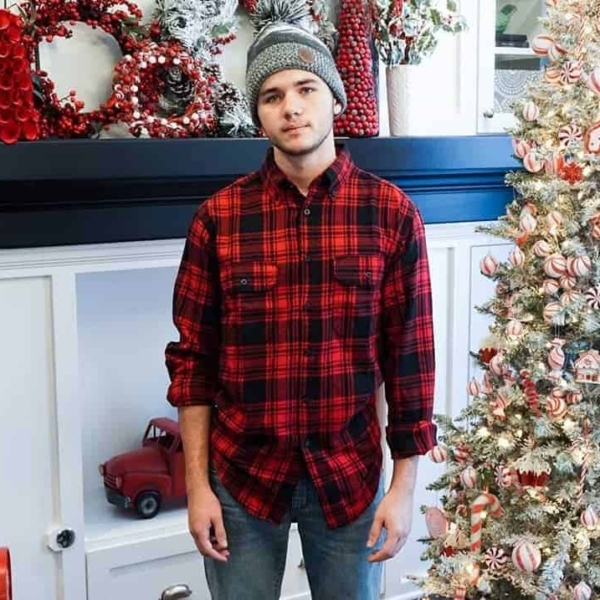 and personally, I think they make for some cute lumberjacks!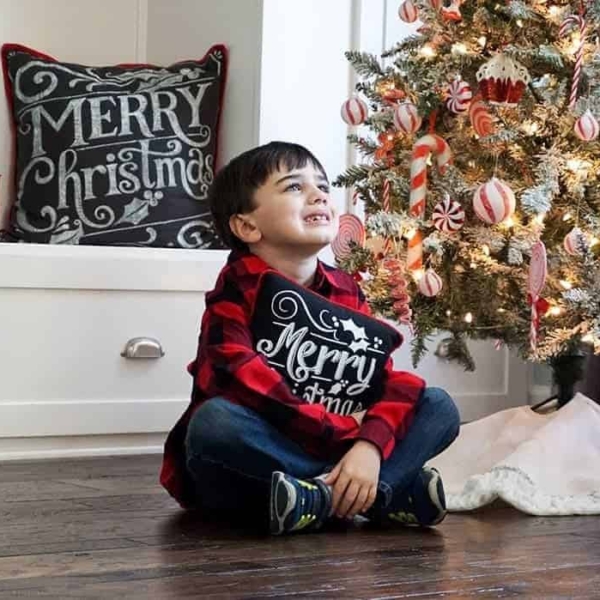 We went out the night before to find similar shirts for everyone and were pleasantly surprised to find all our shirts at Walmart for under $8 each! You can't beat that. Since everyone already had jeans, we ended up spending less than $60 for our Christmas card outfits. Not bad!
We opted not to hire a photographer, since Ryan does such a good job at taking pictures. He took pictures of all of us individually,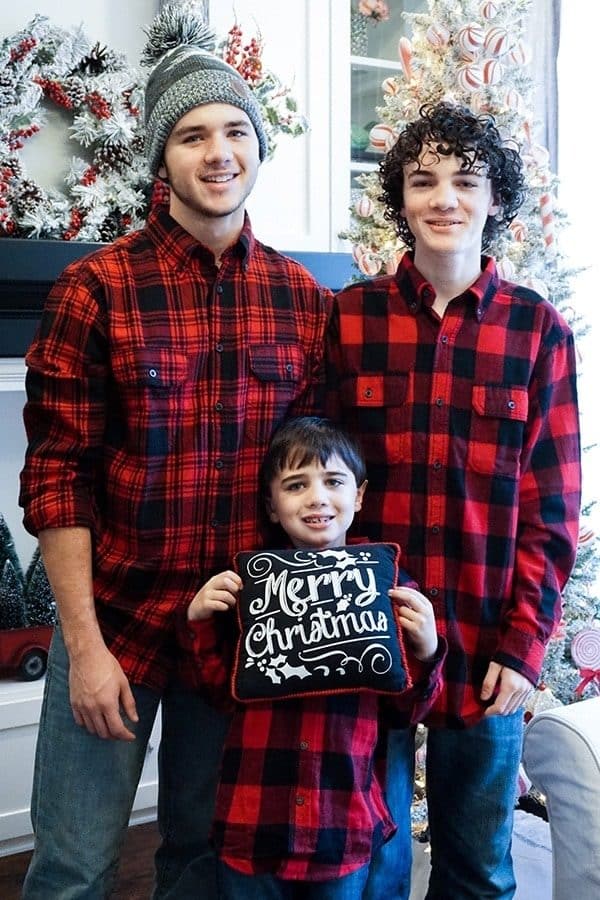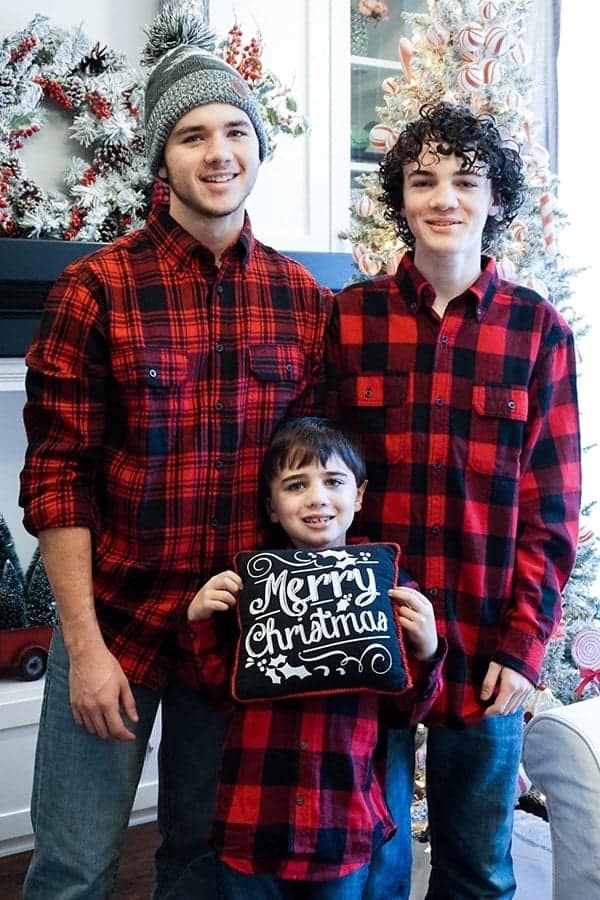 I took pictures of him,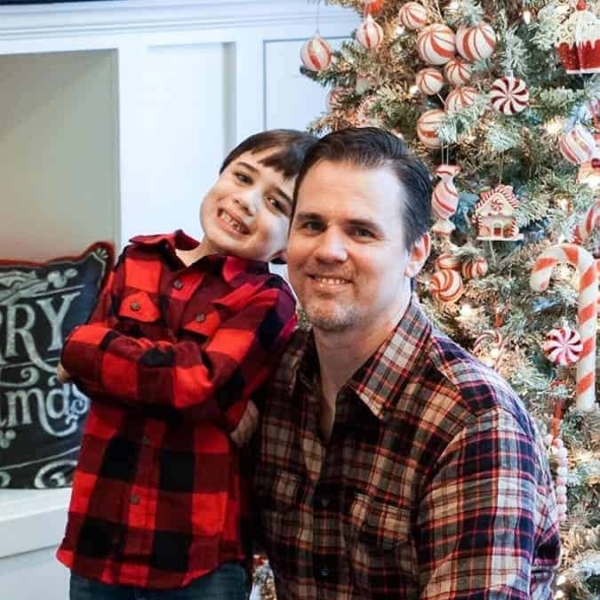 and we used the tripod to take the family shots.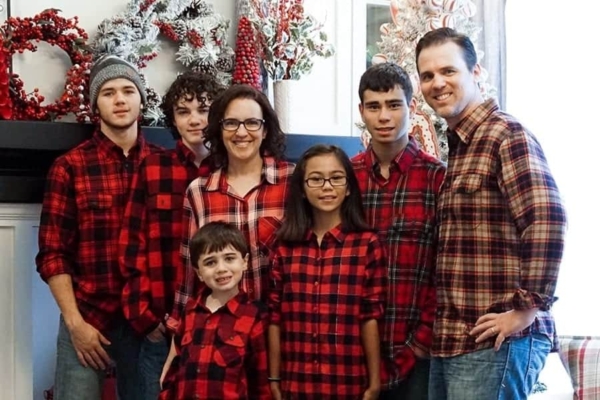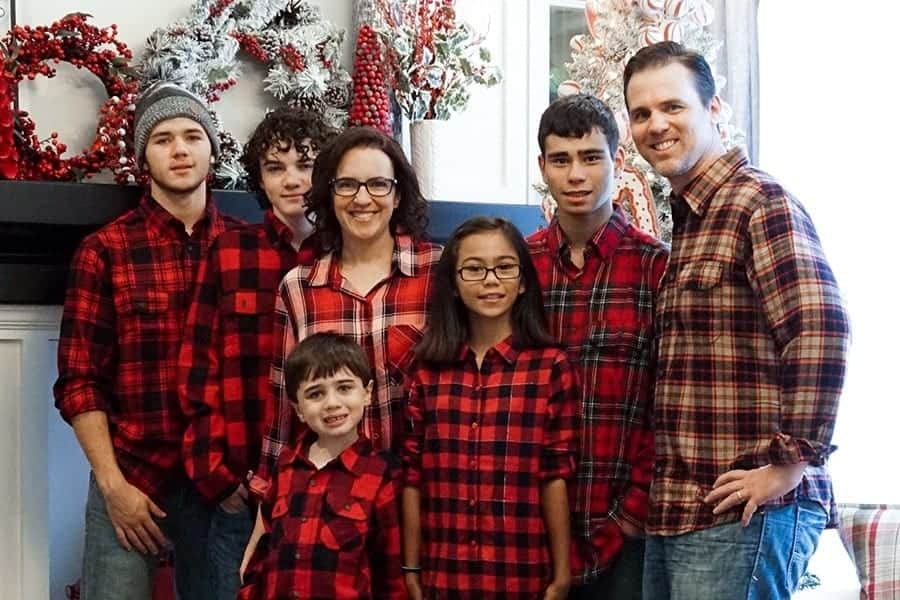 Ryan did a lot of research on the tripod he wanted when we started the blog, so, we made good use of it for this photoshoot.
We had a lot of fun taking the pictures!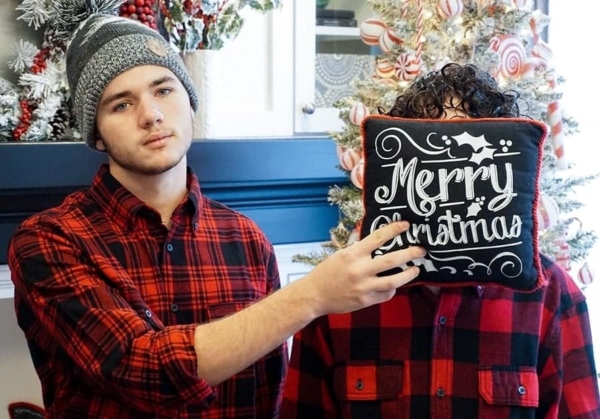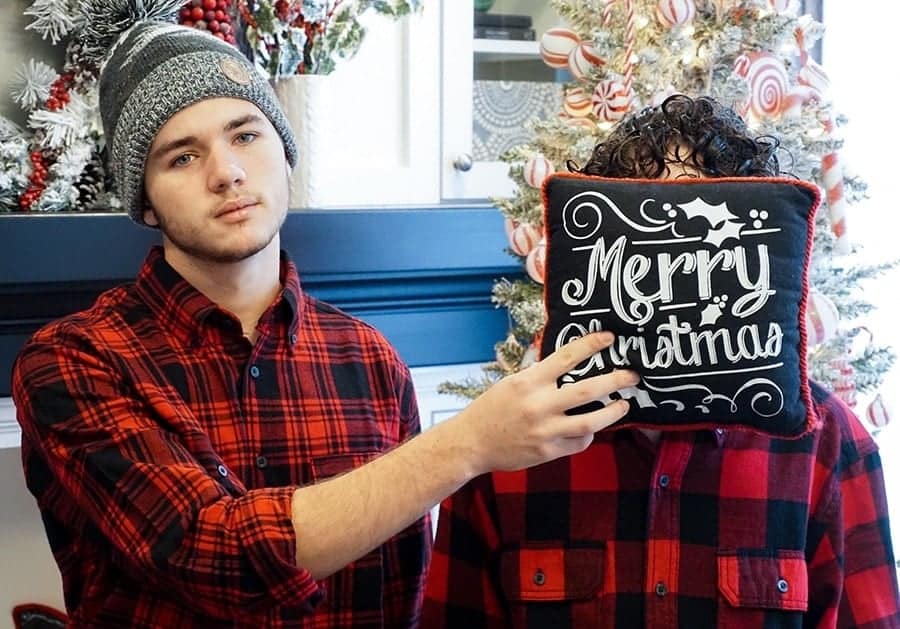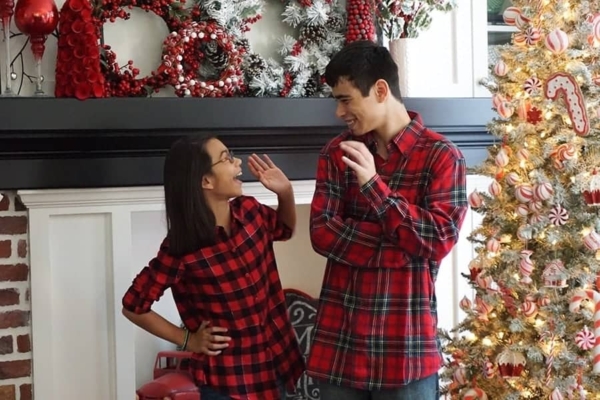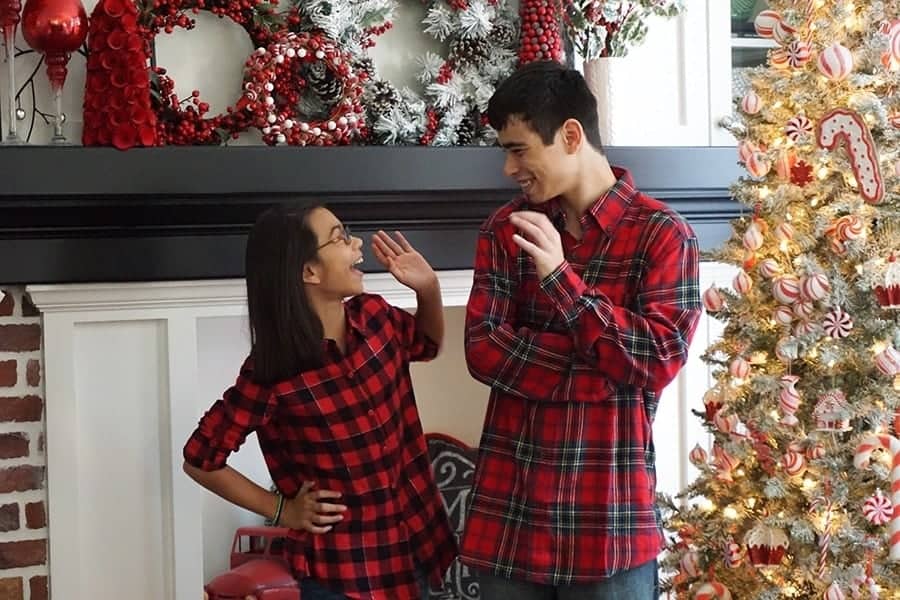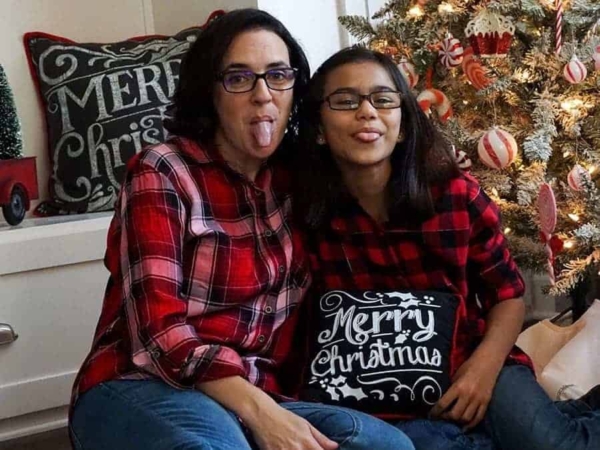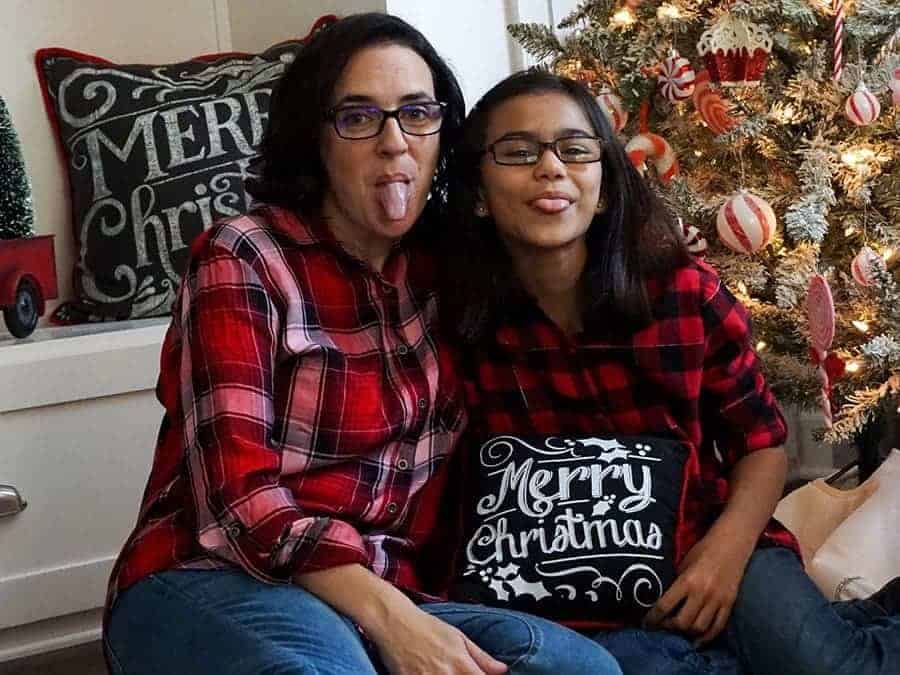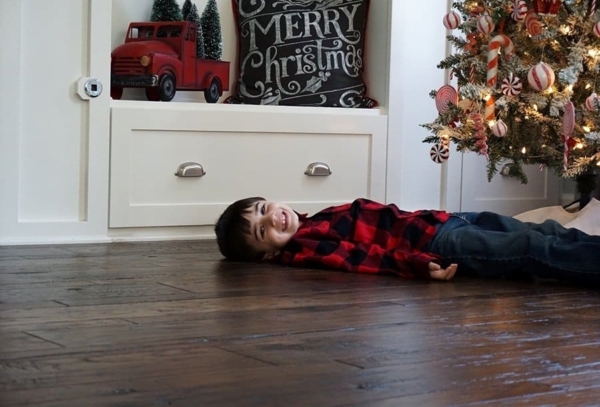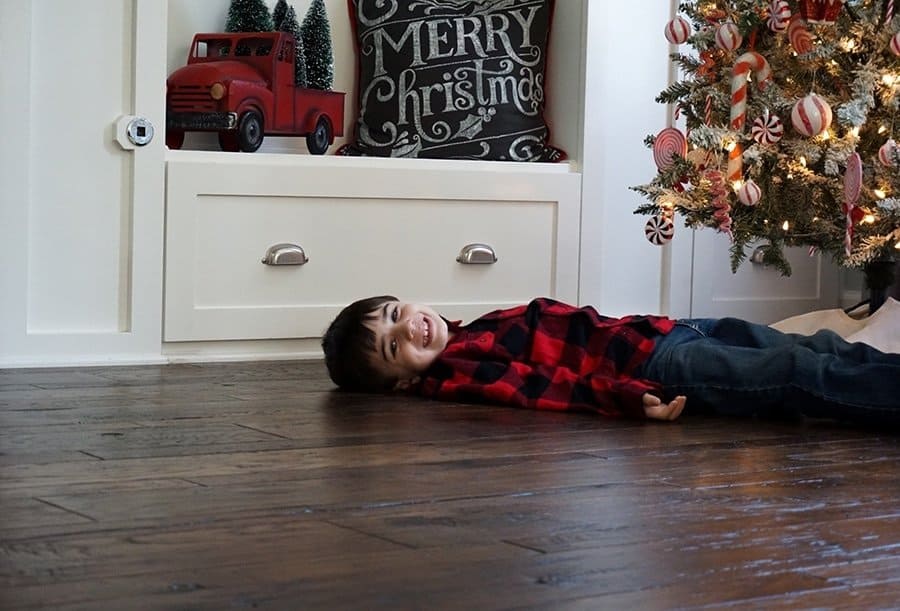 Even the kids who weren't so excited about it, not naming names, ended up laughing pretty hard!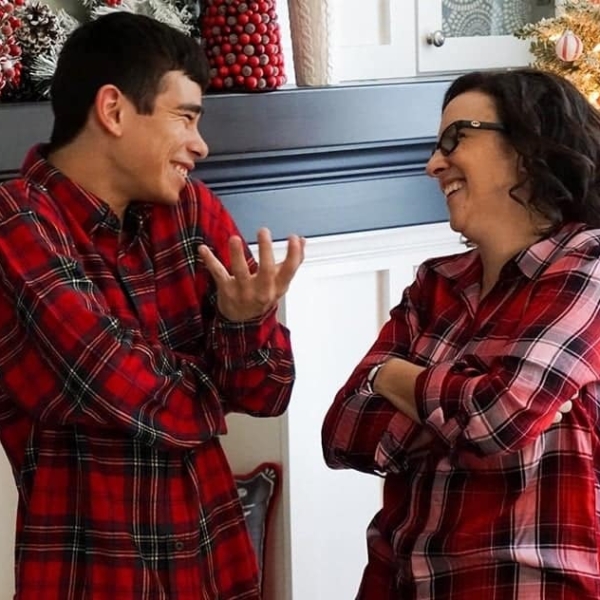 It was quite comical at the end to see Ryan literally running from the tripod to us, and from us to the tripod in order to get as many shots as possible before the kids just flat out quit.
In the end, it turned out to be a great family experience and we came out with some really nice pictures of everyone!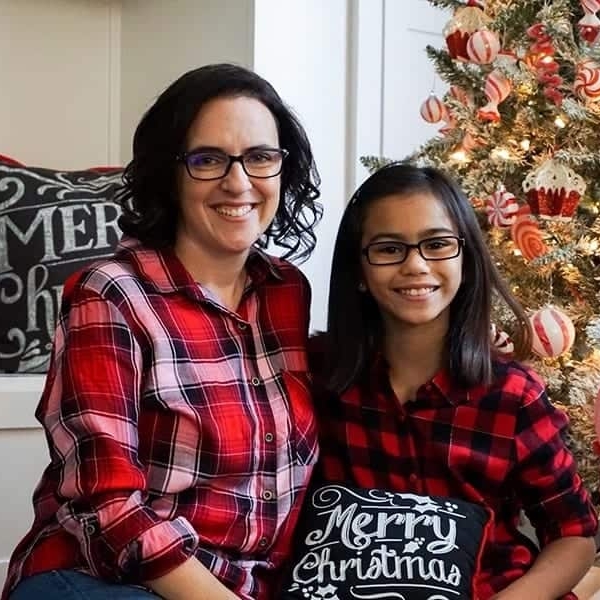 Choosing The Best Pictures
When you have 7 people in a group photo, it is not an easy task to choose one where everyone looks good. We had several good ones where one child had his eyes closed in every single one. We had another good series, where another child looked like he was in severe pain. And of course, there were others, where we all looked a little funny! There were plenty of great ones to choose from though.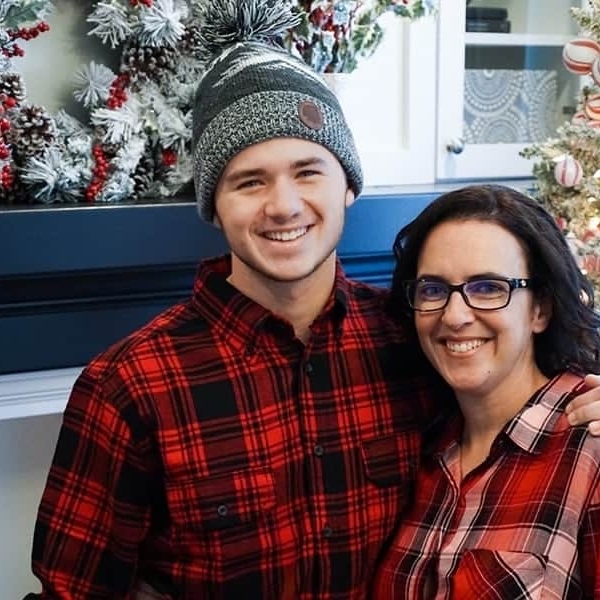 We chose approximately 20 pictures that we loved and uploaded them to our desktop. There were some individuals, some group, some horizontal, and some vertical.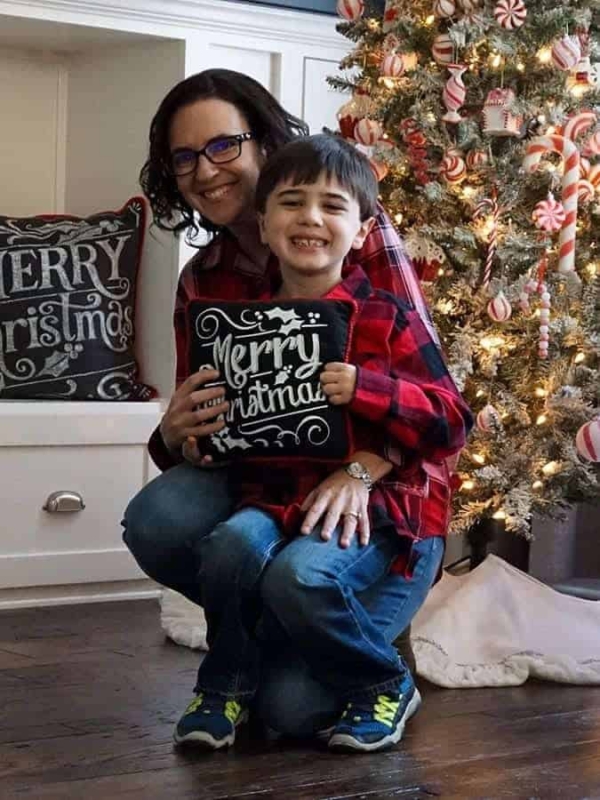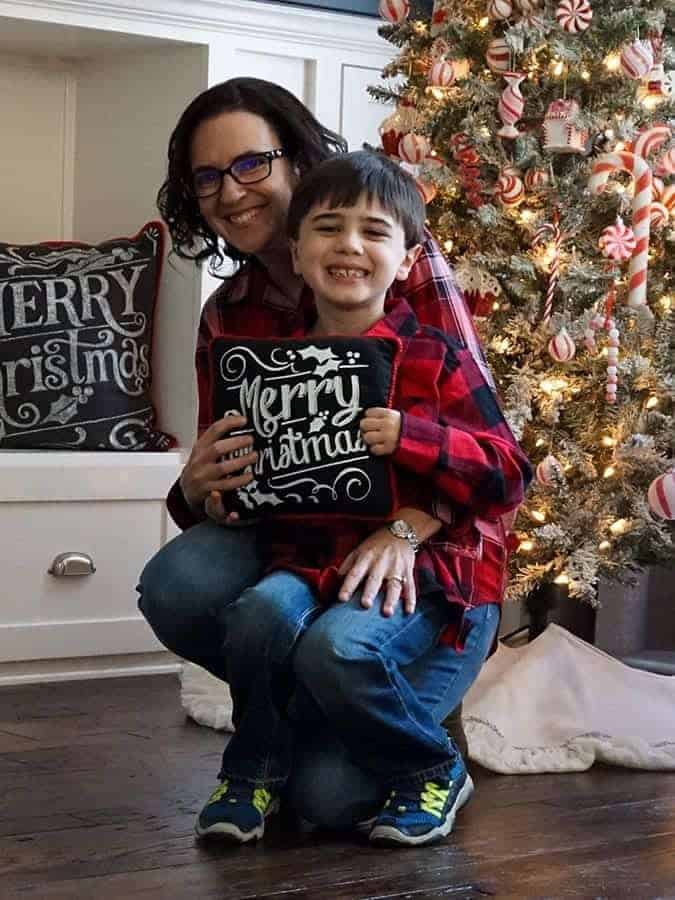 We wanted to have several options to play with while creating the card.
Choosing The Right Photo Card Service
There are so many options out there when it comes to choosing a Christmas card service. We wanted to give several a try. We looked at reviews, did some research, and decided to try out Mixbook, Simply to Impress, and Tiny Prints.


They all had great options as far as card designs. I found none of them lacking in that category. We decided that I would go to each website myself and try to create the cards without Ryan's help. He's such a tech whizz, it wouldn't have been a fair analysis of user-friendliness if he made the cards. ?
Mixbook: Beautiful Cards, Difficult Experience
I tried Mixbook first. The card designs were beautiful, and when comparing the price for equal items, they offered the lowest price. Do keep in mind we did these now, knowing there would be great online deals because of Black Friday and Cyber Monday. All 3 companies had very similar coupon code discounts for this particular weekend. I made sure and used these codes in order to get the best deal.
Once I started creating the card in Mixbook, I did get frustrated with their editor.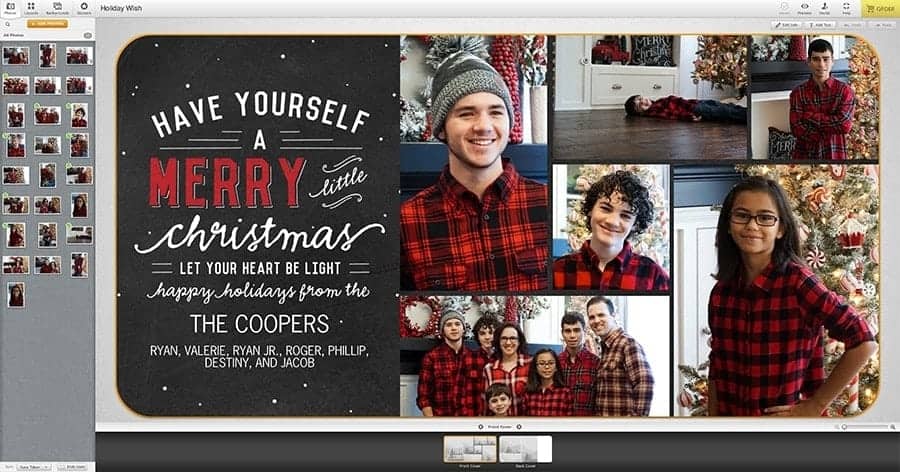 Several times I put in a picture I wasn't satisfied with, and there wasn't an easy way to replace it. Also, the pictures look very grainy and blurry when you're editing the card. This issue is resolved when you "preview" the card.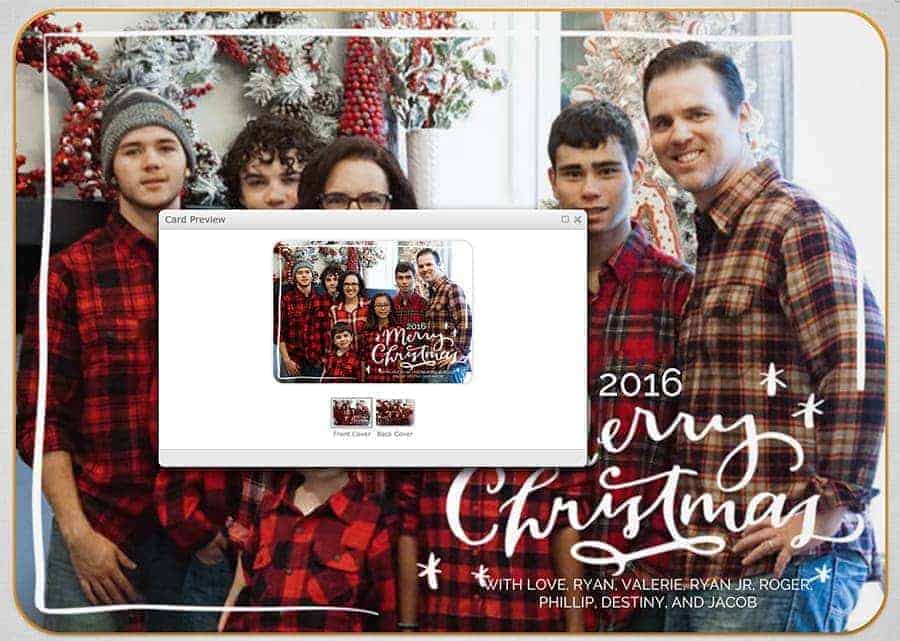 It took me a while to figure this out though, and I was worried our pictures weren't as good as we thought.
One great thing about Mixbook is you can order as little as one card! That's a plus if you don't have a long list of people to send cards to.
I would say most of my favorite card designs were on Mixbook, so even though we didn't order the bulk of our cards from them, I did go ahead and place an order for a small quantity with my favorite design.
Overall, for the price, Mixbook is definitely worth a try.
Simply To Impress: Good Price, Good Selection
Next, I tried Simply to Impress. This service was easy to use, and I had no issues with it. The price was slightly higher than Mixbook's, but nothing too significant. They had nice designs, and overall I was pleased with the card creating experience.
I didn't order any cards from here but they get great reviews online, so it's a good option to check out as well.

Tiny Prints: Great Designs, Even Better Experience
Finally, I tried Tiny Prints. Tiny Prints, in my opinion, had the most user-friendly interface. For me, that's the most important thing.
It was extremely easy to quickly create six different cards and then compare them side by side to see which was our favorite.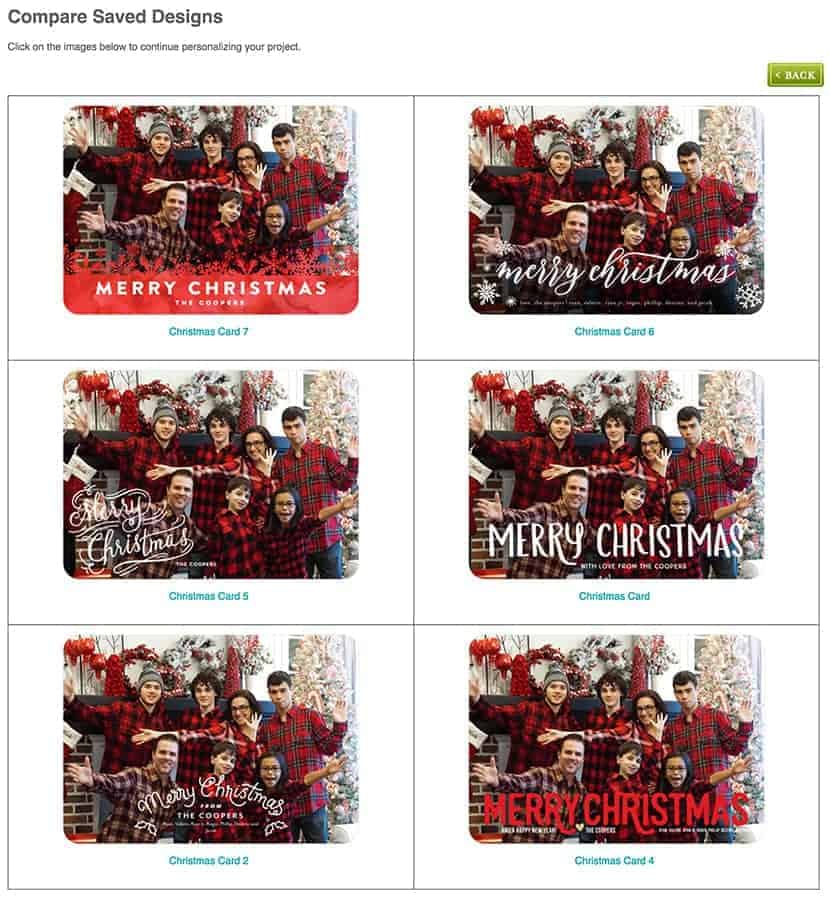 As far as price, Tiny Prints was the highest of the 3, but in my humble opinion, very much worth it when you consider ease of use.
We did a lot of research before making our final decision, and in the end, decided to go with Tiny Prints. Not only were they the easiest to use, but they also got the best reviews as far as quality, design options, and service.

We just ordered the cards, so we haven't received them yet. I'm certain after reading all the reviews though, we will be satisfied with the quality.
As a matter of fact, I've already had a positive experience with their customer service. After placing my order with 50% off, I realized I could have also gotten free shipping, but didn't enter the second coupon code. I used their live chat feature and in less than 5 minutes, the customer service agent had gotten me a credit on my card for shipping!
Our Very First Christmas Card Is Complete
Well, there you have it, my experience creating our very first Christmas card!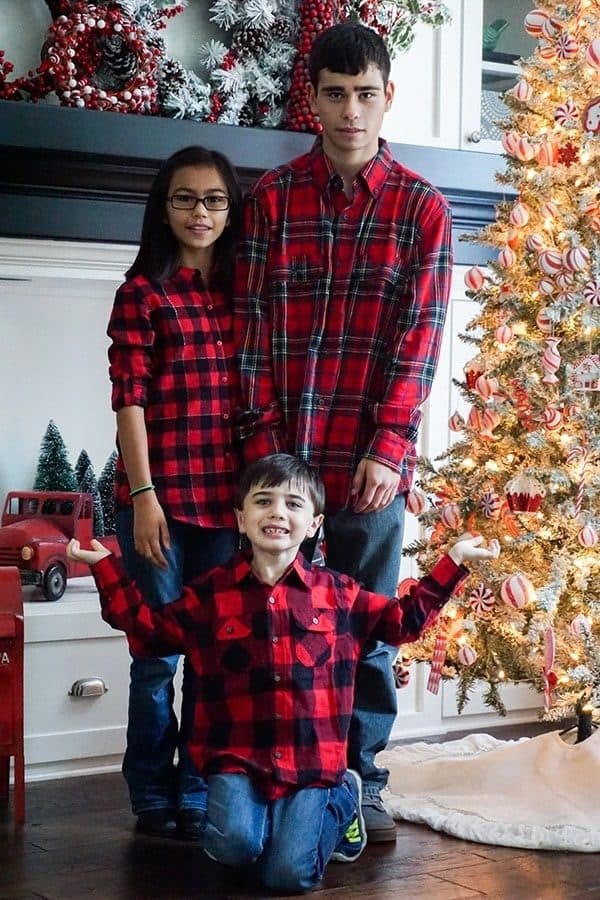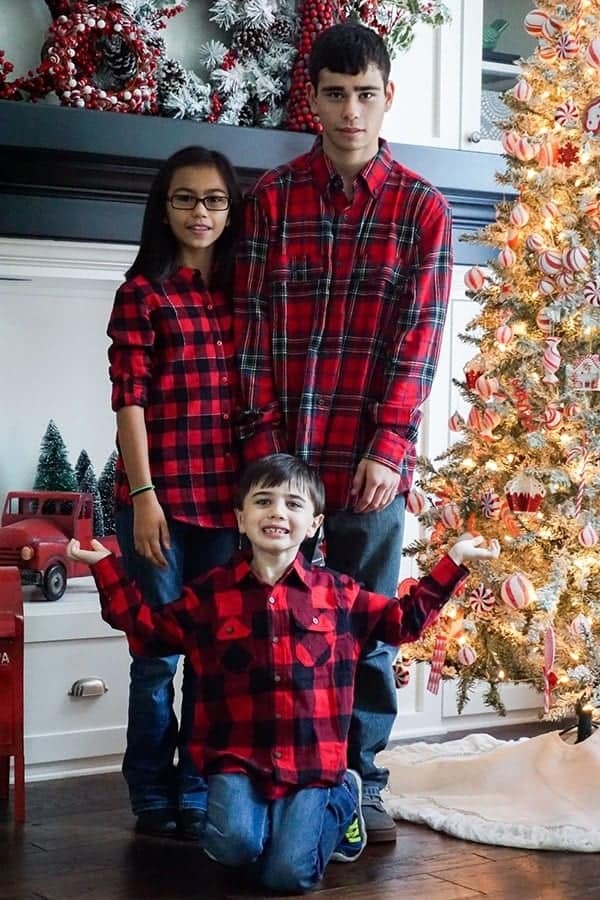 I hope you will find this helpful in choosing a website to create your very own Christmas cards. Let me know if you have any questions or if you end up using one of these companies, what your experience is.
Quick & Easy Recipes
When you sign up to become a newsletter member, you'll get access to my latest quick & easy homemade recipes, homemaker tips and tricks, free printables, and more delivered directly to your inbox each week.