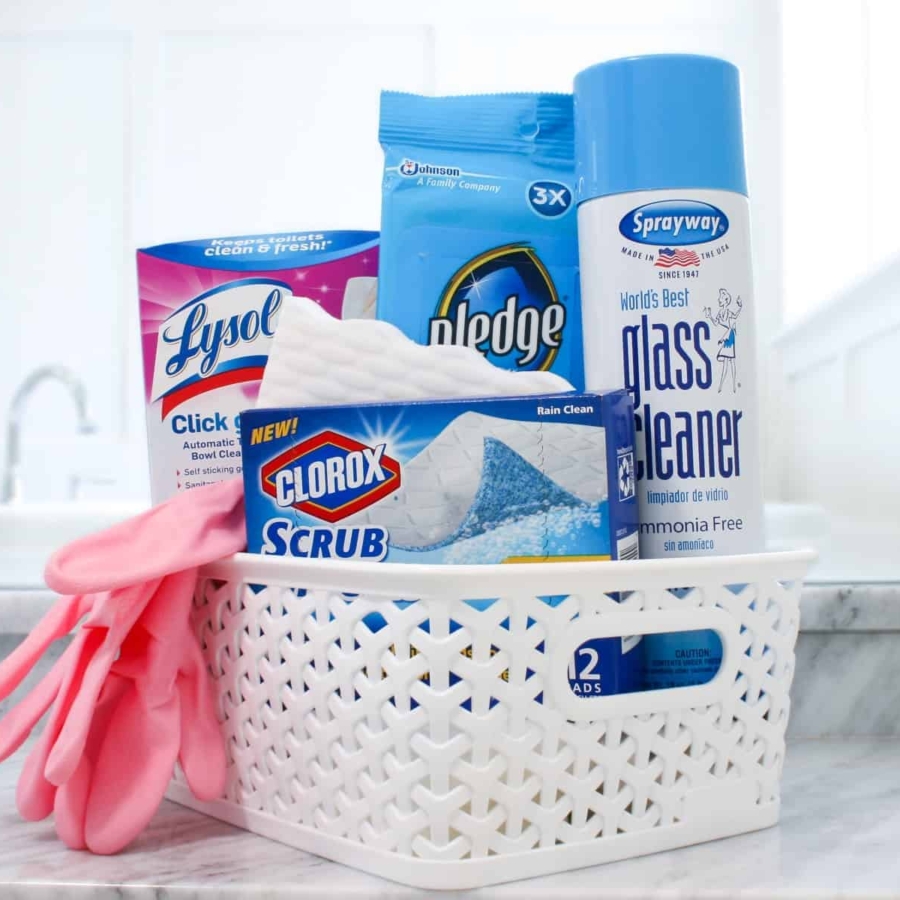 If you're like me, cleaning your bathrooms is not the most exciting part of your day. Having 4 boys makes it extra messy in my house! Over the years, I've come up with a few ideas to help me get through the cleaning quickly and painlessly. So here they are, my tips to hopefully make cleaning your bathrooms a breeze!
This post contains affiliate links. For more information, see my disclosure.
Keep a Small Basket of Essential Cleaning Supplies in Each Bathroom
Who likes carrying around a big bucket full of cleaning supplies from bathroom to bathroom? Nobody! That's why I keep a small basket with all the essential cleaning supplies in every bathroom.
I keep mine tucked away in the cabinet under the sink. This makes moving from bathroom to bathroom quicker and hassle-free. However, if you have little ones who like to get into the cabinets, this is not the best place for you to keep them.
Clean Your Space!
Here is a list of items you can use to clean your space.
Featured Items
Here is a list of the products featured in this post or products similar to those featured in this post:
10 Best Household Cleaning Products
If you're ready for a quicker and easier cleaning routine, then make sure to check out my Favorite Household Cleaning Products.
Store Extra Trash Bags in Trash Cans
One thing I hate is changing out a trash bag and having to go downstairs to get a new bag. When I go downstairs, I usually get tangled up doing something else and by the time I get back upstairs with a new trash bag, someone has undoubtedly thrown their trash into an unlined trash can. Yuck!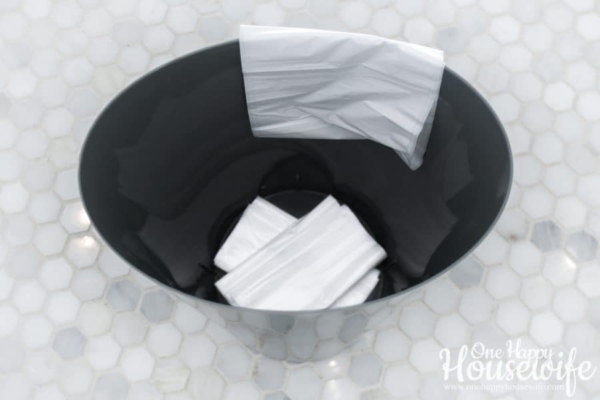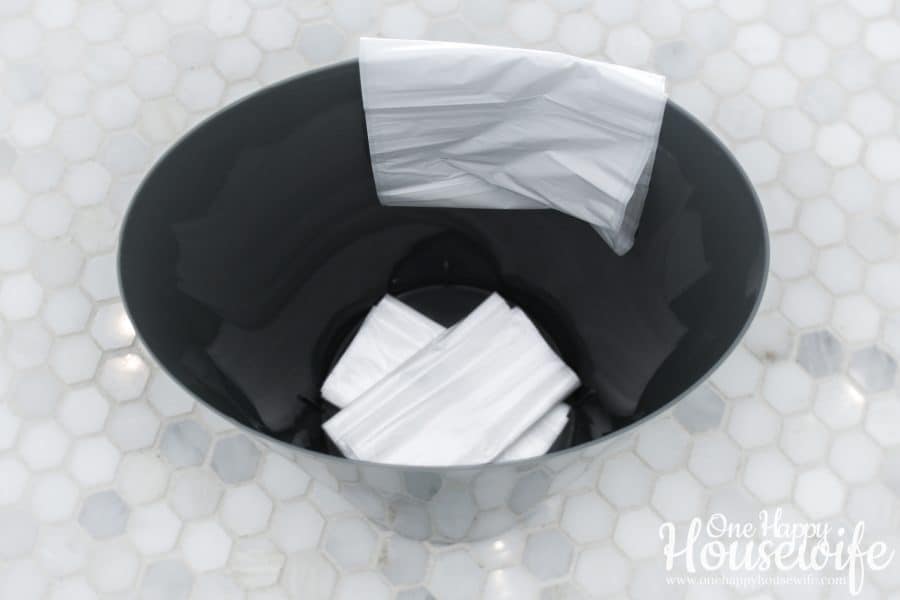 Quick Tip
Fold up 5 or 6 trash bags and place them inside the trash can before lining it with the new trash bag. Next time you change the bag, you'll have a new one ready to put on immediately!
Use Disposable Toilet Brushes
In my opinion, there is nothing as gross as cleaning a toilet bowl over and over with the same toilet brush. That's why when Clorox came up with disposable toilet brushes, I heard a choir of angels singing in my head! These things are great! If you haven't bought one yet, do yourself a favor and get one for every bathroom in your home.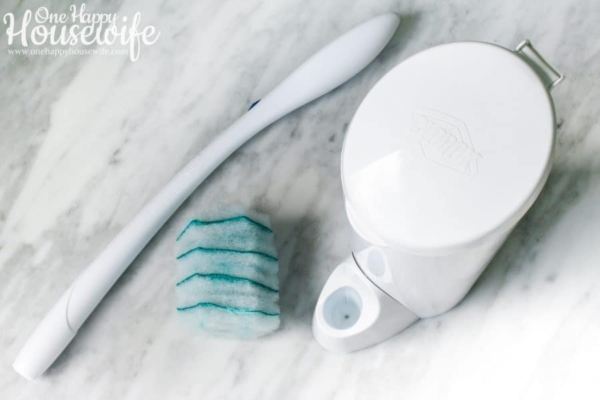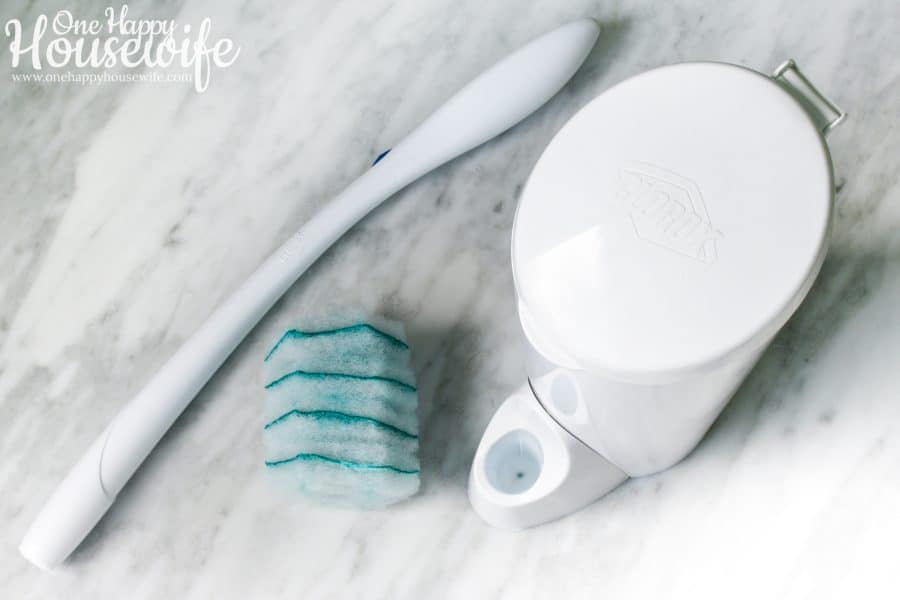 The Clorox Toilet Wand is so easy to use, even the kids can do it! (Not that they will, but theoretically they could) In a quick minute, you can have a clean toilet bowl with no mess and no disgusting used brush!
Use Scrubbing Bubbles Toilet Gel or Lysol Click Gels in Your Toilets
These little things are great! You simply click the gel pack onto the toilet rim and your toilet will smell fresh for days! The application is simple when using the Lysol Click Gels (unless you're my hubby who doesn't like to read instructions and, in turn, makes a mess and wastes one of my precious click gels). Just don't forget to remove the peel back label before clicking on the rim!
I haven't been able to find the Lysol Click Gels in our local stores, so I had to find an alternative. Scrubbing Bubbles Toilet Gels are great and do the same thing as the Lysol ones.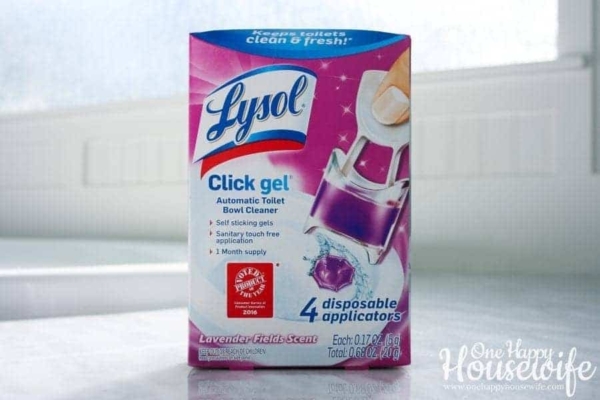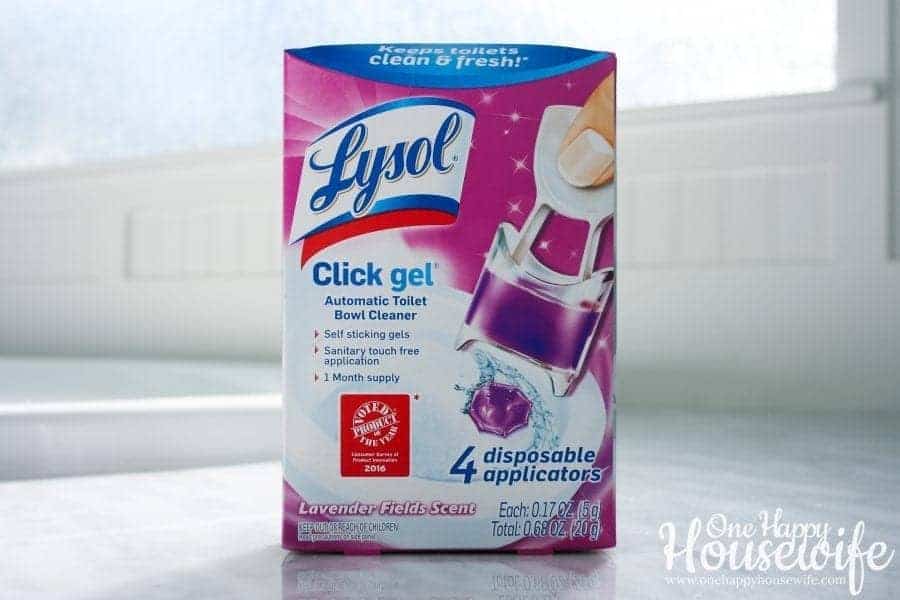 One thing to take into consideration is the smell is quite strong especially when you first install it. You can leave the fan in your bathroom on for a little while to help with this.
Squeegee Your Shower Doors
If you have a glass shower door you need to get yourself a squeegee. We keep one in our shower and we squeegee the door every time we get out of the shower. It keeps your door looking new and is especially helpful when you live in a place with such hard water like Texas!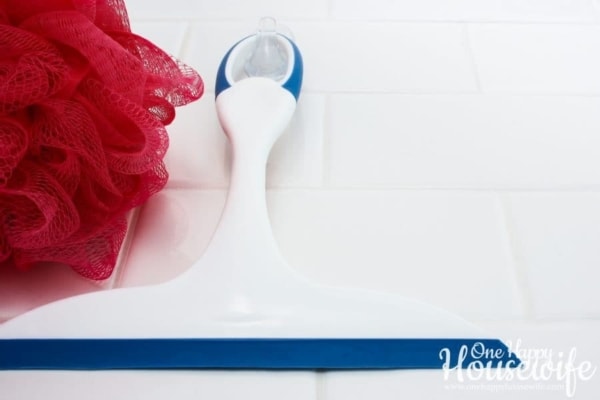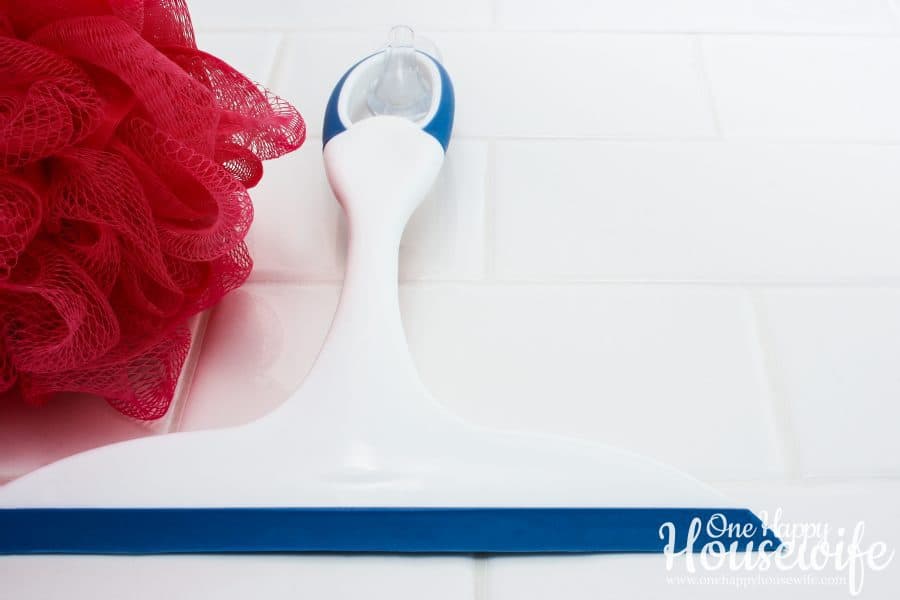 I also make sure and wipe all the chrome accessories before getting out to avoid any water stains. It only takes a couple of minutes and it makes a world of a difference!
Clean With Disposable Scrubbers and All-Purpose Wipes
OK, so I know some people may think it can get expensive buying these, but in my world, time is money! When you have 5 kids, the piles and piles of laundry I have daily are ridiculous! I'm not about to add towels from cleaning the bathrooms to my load.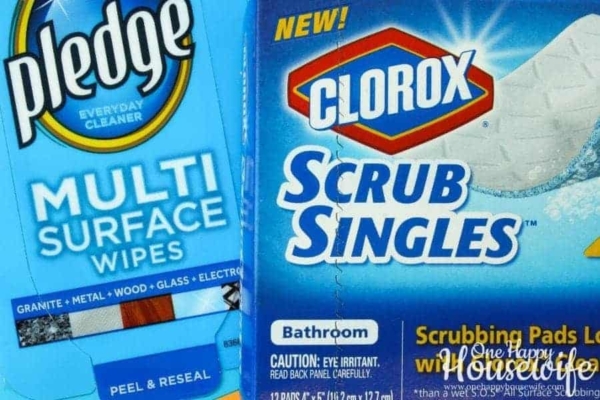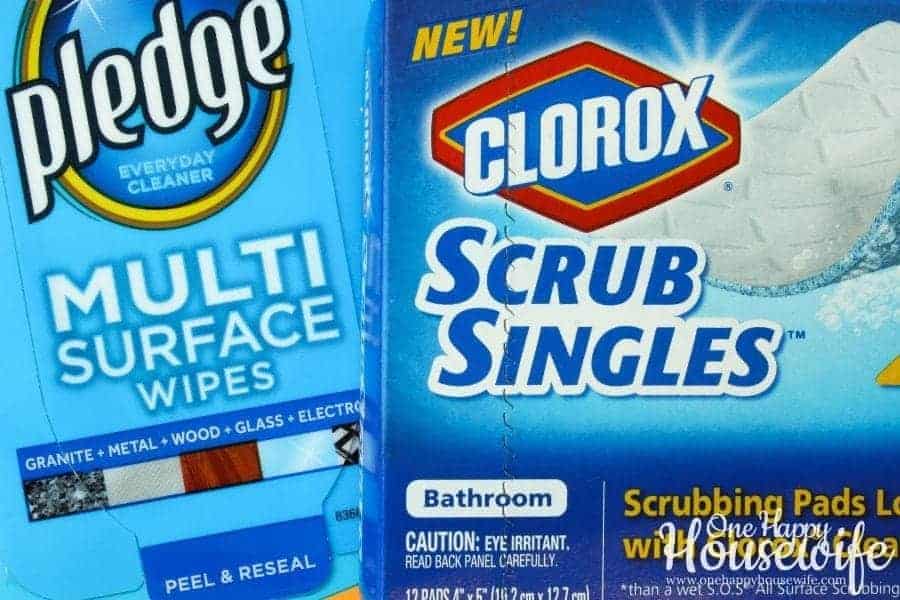 I love using these Pledge Multi-Surface Wipes and Clorox Scrub Singles, and then simply tossing them in each bathroom trash can when I'm done. No wet, dirty rags to carry from bathroom to bathroom!
Vacuum With a Cordless Vacuum and Mop With a Swiffer Wet
Ok, so I could write an entire blog post on my Shark Navigator Cordless Vacuum, and I probably will soon. I mean, I love this thing so much, I have 2 of them! One upstairs and one downstairs.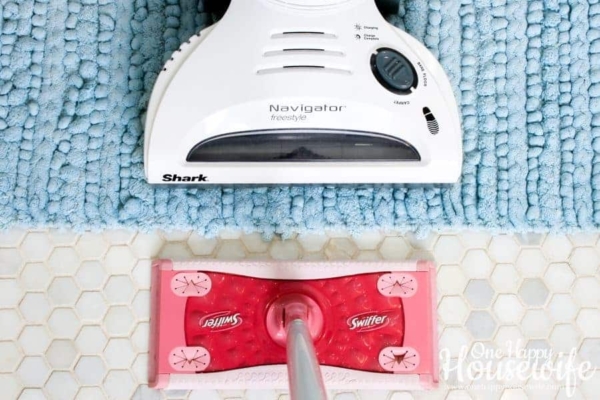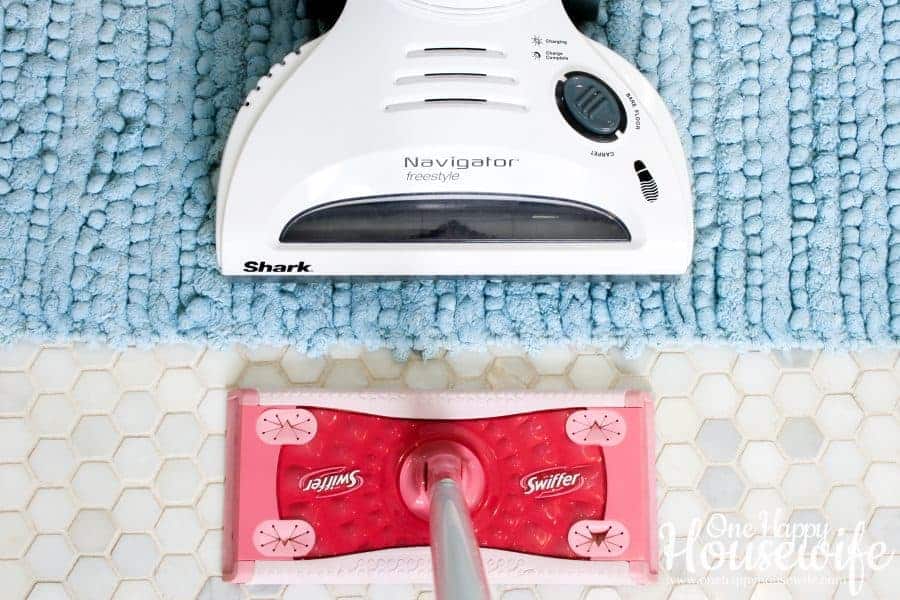 For now, though, I'll just tell you these things are amazing, and can definitely speed up your time cleaning the bathroom. Instead of sweeping I just break out my super light vacuum and I'm done in minutes!!
Dirty mops are another one of those things I find so disgusting! I don't like the idea of mopping one bathroom and taking the same mop into the next one dripping a trail of water the whole way .
The Swiffer solves that problem. It is so easy to use and when you're done, you simply dispose of the wet pad and move on to the next bathroom.
No water mess or dirty mop!
Remove Scuffs and Stains With a Magic Eraser
The Magic Eraser is a great little tool not only for bathrooms but really anywhere in your home. I keep one in each bathroom basket for any scuffs or hard to remove stains.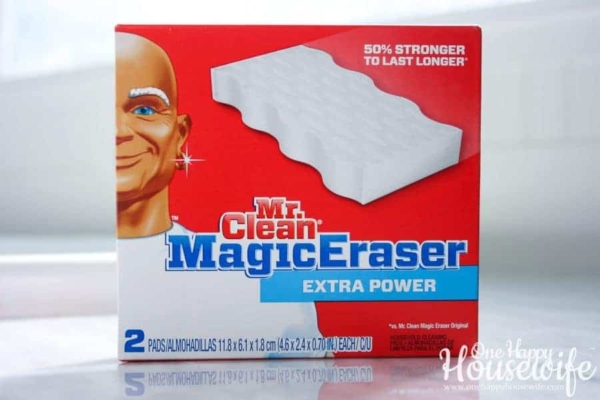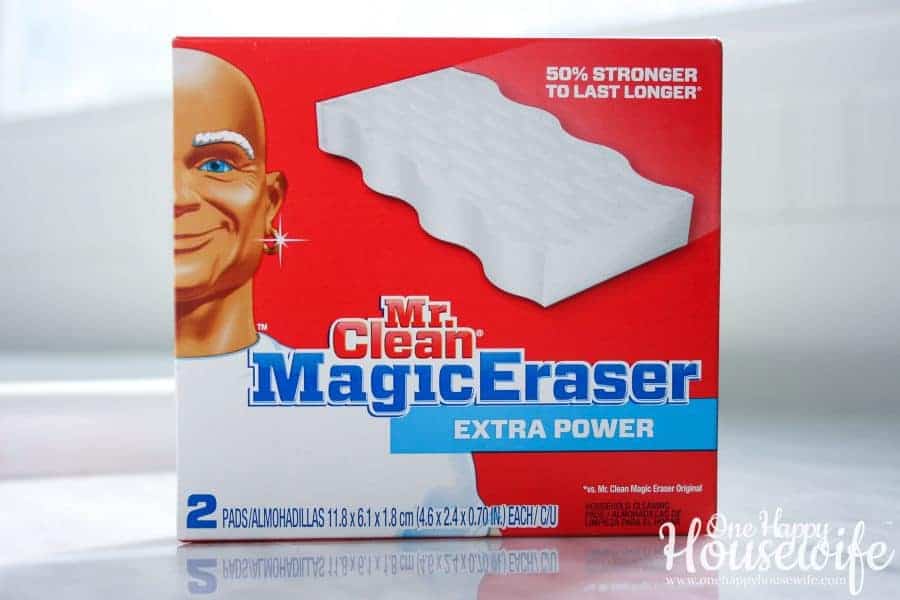 Just make sure you spot test it if you're using it on any painted surface, to make sure your paint won't come off with the stain!
Well, there you have it. 8 tips to make your life a little easier. I hope these simple ideas can make your bathroom cleaning a little less painful!! Do you have any great tips for cleaning bathrooms? I'd love to hear them below!
Quick & Easy Recipes
When you sign up to become a newsletter member, you'll get access to my latest quick & easy homemade recipes, homemaker tips and tricks, free printables, and more delivered directly to your inbox each week.