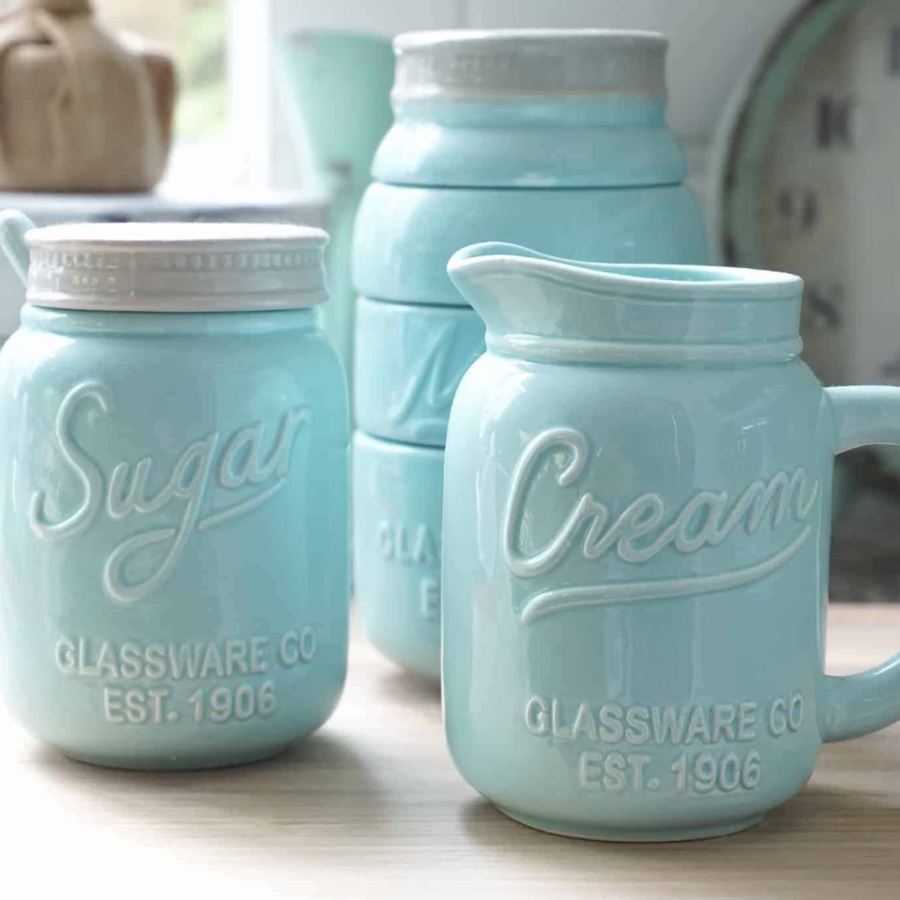 I often get asked about all the aqua decor and accessories in my kitchen and where it came from. So I put together a list of my favorite aqua kitchen items and where you can get them.
This post contains affiliate links. For more information, see my disclosure.
I've been on an aqua kick for quite a while now, and it's present throughout my home. I have not gotten tired of it, and it seems to match with a lot of my colorful decor. My kitchen, in particular, has a lot of aqua in it and it just makes me happy every time I look at it!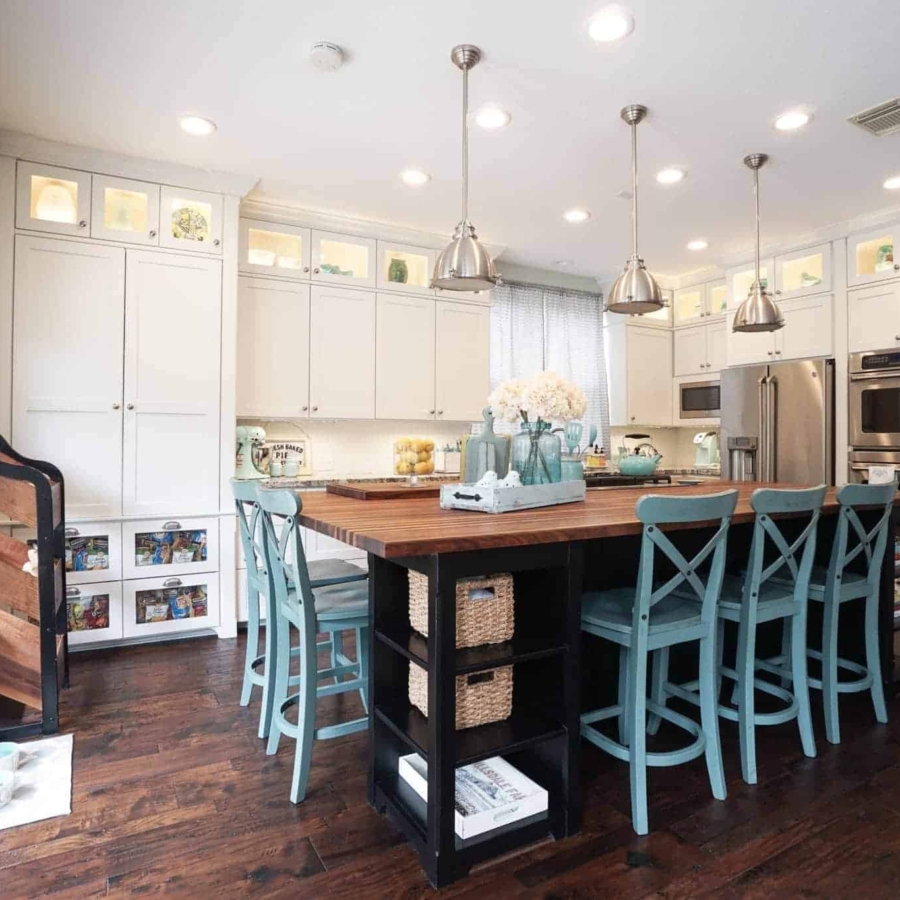 So here are a few of my favorite aqua kitchen items! I hope they provide lots of inspiration for your own aqua kitchen.
Aqua Kitchen Utensils & Accessories
It seems like everywhere I look, I spot some aqua utensils. But you can't buy a kitchen utensil just because you love the color, it should last and be able to perform in the kitchen. I've unfortunately bought some duds that I've had to get rid of pretty quickly.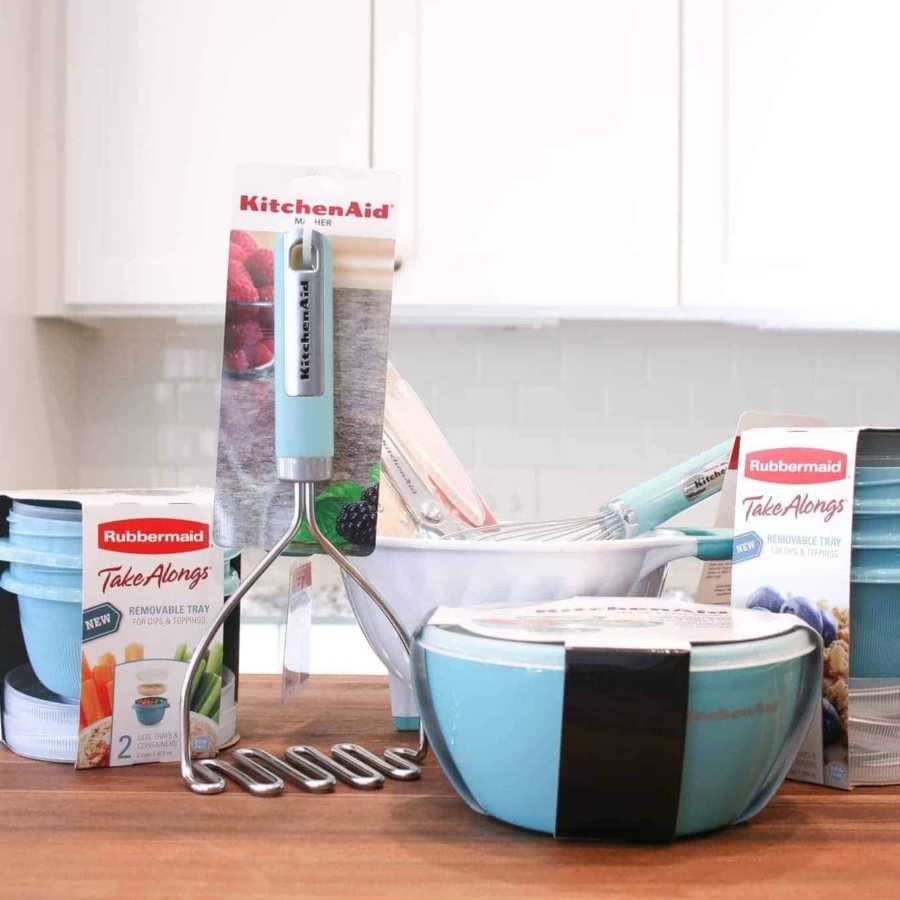 So when Kitchen Aid came out with their "Aqua Sky" color, I knew I had to get my hands on all the pieces. I have slowly gotten a piece at a time, and now I almost have the whole collection. I particularly love the new silicone utensils. They are sturdy, withstand a lot of heat, and don't seem to stain like plastic ones.
Below you can see most of the utensils I use constantly in my kitchen.
Aqua Knife Set
I got a set of Pioneer Woman knives for my birthday, and they are fantastic! The knives are very well built and they are very sharp. They come in a pretty wooden knife holder, and the price is so good for such a good set of knives! The set even comes with a pair of kitchen shears!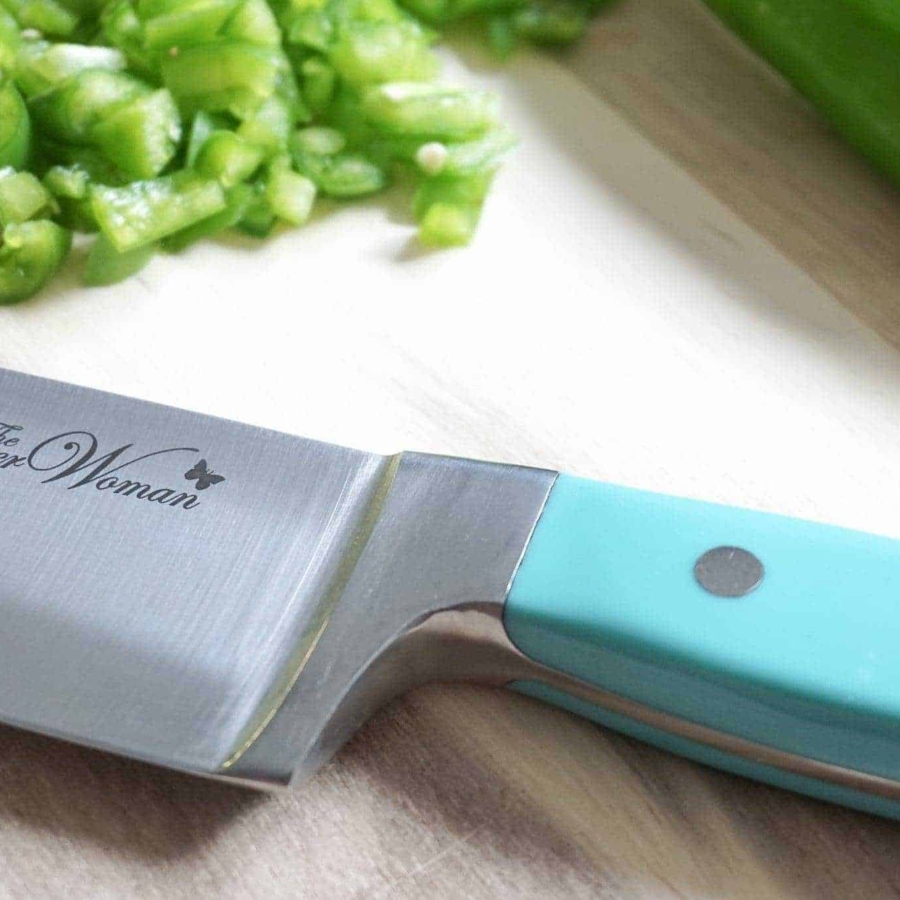 I love the Pioneer Woman collection because its colors make me happy, everything is of great quality, and it's super affordable.
Aqua Small Kitchen Appliances
In this section, I will talk about three of my favorite things!
My coffee maker, my stand mixer, and my countertop oven. These are the only three appliances I keep on my kitchen counters.
I use my Keurig coffee maker every single day to make myself a cup of caramel cappuccino. I don't really like the flavor of coffee (I know, gasp!), but I need the caffeine, so this is perfect for me. By the way, my favorite brand of caramel cappuccino is sometimes hard to find at the supermarket, so I always make sure and order a supply of cappuccino online. I love my Keurig, and I also use it to make tea and hot chocolate.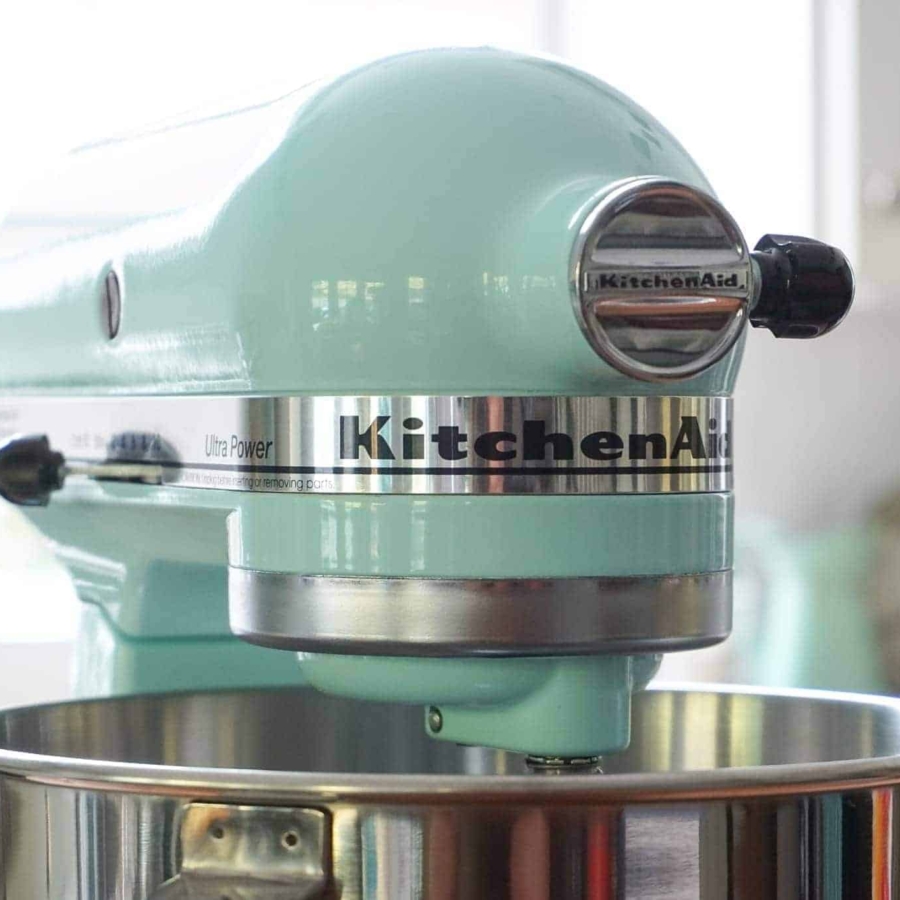 As for my mixer, I had wanted it since the first day I laid eyes on it! I had never had a big mixer, only the handheld one, which I got as a placeholder until I could afford the big one!? I now own both, and they are fantastic! I actually still use the handheld mixer for smaller jobs!
Below you can also see the mini Keurig in the same color as mine. It's so cute! I may have opted for it, had it been out when I bought the big one.
And finally, that delicious-looking oven!!?
Geez, Kitchen Aid, really, did you have to do me like that?
I am so in love with it. It is the pièce de résistance in my kitchen! It's absolutely beautiful and very convenient. We use it daily to make toast, cook chicken nuggets, make pizza, warm-up leftovers, and so much more.
Aqua Cookware
Ryan got me a set of aqua pots and pans many years ago as a Christmas present. I love them!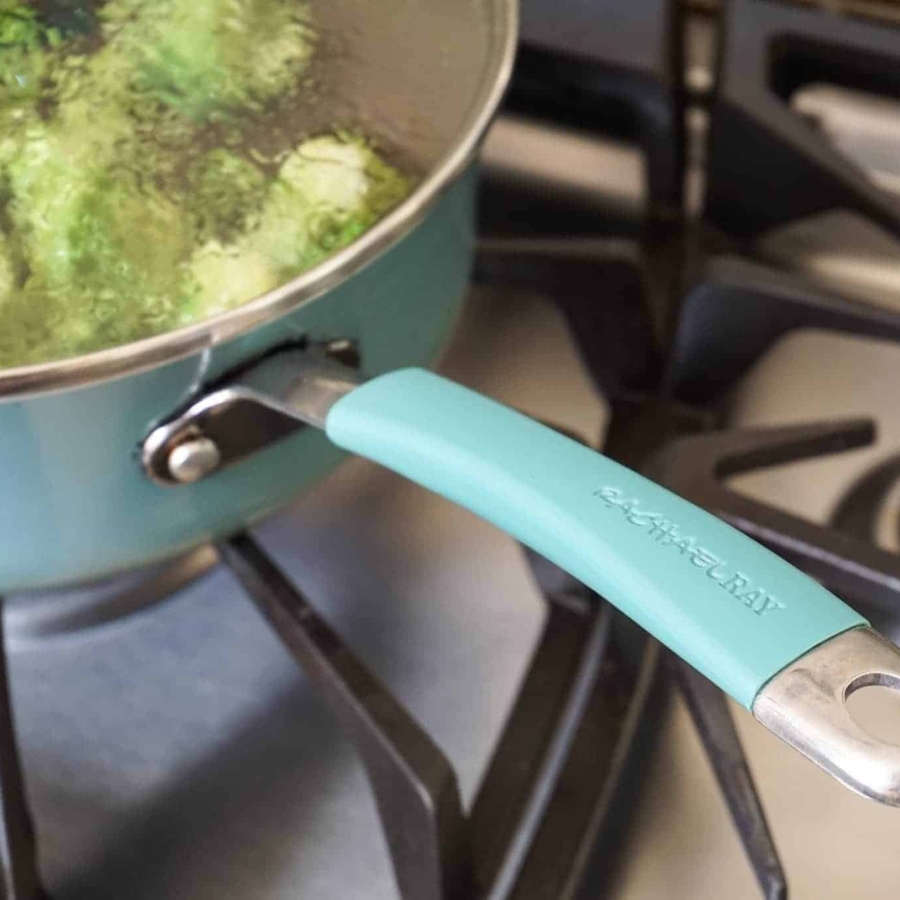 These pots and pans have worked hard for me for several years, and for the price, they are definitely a great buy! We use all the sizes that came in the pack on a daily basis.
My only issue with them now is that ever since a couple of my kids who now cook for themselves started using them, they have gotten scratches on the inside. Since these are non-stick, they have a protective coating, and that coating is starting to peel off. That makes me uncomfortable cooking in them because I feel like the coating could end up getting in the food. You definitely can keep them from scratching by using the correct utensils when cooking in them. Unfortunately, my kids sometimes grab whatever they find first! So my pots are definitely ready to be switched out for a new set.
Ryan makes his coffee in a French Press every morning, (yes, he's the real coffee drinker in the family) so he boils his water every day. I went out to find him a kettle to boil it in, and to my surprise came across an aqua kettle! Perfect for my kitchen! It's very sturdy, we've had it for several years, and it still looks great!
Aqua Bowls & Food Prep
These little bowls are great for food prep. They have nice lids and you can stack them nicely when you put them in the fridge. I love being able to stack things in the fridge, such a space saver!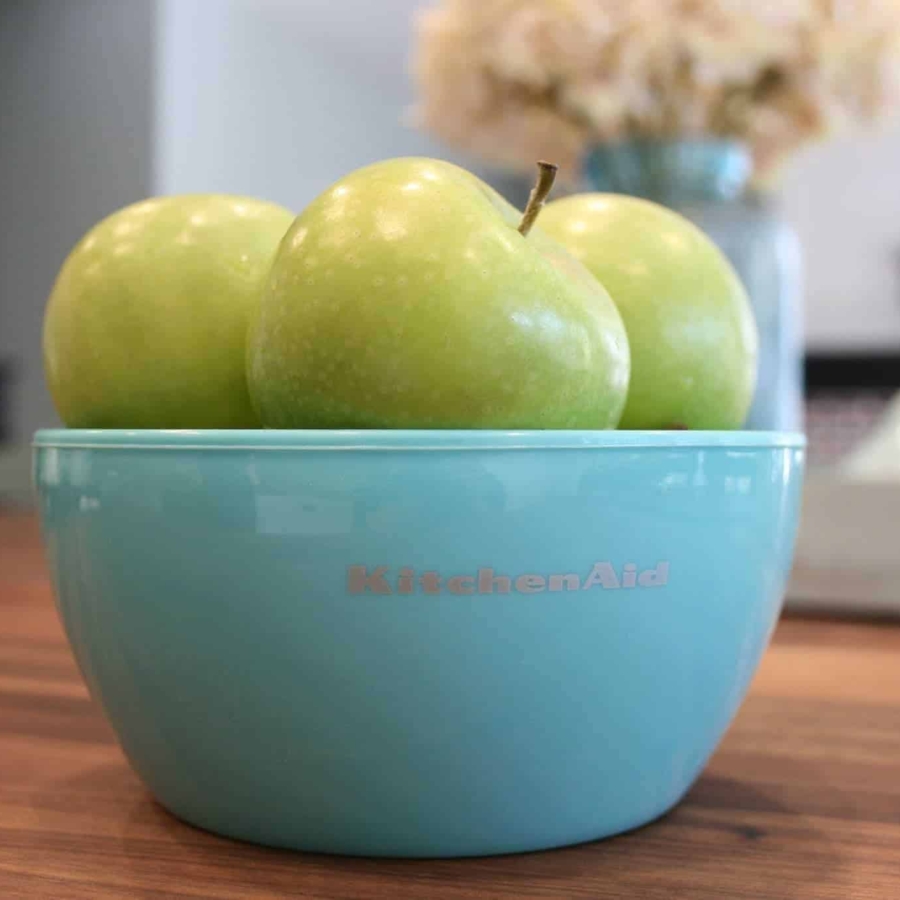 This strainer is perfect for small jobs. I use it not only for pasta but also to clean our fruit like blueberries, grapes, and strawberries before eating them.
Aqua Kitchen Decor & Dishes
Below you can find some of the decor pieces around my kitchen. Most of my decor pieces are functional, like our chippy clock, and our Mason Jar spoon rest and utensil holder. I do use different tones of aqua in the kitchen and it all seems to look great together.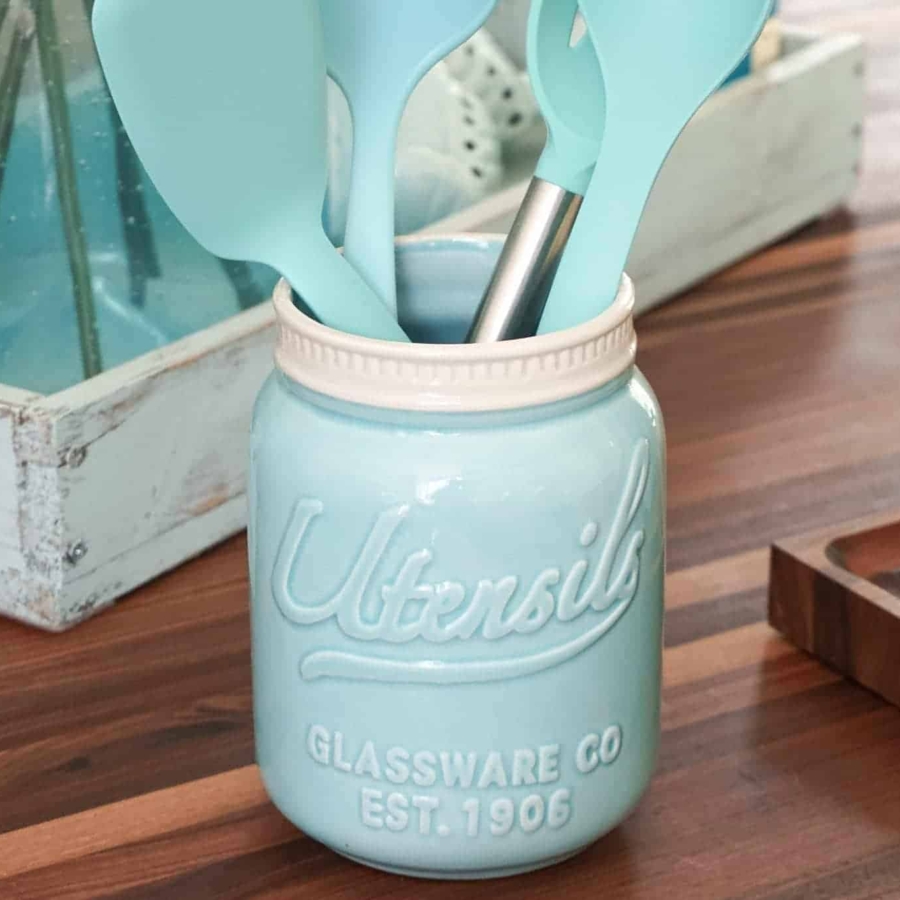 Below you can also see a picture of what I probably get the most questions about. Our stools! I was so happy when I found them. The color is perfection, and they have proven to be sturdy and really good quality. They came unassembled and Ryan and I put them together ourselves. It was an easy task.
Unfortunately, my bar stools are no longer available but there are plenty of other options available for aqua stools.
What about that bread box?
The. Best. Thing. Ever!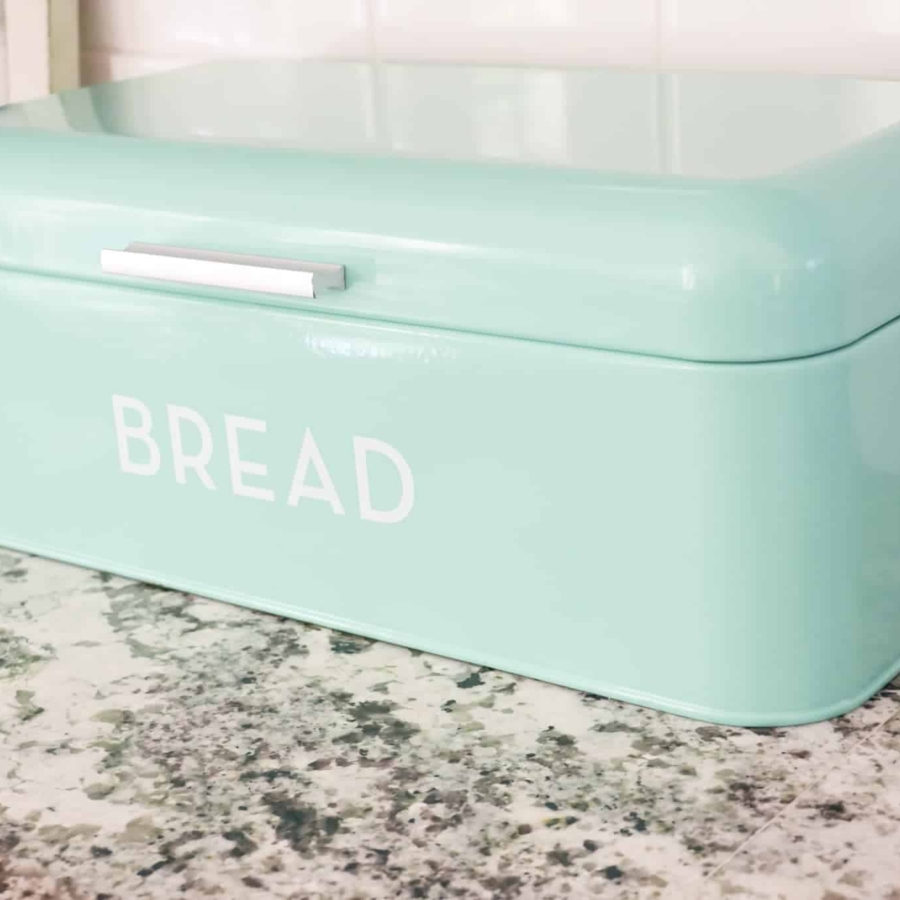 My sister found that for me a few months ago and she knew I had to have it. ?
Aqua Oven Mitts
A pair of oven mitts are my latest buy, and I love them! My friend got some in pink and she recommended them. I was very excited to see my color was available too!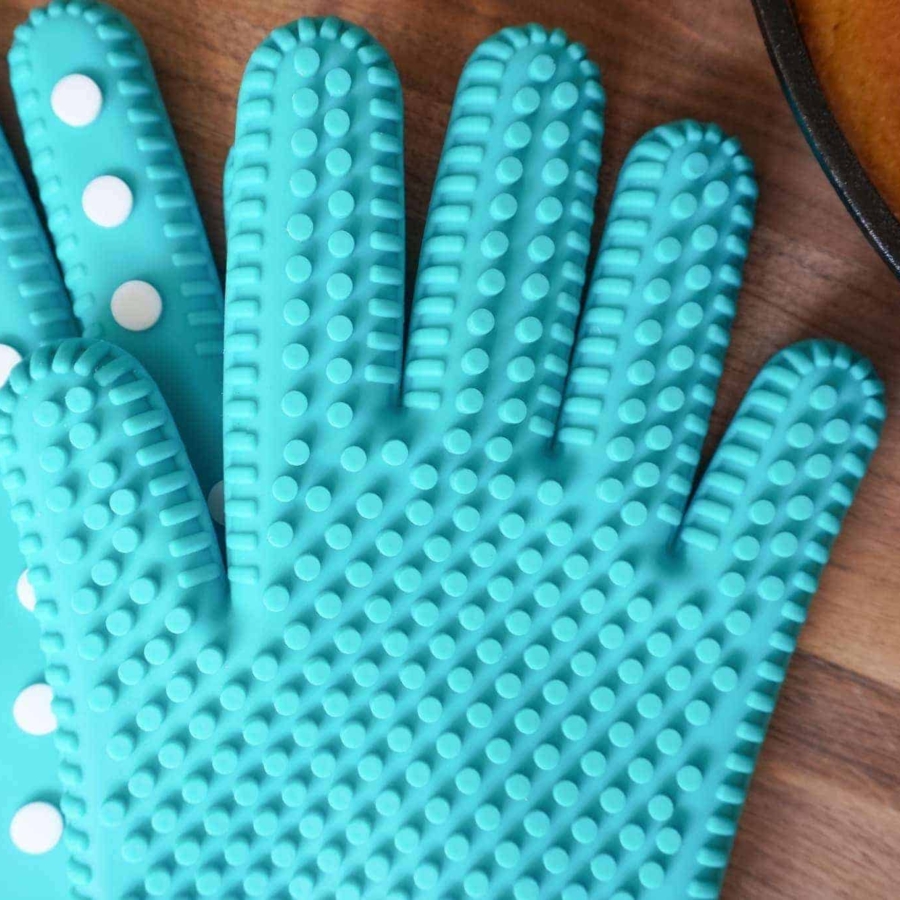 The mitts come in two sizes. I have small hands so I got the XS/S and they fit perfectly. I love that they fit my hand well, and I'm able to move my hands and fingers when I'm using them and don't feel like I have t-rex arms! Unfortunately, my oven mitts are no longer available, but there are plenty of other cute aqua oven mitts available.
Well, there you have it. A full list of my aqua-filled kitchen! Do you love aqua as much as I do? Let me know in the comments how you incorporate color into your kitchen!
Quick & Easy Recipes
When you sign up to become a newsletter member, you'll get access to my latest quick & easy homemade recipes, homemaker tips and tricks, free printables, and more delivered directly to your inbox each week.