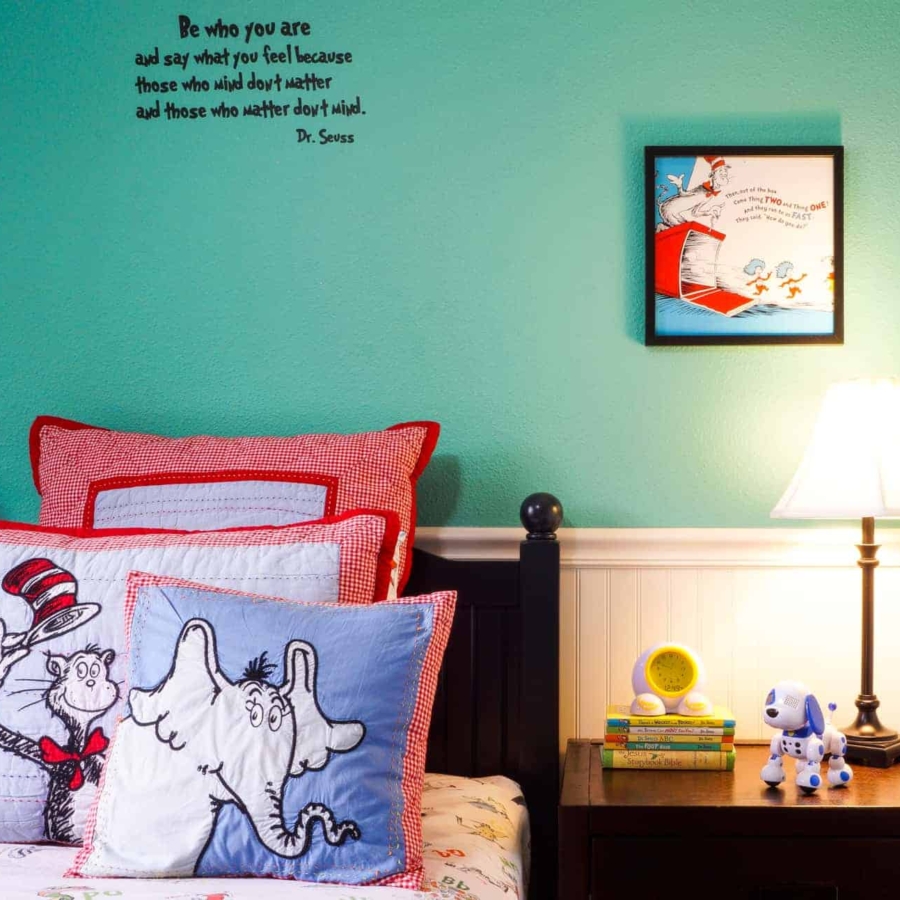 Before we lived in our current home, we lived in a smaller house right around the corner. We really thought that would be our home for a long time and had remodeled it just to our liking.
This post contains affiliate links. For more information, see my disclosure.
The boys each had a small room, but Jacob's was extra small, and we wanted it to be special since he had just gotten out of his crib and baby room. We wanted to do something different and fun and possibly whimsical.
Well, nothing says whimsical like Dr. Seuss!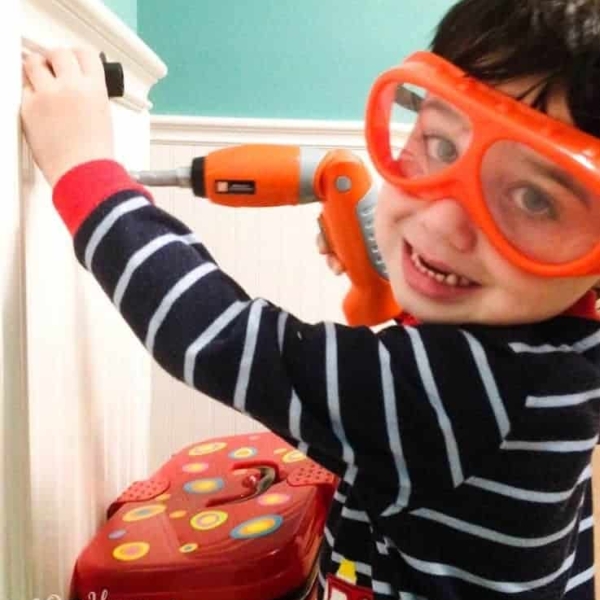 Find a Source of Inspiration
I had snagged a Dr. Seuss calendar on clearance for $0.99, and I was inspired to do something with it. That's usually how I decorate. I find one piece that I love and I work around it. I create my rooms based on that one piece. In this case, it was a calendar!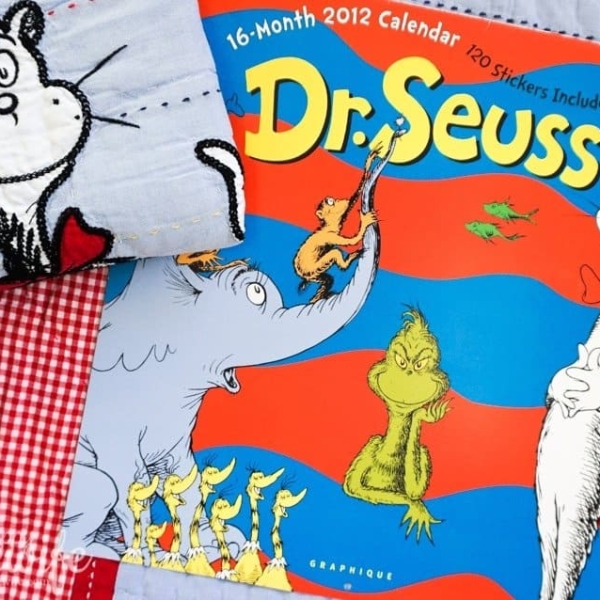 Quick Tip
Decorate With Calendar Pages
Calendars are a great option for inexpensive wall decor in children's rooms. You can find many of them on clearance at the beginning of every new year. Tear the calendar pages out, place them in frames, and voila!
Keep an Eye out for Decor Deals
To my luck, after deciding to go with a Dr. Seuss theme, I was at the mall and walked by Pottery Barn Kids, and wouldn't you know it, there was a chalkboard sign on the sidewalk that said: "Dr. Seuss bedding on sale, 50% off!"
What?!?
I didn't even know they had Dr. Seuss bedding! I, of course, got the entire set for an amazing price!
Take a Risk With Paint Colors
We added beadboard to the walls, as well as a small built-in bookcase, and painted it all clean white. We had to decide on a paint color for the walls and as I mentioned, I wanted to go with whimsical, so it was not easy to convince our friend and contractor, that I wanted to go with a color that was in one of the calendars pages.
I chose Rivulet by Sherwin Williams and he was not amused!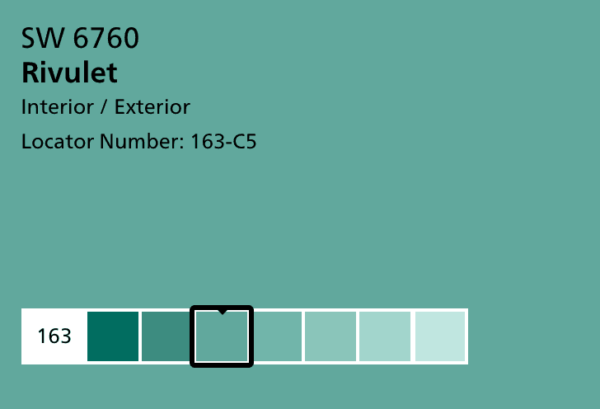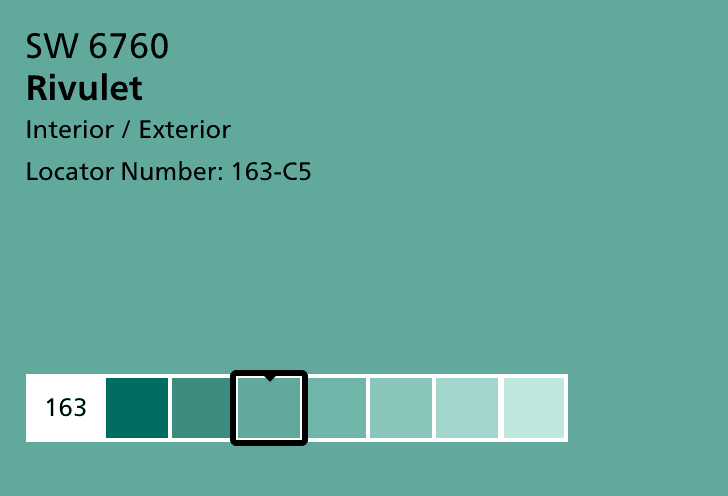 I mean, the bedspread's main color was red and light blue, the curtains were red, and the bed was navy. It sounded a little nuts, but I just knew that it would work.
I finally got everyone on board and we painted the room. He still wasn't convinced after the room was done being painted. He thought I'd end up repainting it. I was still sure it would work!
Quick Tip
Take Risks With Colors
Don't be afraid to take risks with colors! Sometimes colors you don't think will match the decor, will actually bring everything together. Look for small splashes of accent colors from your decor pieces as inspiration!
Be Creative With Wall Decor
I went to Hobby Lobby and looked for some square black frames for the calendar pages. I went on the week when they had frames for 50% off, so once again, it was a great deal.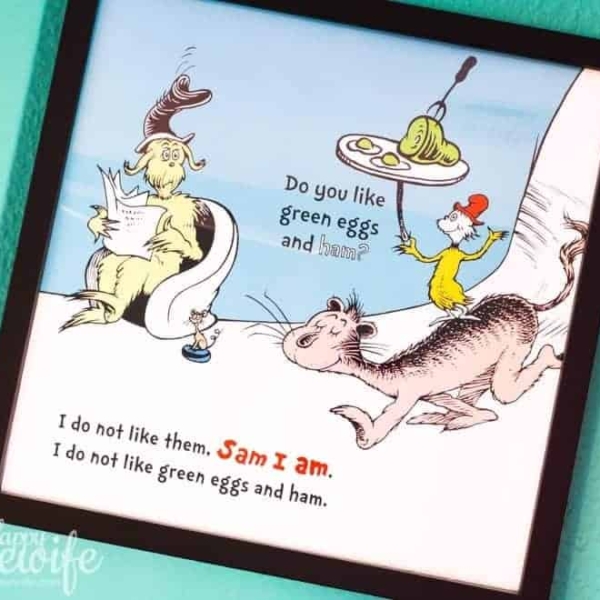 Ryan had to put these up for us and I made it really easy for him. I told him to hang them as crooked as possible! He put them up with Command Strips, which is what we use for most of our wall hangings.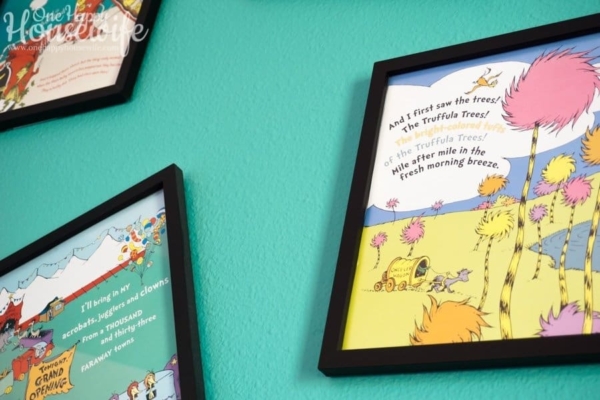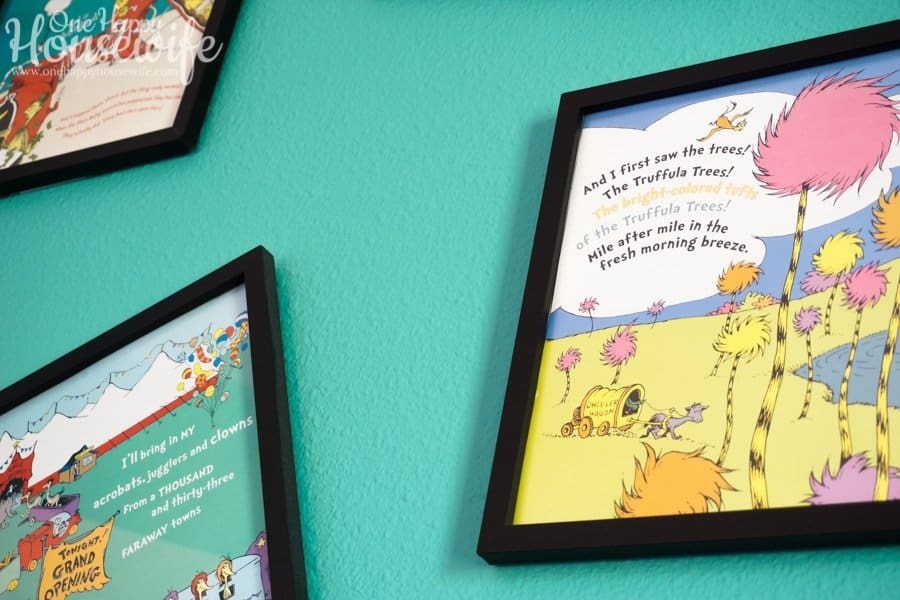 Make Use of What You Already Have and Add a Few Extra Decor Items
I ordered a "Cat in the Hat" hat from Amazon, to use as a nightstand decoration. We already had plenty of Dr. Seuss books to sprinkle throughout the room. I also ordered a decal with a Dr. Seuss quote.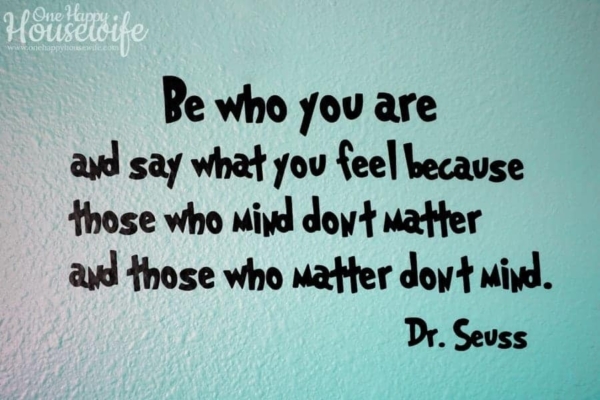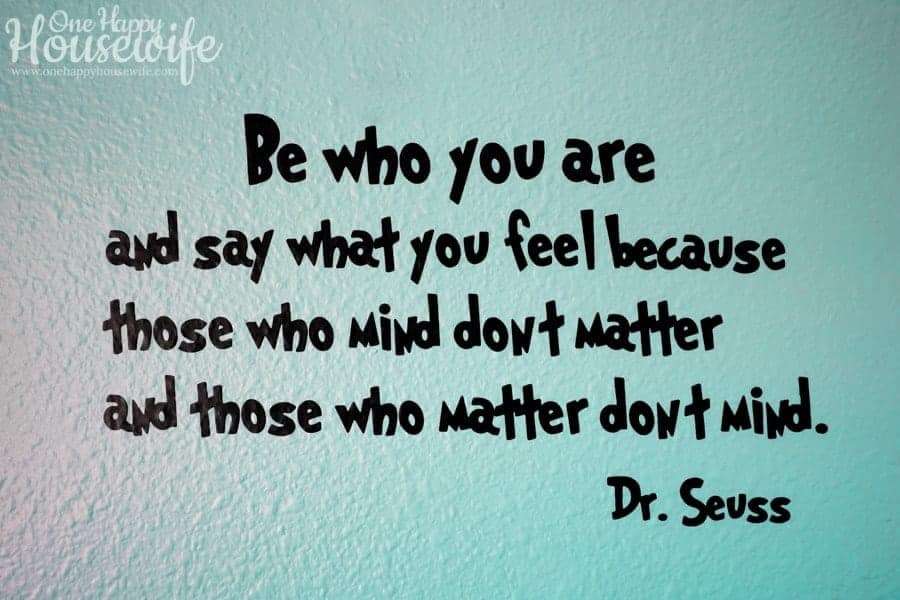 We then decorated the bookcase with all of Jacob's colorful toys and books. With the pictures in place and the bookcase decorated, the room started to come together!
Limit Furniture In Small Spaces
We didn't have room for a lot of furniture, so we used Jacob's dresser as his nightstand. That and his bed were the only pieces of furniture in the room. After the quilt and the rest of the decorations were in place, I was thrilled!! So was Ryan, and the contractor! He was finally able to see how everything came together, and my choice of colors wasn't so bad after all!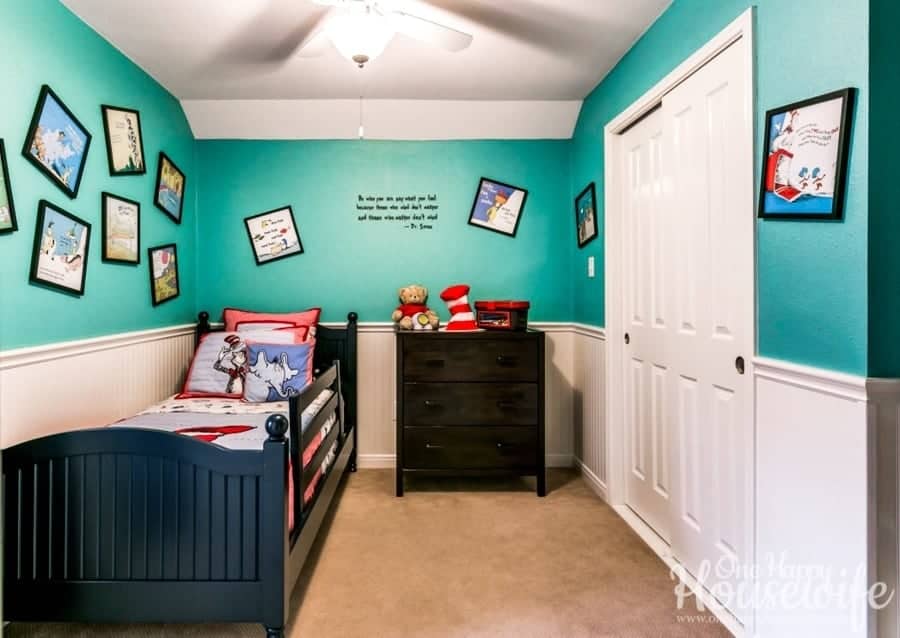 Quick Tip
Be Creative to Save Space
Sliding closet doors are great space savers for small bedrooms! Also, setting up a dresser to do double duty as a nightstand and pushing the bed up against a wall can also free up lots of space in a small bedroom.
It was a perfectly whimsical Dr. Seuss room! Jacob loved it as well. It was cozy, and he had enough room to play on the floor since we decided not to put so much furniture in there.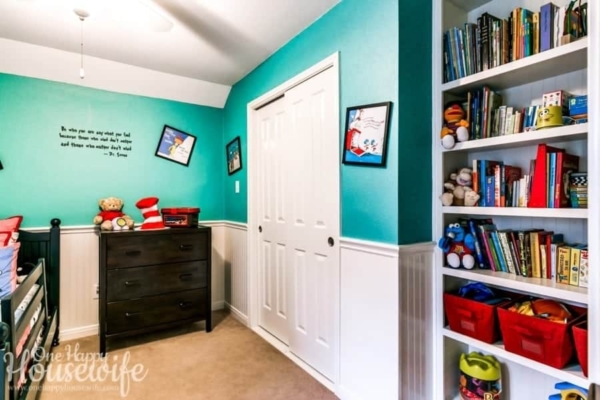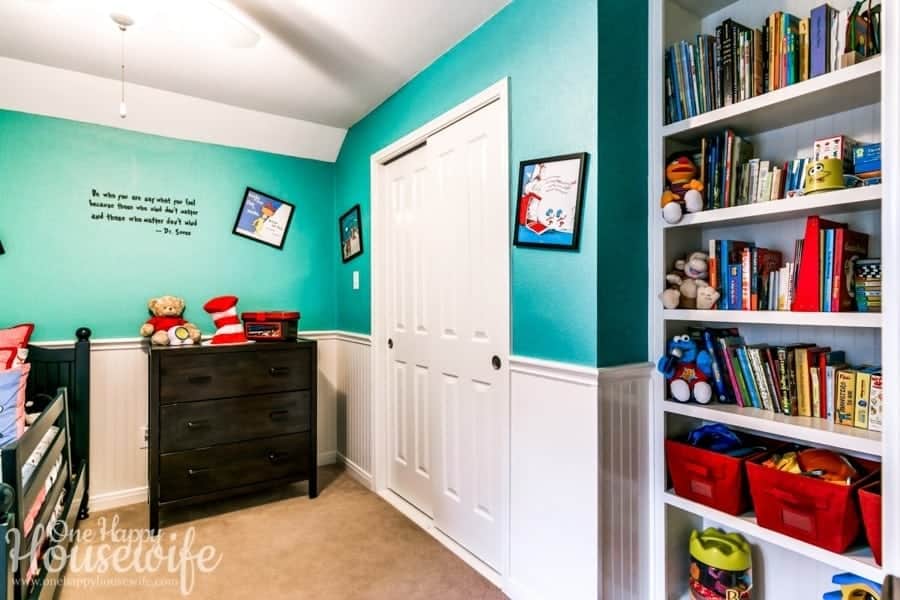 Well, as much as we loved the room and the way the whole house turned out, we soon outgrew it. The bigger kids were spending too much time in their rooms since the backyard was so small. We decided we loved the neighborhood and didn't want to leave it. So after only two years in that house, we found another one around the corner, this time with room to grow and a big backyard with a pool!
And on with the renovations again!
In our new home, we went a little further with all the remodeling. This house was bigger and the price and market value allowed for nicer renovations. As for Jacob's room though, we were so in love with the room in our previous home, that we decided to recreate it almost exactly in the new home. This room was much larger so it let us do a little more than in the old room.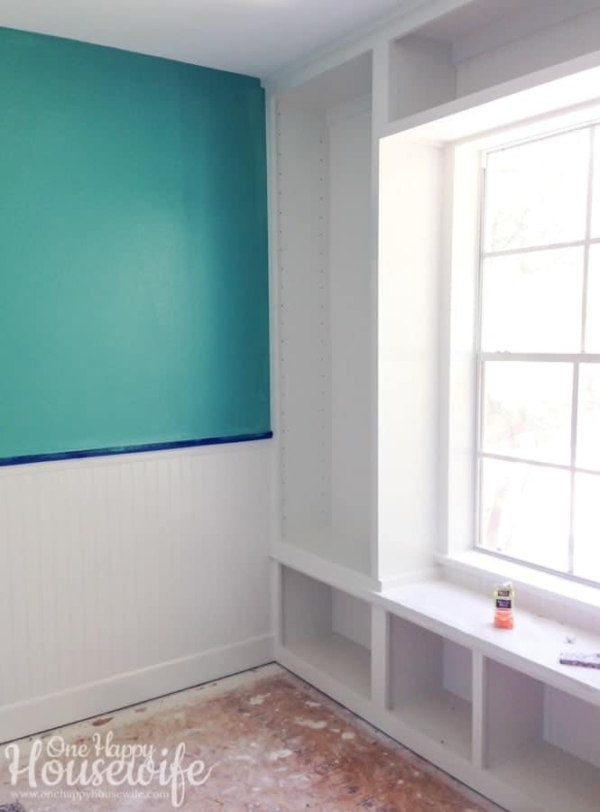 Built-in Shelving Can Add Beautiful, Functional Space to Any Room
We installed beadboard on all the walls and we decided to put a big built-in on the wall that had the window on it. We are huge fans of built-ins, especially in kids' rooms. When you're able to create a whole wall of storage on an otherwise unusable wall, it's magic! It helps so much, not only with the look of the room, but with keeping things clean, and organized. We added a window bench to utilize every space available.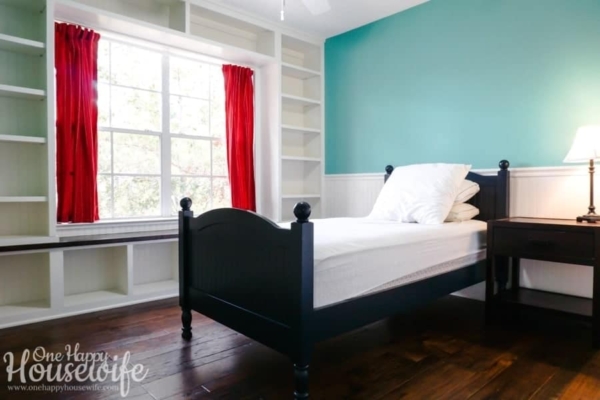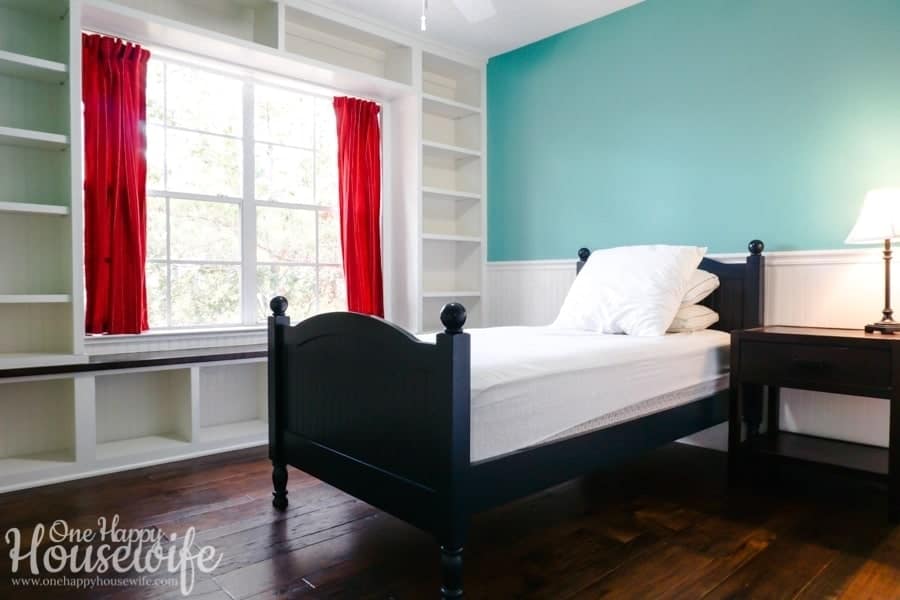 Use Beadboard Wainscoting to Add Character to a Kid's Bedroom
As for the beadboard, I love it. It's so easy to change the paint color in a room with beadboard wainscoting since you only have half walls to paint.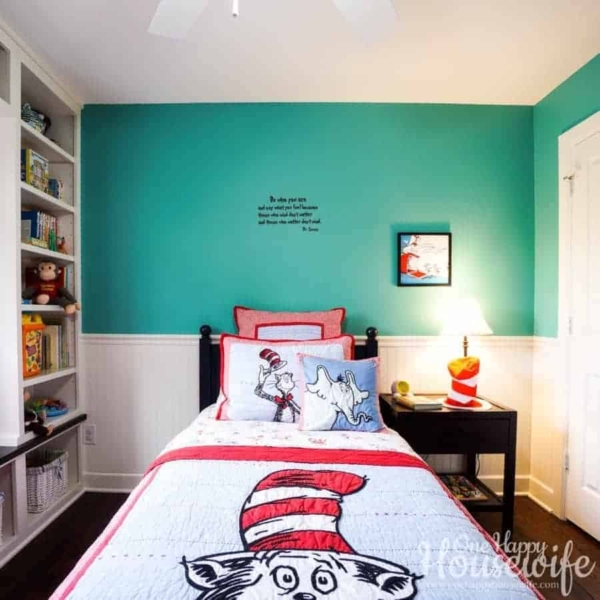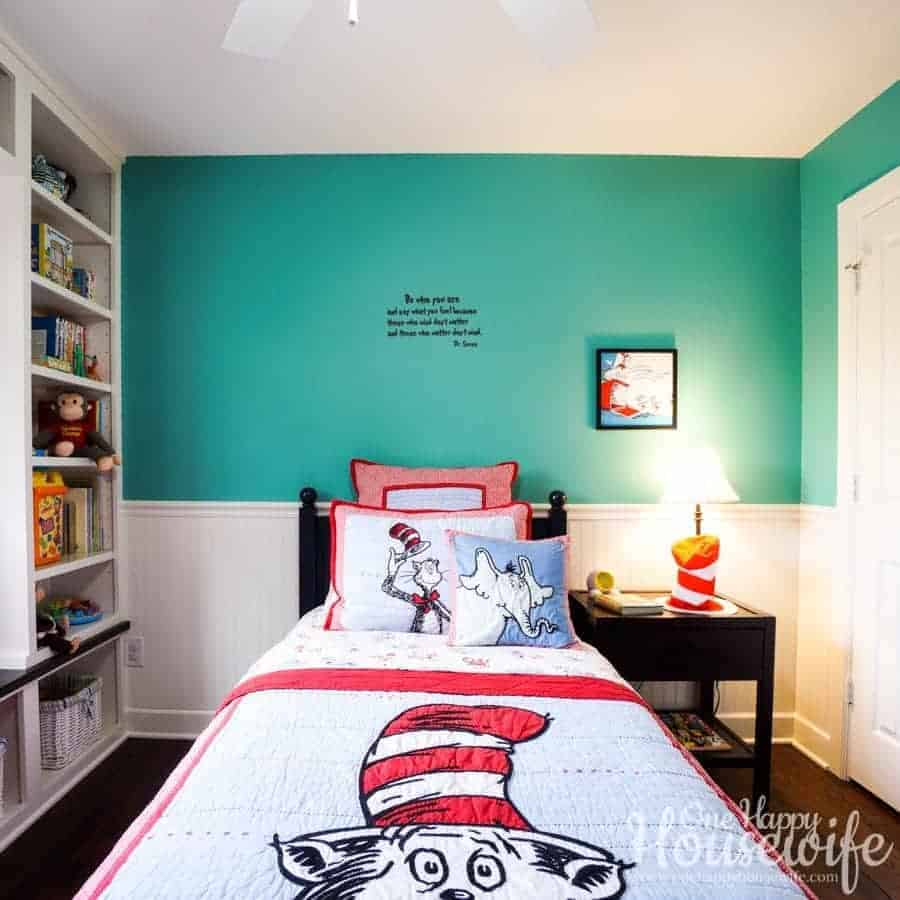 I ordered another decal, just like the old one, and I must say, this is one thing I never have an easy time with. The letters kept getting stuck to the paper and I'd have to individually peel each one off. After all the trouble though, it made for a beautiful touch to the room!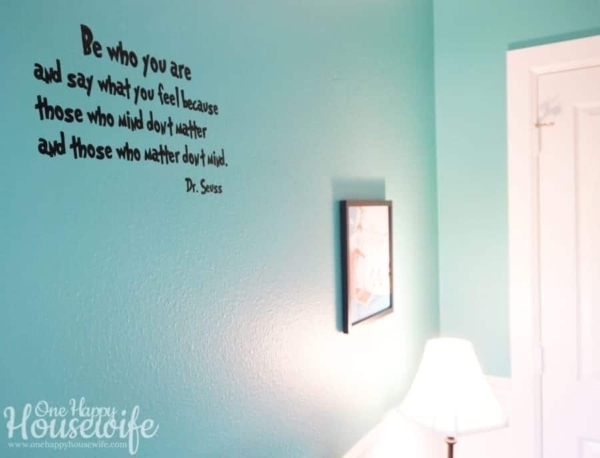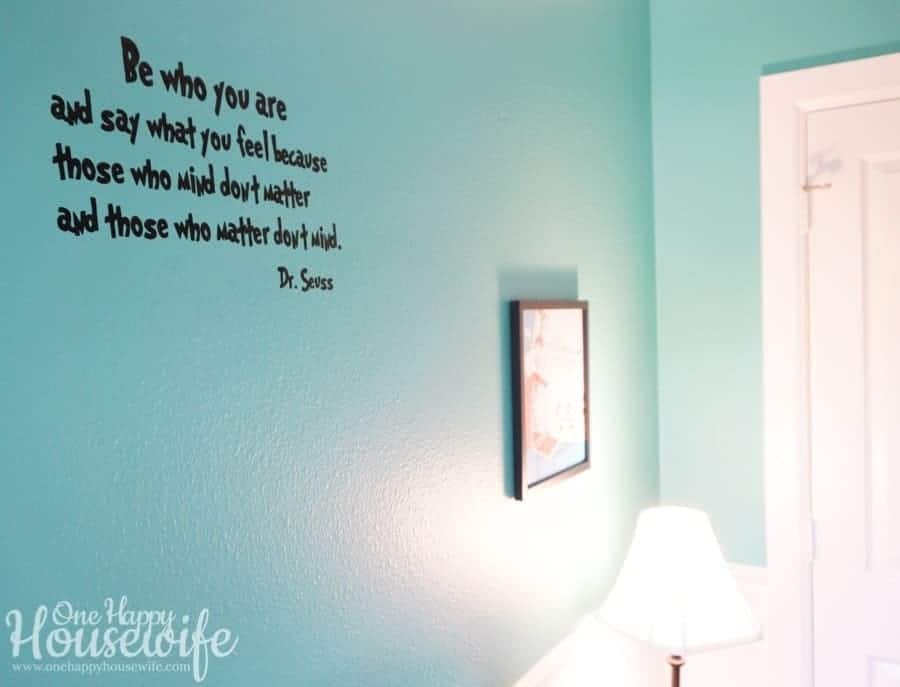 We were able to use the same curtains but had to cut them and hem them to fit with the new window bench in.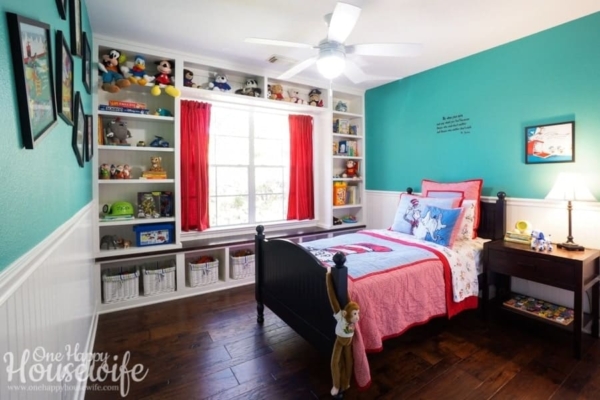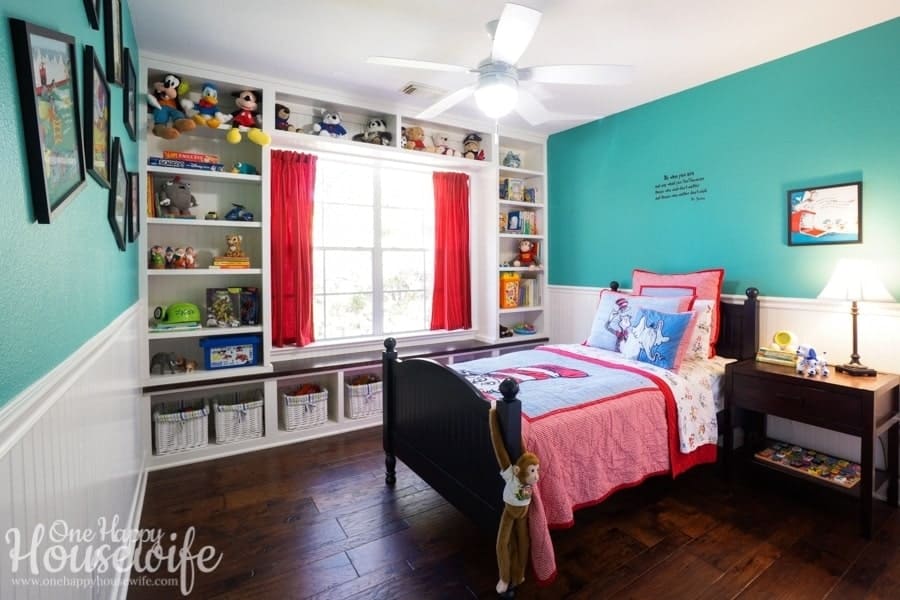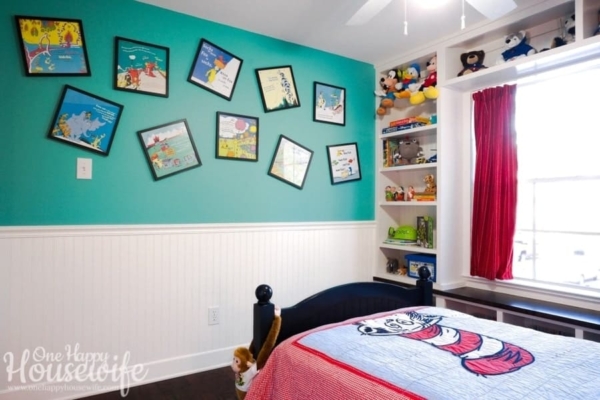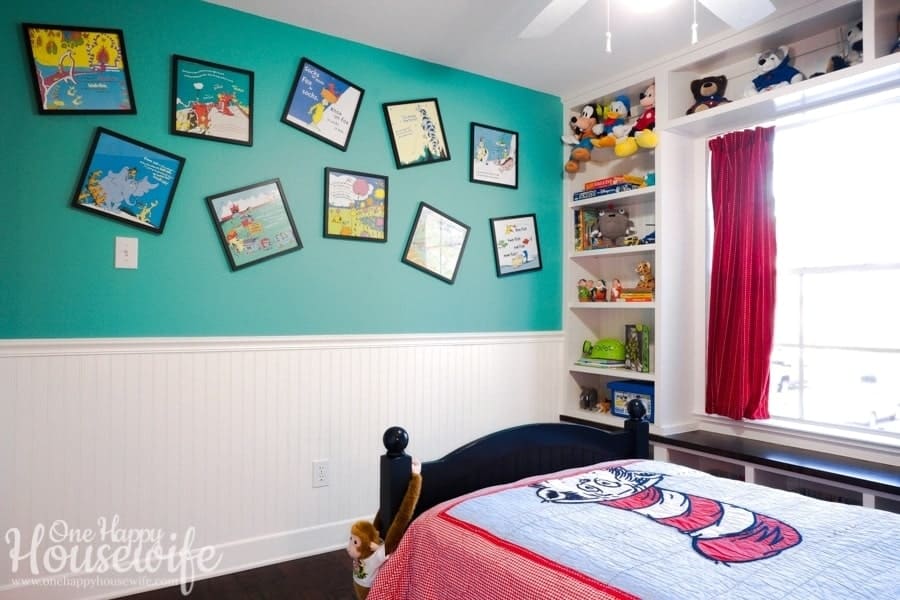 We decorated the room the same way, with the calendar pages, the colorful toys, and the Dr. Seuss bedding. Once again, it turned out perfect!
Quick Tip
Mix & Match
Not everything in the room has to be related to the theme. That would be unrealistic.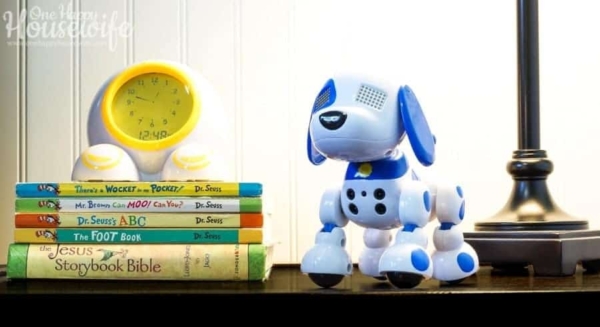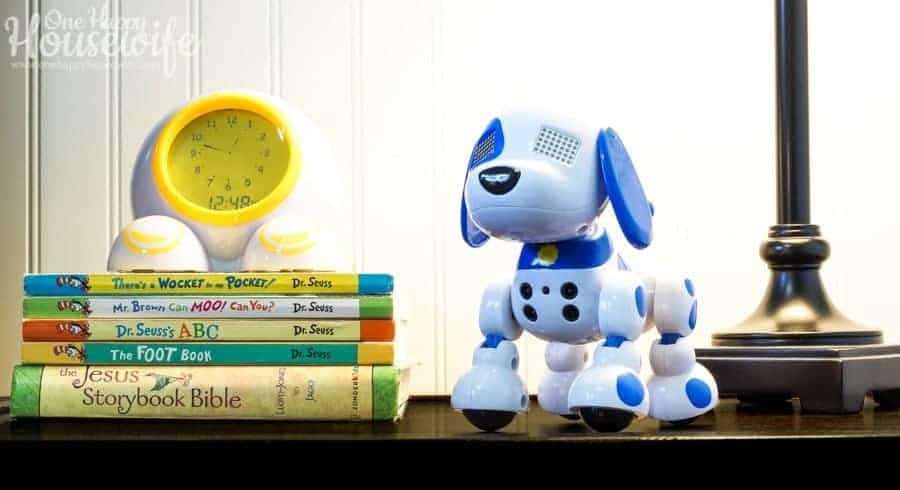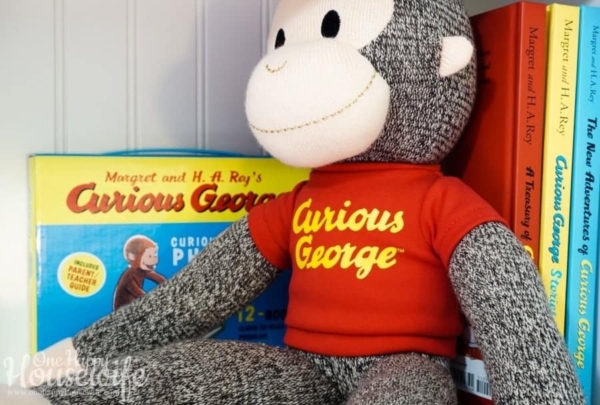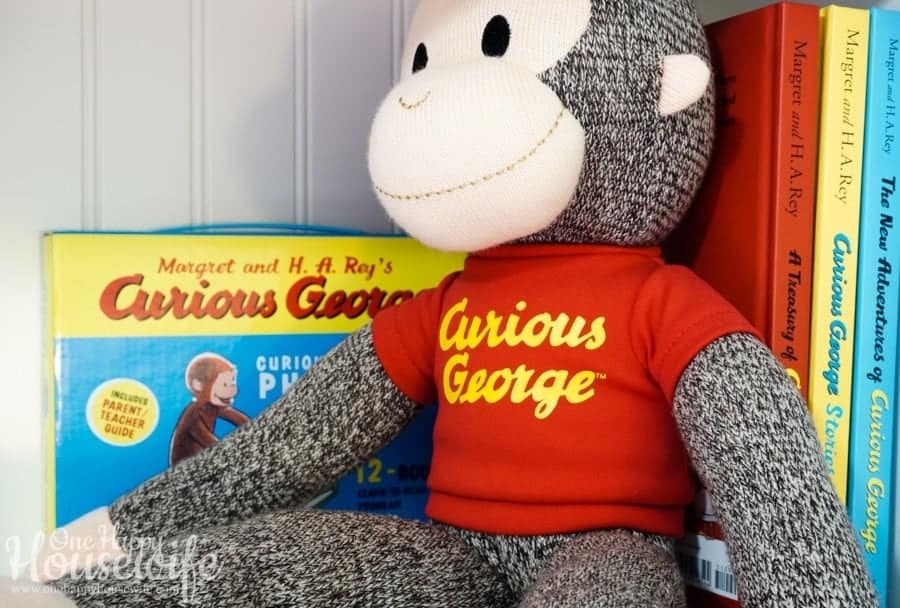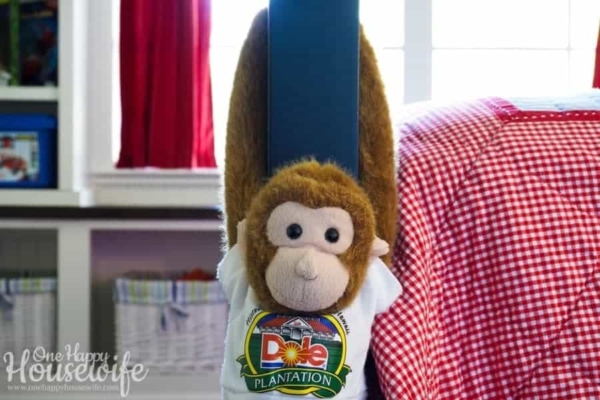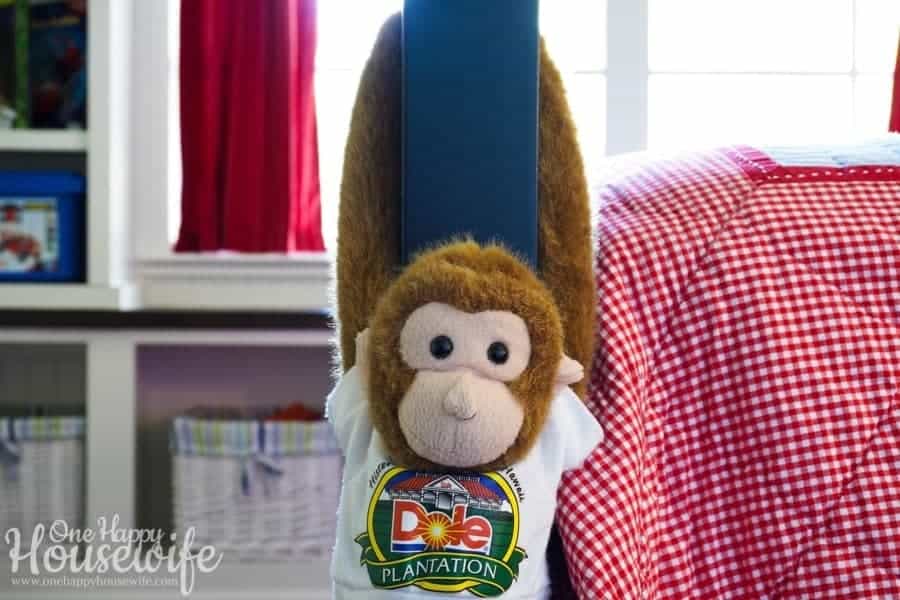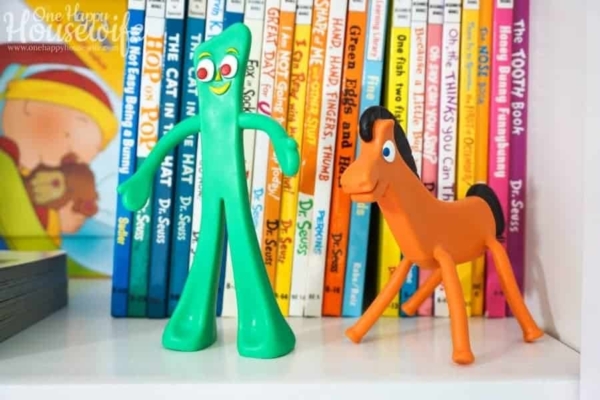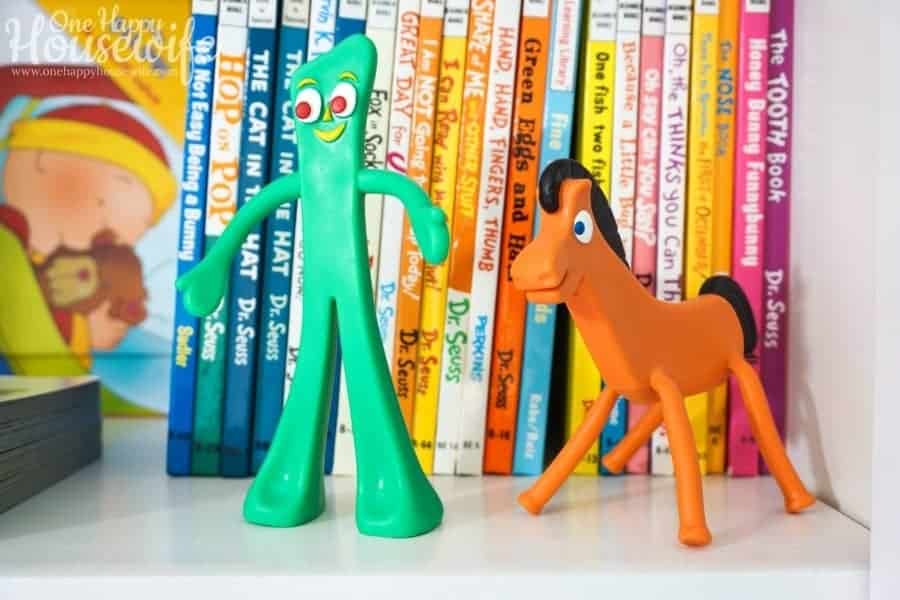 Jacob enjoyed his Dr. Seuss room for about 3 years. And as you probably guessed, we were ready for a change! I know you're seeing a trend here, we love changing our home up! We just don't like being stuck with the same look for too long.
Well, it was time for a "bigger boy" room. And anyone knows, nothing says bigger boy like Star Wars!! Check out the amazing transformation of Jacob's room from Dr. Seuss to Star Wars here!
Quick & Easy Recipes
When you sign up to become a newsletter member, you'll get access to my latest quick & easy homemade recipes, homemaker tips and tricks, free printables, and more delivered directly to your inbox each week.